<! MP3 07/12/09 > <! update 07/12/09 - still more Tandy albums to add > <! outside 00/00/00 > <! pix 00/00/00 > <! icons 12/13/10 > <! Trailer Park Casanovas Trophy Husbands "Walk With Evil" (Hayden's Ferry, 2003) (Produced by Dave Insley & Kevin Daly) >
---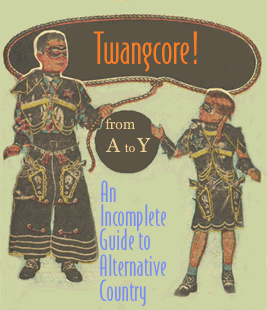 This page is part of an opinionated overview of "alt.country" music, with record reviews by me, Joe Sixpack... Naturally, it's a work in progress, and quite incomplete, so your comments and suggestions are welcome.
This page covers the letter "T"
---
A | B | C | D | E | F | G | H | I | J | K | L | M | N | O | P | Q | R | S | T | U | V | W | X, Y & Z | Comps | Other Country Styles
---
Tandy "Some Summer's Day" (Yellow Slipper, 1998)


Tandy "Lichtenstein's Oriole" (Yellow Slipper, 1999)


Tandy "The Lowdown: 1997-2002" (Gammon, 2002)



Brooklyn-based alt.country songwriter Mike Ferrio has a seductive way with a melody, matching his hushed, urgent vocals with the subtly propulsive musical backing of big city pals such as steel guitarist Dave Glackin (formerly of the Silos) and bassist Scott Yoder, on loan from Amy Rigby's band. This retrospective CD gathers tunes from Ferrio's four previous Tandy albums, all self-released on the microscopic Yellow Slipper label. It's the kind of imaginative retooling of country roots music that cries out for a larger audience, but is destined simply to be a cherished gem for a select few. Like Paul Burch's Lambchop, Paula Frazier's Tarnation, or even old-school crowd pleasers like Camper Van Beethoven, Tandy comes at country music from an indie-rock background, yet manages to sidestep the tedious white trash stereotypes of the twangcore crowd. This is intelligently written material, with lyrics as obscure and mystifying as the most introverted lo-fi bedroom recording geek, but with a solid musical backing and a pleasantly clear sense of purpose. High-powered guest stars such as Kelly Willis and the late Dave Van Ronk are testament to the power of Ferrio's songwriting, while poppy tunes such as "Far From Home," with its irresistible Doug Sahm-inspired roller-rink organ riffs are the stuff that power-pop heaven is made of. Recommended!
Tarbox Ramblers "Tarbox Ramblers" (Rounder, 2000)



Tarbox Ramblers "A Fix Back East" (Rounder, 2004)



I'd probably never listen to this at home, but it sure sounds cool. A nice grungy, messy electric guitar sound, swiped straight from John Lee Hooker, with growling whiteboy blues vocals... Sort of like listening to a much hipper version of George Thorogood & The Delaware Destroyers, if ya know what I mean. Well-produced and worth checking out.


<! 07/09: just these two albums >

Tarnation "Gentle Creatures" (4AD, 1995/1999)


San Francisco's reigning mid-1990s alt.country diva, Paula Frazier's approach to the whole "twangcore" equation is much like a softer, more controlled version of Freakwater -- but instead of channelling some speed-crazed version of the Carter Family, Frazier's sound is more like a mix of Patsy Cline and Lee Hazelwood. The slowcore drone winds up being a good foil for her voice, which, despite its ardent devotees, is a somewhat limited instrument. Tarnation is/was an artsy band that made good use of its own strengths and judiciously sidestepped its shortcomings. I always liked their earlier stuff best, where awkwardness was still a virture, and the twang slightly more bouncy. "Game Of Broken Hearts," which opens this album, is still a stunning ballad... as this disc grinds on, though, into more Red House Painter-y terrain, I find my attention starts to wander...
Tarnation "Mirador" (4AD, 1997)


(Paula Frazer &) Tarnation "Now It's Time" (Birdman, 2007)


Barry & Holly Tashian - see artist discography
Chip Taylor - see artist discography
Dulcie Taylor "Other Side Of The Bed" (2001)


Dulcie Taylor "Diamond And Glass" (Mesa, 2002)


Dulcie Taylor "Mirrors And Windows" (Black Iris, 2004)



(Produced by Mark Thayer)
A nice mix of folk and twang, with a healthy dose of '70s-ish soft-rock in there as well... The opening track, "Blackberry Winter," starts off with plenty of steel-laced country and subtly slips into an elegant Byrds-style electric guitar solo. A bouncy blues vibe eases its way into the rest of the record, bring to mind folks like Maria Muldaur, Ray Bonneville, Delany & Bonnie and others, building on the rootsy eclecticism of the old country-rock era. If this piques your interest, this disc is definitely worth checking out.
Jackson Taylor & The Sinners "Aces & Eights" (Smith Music, 2009)



(Produced by Jackson Taylor & The Vallejo Brothers)
A nice rough, rugged outlaw set from Texas, with lots of songs about drinkin,' driving and wanting to get laid. And, look: it comes with a "Parental Advisory" sticker! That would be due to the unairable, but scathing "Country Song," which deftly skewers the current cliches of Top 40 Country in a couple of quick couplets ("This ain't no country song/about your f**king pickup trucks/or your grandpappy's farm/This ain't no Nashville scene/I ain't no spiky-haired halfass/popstar wannabee...) and then goes on to do the same for the contemporary rock and hip-hop scenes... It's a funny song, though not something you'd want to play in mixed company. It's backed up with a solid set of chunky, rock-tinged indiebilly... Taylor's robust, whole-hearted vocals bring to mind a combination of Joe Ely and Jerry Lee Lewis -- laconic, yet incisive, and with a definite edge. Some of the wailing guitars are a bit much for me, but I like the crunchy power chord and the twang. Jason Boland and Dale Watson guest-star, as well as punk guitarist, Johnny "2 Bags" Wickersham, from the Cadillac Tramps. This is a pretty strong record, with edgy lyrics and sincere performances throughout.


<! "Country Song" "Easy Loving Stranger" >

Owen Temple "General Store" (El Paisano, 1997)



(Produced by Lloyd Maines)

Owen Temple "Passing Through" (El Paisano, 1999)


Owen Temple "Right Here And Now" (El Paisano, 2002)


Owen Temple "Two Thousand Miles" (El Paisano, 2006)



(Produced by Lloyd Maines)
A solid, twangy set from this Austin, TX tunesmith... The opening numbers are more robust and rowdy, uptempo tunes about drinking and love gone wrong, suitable for fans of Jack Ingram or early Steve Earle... Then he gets more contemplative and circumspect and starts singing about his long list of regrets, particularly those that led to the demise of a relationship or two. Also included is "The Pluto Blues," a novelty song which reflects on the downfall of heavenly bodies, high-flying careers and humble human aspirations. It's well-crafted material that also has a beat... pretty satisfying stuff and definitely worth a spin.
Owen Temple "Dollars And Dimes" (El Paisano, 2009)






<! * General Store (1997) * Passing Through (1999) * Right Here and Now (2002) * Two Thousand Miles (2008) * Dollars and Dimes (2009) >

Texana Dames "Texana Dames" (Amazing Records, 1992)

The Texas Sapphires "Valley So Steep" (Stag Records, 2006)


The Texas Sapphires "Roadhouse Gems" (Stag Records, 2007)


A live album...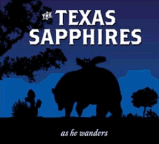 The Texas Sapphires "As He Wanders" (Ike Records, 2010)



(Produced by Billy Brent Malkus & Tommy Detamore)
Top-notch independently-produced twang tunes... The band splits their songwriting and vocal chores between lead singers Billy Brent Malkus and Rebecca Lucille Cannon; he sticks closely to the white trash/bad boy narrative of the twangcore scene, and she delves deeper into ballads and more introspective lyrics. While I find her songs more resonant, it's a good mix of styles and feels. The drinking/fighting/getting thrown in jail themes are kind of old-hat, but handled well, and songs like "How Did I Get So Sloppy Drunk (When I Was Drinking Neat)?" and "Stunt Double" will sound nice in an uptempo mix, while the album's opener, "Nashville Moon," has a great lyrical twist: "I'm one man with two makers/the Lord above and a bottle of 80 proof..." that harkens back to the classic days of novelty country... Still, I prefer Cannon's numbers, with her Tanya Tucker-ish voice buoyed by some sweet pedal steel and a bit more originality and depth to the lyrics. Still, if you're looking for rowdy tunes, or a mix of styles, this is a rock solid set... Definitely worth checking out!
Chris Thile -- see artist profile

Linda Thompson "Versatile Heart" (Rounder, 2007)


(Produced by Edward Haber & Teddy Thompson)
Bookended by two gentle instrumentals, this album showcases British folk doyenne Linda Thompson's continued mastery of her craft. Although this acoustic-based album isn't as giddily joyful or as puckish as her previous release, Fashionably Late, it is packed with finely crafted gems such as the sardonic title track, one of several new songs cowritten with her son, Teddy Thompson, and a number of intelligently wrought folksongs. The overall mood here is rather doleful and resigned, a reflection, perhaps, of the times, as Thompson references the Iraq war a few times, including in the moving Tom Waits-Kathleen Brennan tune, "Day After Tomorrow." Thompson makes the most of her connections in English trad scene, bringing in accordionist John Kirkpatrick, as well as Eliza Carthy and the Waterson clan (on "Bob Copper And Me," a lovely tribute to one of England's finest singers of traditional song). On a few tunes she also hosts Irish guitarist John Doyle, who is fast becoming his generation's version of bassist Danny Thompson, a seemingly ubiquitous player whose fluid style and solid reliability adds magic to every track he graces. This is another strong effort from Ms. Thompson, more on the traditional side this time around, but still a real treat.


<! Randy Thompson "In The Rain" (1988) date? - per Wikipedia, but maybe it's the Christian singer? >

Randy Thompson "Wearin' Blue" (Jackpot, 1998)


Randy Thompson "That's Not Me" (Jackpot, 2004)


Randy Thompson "Further On" (Jackpot, 2008)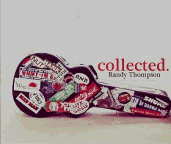 Randy Thompson "Collected" (Jackpot, 2012)


(Produced by Randy Thompson)
A strong roots-rocking Americana set from this Virginia-based indie artist... This best-of collection samples several albums that Thompson has put out over the last decade or so... He has a nice voice which is often reminiscent of Merle Haggard or Waylon Jennings, though he tends to veer away from a straight country path and get into sharp, aggressive, bluesy rock lead guitar and slide riffs that undercut the country vibe. There's plenty of twang, but Thompson goes into guitar-hero mode a little too often for my tastes, but for folks who like a little more rock'n'roll grit than me -- perhaps in artists such as James McMurtry, Tom Russell or early Steve Earle -- you might wanna check this out. There are a couple of mellow (though dark) acoustic tunes that I liked a lot though, notably "Bring On Down The Rain" and "Rocksalt And Nails."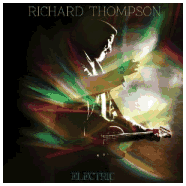 Richard Thompson "Electric" (New West, 2013)



(Produced by Buddy Miller)
A real winner from British folk-rock elder Richard Thompson. He finds an eager collaborator in roots/Americana insider Buddy Miller, who produces this album and adds some tasty guitar licks that compliment Thompson's own idiosyncratic style. This album boasts a strong selection of songs, each one moody, clever and compelling, defined by aching, deliberate melodies and subtle yet memorable hooks. As the album title implies, this is a rock-oriented set, but it's slyly punctuated with country/bluegrass touches, particularly fiddle riffs from bluegrasser Stuart Duncan and occasionally by Thompson's own mandolin. The performances are tightly focussed with each musician concisely adding to the songs, and Thompson himself in fine form. Particularly noteworthy are the harmony vocals, with English-born Nashviller Siobhan Maher Kennedy adding supple harmonies on several songs, reminiscent in turns of Kate Bush and even Richard's ex, Linda Thompson. Like many folk/roots artists, as a young man, Thompson affected a worldliness and cynicism that belied his years, though now well into his '60s, he has clearly the life experience under his belt to work comfortably in "old geezer" mode, and he wears it well. Though rueful, his songs have heart and hope, perhaps best heard on the album's closing track, a sweet acoustic ballad called "Saving The Good Stuff For You," in which the singer looks back at a long, sometimes rocky lifetime, and sees only better days ahead. With an album like this, it's a dream that's easy for us to believe as well.

Teddy Thompson "Up Front And Down Low" (Verve, 2007)



(Produced by Teddy Thompson)
The third full-length album from folk-rock scion Teddy Thompson finds him in a weepy country mood, covering numerous golden oldies while surrounded by a wealth of twang-y, alt-y talent. Iris Dement duets on "My Heart Echoes," an old Bailes Brothers tune; Jim Campilongo, Greg Leisz, Tift Merritt and others also appear, as well as Teddy's dad, Richard Thompson, who plays guitar on the rollicking Charlie Louvin chestnut, "You Finally Said Something Good (When You Said Goodbye)." With hits and obscurities from the likes of Liz Anderson, Dolly Parton, Ernest Tubb and George Jones, Thompson gets big bonus points for good taste, and I also got a kick out of hearing him sing "Let's Think About Living," a loopy old tune that Bob Luman recorded back in 1960, decrying violence in the media, back in the day when the Lone Ranger show was blowing people's minds. It's still goofy, still timely, and still fun... Still, a little more variety in tempo and tone might be nice: almost every song is delivered as a whiskey-soaked, closing-time dirge, even the tunes that are nominally upbeat to begin with. Thompson's got a great voice for the material, and he's definitely got the hillbilly misery vibe down pat -- it'd be nice if he could fit a little honkytonk bounce in there as well. Nice album, though -- I'd like to hear him do more country stuff, especially more original tunes; his doleful "Down Low" is an album highlight.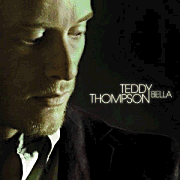 Teddy Thompson "Bella" (Verve Forecast, 2011)



(Produced by David Kahne)
The genre-hopping Mr. Thompson has found a comfortable berth in the fuzzy confines of the "Americana" genre, though he's really more of a rock-pop auteur, in the tradition of wordsmiths such as John Haitt, Graham Parker and Elvis Costello. Accordingly, this album is packed with unexpected turns of phrase, a keenly self-lacerating wit, and one irresistible pop hook after another. You'll find yourself unsettled by how catchy this record can be: the lyrics are so dark, but the melody's so sweet. In general, Thompson lays waste to the vanity and self-centeredness of clever young men, as heard on the blistering opening salvo of "Looking For A Girl," a song that mimics the earnest, youthful lust of classic rock and power-pop, then attacks the callowness and cruelty of how these emotions can play out in real life... The singer sees himself as a real catch, a swell guy with a short and not unreasonable list of what he wants in his dream girl, while we quickly come to realize what a drag he'd be as a boyfriend. This dark streak continues through to several songs with similar themes -- "Take Care Of Yourself," "The One I Can't Have," the devastating "Take Me Back Again" and the forlorn, pathetic "Take Me Back Again." After a while, you might start feeling pretty uncomfortable -- hopefully these songs aren't too autobiographical, because even with his keen observations and obvious self-awareness, this is a pretty lonely picture that Thompson has painted. Of course, when all hope is gone, there's always Mom, a theme explored on the sweet, claustrophobic ballad, "Home," an uncomfortable family portrait on a par with Loudon Wainwright III. This is a delightfully intelligent, densely packed, catchy and compelling album... Definitely recommended!
Thriftstore Masterpiece "Trouble Is A Lonesome Town" (SideOneDummy, 2009)



(Produced by Charles Norman)
This nutty, joyfully diverse country/rock/exotica album is a sly, hipsterdelic, goofy homage to '60s pop auteur Lee Hazelwood's 1963 album, Trouble Is A Lonesome Town, an LP that producer Charles Norman discovered in a European secondhand store... Hence the band name, proclaiming Hazelwood's pop-warped proto-Americana to be a "thriftstore masterpiece." The project was started along with Charles' brother, Christian rock pioneer Larry Norman, who shared his fascination with the album and recorded a couple of the tracks heard on this album before he passed away in 2008. Charles Norman recruited an eclectic cast of indierockers to complete the album, including Pete Yorn, Frank Black of the Pixies, and Charles Norman's wife, Kristin Blix. The kooky, mariachi-tinged arrangements might not be for everyone, but Hazelwood fans might get a kick out of it.
Sally Timms "To The Land Of Milk And Honey" (1995)

Sally Timms "Cowboy Sally" (EP) (Bloodshot, 1997)



Sally Timms "Cowboy Sally's Twilight Laments... For Lost Buckaroos" (Bloodshot, 1999)



Mekons frontlady Sally Timms follows her British bandmate Jon Langford into the world of Chicago "insurgent country," with this mellow set of artful neo-billy ballads. I give her credit for not falling into the trap of "keep it sloppy" cowpunk that typifies many Bloodshot releases, and for trying to elevate alt.country into a higher, more literate style, closer to the feel of the best British traditional folk music. Backing Timms up on this full-length outing are Bloodshot stalwarts such as guitarist Jon Rauhouse, Robbie Fulks and, of course, Jon Langford on a couple of cuts. Overall, though, this is a pretty mannered and reserved album -- sleepy, even -- doubtless exactly at the energy level that Timms intended, but not something that really grabs my emotions. Doesn't make you want to sing along (which I think great country music should), but it does make great background music, for those so inclined.
Sally Timms & Jon Langford "Songs Of False Hope And High Values" (Bloodshot, 2000)


Sally Timms "In The World Of Him" (Touch & Go, 2004)






<! * 1980 - Hangahar * 1988 - Somebody's Rockin' My Dreamboat * 1995 - It Says Here * 1995 - To the Land of Milk and Honey * 1997 - "Cowboy Sally" * 1999 - Cowboy Sally's Twilight Laments for Lost Buckaroos * 2000 - Songs of False Hope and High Values (with Jon Langford) * 2004 - In the World of Him >

Tiny Television "Mission Statement" (Magnolia, 2009)






<! Tiny Television - too indiepop? SF band >

Lucky Tomblin "The Lucky Tomblin Band" (Texas World, 2003)



This is the kind of under-the-radar country album that renews one's faith in the indie scene in general, and Texas in particular. Old-time Austin locals with a strong set of honkytonk-tinged originals, with guitarist Redd Volkaert in among all the good-natured pickers who give this disc its loose, limber sound. The first couple of Texas shufflin' songs have a vigorous originality, then Tomblin takes a socially-conscious, folkie turn on "Illegal Man," about a fella who gets gets a taste of what the life of an undocumented worker is like (though the song doesn't quite explain how the narrator arrived in this situation... ) The rest of the album starts to drift a bit, with strongest songs at the start; still, the Tomblin crew sounds pretty solid, and this disc is certainly worth checking out. (Texas World Records can be reached at www.texasmusicroundup.com, for more info.)
Lucky Tomblin "In A Honky-Tonk Mood" (Texas World, 2006)


Lucky Tomblin "Red Hot From Blue Rock" (Texas World, 2007)





<! Live CD and DVD >

Stevie Tombstone "7:30 a.m." (Self-Released, 2003)



This is a very nice independently-released album by a guy from Georgia who's now living in San Antonio, TX... The songs are languid and tranquil, and also catchy and compelling... Part of what makes it nice is Tombstone's reliance on pedal steel (and the elegance with which steel player Joey Borja lets the notes flow on tunes like the album's opener, "Can't Go Back To Yesterday...") Those of you with long, long memories may remember Stevie's earlier incarnation as a member of the 'Eighties band, the Tombstones, which made a few waves back when alternative broadcasting was still called "college radio..." He's sure been around for a long time, but with an album like this under his belt, he should find a few new fans out there among the Alt-Country faithful. Check out his website for info on how to find this record: (www.stevietombstone.com)
Stevie Tombstone "Devils Game" (Saustex, 2007)


Stevie Tombstone "Slow Drunken Waltz" (Farmageddon, 2011)

Stevie Tombstone "Greenwood" (Cloverdale, 2012)


The Top-Hands "Once In A While" (Star-Tone, 2002)


Amiable, loose-limbed rockabilly, with the same relaxed, easygoing attitude as Big Sandy or the Dave & Deke Combo. These San Francisco cats have a nice sound -- plenty of hot licks, but not as hurried or as aggro as many of those 'billy types can sound. Fun stuff, with plenty of nice original tunes.


<! western swing?? >

The Trail Band "Voices From The Oregon Trail" (Trail End Productions, 1992)


The Trail Band "Trail's End" (Trail End Productions, 1993)


The Trail Band "An Old Fashioned Christmas" (Trail End Productions, 1994)


The Trail Band "Christmas With The Trail Band - Live In Concert" (Trail End Productions, 1996)

The Trail Band "Immigrant Dreams" (Trail End Productions, 1998)


The Trail Band "Lewis And Clark" (Trail End Productions, 1999)

The Trail Band "Making Spirits Bright" (Trail End Productions, 2001)


The Trail Band "Oregon Stories" (Trail End Productions, 2003)



This Oregonian ensemble offers a little something for everyone -- some topical folk tunes, light, swinging bluegrass, deeper roots-rock ala The Band, and even a bit of Celtic fiddling. It's not all dazzling, but the low-key approach works wonders, and the good songs are very good. Also nice is the band's genuine regionalism -- many of their lyrics have to do explicitly with local, Oregon-centric material (including several songs about rainy weather...) A nice, down-to-earth, real folks making real music kinda record.
The Trail Band "Peace On Earth" (Trail End Productions, 2005)

The Trail Band "Snow On The Roof" (Trail End Productions, 2008)


Trailer Bride "Trailer Bride" (Yep Roc, 1997)

Trailer Bride "Smelling Salts" (Bloodshot, 1998)



A strong album, though very much in the not-for-everybody, punky musical tradition. This twisted North Carolina twangcore combo builds songs on simple, persistent riffs, and has a jagged, ragged appraoch to roots music and the blues that brings Jeffrey Lee Pierce and The Gun Club to mind (which is cool) and maybe even a little of The Doors as well (which is not). Singer Melissa Swingle has a pretty singular lyrical vision, but she doesn't dabble in lame hick stereotypes (which gets her points in my book), nor does she brandish her odd verses as Great Art (which is also refreshing). Here, she dips into a deep reservoir of frank sexuality and thoughtful contemplation of the role of a profane modern hipster in the context of conservative Southern culture. She's not spouting off a bunch of trite, stereotype-laden, uber-ironic BS about trailer parks and bar fights, so more power to her. This is alt-country that draws on the arty, intelligent side of the punk/DIY tradition, and while it may be sonically grating it has actual substance, and might give you some food for thought. I wouldn't put this album on the kick back to, but it was listenable from start to finish, and has some real heft to it. Worth checking out; some of the best music of its kind.

Trailer Bride "Whine De Lune" (Bloodshot, 1999)



Another strong offering from lyricist Melissa Swingle & Company. Trailer Bride don't seem particularly adept at playing country, per se, but they bash away in a nice, don't-give-a-damn-what-you-think, either-you-get-it-or-you-don't way that suggests a more accessible version of Freakwater, mixing in a smidge of the psychedelic-psychotic bizarreness of Bongwater and all those old Shimmydisc types... The start of this album seems more cohesive than the second half; after a while I felt they were dragging on a bit, but just when I would've started to get really irritated, they stopped cold, on a pleasantly inconclusive note. So, yeah, this is cool, even though most folks will find it painfully screechy and incomprehensible -- these guys seems to have more on the ball than a lot of their contemporary twangsters did, using the rusty-nail spikiness of the Velvet Underground-inspired art-rock scene to good advantage in a nominally "country" context. It's worth checking out.
Trailer Bride "High Seas" (Bloodshot, 2001)



Trailer Bride "Hope Is A Thing With Feathers" (Bloodshot, 2003)



Well, now they started to lose me a little. This late in the game, it's pretty hard to still buy into buy the whole "alt.country-with-a-goth-rock-attitude" image; this is pretty much just another gloomy, pretentious rock record. Or maybe they're just a mellower version of the Cramps, with very little twang to be heard. There are some sonically interesting production touches, but overall I'd have to say this doesn't grab me. It's too psychobilly and indie-rockish, and I have no idea what their songs -- written by Melissa Swingle -- are actually about, nor the patience to investigate. I guess I'm finally too old for this brand of difficult listening. Harrumph. Grumble, grumble, grump.

Tres Chicas "Sweetwater" (Yep Rock, 2004)



An alt-gal supergroup of sorts, featuring Lynn Blakey (from Glory Fountain), Caitlin Cary, of Whiskeytown fame, and Hazeldine's Tonya Lamm, singin' a lot of three-part harmony and presenting some interesting material, with Chris Stamey producing and playing guitar... Signalling their influences, they cover an old George Jones tune and Lucinda Williams's "Am I Too Blue," a song which may carry too much history with it for others to tackle in a way that can add much to the mournful wallop Lucinda already infused into it. The overall vibe of this album is pretty folkie and soft; I kept expecting it to catch fire at some point, but it never really did... The three collaborators seemed to cede ground to one another, opting for a CSN-ish collective sound, rather than doing a round-robin your song, her song, now mine kind of thing. Which is fine; I'm sure there are plenty of Americana fans who will appreciate the change of pace and overall mellowness, although for me, personally, this disc never really gels.
Tres Chicas "Bloom, Red & The Ordinary Girl" (Yep Rock, 2006)



Greg Trooper "Make It Through This World" (Vanguard, 2005)



Sweet, slick modern folk-Americana, which mixes twang and pop with sincere, emotive, precisely crafted lyrics. Trooper is paired up here with legendary Muscle Shoals writer-producer Dann Penn, who infuses this album with a loping, soulful feel... I'm not that big on the whole coffeehouse folk scene, but I guess that Trooper, like Greg Brown and many others, has pushed the genre past its old boundaries, and it's up to folks like me to catch up. Nice record; very listenable and mature.
Truckstop Honeymoon "Truckstop Honeymoon" (Binky Records, 2006)

Truckstop Honeymoon "Delivery Boy" (Binky Records, 2006)

Truckstop Honeymoon "Christmas In Ocala" (Binky Records, 2006)

Truckstop Honeymoon "Diamonds In The Asphalt" (Squirrel Records, 2007)

Truckstop Honeymoon "Great Big Family" (Binky Records, 2010)

Truckstop Honeymoon "Homemade Haircut" (Binky Records, 2010)

Truckstop Honeymoon "Steamboat In A Cornfield" (Binky Records, 2011)

Lucky Tubb & The Modern Day Troubadours "Generations" (2003)


Apparently Lucky is the great-nephew of honky-tonk legend Ernest Tubb... Cool pedigree; I'm looking forward to checking his music out someday soon!
Lucky Tubb & The Modern Day Troubadours "Damn The Luck" (Smith Music, 2009)

Lucky Tubb & The Modern Day Troubadours "Hillbilly Fever" (Smith Music, 2010) <! date? >


Tubb's third album, with alt-country icon Wayne Hancock sitting in...
Lucky Tubb & The Modern Day Troubadours "Del Gaucho" (2012)

Turnpike Troubadours "Bossier City" (2007)

Turnpike Troubadours "Diamonds And Gasoline" (Onward Music, 2010)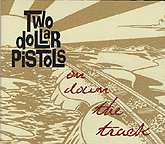 Two Dollar Pistols "On Down The Track" (Scrimshaw, 1997)


This Chapel Hill outfit specializes in broadly-drawn, Jerry Jeff-like country screw-up themes, backed by hard-driving honkytonk riffs, ala Buck Owens... I guess it was the music that drew me to these guys - sometimes they throw a little too much glitz into the mix, but overall this is pretty catchy. The vocals are overly-hicked out (I'm sure this guy is a better singer than he lets on) yet despite the semi-stereotyped performances, this is a pretty fun little record. Above average, and worth checking out if you stumble across a copy.
Two Dollar Pistols "Step Right Up" (Yep Roc, 1998)


Two Dollar Pistols "...With Tift Merritt" (Yep Roc, 1999)


Two Dollar Pistols "You Ruined Everything" (Yep Roc, 2002)



Two Dollar Pistols "Hands Up!" (Yep Roc, 2004)


Two Dollar Pistols "Here Tomorrow Gone Today" (8th House, 2007)






<! same Two Dollar Pistols that Mark Nessler was in? > <! Two Hoots and A Holler "xxxxxxxxxxxxxxxxxx" B003I3CRQQ - 1991 album? http://www.twohootsandaholler.com >

(Rick Broussard's) Two Hoots and A Holler "Songs Our Vinyl Taught Us" (2004)

(Rick Broussard's) Two Hoots and A Holler "Songs Our Vinyl Taught Us, v.2" (2005)





<! Follow-up to his acclaimed collection of classic cover tunes... This one tops the first! Includes covers of songs by The Cramps, Motorhead, Johnny Cash, Jackie De Shannon, and many more! 1) Whipe And Furs 2) Rockin' Good Way 3) La Porte d'en Arriere 4) Battle Of New Orleans 5) Rock Around With Ollie Vee 6) Break-A-Way 7) Motorhead 8) Thousand Stars 9) Goo Goo Muck 10) Matilda 11) She Took A Lot Of Pills And Died 12) So Long Baby Goodbye "For 20 years Rick Broussard's Two Hoots and a Holler has epitomized the best aspects of Texas roots music, merging rockabilly with trad-country and adding enough punk abandon and songwriting flair to keep the whole thing from sounding retro-gimmicky or quaint." Gilbert Garcia; San Antonio Current >

(Rick Broussard's) Two Hoots and A Holler "Two Hoots and A Holler" (Stag, 2005)



A lively local-legend band that's been around Austin for a bazillion years... A hefty dose of rockabilly bounce and country-sweetened twang...


<! Two Tons Of Steel "Two Ton Tuesdays Live!" Two Tons Of Steel "King Of A One Horse Town" Two Tons Of Steel "Ten Dollar Cover" (2000) - no ASIN - Two Tons Of Steel "Transparent" Two Tons Of Steel "Vegas" Two Tons Of Steel "Not That Lucky" Two Tons Of Steel "Tangled In Tinsel" (Big Bellied Records, 2011) B006841696 - MP3 Two Tons Of Steel "Unraveled" (Big Bellied Records, 2013) B00DQUQ5WS B00DXYREKO - new lineup >

Two Tons Of Steel "King Of A One Horse Town" (Big Bellied Records, 2000)

Two Tons Of Steel "Oh, No!" (Big Bellied Records, 2002)

Two Tons Of Steel "Tuesday Live At Greune Hall" (Big Bellied Records, 2002)

Two Tons Of Steel "Transparent" (Palo Duro, 2003)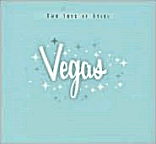 Two Tons Of Steel "Vegas" (Palo Duro, 2005)



Amiable, accessible, soft-edged retro-billy mixing lanky, aw-gosh indie-country and slappy rockabilly... These Texas crowd-pleasers sound upbeat and likeable, but even with a lot of note-heavy picking, they often sound a little too controlled and squeaky-clean on this disc; one suspects that their 'billied-up cover versions of tunes like the Ramones classic, "I Wanna Be Sedated" and the skeezy old R&B sizzler, "Red Hot," sound a lot more raucous in concert, and that some of the sizzle of their live shows is lost in this too-perfect studio setting. Still, if you like smooth-but-retrorific bands like BR5-49, Blue Rodeo, the Derailers, the Mavericks, et al., then this disc might knock your socks off.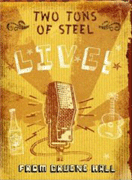 Two Tons Of Steel "Live From Gruene Hall" (CD & DVD) (Palo Duro, 2006)


A fine chance to see and hear this Texas indie band at their best, playing at the fabled Gruene Hall in New Braunfels, TX, where the band has had a weekly gig for over ten years. It's a mellow, assured set, filled with good-natured originals and peppered with covers of songs like "I Wanna Be Sedated" (by the Ramones) and Bruce Springsteen's "Red Headed Woman..." Fans of Dave & Deke, Robert Earl Keene or BR-549 might wanna check this out... Highlights include their original tune, "Stinkin' Drunks" and the aforementioned Ramones cover, and all the parts where the audience shouts along.
Two Tons Of Steel "Not That Lucky" (Smith Entertainment, 2009)



(Produced by Lloyd Maines)
A relentlessly uptempo set, with a wide variety of styles. The bouncy, Buckadelic opener, "Cryin' Eyes," got me all excited, though the country twang quickly gave way to more rock'n'rockabilly oriented material... It's cool, though -- I get why they have their fans, though a lot of this is a little too staccato for me. I got old. I like country better now. Some other album highlights include "Alcohol And Pills," a semi-preachy number that reflects back ont he toll of substance abuse, namechecking Jimi Hendrix, Janis Joplin and Gram Parsons as martyrs of the druggie era before going on to make more general, universal statement about how drugs can screw people up... The album's closer, "Bottom Of The Bottle" is a swell western swing-flavored honkytonk tune that ends things on a nice note.
Two Tons Of Steel "Tangled In Tinsel" (Big Bellied Records, 2011)


A holiday EP...
Two Tons Of Steel "Unraveled" (Big Bellied Records, 2013)



I guess Two Tons went through a breakup and reformation in the fall of 2012, and this revised lineup features a couple of newer, younger guitarists, and a brighter sound that seems to have irked some of their long-time fans. Doesn't really strike me as that huge a departure from their old sound -- it's still country-billy twang, though maybe with a slightly less gritty sound. A couple of songs, like "Hell Cat" or "One More Time" have a ZZ Top-ish Texas blues-rock feel, and the last track on the album, "Can't Stop Us Now" sounds like a DC hardcore anthem by Minor Threat or whoever (it probably is, I just couldn't be bothered to look it up...) with a rockabilly facelift slapped on top. But overall, thise doesn't seem like a huge betrayal of everything the band ever stood for -- they were always open to different sounds. Rather, it seems like the new guys don't quite have the same cool-country chops as the bandmembers who left, and maybe the album's production is a little on the thin side. Ain't the end of the world, though.
---
Alt.Country Albums - Letter "U"
---