<! MP3 07/05/09 > <! update 07/05/09 - expand Dave Van Ronk (alty?) and *definitely* Townes Van Zandt > <! outside 00/00/00 > <! pix 00/00/00 > <! icons 12/13/10 > <! VOLEBEATS Chris Vallillo "The Western Illinois Rag" (xxxxxx, 1987) - no ASIN - "...In 1987 Chris released his first recording of original music, "The Western Illinois Rag." The recording sessions took place in Experimental Music Studio at the University of Illinois at Champaign, home of the first electronic music in the early 60's. Support players included, a fifteen-year-old fiddle player, Alison Krauss and members of the original Union Station (there are currently plans to reissue the recording on CD)" >
---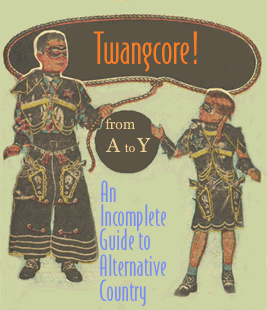 This page is part of an opinionated overview of "alt.country" music, with record reviews by me, Joe Sixpack... Naturally, it's a work in progress, and quite incomplete, so your comments and suggestions are welcome.
This page covers the letter "V"
---
A | B | C | D | E | F | G | H | I | J | K | L | M | N | O | P | Q | R | S | T | U | V | W | X, Y & Z | Comps | Other Country Styles
---

The Vandals "Peace Through Vandalism/When In Rome..." (Time Bomb, 1995)


Let's give credit where credit's due: the song "Urban Struggle" (aka "I Want To Be A Cowboy," with its distinctive Ennio Morricone-ish sting) is certainly one of the true seminal cowpunk tunes of all time -- it helped define punk rock's newfound, backhanded envy of country's own brand of musical simplicity. Plus, it was hella funny. Still, don't expect much more twang out of this disc, though (unless you count rockabilly)... the other songs, such as "Anarchy Burger," "Pat Brown" and the like are pretty squarely in the classic, dumb-as-you-wanna-be SoCal novelty punk tradition. This CD combines the songs from the band's first two records from the 1980s.
Vandals "...Play Really Bad Original Country Tunes" (Kung Fu, 1999)



Hey, I believe it. (Note, this is a slightly altered reissue of their album, Slippery When Ill.)

Dave Van Ronk "Going Back To Brooklyn" (HighTone, 1991/2006)



This reissue of Van Ronk's 1991 album of all-original material captures the (now deceased) folk-blues veteran at an advanced age, yet still in fine form. Van Ronk was considered by many to be the heart and soul of the 1960s Greenwich Village folk scene; the neophyte Bob Dylan ripped off his arrangements, countless people slept on his floor, everyone admired his musical breadth and irrepressible, charitable good spirit. Here, the freewheeling, anarcharic ethos of the '60s counterculture expresses itself in Van Ronk's lusty, carnal good humor, and his penchant for salty, salacious lyrics. There's plenty of fine acoustic blues picking, but the raunchiness of limericklike ditties such as "Luang Prabang" and "The Whores Of San Pedro" will curl your toes and straighten your socks... This is a fine album, as worthy a testament to Van Ronk's fabled career as any of his earlier, better-known albums. Recommended!
Townes Van Zandt "The Best Of Townes Van Zandt" (Tomato, 2002)


I have to confess, I've actually never been a huge Townes Van Zandt fan... I completely see the appeal, and I understand why for so many years he was such a beloved figure in the alt.country scene. But the late country poet's work always struck me, personally, as a bit belabored and hard to connect with on an emotional level. Part of that has to do with Van Zandt's limited vocal range (I'm just digging myself in deeper here, aren't I?) although from one point of view, that was part of his charm -- he was like an alt.country precursor of the punk rock ethos that you didn't have to be a super-duper musician to express yourself or make your own records. The other thing about Townes, though, is the overly-meticulous nature of his songwriting. Clearly he came out of the '60s folk tradition, and in that context, his artwork was maverick and innovative. But compared to other country artists, he seems a little stuffy and classically derived, owing as much to English Lit classes as is does to the legacy of Woody Guthrie or Hank Williams. I find myself constantly aware of his songcraft, and not so aware of the songs themselves. Still, this new collection of his best work on the always-worthy Tomato label, is one of the best introductions to his work you're likely to find, sampling songs from his early career in the late '60s and early '70s. These are all much-beloved fan favorites, and while I have to struggle to enjoy his work, I would definitely recommend this album for anyone looking for an introduction to this late Texas legend's work.
Townes Van Zandt "A Gentle Evening With Townes Van Zandt" (Dualtone, 2002)


Portrait of a young, innovative folkie on the make: here's Townes Van Zandt in 1969, appearing with all his wry, understated charm at a gig in New York City's prestigious Carnegie Hall. I'll say this for Townes: the boy sure was cool as a cucumber; you'd never know he was playing the show of his life, what with his deadpan, laconic stage presence and unhurried delivery. This is a nice glimpse at Van Zandt in his early prime, a fella taking the Woody Guthrie tradition apart and rebuilding it from the ground up, adding his own unique, Gothic intensity to the style. Recommended!
Townes Van Zandt "In The Beginning" (Compadre, 2003)



I've never been a huge Townes Van Zandt fan, but this set of long-lost Nashville demos, recorded in 1966 when Townes was just making a name for himself on the budding Texas nightclub/folk scene, show a vibrant, edgy side to his work, which seems to have been largely buried in the more controlled, mannered, mainly acoustic albums that would follow. Here we're treated to rough early versions of several Van Zandt standards, some even in rough, electrified boogie-blues form -- a far cry from his later folkie orientation! Devoted fans will go gaga over this archival set; the skeptical and uninitiated alike may also find a lot to get excited about here as well.
Stoll Vaughan "Hold On Thru Sleep & Dreams" (Shadowdog, 2002)

Stoll Vaughan "Love Like A Mule" (Shadowdog, 2006)



The somewhat generic, low-budget cover art left me unprepared for the funky fire inside this disc. Newcomer Stoll Vaughan combines a knack for writing solid, rhythmic hooks with an energetic, nicely-layered roots-country sound. Pedal steel and Wurlizter organ are put to fine effect amid the clank and strum of electric and acoustic guitars, all of it catchy, carefree and consistently engaging... Check it out: Americana and alt-country may have found a young new superhero!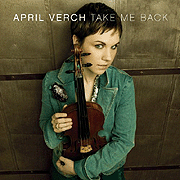 April Verch "Take Me Back" (Rounder, 2006)



An extraordinarily pleasant, appealing record -- possibly my favorite new folk/country/Americana album -- and one that, for some reason, I can't seem to get out of my CD player. Canadian fiddler April Verch moves masterfully from style to style, including sizzling breakdowns, funky Celtic reels and slip jigs, a bit of slinky, bluesy jazz ("Monarch") and several achingly beautiful vocal numbers, including the title track (which was written by Buddy and Julie Miller), the poppy "All In A Night," the abject yet incandescent "I Still Cry," and Verch's own unusual portrait of a gal who takes up a nun's habit, "Bride Of Jesus." From start to finish, this is a bright, compelling record, one that should open more than a few ears to this up-and-coming young player. Highly recommended!
Gina Villalobos "Beg From Me" (Kick Music, 2002)


Gina Villalobos "Rock'N'Roll Pony" (Kick Music, 2004)






<! also CD = B0007DBXQA >

Gina Villalobos "Miles Away" (Face West, 2007)



(Produced by Gina Villalobos & Erik Colvin)
A raw, rollicking country-rock effort full of attitude and drive... There's the teeniest hint of Lucinda Williams in the mix, but in her more rockin' moments, Villalobos comes closer to the Tom Petty/Sheryl Crow school of roots-rock tunesmithing. The stylistic hallmarks of the Americana/outlaw movement are present -- fiddle, pedal steel and banjo -- but Villalobos' L.A. rocker roots are never far from the surface. She distinguishes herself with her powerful, fully captivating melodic hooks -- the sign of a noteworthy artist in any genre. If you're looking for some twang that really rocks, check this gal out!


<! 144 x 144 >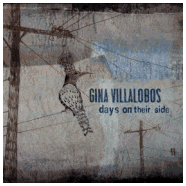 Gina Villalobos "Days On Their Side" (Face West, 2009)



(Produced by Gina Villalobos & Erik Colvin)
Stepping back from the punchy twang of her previous release, Villalobos goes for more of a contemplative, rock-folk/adult-alt sound for this brooding, rather downcast record. To be honest, it's a bit dreary musically, with little differentiation between one glum, slow, mopey, semi-suicidal song and the next... She gives little growling, drawling, recriminative murmurs over each lush, languid instrumental surge, and the music has a relentless, narcotic effect that underscores the tone of complaint, weariness and discontent. I imagine this album had a lot of personal significance for Villalobos, and perhaps was more meaningful to her than her earlier, bouncier 'billy sound... But it's kind of an emotional downer for listeners. True-blue gloom junkies might love this one, though!
Redd Volkaert "Telewacker" (Hightone/HMG, 1998)


Redd Volkaert "No Stranger To A Tele" (Hightone, 2001)



Swell Telecaster-delic instrumentals by a fella who recently emerged as Merle Haggard's gee-tar player. Deft playing with a nice sense of humor.

Redd Volkaert "For The Ladies" (Hightone, 2004)


This is a best-of drawing on the HighTone albums of the Man Who Would Be Junior Brown... probably the perfect introduction to his work. I find him a little too jittery and rowdy -- not enough smooth sides and tonal coloring -- but folks who are into hot guitar picking may feel differently about it.
Patricia Vonne "Patricia Vonne" (Bandolera, 2003)



Patricia Vonne "Guitars And Castanets" (Bandolera, 2005)



Normally, I try to avoid reflexively comparing female artists to other female artists... But in the case of Austin-based songwriter/actress Patricia Vonne, her stylistic and vocal similarity to Lone Justice-era Maria McKee is so noticible, I feel I'd be somewhat negligent if I didn't point it out. It's the early '80s cow-rock sound all over again -- hints of Carlene Carter and Rosanne Cash are in there as well, and maybe even a wisp of Chrissie Hynde in the snarlier moments. Vonne adds a bilingual Tex-Mex twist that sets her apart, but the basic sound is much the same... It's a little too hard-edged and roots-rocky for me, but for fans of the impassioned, sometimes torturously wordy McKee ouvre, this disc may be a godsend. By the way, Vonne's also related to director Robert Rodriguez, and can be seen (and heard) in some of his films... This is her second album.
Patricia Vonne "Firebird" (Bandolera, 2007)


The V-Roys "Just Add Ice" (E-Squared, 1996)


.
The V-Roys "All About Town" (E-Squared, 1998)


.

The V-Roys "Are You Through Yet? The V-Roys Live" (E-Squared, 1999)


The farewell album by these alt-country cult favorites. Twangy, hyperactive, slightly desperate and shrill-sounding rock. Doesn't really reach me on any emotional level; maybe I just don't get it. I guess it's cool they cover "There She Goes," though I like the original La's version much better (of course!) Not bad, just doesn't float my boat. They don't seem to have a great sense of melody... I'm betting they were fun live, though. (See also: Steve Earle, Scott Miller)

The V-Roys "Sooner Or Later" (F.A.Y. Recordings, 2011)



(Produced by Steve Earle & Ray Kennedy)
A best-of set from this highly-regarded Americana twang-rock quartet from Knoxville, TN... Fans of the Bottle Rockets, Jayhawks and Steve Earle will enjoy this set... Nice to trace the band's progress from a lighter, more acoustic style into the heavier, more rock-oriented feel of their later work, and to hear the wide variety of tones that their work took on. Great twangcore from the 1990s!


<! later in a band called The Faults? one album in 2001 >

---
Alt.Country Albums - Letter "W"
---