<! MP3 03/18/09, 12/07/10 > <! update 00/00/00 > <! outside 00/00/00 > <! pix 00/00/00 > <! icons 12/07/10 > <! Cabin Fever Cattletruck Corky Carroll "Surf Dogs On The Range" (1999) >
---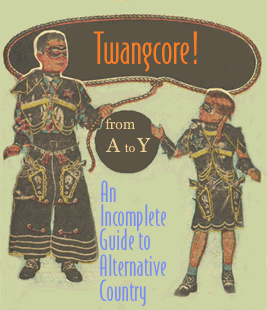 This page is part of an opinionated overview of "alt.country" music, with record reviews by me, Joe Sixpack... Naturally, it's a work in progress, and quite incomplete, so your comments and suggestions are welcome.
This is the first page covering the letter "C"
---
A | B | C / C-2 / C-3 | D | E | F | G | H | I | J | K | L | M | N | O | P | Q | R | S | T | U | V | W | X, Y & Z | Comps | Other Country Styles
---
Shawn Camp - see artist discography
Kate Campbell - see artist discography

Laura Cantrell "Not The Tremblin' Kind" (Diesel Only, 2000)



New York's singing cowgirl, songwriter Cantrell hosts a country show on renowned freeform radio station, WFMU, and has parlayed her love of twangitude into a full-fledged recording career. Honestly, despite having several mutual friends in common with her, this debut disc doesn't do that much for me... The songs are just a little too overwritten and self-consciously crafted, also, her vocals kinda bug me; imperfections that could have been disguised in a rock'n'roll context are all-too apparent in the more stripped-down country context. Still, Cantrell has a lot going for her, not the least of which is a sharp band, culled in part from the East Coast power-pop/indie scene. Folks looking for alt.country that breaks out of the usual ruts of white trash stereotypes, etc., and aims to revitalize the old traditions of well-crafted heart songs might wanna check this gal out.

Laura Cantrell "When The Roses Bloom Again" (Diesel Only, 2002)



Although Cantrell's voice -- almost Mary McCaslin, but not quite -- still falls short, her songwriting is much sharper and direct, particularly on this album's opening numbers. Her band is tight as well: several songs are melodically strong, with an almost power-poppy propulsiveness, and Cantrell is closer to finding an effective tunesmithy voice. The slower numbers still seem a bit muddled, but less so than on her first album -- listeners may have to work a bit to get caught up in her songs, but the lyrics and emotional content are all pretty solid.
Laura Cantrell "Live At Schubas: 6/7/03" (eMusicLive, 2003)

Laura Cantrell "The Hello Recordings" (Diesel Only, 2004)



A 5-song EP...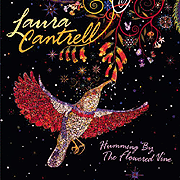 Laura Cantrell "Humming By The Flowered Vine" (Matador, 2005)



It's a delight to see when an independent artist crafts a masterpiece, particularly someone who's been around for a while and whose imperfections have been almost as charming as their artistic passion. On her third album, East Coast alt-country songwriter Laura Cantrell has crafted a solid, soulful work that may be the soundtrack for many a moody afternoon to come. Backed by East Coast indie-popster Dave Schramm and members of the uber-artsy, amorphous band Calexico, Cantrell shifts from style to style, drawing on numerous influences to forge a sparkling record with several memorable melodies. Unlike many big city altabillies, Cantrell seldom trawls through the depths of phony hick sterotypes to "prove" how country she is, and on this record she goes out of her way to claim ownership of her own urban identity, with songs that place the listener smack dab in the middle of New York, New York. For example, the album kicks off with its strongest track, "14th Street," a walking tour of heartbreak on concrete that half-unconsciously swipe its melodic hook from "There She Goes" by the La's. (Which, frankly, is fine by me. The next song, though, quotes that old Budweiser jingle... "when... you say... Bud!", which is a little more questionable...) Calexico & Co. prove themselves adept at absorbing country music, and when they do add a rock touch, it feels a bit raspy and Neil Young-ish; Cantrell anchors herself to her country roots through a fine, wistful version of the old Wynn Stewart hit, "Wishful Thinking," a plaintive rendition of the ballad, "Poor Ellen Smith," and her own "California Rose," a heartfelt homage to West Coast wild woman Rose Maddox. But while flexing her musical strengths inside a professional studio, with a versatile, ultramodern band to back her, Cantrell also zeroes in on unsuspected depths as a rock-popster, sounding as much like Linda Thompson as folkies such as Mary McCaslin. It's a glorious transformation, and this is an album that might floor more than a few listeners. Recommended!
Laura Cantrell "Humming Songs: Acoustic Performances From The Flowered Vine" (Matador, 2006)


A 5-song live EP...
Laura Cantrell "Trains And Boats And Planes" (Diesel Only, 2008)


A 5-song EP...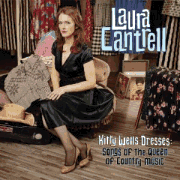 Laura Cantrell "Kitty Wells Dresses: Songs Of The Queen Of Country Music" (Diesel Only, 2011)



(Produced by Laura Cantrell)
A pure delight for pure country fans. Singer Kitty Wells was a country music trailblazer -- the first woman to hit the top of the charts and a towering figure in the Nashville landscape throughout the 1950s and '60s. Alt-country heroine Laura Cantrell kicks off this tribute album with a self-penned original, "Kitty Wells Dresses," which pays homage to the queen of country and namechecks many of the great female singers who came in her wake. Despite Wells' resolutely traditional image, Cantrell holds her up as an iconic modern woman, and given Wells' professional successes in the male-dominated honkytonk scene, I guess she has a point: for Cantrell, the stiff-collared, old-fashioned gingham dresses are just costumes and window-dressing -- it's that glint in Kitty's eyes that counts. Cantrell is herself a modern gal with a retro inclination, and she can tap into old-school twang like nobody's business. She finds a powerful muse in Kitty Wells, cherrypicking classic heartsongs and ballads, and channeling the plaintive, true-country vibe that made Wells' work so compelling. It's easy to imagine Cantrell sitting around at home over the years, guitar in hand, singing these songs for fun, harmonizing along with those old records. Now that she's put it down on wax, the results are pitch-perfect, a solid set of traditional, old-school country with strong contributions from numerous talented pickers: steel guitarist Chris Scruggs perfectly captures the simpler, Hawaiian-inflected style of the early '50s, bluegrass bassist Mike Bub thumps along in a minimalist mode while neo-twangsters such as Paul Burch, Fats Kaplin and Chuck Mead chime in as well. This is perhaps the finest album of Cantrell's career and a fitting tribute to Kitty Wells and her era -- a rock-solid set of heartfelt twang. Highly recommended!

Cap Gun Cowboys "Girls, Cars And Smoke-Filled Bars" (Rust Belt, 2003)


Cowpunkish Ohio rockers playing at the alt.country game, with songs with titles like "Wal Mart Wedding," "Full Tank," and "Phone Call From Texas." I actually didn't find these fellas as offensive or as stereotype-laden as many of their altie compatriots -- they're actually kind of likeable in a rooting-for-the-nonprofessionals kinda way. But they're also really limited musically and many of the songs lack focus. Still, if you like some of the Bloodshot bands, you might enjoy checking thses guys out as well.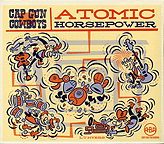 Cap Gun Cowboys "Atomic Horsepower" (Rust Belt, 2005)


Although they've toned down the cowpunkish elements somewhat, these Ohioans still sound kinda clunky to me. Their hearts are in the right place, but their pickin' is pretty rough, and them thar twangy accents sound a bit too forced. This disc is okay, I suppose, but it didn't really wow me. Folks who are more into the whole twangcore thing might like it more that I did, though, so take what I say with a grain of salt...

Brian Capps "Walk Through Walls" (HighTone, 2005)



Nice, understated roots'n'rock in the style of Dave Alvin and the Blasters... Strong original material and a few well-chosen covers, most notably a funky version of the Merle Travis oldie, "Dark As A Dungeon," which sounds like the song is being covered by Marc Bolan and T.Rex... Capps comes from the Midwestern roots band the Domino Kings, and does a nice job here on his first solo outing... Worth checking out!
Grayson Capps & The Stumpknockers "Rott'n'Roll" (Hyena Records, 2008)



(Produced by Grayson Capps & Trina Shoemaker)
Murky, greasy blues-and-rock-drenched Americana, with a sleazy, sludgy, weary edge -- sort of like Robert Earl Keen with a really bad, really big hangover. The smell of whiskey-soured, days-old sweat oozes out of these clompy, thumping tunes -- fans of Drive By Truckers and more rock-oriented alt-twangsters might dig these guys, too.
Download picks:

Arrowhead


Big Ole Woman


<! CAPPS -- some other albums to add to Alt. >


Brandi Carlile - see artist discography




Hayes Carll "Flowers And Liquor" (Compadre, 2002)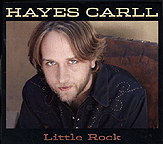 Hayes Carll "Little Rock" (Highway 87, 2004)


The album's title is, of course, a pun... While there is a "little rock" in the mix here, this album is mainly a brash blast of pointedly twangy, bouncy alt-twang. It's also the coming-out party for a major new telent on the alt-country scene. While Carll's debut disc, Flowers And Liquor introduced us to a young songwriter with a knack for nabbing memorable melodic hooks, it was an uneven album -- a few songs stood out as gems, others seemed less well-formed. Here, however, is an album where every song is forcefully bright and passionately presented, a sustained showcase for a guy who has taken the songcraft of Texas indie icons like Guy Clark and melded it to a chunky, bluesy, upbeat full-band sound that suggests a lot of fun, loud nights playing at all the right bars. In his lyrics, Carll namechecks Ray Wylie Hubbard and the Texas alt-billy scene, but now it's clear he's not just some kid looking in the window, he's a newly-arrived peer, a guy whose new records we should look forward to for years to come. Indeed, Hubbard and Clark have cowritten a few songs with Carll, and if that's who he's hanging out with, the guy's alright with me. There's a bit of an overly-aggressive edge to some of this album, but overall it's a pretty compelling release. You should definitely check it out. It's the real deal.
Hayes Carll "Live At Bend Studio: 10/21/06" (Bend Studio, 2006)


Hayes Carll "Trouble In Mind" (Lost Highway, 2008)



(Produced by Brad Jones)
A loud, lusty, robust dose of hard-rockin' alt-country, pure pop pleasure for folks who like their Americana to sound booze-soaked, smoke-stained and twangy. Carll sings about barmaids and sweaty nightclubs, booze, pills, wild sex and never looking back. He might be laying it on a bit thick, but he's got lots of good licks and a killer band backing him up: this is what outlaw country should sound like, and if you're into it, this is a pretty fun album. Carll is also a superior country craftsman, both as a lyricist and tunesmith -- his lyrics don't run down poetic rabbitholes or trot out bloodless stereotypes. The subject matter is raw, but believable, and the music packs enough wallop that you can easily imagine yourself pounding back a few in an old-fashioned honkytonk, nodding along and thinking, hey, this kid knows his stuff. One of the strongest alt-country albums of the year, and another strong offering from an artist who's really hit his stride. Check it out.


<! Hayes Carll "Flowers And Liquor" (Compadre, 2002) B00BIR410O B000XUMBP4 Hayes Carll "Little Rock" (Highway 87, 2004) Hayes Carll "Live At Bend Studio: 10/21/06" (Bend Studio, 2006) B0018UXTZE Hayes Carll "Trouble In Mind" (Lost Highway, 2008) Hayes Carll "KMAG YOYO" (Lost Highway, 2011) B004BSWC0I B004LWCUAQ >

Hayes Carll "KMAG YOYO" (Lost Highway, 2011)


Hayes Carll/Various Artists "Country Strong: More Music From The Motion Picture" (Madison Gate, 2011)


Carolina Chocolate Drops "Dona Got A Ramblin' Mind" (Music Maker, 2006)


Carolina Chocolate Drops "Heritage" (Dixiefrog, 2006)


Carolina Chocolate Drops & Joe Thompson "Carolina Chocolate Drops & Joe Thompson" (Music Maker, 2006)



Live at Merlefest...
Carolina Chocolate Drops "Genuine Negro Jig" (Nonesuch, 2006)



Carolina Chocolate Drops "Leaving Eden" (Nonesuch, 2012)



(Produced by Buddy Miller)
A wily mix of old-timey music and backwoods blues from a contemporary band that mines the more obscure corners of the African-American musical heritage, hearkening back to the minstrel show days and jug bands of yesteryear. Their fourth album pushes the group into more self-consciously modern terrain, with songs such as "Country Girl" and "Leaving Eden" that stray from their more traditional roots, and bring them closer to the style of Americana groups such as the Be-Good Tanyas, et.al.. You gotta love their unruly sound, though, with the squeaky fiddle and super-plunky, thrashed-out banjo, particularly when paired up with now-arcane, old-school instruments such as the hambones, as heard on their version of "Ruby, Are You Mad At Your Man." I have to confess, sometimes Rhiannon Giddens' vocals get on my nerves, though it depends on the material: "Boodle-De-Bum-Bum" is a great jugband tune, but the funky, overwritten "Country Girl" is kind of a drag by comparison. Still, I suppose you gotta mix things up... not everyone's going to want to hear a whole album's worth of uptempo, Grandpa Jones-ish tunes like "Run Mountain" and keeping it eclectic will keep modern listeners tuned in. A richly diverse, challenging record from a vigorous, intelligent band... Definitely worth checking out!


<! Carolina Chocolate Drops "Dona Got A Ramblin' Mind" (Music Maker, 2006) B000H5U6M0 B005KDN5DQ Carolina Chocolate Drops/Various Artists "Great Debaters" (Atlantic, 2006) (Soundtrack) Carolina Chocolate Drops "Heritage" (Dixiefrog, 2006) B004WOXKT8 B005KOD8MS Carolina Chocolate Drops & Joe Thompson "Carolina Chocolate Drops & Joe Thompson" (Music Maker, 2006) B000FTK9AC B005M7C0HM Live at Merlefest Carolina Chocolate Drops "Genuine Negro Jig" (Nonesuch, 2006) B002U33GQU B0036YIBTO Carolina Chocolate Drops "Carolina Chocolate Drops/Luminescent Orchestrii" (EP) (Nonesuch, 2006) also: The Heritage Orchestra (?) >

Joe "King" Carrasco & The Crowns "Tales From The Crypt" (ROIR, 1984/2000)



Picking up where Doug Sahm and Peter Rowan left off, garage popster Joe Carrasco hailed from Austin, Texas, where late in 1979 he corralled together the raggedy band that plays on this CD... Originally a cassette-only release, this features a healthy batch of lighthearted romps through brown-eyed soul and Tex-Mex rock, all handled at a clip that tips you off that you don't have to take this too seriously... just settle back and enjoy. It's fun stuff; the punk era DIY ethos directed in an entirely new direction, and the pull of these recordings is fairly irresistible. Fun stuff! All this and liner notes from John Morthland... how can you go wrong?
Joe "King" Carrasco "Tex-Mex Rock-Roll" (ROIR, 1989)

Joe "King" Carrasco "Bandido Rock" (Rounder, 1990)


Joe "King" Carrasco "Anthology" (One Way, 1995)

Joe "King" Carrasco "Royal, Loyal & Live" (Crystal Clear Sound, 1999)


Joe "King" Carrasco "Joe "King" Carrasco" (Tornado, 2002)


Caitlin Cary "Waltzie (EP)" (Yep Roc, 2000)


Caitlin Cary "While You Weren't Looking" (Yep Roc, 2002)



A surprising, poppy outing for Ms. Caitlin... As a Whiskeytowner, Cary had a tendency to be a bit shrieky -- here, she takes a smoother path, following in the footsteps of Mekons frontlady Sally Timms who moved out of her twangcore phase into mistier pop balladeering. Like Timms, Cary appears to be chasing the ghosts of June Tabor and Linda Thompson, and likewise, it suits her well. The songwriting is also an improvement over her country-themed Whiskeytown material; without the WTS baggage, Cary proves capable of crafting fairly smooth, haunting pop material. She even dabbles in Phil Spector-style Brill Building pop. All in all, a nice record, although longtime fans may be a bit mystified. The CD also comes (or came?) with a 4-song mini-CD with much country-er material, including an excellent duet with Ryan Adams. Good record, worth checking out.
Caitlin Cary "I'm Staying Out" (Yep Roc, 2003)



Cary delves even deeper into her pop muse, chasing the spectres of Linda Thompson and Natalie Merchant, and leaving the country stuff almost entirely behind. Ex-DB Chris Stamey produces and writes some of the material... Not totally my cup of tea, but you can see where she's going on this one. If you liked the general direction of her previous album, While You Weren't Looking, then you're probably gonna love this one!
Caitlin Cary & Thad Cockrell "Begonias" (Yep Roc, 2005)


Neko Case - see artist discography
Laura Cash "Awake But Dreaming" (Cash House Records, 2010)



(Produced by Laura Cash)
The debut album of singer Laura Cash, wife of John Carter Cash, a gal who pays allegiance to old-school country heartsongs and western swing. Backing her are several top-flight studio pickers, including steel legend Lloyd Green, fiddler Bobby Flores, Pig Robbins on piano and Pete Wade on guitar. The songs are classics from the likes of Harlan Howard, Hank Snow, Bob Wills and other hillbilly composers... Cash herself contributes one original tune, a tribute to Appalachian impresario Roy Acuff -- "Song For Roy (Country Music's King)" -- which is one of the album's highlights. Can't say I'm actually that wild about Cash's vocals, but her heart is definitely in the right place, and she knows her hillbilly history -- a very sincere and thoughtful set of traditionalist twang.
Buzz Cason "Hats Off To Hank" (Palo Duro, 2007)



(Produced by Buzz Cason & Parker Cason)
A rambling, discursive, roots-rock set from craggy-voiced veteran songwriter Buzz Cason, a Nashville old-timer who formed one of Music City's first rock bands, back in the 1950s and has been plugging away ever since. This album echoes the weather-worn, stream-of-consciousness style of JJ Cale or maybe even someone more crotchety, like Jim Dickinson, with a dose of geezerly discontent and anger fueling some of the songs. These aren't pop songs, or even conventional-sounding country or blues -- they ramble and detour all over the map, and I'll be danged if I can really tell you what half of them are about. Personally, I'd go for a little pruning down and editorial control, but folks who like weird, swampy, unusual stuff might get a kick out of this... File it along with Swamp Dogg, Hasil Adkins, Chip Taylor and Guy Clark. Not bad company, depending on your taste!
Cattletruck "Bourbon And Black Crepe" (2007)


---
Alt.Country Albums - More Letter "C"
---