<! MP3 07/12/09, 12/10/10 > <! outside 00/00/00 > <! pix 00/00/00 > <! icons 12/10/10 > <! UPDATES: 07/12/09 - expand Alejandro Escovedo 12/10/10 - done! > <! ADD: Rusty Evans - a bunch of albums! - >
---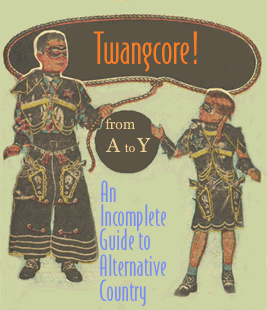 This page is part of an opinionated overview of "alt.country" music, with record reviews by me, Joe Sixpack... Naturally, it's a work in progress, and quite incomplete, so your comments and suggestions are welcome.
This page covers the letter "E"
---
A | B | C | D | E | F | G | H | I | J | K | L | M | N | O | P | Q | R | S | T | U | V | W | X, Y & Z | Comps | Other Country Styles
---
Jason Eady "From Underneath The Old" (2005)


Jason Eady "Wild Eyed Serenade" (2007)


Jason Eady "When The Money's All Gone" (Smith Entertainment, 2009)


Jason Eady "AM Country Heaven" (Underground Sound, 2012)



(Produced by Kevin Welch)
Wow. Cool beans. This is one of the most intelligent alt-country albums I've heard in years... Not intelligent like, brainy or smart-ass, but intelligent like, this guy really knows his stuff, really has his country history down and knows how to dig into the style without hamming it up or laying it on too thick. These are well-crafted songs with the right mix of construction restraint that make the lyrics ring true. Honestly, Eady had me sold on the first song, the album's title track where he waxes nostalgic for the days when country stars were still homely and unairbrushed -- or, as he puts it, "the days when the women were ugly/and the men were all forty years old," and country music was about the music and not about "the product." He hits the nail on the head with that one, and I had to smile when he echoed an old pet theory of mine about how some of the best country music was on albums with really unattractive album art: think Lefty Frizzell, Gene Watson and Carmol Taylor. Those dudes were ugly, but they sure could sing. Anyway, Eady starts strong and keeps up the momentum with great songs that mimic the guitar styles of the early 1970s Top 40 and outlaw music alike, paying homage to Waylon Jennings and Billy Sherrill with equal affection. It's a really good record, one that twang fans like me can enjoy for years to come.
Justin Townes Earle "Yuma" (EP) (Bloodshot, 2007)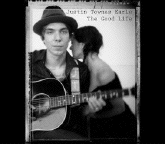 Justin Townes Earle "The Good Life" (Bloodshot, 2008)



(Produced by R.S. Field & Steve Poulton)
Steve Earle's kid is definitely a chip off the old block -- I mean, no, he's not a hard-rockin', twangcore firebrand, he's not in jail (as far as I know) and he doesn't have a recurring role on The Wire, but he's definitely his dad's kid, an innovative, soulful performer who has a deep awareness and subtle mastery of a wide range of country and roots music styles. It's interesting that Earle chose to take a softer-sounding, lo-fi approach on his first full album, with a casual, raggedy band that sometimes sounds unrehearsed -- I'm sure it's all intentional, since it would have been easy to have his dad come up with something louder, sharper and more tightly crafted. But Earle is playing it cool here, low-key and small-scale, showing his love of jaunty acoustic swing, old-fashioned honkytonk, mournful folkie romanticism and late-night roadhouse blues. All of these songs are his own originals, and they all have their charms -- the most compelling tracks, though, are the more contemplative, confessional songs, where he lives up to the legend of his godfatherly namesake, Americana-folk icon Townes Van Zant. On songs such as "Who Am I To Say," "Far Away In Another Town" and "Turn Out My Lights," he taps into a deep reservoir of human melancholy and regret, powerful, poetic stuff that stands out from the more upbeat material (even while benefiting from the contrast in moods.) This is a well sculpted, well thought out set of songs, and certainly points to more great things to come Recommended!

Justin Townes Earle "Midnight At The Movies" (Bloodshot, 2009)



(Produced by R.S. Field & Steve Poulton)


Justin Townes Earle "Harlem River Blues" (Bloodshot, 2010)



A pretty groovy set where JTE stays in touch with his country roots, but moves into a wider range of styles, including a robust blues/roots/rock style that may bring to mind any number of '70s roots-rock artists -- Delbert McClinton, perhaps, with a more singer-songwriterly tone? Jesse Winchester with a rougher side to drag? Woody Guthrie grinding out some Memphis soul? Although there's less overt twang on here, I really like this record a lot -- the songs are quite catchy and compelling and Earle seems like an unusually confident, relaxed performer for someone of his tender age. With each record, he steadily gets stronger -- I'm looking forward to the next one, but definitely enjoying this disc!
Justin Townes Earle "Nothing Is Going To Change The Way You Feel About Me Now" (Bloodshot, 2012)



Stacey Earle "Dancin' With Them That Brought Me" (Gearle Records, 2000)



(Produced by Stacey Earle & Mark Stuart)
Steve's sister Stacey ia an endearing performer who's been pegged as having a more than slight vocal resemblance to Nanci Griffith, yet on her latest self-released record we find Earle moving steadily away from the Nanci-soundalike style of her previous album, into broader musical territory. Her voice still registers as chirpy, but with warmer and more confident phrasing. Likewise, her arrangements have expanded to include the sort of compelling pop-folk melodicism that lures listeners towards artists such as Slaid Cleaves and Dar Williams. Most importantly, Earle's a great songwriter, with a knack for a bouncy melody and a memorable chorus (particularly on the album's centerpiece, "Is It Enough?"). Like her well-known older brother, Stacey Earle's lyrics have an elusive, almost mystifying quality -- like a faint whiff of an autumn breeze on a back porch swing. Keep an eye on this gal.
Stacey Earle & Mark Stuart "Never Gonna Let You Go" (Evolver, 2003)



Stacey Earle & Mark Stuart "Must Be Live" (Evolver, 2003)



A nice live set with Earle and her touring/life partner, guitarist Mark Stuart. Live, her likeness to Nanci Griffith becomes even more pronounced ("Thank yeww!") although her folkiness is also more to the fore. I guess I prefer her studio work, although these are fine, fragile, friendly folk performances. Fans will be pleased.
Stacey Earle & Mark Stuart "S&M Communion Bread" (Funzalo, 2008)


Steve Earle - see artist discography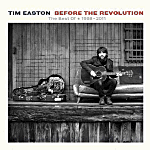 Tim Easton "Before The Revolution: The Best Of 1998-2011" (New West, 2013)



Rootsy, folky indie rock with a lot of touchstones and likenesses to artists such as Steve Earle, Todd Snider, and a dead-on latter-day Dylan (on "Burgundy Red") and some other, softer folkie types. Easton carves out his own private sphere, not as aggressive as Earle, not as flippant as Snider or as self-conscious and self-important as Mr. Zimmerman. This is a little more rock'n'roll than the stuff I go for, but has a nice, consistent tone that will grow on you, and an admirable range of styles... His contemplative, searching side strikes me best: if you enjoy modern-day twang-folk troubadours, this best-of collection is a good introduction to Easton's work. (And if you like the mellower stuff on here, you might also want to check out his work with the Easton Stagger Phillips trio, an album that I really enjoy.)
ESP/Easton Stagger Phillips "One For The Ditch" (Rebeltone, 2008)



This one was a real surprise! A self-released gem from a West Coast trio who delve deep into folkie-mystic country-Americana, and produced several dazzling, hypnotic tunes. The three are Tim Easton (from Joshua Tree, CA), Leeroy Stagger (Victoria, Canada) and Evan Phillips (Anchorage, Alaska) and despite their geographical separation, they synch together perfectly on this disc. This is one of those records where you don't know quite what to expect, then wind up listening to it over and over for several days. Fans of Wilco's more melodic-acoustic side, old Victoria Williams, early Neil Young, or maybe James Hyland's stuff with the South Austin Jug Band, will probably dig this as well. The gentle country-folk arrangements are graceful and seductive, and several songs have dream-laden, evocative choruses -- particularly addictive is the mournful "Highway," along with the growly "In Love With You" and the singalong "Stormy." There are also songs about the long winters and wet Alaska weather, as well as a heartfelt song in praise of folk-bluegrass festivals, where the singer doesn't want the weekend to come to a close... Well, all those festival tailgate parties sure seem to have paid off: this is a record that will be a cherished favorite for the fortunate few who get ahold of it. Probably the best way to find it is to contact the band directly: www.myspace.com/eastonstaggerphillips

John Eddie "Who The Hell Is John Eddie?" (Lost Highway, 2003)



Although some of his roots-rockin' tunes are a little too slick and (would-be) commercial for me, this still-under-the radar John Haitt-like songwriter has some good tunes, stuff that'll draw you in, no matter how indier-than-thou you are. Some of these songs (including some of the fun ones) are clearly alt-y bait, like "Sh*thole Bar" and "F**king Forty," and while they're fun the first time around, they outstay their welcome on repeat listens. Other songs, like "Lowlife" and "Play Some Skynyrd" are pretty durable. It's not all novelty material, either: there are some serious songs on here as well, though they tend to be really downcast and a little overproduced. Worth checking out, though!


<! several other albums -- is he really too much of a rocker? >

E*I*E*I*O "Land Of Opportunity" (Frontier, 1986)


E*I*E*I*O "That Love Thang" (Frontier, 1988)


Eleven Hundred Springs "No Stranger To The Blues" (Kirtland, 2000)



A nice strong set of old-fashioned hard country shuffles; these Texan ex-rockabilly rebels have a nice feel for the old country stuff, penning and picking sweet, simple novelty songs worthy of Ernest Tubb and Buck Owens. Plenty of rough edges and shortcomings, but also plenty of heart and fun songwriting. Worth checking out!
Eleven Hundred Springs "A Straighter Line" (EHS, 2001)


Eleven Hundred Springs "Broken Dreams" (EP) (Last Beat, 2003)



This 5-song EP catches the band in a mellower mode, with somewhat richer production and some sweet songs. Singer Kim Pendleton, late of the band Vibrolux, joins the group, adding some nice Rosanne Cash-ish vocals on a few tunes. There are still rough spots, but they do have the makings of a really great band. Nice pedal steel.

Eleven Hundred Springs "Bandwagon" (Compendia/Palo Duro, 2004)



(Produced by Eleven Hundred Springs & Tommy Detamore)
This Austin-area altie band has really grown by leaps and bounds... where their earlier releases had shown promise, this disc delivers the goods. It opens with "Northside Blues," an organ-based, Doug Sahm-styled groover with an irresistible hook, and slides right into one of the finest sets of modern-day Texas outlaw music in recent memory. Sure, some of the songs are a little too on the nose, like two titled "Long-Haired Tattooed Hippie Freaks" and the Waylon-esque "Hank Williams Wouldn't Make It In Nashville Today," but the twang is so darn nice, it's really not a problem. These guys might have had to study up a bit to get the whole pot-smokin' hippiebilly thing down just right, but I'm sure glad they did... They might just wind up being one of the best indie country bands of the decade! Check 'em out.
Eleven Hundred Springs "Country Jam" (Palo Duro, 2008)



(Produced by Lloyd Maines)
Another truly excellent album, with an extra-tasty helping of pedal steel, played by Danny Crelin, but perfectly framed by producer Lloyd Maines. Once again they tap into a groovy Doug Sahm vibe on several songs, adding retro-rock on tunes such as "V-8 Ford Boogie" and a cover of "Rocket 88." The stuff I like the best, though, are the dreamy twang tunes and hard-country weepers -- songs like "I Never Crossed Your Mind" and "Whose Heart Are You Breaking Tonight" are as sweet and perfect of modern-day twangtunes as you're likely to hear. Highly recommended!


<! Eleven Hundred Springs "Welcome To Eleven Hundred Springs" (13 Recordings, 1998) B001EF2JYA B007CSE9ZA - CD link wonky Eleven Hundred Springs "Live At Adair's Saloon" (13 Recordings, 1999) - no ASIN - Eleven Hundred Springs "No Stranger To The Blues" (13 Recordings, 2000) B000M28OE0 B007CSE644 Eleven Hundred Springs "Straighter Line" (13 Recordings, 2001) B00005S22Z B007CSDL7C Eleven Hundred Springs "Broken Dreams" (EP) (Last Beat Records, 2003) B00009YUL1 B000S5EASU Eleven Hundred Springs "Bandwagon" (Palo Duro Records, 2004) B00029J1UY B000XUMAN2 Eleven Hundred Springs "Country Jam" (Palo Duro Records, 2008) B00171NZDA B0018EPYKS Eleven Hundred Springs "This Crazy Life" (Smith Music, 2010) B002YP4EZQ B0035ZPO7G Eleven Hundred Springs "Eight The Hard Way" (Smith Music, 2011) B004NOVY0O B004M5ZP6S Matt Hillyer solo album(s?) Various Artists "TEXAS UNPLUGGED, v.1" (Palo Duro Records, 2004) B000F1IPK6 B005HPZ8AK Eleven Hundred Springs "WAYLON JENNINGS, THE RED RIVER TRIBUTE COMPILATION" (Omaha, 2003) B00064LOKK >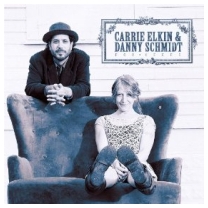 Carrie Elkin & Danny Schmidt "For Keeps" (Red House, 2014)



Mellow, easygoing singer-songwriter folk, with a bluesy undercurrent that drifts into countryish terrain... These two Texans each have their own careers but meld well together and are definitely easy on the ears. This album ought to appeal to fans of Patti Griffith and Greg Brown...
Robert Ellis "Photographs" (New West, 2011)



An impressive debut from Texas-based songwriter Robert Ellis... This is a moody, alluring, rather unsettling mix of styles, sort of a twangy chamber-folk mash-up of Van Dyke Parks and Townes Van Zandt, with maybe a bit of Terry Allen in there as well... His rambling, discursive lyrics give this record a distinctive feel, and play against the prettiness of the arrangements, which are a generally sparse blend of countrified acoustic guitar and light, bouncy cello and other baroque-style orchestrations. Some of the lyrics are impenetrable, while others are achingly pure romantic country weepers, like "I'll Never Give Up On You." The album ends on a strong note, with a savage pair of songs delving deep into the heart of a jealous man -- on its surface, "No Fun" is a novelty-song romp, a honkytonk parody about a guy who won't let his lover "two-time" him, but as the tune progresses, we quickly see how ominous his controlling impulses are; the followup, "Photographs," echos the same theme, but in a way that would sound gentler and less creepy, if we hadn't just heard the song before. As the last steel guitar note hovers in the air, you might find yourself a little uneasy, and that, I think, was Ellis' goal. I suspect this record is the kind of freak-folk-twang-tune outing that will stand up to repeat listenings over the years. Definitely worth checking out!
Robert Ellis "The Lights From The Chemical Plant" (New West, 2014)


Joe Ely - see artist discography
Jon Emery - see artist discography
Mark Erelli "Mark Erelli" (Signature Sounds, 1999)



Mark Erelli "Compass And Companion" (Signature Sounds, 2001)



Folk-tinged singer-songwriter country-rock with solid musicianship and fairly dense, lofty songwriting... A mix of Nick Lowe and Greg Brown comes to mind, with anthemic, insistent melodies on many songs, and a few drifting, lamentably Lanois-ed out guitar lines... Kelly Willis guests on the title track, "Compass And Companion," one of the album's highlights. Nice, if you go for the wordy, pensive stuff.
Mark Erelli "Memorial Hall Recordings" (Signature Sounds, 2002)



Mark Erelli "The Hillbilly Pilgrim" (Signature Sounds, 2003)



Laying heavy on the thumpin' backbeat, Erelli delves deeper into honkytonk, western swing and rockabilly and gets a little less brainy and deep. Sounds pretty nice... Some of his originals rest pretty comfortably in the classic hard country mode, and could easily be covered by others. Plus, I just realized who he sounds like, not that his vocal style has really started to gel: none other than superpicker Albert Lee, who I still kinda have a soft spot for, left over from my teen years. Nice record; worth checking out if you want some new twang tunes with a little bit of extra depth.
Mark Erelli "Hope & Other Casualties" (Signature Sounds, 2006)


Mark Erelli "Delivered" (Signature Sounds, 2008)


Randy Erwin " 'Til The Cows Come Home" (Four Dots Records, 1986)



(Produced by Carl Finch)
Originally issued on vinyl as a 45rpm 12", this six-song EP showcases Texan yodeler Randy Erwin in a no-muss, no-fuss set of nostalgic oldies, including several Jimmie Rodgers songs and a nice version of Tex Owens' "Cattle Call." Erwin takes a notably low-key approach, with stripped-down arrangements and unflashy vocals... Though harkening to the past, this disc belongs to the modern era, with contributions from members of the Brave Combo (who were also on Four Dots) providing musical backing. Not electrifying, but solid and sweet.
Randy Erwin "Cowboy Rhythm" (Four Dots Records, 1987)



(Produced by Randy Erwin & Carl Finch)
Upping his game musically, Erwin is again joined by members of the ever-eclectic Brave Combo, with production assistance from Carl Finch and horn arrangements by Jeffrey Barnes. The repertoire is pretty much the same, cowboy songs, Tin Pan Alley oldies and yodeling blues, though the album has a fuller, bouncier sound... Fun stuff! Fans of the Hot Club Of Cowtown might wanna check this one out.


<! - several LP ASINs >

Randy Erwin "Back Home" (Paulstarr Enterprise, 1989)

Alejandro Escovedo "Gravity" (Texas Music Group, 1992)

Alejandro Escovedo "Thirteen Years" (Texas Music Group, 1994)


A 2-CD set...

Alejandro Escovedo "With These Hands" (Rykodisc, 1996)


I have to confess (and I know it's so totally not cool to say so...) but I've never been much of an Alejandro Escovedo fan... I mean, I know people say he's a great songwriter and all, and I'm sure he's a swell guy who's done all kinds of great stuff for the indie scene, but as far as his songs go, they're a little too dense for me (or maybe I'm too dense for them?) and I just don't have the patience to try and figure out what he's writing about. This album is a good example: it wobbles back and forth through various musical styles, with melodic moments that appeal to me and start to draw me in, balanced by passages that seem thick and mannered, often in blues-based pop-rock mode that seems leaden or overly-precise. There's also a Springsteen-y edge that I personally don't go for... I mean, I think I could get into it, if I wanted to, but I just don't feel that motivated. Still, if you like intelligently crafted singer-songwriter material, stuff where the songwriting is worn on one's sleeves (think, Springsteen, Townes Van Zandt, Robert Earl Keen, Dave Alvin...) then this disc might really ring your bells. Willie Nelson and his band guest on "Nickel And A Spoon"; several members of the Escovedo clan (including Pete and Sheila E.) appear elsewhere...

Alejandro Escovedo "More Miles Than Money -- Live: 1994-96" (Bloodshot, 1998)



From Austin to Paris, France, this disc follows Escovedo across the globe, in full altie-troubadour mode... Here he's performing with a stripped-down ensemble, either a four- or a six-piece band, and on the more direct tunes, such as "Pissed Off 2am," or "Last To Know" (which is where the album title comes from), he's pretty appealing. Often, I still find his songs dense and overreaching, but I can see some of his appeal here better than on his studio records. Worth checking out.

Alejandro Escovedo "Bourbonitis Blues" (Bloodshot, 1999)



An interesting, stripped-down set which includes guest turns by fellow Bloodshot labelmates Jon Langford (yawn) and Kelly Hogan (okay, I guess) and an interesting selection of cover tunes, including John Cale's "Amsterdam," Lou Reee's "Pale Blue Eyes" and an odd, whimsically slowed-down version of Jeffrey Lee Pierce's "Sex Beat," one of the best Gun Club songs ever. Escovedo seems much more expressive and able to project emotionally than on earlier albums; whether it's an increased comfortability in the studio, or changes in his personal life, I don't know... But he does seem much more direct and less buried under the music than before. Anyway, this one's worth checking out.
Alejandro Escovedo "A Man Under The Influence: Deluxe Bourbonitis Edition" (LP) (Bloodshot, 2001/2009)


An expanded-edition reissue of some old stuff from Austin twang-poke scenester Alejandro Escovedo... I think this may be a vinyl-only release (which is okay, since it originally came out in 2001 as a CD-only album...) However, the LP also comes with a code to get the tracks as an MP3 download, so you get the best of both worlds... A welcome treat for Escovedo's longtime fans.
Alejandro Escovedo "By The Hand Of The Father" (Texas Music Group, 2002)


Alejandro Escovedo "The Boxing Mirror" (Back Porch, 2006)


Alejandro Escovedo "Real Animal" (Back Porch, 2008)


Alejandro Escovedo "Street Songs Of Love" (Fantasy, 2010)






<! done: Alejandro Escovedo "Gravity" (Texas Music Group, 1992) B000065T1X Alejandro Escovedo "Thirteen Years" (Texas Music Group, 1994) B000065T20 2-CD set Alejandro Escovedo "With These Hands" (1996) Alejandro Escovedo "More Miles Than Money: Live 1994-1996" (1998) Alejandro Escovedo "Bourbonitis Blues" (1999) Alejandro Escovedo "A Man Under The Influence" (2001) Alejandro Escovedo "By The Hand Of The Father" (Texas Music Group, 2002) B002LHZN48 B002UVYJ18 Alejandro Escovedo "The Boxing Mirror" (Back Porch, 2006) B000F2CAME B000TEVIP8 Alejandro Escovedo "Real Animal" (Back Porch, 2008) B0018FZIS0 B001AL64SU >

Val Esway & El Mirage "Lovers, Losers, Liars" (Self-Released, 2005)



A charming self-produced 7-song EP from an SF Bay Area local has a strong whiff of Tarnation-style twang-meets-torch. A veteran of rock's Ramona The Pest and twang's Loretta Lynch band, singer-writer Esway scores a base hit (if not a homer) with the catchy opening track, "Someone I Used To Know," which has a nice, old-school country feel to it, and shows ever deeper roots on the sweet, Carter Family-flavored "Birds." This is relaxed, open-mic night stuff, and that's a big part of its earnest, open-hearted charm. If you like your twang to be locally grown, then you might wanna check this gal out.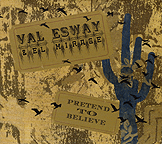 Val Esway & El Mirage "Pretend To Believe" (Staggering Siren, 2007)



The SF Bay Area's indiebilly scene is well represented on this new album from songwriter Val Esway, formerly of the twangband Loretta Lynch... The disc opens with some thumping honkytonkers, "Whiskey Trail" and "Sweet Thing," and settles into a more introspective, poetic mode, on songs like "Birthday" and "Pretend To Believe," songs that bring melancholy folk divas like Linda Thompson, et al to mind alongside twangsters... With the exception of a Doc Watson tune at the end of the album, all the songs are Esway originals... Most of the lyrics tap into the sad side of the country tradition, but there's an underlying feeling of joy, doubtless the artist's own satisfaction from a job well done! (Available through Esway's own website, www.staggeringsiren.com)

Ethyl And The Regulars "Fill 'Er Up With..." (Sweet Crude, 2009)



(Produced by Hank Hays & Ethyl And The Regulars)
Nice scrappy independent Colorado twang with an undeniable DIY appeal. The vocals are kinda rough but enthusiastic, and there's plenty of nice picking (especially the pedal steel!) and a great song selection. Fans of, oh say, The Dave And Deke Combo, oughta dig these guys too. Includes several fun cover tunes, such as Don Gibson's "Don't Tell Me Your Troubles (Tell It To A Friend)", "Cash On The Barrelhead" and Melvin Endsley's "Knee Deep In The Blues" as well as a slew of good originals, may of which sound like classic country oldies. Probably my favorite song on here is Eric Kinsey's "(Drinking) Canada Dry" (which is better than the original) but there are plenty of other great tunes to pick from on here. Worth checking out!
John Evans "Texas Twang" (1995)

John Evans "Biggest Fool In Town" (Shakebush Records, 1998)


A mixed bag, but generally pretty good... This lanky Houstonite reaches back into rockabilly and hard country traditions, penning several fine original tunes and shuffling along with a band that seems to have its heart in the right place. He's best on the uptempo numbers -- a couple of Chris Isaak-y ballads towards the album's end fall a bit flat, and some of the songs could have been a little tighter, but mostly this is a fine album... Musically, I'd place it somewhere around the level of Deadly Earnest & The Honkytonk Heroes... a little sloppy, but that's how you know it's real folks playing the music!
John Evans "Circling the Drain" (2005)


John Evans "Ramblin' Boy" (2006)


John Evans "Lucky 13" (Smith Music, 2008)


John Evans "Lolly Gaggin' " (Smith Music, 2009)


Sara Evans "Three Chords And A Heartbreak" (RCA-Nashville, 1997)



OK, sure, given her eventual huge success as a Nashville Top 40 artist, it might be a little bit of a stretch to call Sara Evans' debut album "alt.country..." Still, her traditionalist throwback sound was unique for Nashville back when this album first came out .. Sure, there, have been neo-traditionalists up the wazoo in recent decades, but on this record, Evans struck a peculiarly rural note, particularly in her gruff vocals, which bear a remarkable resemblance to Melba Montgomery... What's cooler still is that a couple of the songs on here were actually co-written by Montgomery, so the likeness was no mere coincidence! From and alt-y point of view, later albums were a bit of a letdown, drifting into sappier, bombastic pop terrain, but this disc was pretty swell, and Evans is certainly an artist to keep an eye on... Who knows? Maybe she'll go country again!
Don & Phil -- The Everly Brothers
---
Alt.Country Albums - Letter "F"
---