<! MP3 04/12/09, 09/12/10 > <! update 04/12/09 > <! outside 00/00/00 > <! pix 00/00/00 > <! 208-pix: 00/00/00 > <! icons 03/30/11 >
---
Steve Earle, a soulful, star-crossed ne'er-do-well who has been at the heart of the alt.country boom since before it even had a name, has crafted a fine, if sometimes overly mannered mix of hardcore honkytonk and gnarly bar-band rock. Not all of his stuff works for me; the more biker-y, mumbled, tough-guy stuff wears thin, but his straight country material is usually really good. Earle's career has had its ups and downs -- he broke into the country mainstream with a strong, rock-flavored debut, which fit in well with the strain of resurgent "real man" sound that arose in mid-80s Top 40 country. He was doing alright until a drug bust, prison sentence and troublesome heroin addiction sidelined him for several years. But since then, Steve Earle has been back in fine form, with his very own record label and a strong fan base in the ranks of the alt.country scene. Earle courted controversy in the wake of the September, 2001 World Trade Center bombing by releasing a politically-inclined album whose single was a character study of the so-called "American Taliban," John Walker Lindh. Outraged Nashville establishment figures lined up to denounce the shaggy alt.country troubadour, and many vowed Earle would never work in Nashville again. Their loss, I guess. Anyway, here's a quick look at Steve Earle and his musical legacy.
---
Discography - Albums
---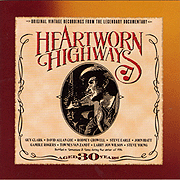 Various Artists "HEARTWORN HIGHWAYS" (Shout Factory, 2006)



Back in Austin in the early 1970s... and over in Nashville... things were really starting to cook! for the singer-songwriters who formed the core of the nascent alt-country scene. This album is an amazing historical document, capturing the early years of the Americana scene as we know it. This disc is the soundtrack to a 1975 documentary film that caught giants such as ol' Guy Clark, Rodney Crowell, Steve Earle and John Haitt at the beginnings of their careers, compadres who formed the nexus of a scruffy singer-songwriter contingent that took its cues from the "outlaw" scene, as well as folkie friends like Townes Van Zandt and Steve Young, who had been kicking around a few years earlier. This actually includes the first recordings of Clark, Crowell, Haitt and Earle -- Guy being the most raspy and least eager to please, but each showing their own unique style, even this early on... (Amazing to think that Earle actually carried a tune like "Mercenary Song" around for more than a decade before putting it on wax!) Townes Van Zandt also adds a tune or two, and his densely-crafted, painfully earnest, epic/poetic approach casts a long shadow on the others -- particularly on Earle. We're also treated to a few tunes from David Allen Coe, who was apparently slumming with the unsigned set, trying to build up his indie cred... Fans of any of these singers will want to check this album out and, more importantly, will want to see the film as well... Recommended.
Steve Earle "Guitar Town" (MCA, 1986)


Steve Earle "Early Tracks" (Epic/KOCH International, 1987)

Steve Earle "Exit 0" (MCA, 1987)


Steve Earle "Copperhead Road" (MCA, 1988)


Steve Earle "The Hard Way" (MCA, 1990)



Steve Earle "Shut Up And Die Like An Aviator" (MCA, 1991)


Steve Earle "BBC Radio 1 Live In Concert" (Windsong, 1992)


Steve Earle "Train A'Comin' " (Winter Harvest/E-Squared, 1995)


Steve Earle "I Feel Alright" (E-Squared, 1996)


Steve Earle "El Corazon" (E-Squared, 1997)



Steve Earle & The Del McCoury Band "The Mountain" (E-Squared, 1999)



With one of the world's best bluegrass bands backing him up, Earle pretty much gets free reign to lay his exaggerated hick accent on even thicker than ever before. Which isn't to say this disc is corny or anything -- in fact, it's one of his most intriguing albums, a nice mix of bluegrass and honkytonk, with a healthy streak of jug band blues running through it as well. Recommended!
Steve Earle "Transcendental Blues" (E-Squared, 2000)


Steve Earle/Guy Clark/Townes Van Zandt "Together At The Bluebird Cafe" (American Originals, 2001)


Three veterans of the early Austin scene, gathered together for a warm evening of wine, tall tales and song, shooting the breeze at Nashville's premiere open mic nightclub...
Steve Earle "Side Tracks" (E-Squared, 2002)


Odds'n'ends, with some tossoffs and some really nice stuff...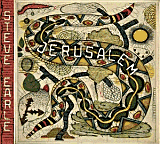 Steve Earle "Jerusalem" (E-Squared, 2002)



Earle gets all political with social commentary about the emptiness of American culture, highlighted by the controversial single, "John Walker's Blues," a first-person narrative sympathetic to the "American Taliban," John Walker Lindh. Lindh was captured as a combatant along with the El Queda army in America's post-September 11th coup in Afghanistan, and after an aggressive PR campaign by the Justice Department, became the poster child for traitorous anti-Americanism and "misguided youthful zeal." From one vantage point, Earle's song is simply another broadside in the long folk tradition of story-songs about contemporary events, including outlaw ballads about the likes of Jesse James, or tragedies such as the "Wreck Of The Old '97." But given the prevailing political climate in a jumpy, jingoistic U.S. of A, recording a song that presents a sympathetic view of Islamic jihad is an act as foolhardy as it is ballsy. The lyrical content is interesting, although there are several songs on the album that pack more musical punch. Like many of the alt.country elders, Earle is increasingly chasing a more ornate production style, with synth-rock touches surrounding his still-Dylan-y, mannered drawl. Some of it's pretty nice -- the roller-rinky "What's A Simple Man To Do?" is good bouncy fun, and other tunes like "Shadowland" recall Earle's the guitar-heavy Tom Petty-isms of his early years. This album might not be for everyone, but it's still pretty good. Vintage Earle, that's for sure.
Steve Earle "Just An American Boy" (E-Squared, 2003)



Hardly one to back down from a fight, Earle named his concert album after the key line in the song that got him in such deep doo-doo with the flag-waving Top Forty Nashville crowd. The shows are also documented in a film by the same name (listed below).

Steve Earle "The Revolution Starts Now" (Artemis, 2004)



After the September 11th, 2001 bombings and the subsequent invasion of Afghanistan, alt-twangster Steve Earle committed commercial seppuku with a politically charged album that lent some measure of sympathy to "American Taliban," John Walker Lindh. The Nashville establishment closed ranks against Earle, banning him from the airwaves and and doing its best to snuff out his career. The trouble with that record, though, was less its content than its form: the songs were shambling and ill-formed and the production was a goddawful glop of would-be electronica crossover... Okay, so now here's the good news: Earle's new album, which is far more political than the last one, totally kicks ass. The title track, which starts the album off, is a starry-eyed, almost too-perky ode in praise of social change and embittered optimism; then Earle unleashes the album's country tour-de-force, a modern-day trucker song in which the long haul is Highway 9 in Iraq, the so-called "highway of death," and the narrator is a military convoy driver. Ruefully, the lifelong semi driver concludes, If I ever get home to Houston alive/then I won't drive a truck anymore... Again, more than the content, what matters is the form: this is one of the best, most country-sounding songs Earle has sung in ages. Throughout the album the playing is heartfelt, twangy and compact -- roots music with a vengance. Other songs continue the political theme: "Rich Man's War," "The Gringo's Tale," the scathing (and unairable) single, "F. The C.C.," which shows that even blacklisted artists can still bite back. The one bum note on the entire album is his biting, satirical "love" song, "Condi Condi," sung in mocking honor of Bush loyalist Condoleeza Rice, deriding her as uptight and unloveable... Not that Rice isn't a deserving target of Earle's ire, but the song's concept is, frankly, pretty sexist. VP Dick Cheney is about twice as unattractive as Rice, but it's the "girl" in the Presidential cabinet who gets this kind of sexualized scorn directed at her. Other than that, though, this is an amazing record... Certainly one of my top picks for 2004!
Steve Earle "Live in Austin, TX" (New West, 2004)


Steve Earle "Washington Square Serenade" (New West, 2007)


Steve Earle "Live in Austin, TX: November 12, 2000" (New West, 2008)


Steve Earle "Live At Montreux: 2005" (Eagle Rock, 2008)


Steve Earle "Live At The BBC" (MCA Nashville, 2009)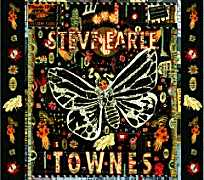 Steve Earle "Townes" (New West, 2008)



(Produced by Steve Earle)
A real stunner, sure to rank as one of the best alt-country albums of the decade. Ragged but right, middle-aged country-rocker Steve Earle pays homage to his longtime friend, the late singer-songwriter Townes Van Zandt, who he was pals with in the early 1970s, back when the Austin alt-country scene was just beginning to coalesce. Here Earle journeys through Van Zandt's catalog, embuing each track with a fierce conviction and loyalty to his friend's talent and artistic vision. Now -- ulp -- at the risk of being tarred, feathered, and drummed out of the Americana fan club, I have to confess I've never been that big a Townes fan myself -- I know, I know; hate me if you will, but that's just how it is. But Earle, performing with a ferocity and grit that the more demure Van Zandt eschewed, brings a radical new intensity to these songs that really forces us to hear them as living compositions, and not as finished works. While many fans may see Van Zandt's recordings as definitive and canonical, this record brings them into the wider world, opening them to interpretations beyond their acoustic coffeehouse folk-scene roots. With a few extra layers of electricity, grunge and grime, Earle makes Van Zandt's blues tunes sound more plausible (whereas on the originals, I often heard them as affected) and helps me hear the songs themselves, and not just Van Zandt's persona. It's a great record, packed from start to finish with strong performances and great songs -- highly recommended!
Steve Earle "I'll Never Get Out Of This World Alive" (New West, 2011)



(Produced by T Bone Burnett)
Well, it looks as if Steve Earle done got himself some religion, which, for his more secular-minded fans might ring a few alarm bells, but not to worry... Earle's spirituality is prickly and multifaceted, uncompromising, iconoclastic and searching, as heard in this album's centerpiece, "God Is God," in which he sets out his personal view of the divine which is --as far as I can tell -- that "God" exists, but is unknowable and definitely not a human-directed power. It's a great song -- a quiet, acoustic, substantive, honest inquisition into Earle's own beliefs. Spirituality pervades other songs on the album as well, and it seems that Earle is perhaps making his peace with the world, if not with those figures of hypocrisy and bigotry that are still in his sights: George W. still gets a shout-out ("Little Emperor") and the Gulf oil spill is transformed into a Celtic-flavored work ballad worthy of Great Big Sea or Ewan Maccoll. (Indeed, in addition to getting in touch with his spiritual roots, Earle has tapped pretty deep into the wellspring of British/Celtic folk, with some great results...) The collaboration with T Bone Burnett is delicious... Each song has a distinctive, ear-catching quality, with unusual textures and densities, spanning delicate folk plucking and gritty roots rock. There's only one track on here that I don't like, the grungy, overly Waits-ian "Meet Me In The Alleyway," which bears far too close a resemblance to the theme song from The Wire -- other than that, though, this is a practically perfect record, possibly my favorite Steve Earle record, other than his recent tribute to Townes Van Zandt. You'll definitely want to check this one out.


<! April 26, 2011 > <! deluxe edition with DVD: B004N5DHGM >
Steve Earle & The Dukes & Duchesses "The Low Highway" (New West, 2013)



(Produced by Steve Earle & Ray Kennedy)
Steve Earle has this amazing knack for producing one record after another where I hear it and go, Oh man, that's his best one ever! And these days he's really on a roll: his 2008 Townes Van Zandt tribute was beautiful and made me reexamine my feelings about the much-lauded Texas folie poet, while 2011's "I'll Never Get Out Of This World Alive" was even more delicious. And now... Steve Earle's recorded his best record ever... again! The album kicks off with the windswept title track, which begins with a twangy echo of Woody Guthrie, giving way to a softer-textured landscape of fiddle and pedal steel. Next Earle leaps into crunchy, grungy electric guitar on "Calico County," the catchiest song about cooking meth you're likely to hear all year. As the album progresses, each song takes on its own unique feel, and each one is equally mysterious and alluring: this is Americana music at its apex. Backing him is his tour band, the The Dukes & Duchesses, which includes his wife, Alison Moorer, who adds some nice harmonies. A couple of threads unite all these songs -- one is Earle's rumbling, rugged vocals which are starting to remind me a lot of Dr. John, and the other is the excellent fiddle work, which laces through the record with loose, inventive improvisations. I was reminded of the fluid performances of actor Lucia Micarelli who co-starred with Earle on HBO's Treme tv series, and while this album includes three songs that Earle and Micarelli co-wrote for the series, it's duchess Eleanor Whitmore who bends the bow on this album... and man, is she good! An excellent album, the kind of record you'll find yourself cycling through time after time, soaking up a a variety of melancholy moods. Highly recommended.
---
Discography - Best-Ofs
---
Steve Earle "The Essential Steve Earle" (MCA, 1993)


Steve Earle "Fearless Heart" (MCA, 1993)



Although this is a total cheapo, crappy-art, no-liner-notes, budget-line, trying-to-fake-you-out-into-believing-it's-a-real-album reissue, it's also a darn good listen. Ten tracks pulled from various early MCA releases that show how Earle struggled against (and usually overcame) the label's attempt to straightjacket him with bland, overly-big, rock-flavored production. Indeed, with its selectivity and concise pacing, this cheapo disc might actually be more listenable than later, more "superior" collections such as the 2-CD Ain't Never Satisfied set reviewed below. Go figure.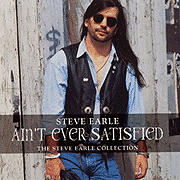 Steve Earle "Ain't Never Satisfied" (Hip-O, 1996)



This generous 2-CD set is probably the definitive collection covering Earle's years on the MCA label, when his brief fling with commerical success gave way to a more rewarding and idiosyncratic career as "that guy who wrote all those great songs." As noted above, this collection falters in its pacing -- given the opportunity to do right by Earle's legacy and devote a whole two CD's worth his early years, this has something of the completist's curse to it -- not all the songs are equally golden, and the sets don't necessarily flow as well as they could. Still, it's an awfully nice look back at the founding work of one of alt-country's most significant players.
Steve Earle "20th Century Masters -- The Millennium Collection" (Universal, 2005)


Steve Earle "Chronicles: Three Classic Albums" (MCA Nashville, 2005)



A straight reissue of three early albums on MCA: Guitar Town, Exit O, and Copperhead Road, with the discs and original inserts stuffed into a new "box set"-style container.
Steve Earle "The Definitive Collection: 1983-1997" (Universal/Hip-O, 2006)


Steve Earle "The Warner Brothers Years" (Shout Factory, 2013)


A 4-CD, one DVD set, including three albums -- 1995's Train A-Comin', I Feel Alright from 1996 and 1996's El Corazon -- which came out as a recently paroled Earle became one of the ascendant artists in the booming Americana scene. Also included is an audio CD of a live concert and the Polk Theater, as well as a film of his "To Hell And Back" concert at the Cold Creek Correctional Facility in Tennessee. Three good albums and some tasty bonus materials... if you don't already have his music from this era, this sure would be a cool way to check it out!
---
Books, Video & Other Media
---
"Doghouse Roses: Stories By Steve Earle"
Written by Steve Earle
(Mariner Books, 2002)

"Hardcore Troubadour: The Life And Near Death Of Steve Earle"
Written by Lauren St. John
(Fourth Estate, 2003)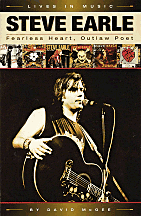 "Steve Earle: Fearless Heart, Outlaw Poet"
Written by David McGee
(Backbeat Books, 2005)


A densely-packed biography which delves deep into Earle's early years in the 1970's Austin scene, his breaking into and out of Nashville, and of course all the troubles with drugs, booze, money and the law. Author David McGee also likes to painstakingly parse each of Earle's albums, analyzing the creative process and the songs themselves. The approach is a bit intense, but also highly informative: lots of stuff to learn, if this is the info you're looking for. The chapters about his Austin years are particularly rich; interesting to learn just how long Steve Earle was kicking around before he got his first real breaks into show biz!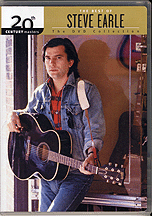 Steve Earle "20th Century Masters -- The Millennium Collection" (Universal, 2005)


Originally, I'm sure MCA had pretty high hopes for Steve Earle -- he scored a Top Ten hit right off the bat with "Guitar Town," which sailed to #7. Then he managed a decent followup with "Goodbye's All We Got Left," which also scraped into the Top Ten. But then he slid off the radar and became an altie, with only a handful of videos left as the mementos of his big fling at major label success. Although this disc is quite short -- just five vintage videos and no frills -- it's still a great look back at Earle's early career. The videos themselves are pretty cheaply produced and uninspired, standard-issue lip-synch pantomimes shot in a studio booth, intercut with random "cool" shots out on the road, hanging out with the guys, etc. What's great, though, is Earle's wide-eyed, sassy enthusiasm, his boyish charm and defiant optimism, which radiates out during the earliest clips such as "Guitar Town," "Someday" and "Nowhere Road." He tosses back his pretty-boy locks and thumps his bootheels a little too vigorously; the main thing setting him apart from other rock-oriented top-country pinups like Steve Wariner was the palpable sense of desperation and anger: he's gonna make it, by god, or lose everything trying. That sense of danger is magnified in the last couple of clips -- "Copperhead Road" is the most complex of the videos, with actors playing out the scenario and plenty of location shooting. The danger comes in when you see the narcotized, glassy look in Earle's eyes: he was playing at being a biker-ish bad boy, but fell into a drug habit that would derail his career. The video to "I Ain't Never Satisfied" is also interesting, with a countrified retelling of the old Robert Johnson "Crossroads" story, wherein the devil sells our hero a magic guitar, in exchange for his immortal publishing rights. Waylon Jennings is among the country elders who appear in the clip's big, climactic bonfire scene, formally passing the outlaw torch over to the skinny kid with the demonic twangbar... Overall, these videos are hardly great art, but they provide an invaluable look back at Earle's career when everything was shiny and new, and fans'll definitely want to check it out.
Steve Earle "Live From Austin, TX" (2004)


A vintage Austin City Limits performance from 1986, with twice the footage included in the original, edited-down TV broadcast.
Steve Earle "Trancendental Blues -- Live" (Artemis, 2000)

Steve Earle "Just An American Boy" (Artemis, 2004)


A documentary look at Earle's tense tour in 2002, after his supposedly "pro-Taliban" album, Jerusalem, had gotten him banned from country radio in the States, and made him one of the biggest figures of controversy in pop music since the Fab Four said all those silly things about being bigger than Jesus... If you want to get a thorough airing of Earle's political views, this disc is where to go... Also has some music, including concert footage and studio-produced videos.
---
Links
---
---