<! MP3 07/13/09, 12/10/10 > <! update 07/13/09 - Rosie Flores own page? > <! outside 00/00/00 > <! pix 00/00/00 > <! icons 12/10/10 >
---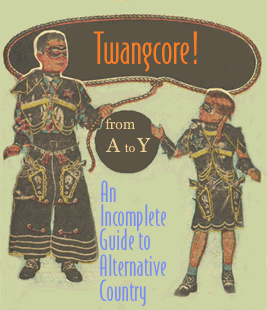 This page is part of an opinionated overview of "alt.country" music, with record reviews by me, Joe Sixpack... Naturally, it's a work in progress, and quite incomplete, so your comments and suggestions are welcome.
This is the first page covering the letter "F"
---
A | B | C | D | E | F / F-2 | G | H | I | J | K | L | M | N | O | P | Q | R | S | T | U | V | W | X, Y & Z | Comps | Other Country Styles
---
The Far West "The Far West " (Self-released, 2011)


(Produced by Amos Woods & The Far West)
Early in his career, folksinger John Prine indulged in a bit of uptempo country twang -- I've always been a fan of songs such as "Iron Ore Betty" and "Illegal Smile" -- and that's a legacy I'm reminded of here, particularly since Far West's main singer Lee Briante has a pleasant vocal likeness to the young Mr. Prine. This is a nice, low-key, ultra-indie album with modest production values but fun, thoughtful songwriting. The band has a penchant for old-fashioned country novelty songs, with wry wordplay reflecting on heartbreak and loss, cheerfully masked by liberal application of booze. But Far West tilts towards the sad and sorry end of the spectrum -- these songs have conventional classic country form, relying on big set-ups and elaborate puns, but they all point towards pathos, and while the first half of the record has novelty-esque songs such as "I'll Keep The Bed Warm" and "The Best Company Misery Ever Had," the album's opener, "Bitter, Drunk And Cold" pretty much sums up the underlying emotions. The second half keeps gets incrementally more miserable, although this is hardly a Lucinda Williams-style bummerfest... Basically it's a nicely-crafted set that takes its cues from the classic country of years gone by. Definitely worth a spin!
Jay Farrar - see artist discography

Amy Farris "Anyway" (Yep Roc, 2004)



There are several swell, catchy songs that start this album off, with Austin scenester Amy Farris riding a fine line between indierock and Americana. The country-ish stuff is the best, and while some of the more rock-oriented songs reveal some of her vocal limitations, on the whole this is a nice little record, with a cute DIY feel built around her off-kilter, mousy vocals, which bring Victoria Williams to mind, albeit with a more focussed musical vision. I've enjoyed hearing Farris singing backup on many of Kelly Willis records; it's a treat to hear her taking center stage at last. Sometimes producer Dave Alvin's guitar-heavy approach threatens to leave her high and dry, but for the most part this is quite nice. Definitely worth checking out.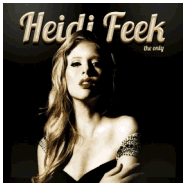 Heidi Feek "The Only" (Western Pin-Up Records, 2013)



(Produced by Heidi Feek & Rory Feek)
This is the debut album from singer Heidi Feek, daughter of the roots-country duo of Joey & Rory Feek... and while her parents pursue a harmony-rich, Dolly Parton-esque neotrad sound, the younger Feek is a rocker, albeit in the mellower adult-alt style, with a faint, Chris Isaak-y rockabilly tinge. The album opens with the bluesy grunge of "I Like The Way," which brings the roots-rock of Buddy Miller to mind, while echoes of Lone Justice's Maria McKee, Mary Chapin Carpenter, Neko Case and other moody alt-country gals are in their as well, particularly the legacy of the windswept, shimmering Cowboy Junkies sound. It's not really my cup of tea, but it's an impressive debut, and one that I'm sure will quickly find a loyal audience for this young new artist.

The Fellow Travellers "No Easy Way: Local Hits In A Brand New Country Style" (Okra, 1990)


An odd addition to the Okra Records canon... At hte start of his career, Jeb Loy Nichols gets mighty irie, with about half the tunes on here taking a dub reggae detour, although the acoustic/twangy roots remains close at hand. Hey, at least he tried something new! It's not an unpleasant record, although I'm not sure how often I'll return to it... It just doesn't really grab me, even though I appreciate the just-plain-folks DIY vibe. Nichols splits the vocals with Londoner Lorraine Morley (later to become a humanities scholar at a London college...) The best thing about this disc is Nichols' voice -- there's something about his old-man drawl that I really dig. Well, anyway...
The Fellow Travellers "Just A Visitor" (Okra, 1992)

The Fellow Travellers "Things In Time" (Okra, 1993)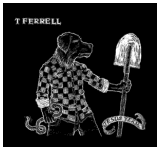 T. Ferrell "Jesus Year" (Trace Records, 2012)



(Produced by T. Ferrell & T. B. Ledford)
The debut album from a strong contender in the twangcore Olympics... Mississippi native Taylor Ferrell has a pleasantly nasal singing style and more importantly, he's got a killer band, sporting gorgeous pedal steel, elegant country piano and strong rhythmic accompaniment. The economy and solidity of his arrangements and the clear, full sound mix immediately stand out from the first notes of the album's first track, and the music remains solid throughout, impressive stuff for an indie release. I'm less into the white trash/scruffy loser-themed lyrics, but since Terrell is from Mississippi and since he says many songs are based on historical events, I'll give him the benefit of the doubt. Anyway, this is a pretty strong record, and if you like folks such as Drew Landry or Drive-By Truckers, you'll want to check this guy out too. I do love all that twang.
Firecracker "Certain Things Last" (Self-Released, 2003)


Nice, melodic alt.country, very much in the Wilco/Whiskeytown/Jackson Browne mode. These San Francisco citybillies may not be plowing any new ground, but they've got the style down, and it sounds purty nice.

Firecracker "So Long Someday" (Emerge, 2005)



Rock music, mostly, but since this California band sounds so much like Son Volt, et al., I suppose they merit inclusion here. Drony vocals and guitar, plenty of would-be profundity and obliqueness in the lyrics... Again, if you like Son Volt, you might really dig this....


<! other Firecracker? >


The Flatlanders - see artist discography




Bobby Flores "Just For The Record" (Yellow Rose, 2003)


A nice, understated swing'n'shuffle set by Texas sessionman Bobby Flores, who's been picking behind countless artists, including Ray Price, Willie Nelson and Doug Sahm, for the better part of three decades. Here, through the magic of the studio, he doubles up on fiddle and guitar, occasionally takes over on the pedal steel, and sings on all the vocal tracks. Justin Trevino and Jake Hooker add guest vocals on a track or two, and Ray Price nods his hat in Flores' direction, contributing liner notes that pay tribute to Flores' musicianship. The Ray Price connection is borne out on the album as well, with Flores crooning away in a very Pricelike fashion... Overall the disc is a bit sluggish, but it is drenched in true-country Texican authenticity -- the instrumental number, "Spicher Waltz," is particularly sweet, as is "Be A Good Girl," a fine duet with James Hooker. Worth checking out! (This disc can also be found through Flores' home page, at: http://www.bobbyflores.com.)
Bobby Flores & Dick Overbey "Christmas In Ol' San Antone" (Yellow Rose, 2004)

Bobby Flores "Too Many Rivers" (Yellow Rose, 2005)








Rosie Flores - see artist discography


<! 12/10 - added, but still needs BIO >

---
Alt.Country Albums - More Letter "F"
---