<! MP3 07/06/09 > <! update 07/06/09 -- Missy Raines disco still a bit fuzzy > <! outside 00/00/00 > <! pix 00/00/00 > <! icons 12/14/10 >
---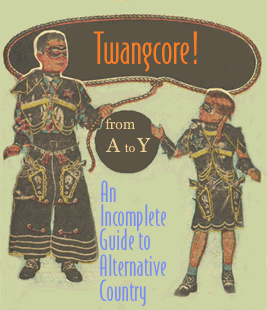 This page is part of an opinionated overview of "alt.country" music, with record reviews by me, Joe Sixpack... Naturally, it's a work in progress, and quite incomplete, so your comments and suggestions are welcome.
This is the first page covering the letter "R"
---
A | B | C | D | E | F | G | H | I | J | K | L | M | N | O | P | Q | R / R-2 / R-3 / R-4 | S | T | U | V | W | X, Y & Z | Comps | Other Country Styles
---
Radio Nationals "Exit 110 (EP)" (Roam Records, 2000)



Radio Nationals "Place You Call Home" (Roam Records, 2003)



This Seattle-based quartet offers a nice mix of rock and twangy, southern rock-tinged alt-country, very much in an Uncle Tupelo-ish vein. Singer Jared Clifton has a strong, solid, woody country voice, and while the band is pretty darn electric, even loud at times, there's a softer, Marshall Tuckerish tunefulness country folks might find enjoyable. I think Clifton could do well to explore the country side of things more deeply, but whatever he wants to do will be fine either way: there isn't a false note on this entire record. (You can check out more about the band at their website, www.radionationals.com.)
Radio Sweethearts - see artist discography
Arum Rae "Arum Rae" (Hyperreallist, 2008)


(Produced by Michael Bongiorno)
Gritty electric blues, seen through an indie-rock/folk filter. Originally released in '06 under the title Too Young To Sing The Blues, this disc features songwriter Arum Rae Valkonen, backed by a solid band of guys that've played with pros such as Ani Difranco, Paul Simon and Tom Waits. The songs range widely, from a robust opening number, "Lookin' For Love," which echoes Lucinda Williams in her more Delta-y moments to more diffuse, spacy material that pulls us further from roots-music turf and more deeply into the orbit of indiedom and its cultural reappropriation committee. It's a strong record with a singular vision; might not be for everyone, but those who are game will really dig it. (Note: this reissue has a different sequencing and fewer songs than the original edition.)
Download picks:

Lookin' For Love
Railroad Earth "Black Bear Sessions" (Bos Music, 2001)



Railroad Earth "Bird In A House" (Sugar Hill, 2002)



For those who really, truly, deeply feel that the Grateful Dead's Cumberland Blues album was just too damn short, comes this latter-day acoustic jam-band outing. Vocalist Todd Scheaffer has the plaintive, broken-voiced Jerry-soundalike thing down pat, particularly on the album's title track, which has a fragile, "Box Of Rain" appeal to it. This stuff is obviously not for the Dead-adverse or hippie-dippie impaired, but for it's good for what it is. Interesting crossover of bluegrass and poetic hippie folk.

Railroad Earth "The Good Life" (Sugar Hill, 2004)



Mellow music for grown-up hippiedelic tree-huggers. This super-cutesy, eclectic mix of bouncy folk, bluegrass and Celtic pop is tailormade soft-pop for the more sedate, Deadhead-ier end of the jam band spectrum, with long songs that dig deep into sugary acoustic grooves. I'll admit it's kinda goopy, and lead singer Todd Scheaffer is sounding even more like Arlo Guthrie with every passing day -- not just in tone, but also in temperament -- still, there are some songs on here that are kind of irresistible and catchy, and I can definitely see the appeal. Folks looking for a band that's a little twangy yet easy on the ears can find safe haven here.
Railroad Earth "Elko" (Sci Fidelity, 2006)



A 2-CD live album...
Railroad Earth "Amen Corner" (Sci Fidelity, 2008)


Missy Raines & Jim Hurst "Two" (Pinecastle, 2000)


Missy Raines "My Place In The Sun" (Mr. Records, 2008) <! 1998? >


Missy Raines & The New Hip "Inside Out" (Compass, 2009)



(Produced by Missy Raines & Ben Surratt)
Not surprisingly, bluegrass bassist Missy Raines tilts towards the funky and melodic as a bandleader: there's probably no way to avoid it, since every bassist in America just has to learn the "Barney Miller" theme song when they start out, and that's a hard template to shake. This disc alternates between vocal numbers (which are very sweet; Raines has a lovely, inviting voice) and muzak-y instrumental numbers... The too-cute fusion instrumentals don't do much for me (I'd rather hear a few straight-ahead bluegrass breakdowns...) but fans of Bela Fleck, et. al. will dig it. The tracks where she sings are great, though, and fit in nicely with a wide variety of folk/Americana styles. Worth checking out.
Rancho Deluxe "Rancho Deluxe" (Self-released, 2006)



(Produced by Jesse Jay Harris)
A frisky set of freshly-minted Americana-honkytonk from this Southern California-based band... Upbeat stuff with plenty of twang, and a noticeable poetic streak, sort of a blend between the Derailers and Dave Alvin. Pretty good -- a tough, solid, cheerful sound with several well-crafted songs.
Rancho Deluxe "True Freedom" (Self-released, 2008)



(Produced by Jesse Jay Harris)
These LA-area twangsters have a lot of firepower behind them, with studio players such as pedal steel player Jay Dee Maness, pianist Skip Edwards, and other solid players in the rock/roots Americana orbit. They also have some true-twang lineage: the dad of guitarist Jesse Jay Harris was in the 1980's edition of the Flying Burrito Brothers. So, the musicianship is solid, and they have a feel for the material. Where this falls flat for me is in the self-conscious over-poeticization and road-weary philosophizing, the urge to imbue each song with some sort of dusty, weather-beaten profundity... It's a tendency I've come to enjoy less and less in the Americana scene; some folks can do it gracefully or subtly, but even then it gets old. Still, if you like that kind of everyman/road-scholar rueful wisdom stuff, these guys delve pretty deep into it, and there are several well-written tunes here, just not much that spoke to me, personally. Worth checking out.
Ranch Romance "Western Dream" (Ranch Hand Records, 1989)


A fun, swinging set from this lively all-gal band. Fiddler Barbara Lamb and singer Jo Miller are the best known members of this short-lived Seattle quartet; Lamb went on to do studio work in Nashville and has released a few progressive bluegrass albums as a solo artist, while Jo Miller has been solo ever since Ranch Romance broke up in the 1990s. Here on their debut, they were a force to be reckoned with, updating Patsy Montana's cowgirl swing, with a mix of bouncy hillbilly bop, western swing and some sweet sentimental tunes, all filtered through a distinctly un-grungey rock sensibility... The choice of material is faultless, with a couple of swinged-up Hank Williams covers, some old-fashioned cowboy tunes, a pair of W.C. Handy blues standards and a pair of sublime ballads -- Otis Watkins' "Cowboys & Indians" and the achingly beautiful "Ain't No Ash Will Burn," which Miller later recorded along with Laura Love. This is a fine record, a self-released gem well worth searching for!
Ranch Romance "Blue Blazes" (Sugar Hill, 1993)


Ranch Romance "Flip City" (Sugar Hill, 1993)



The band's mix of twang and swing takes a tilt towards the hyperactive... There's a definite nod towards Dan Hicks, and his mix of retro styles, but unfortunately, the mood is way too manic on this album -- there's never a moment's pause for listeners to catch their breath, or a quiet moment for any of the songs to sink in beyond the surface level. Guess they were trying to establish their bona fides as a funky-twang party band, but I wish they'd reined it in a little. Also, I can't say I'm wild about Jo Miller's vocals, either... But hey -- is that a boy in the band?? Why, yes, it is! David Keenan pitches in on a slick (but again, overly forceful) guitar... He even sings lead on one song! Producer Tim O'Brien also sits in on a couple of tunes; and Barbara Lamb's fiddle work is a highlight... Overall, though, not much that resonates with me.
Elliot Randall & The Deadmen "Caffeine & Gasoline" (Self-released, 2009)
(Produced by David Simon-Baker & Elliot Randall)





<! "Too Lucky, Too Long" - a dreamy tune, worthy of Ryan Adams >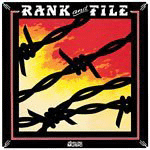 Rank And File "Sundown" (Slash, 1982)


Back in the mid-1980s, Rank & File were a real big deal for folks in the punk/post-punk/college rock scene... They were one of the original cowpunk bands, with a West Coast punk lineage that few could contest... The Kinman brothers, Chip and Tony, hailed from the Dils, one of the most kickass, take-no-prisoners, better-than-average sorta-hardcore bands while Alejandro Escovedo (who was on board for the first album only) and some of his buddies from The Nuns rounded out the lineup. While bands like the Vandals took "country" music as a joke, Rank And File were reasonably sincere about it, and helped open up the alterna world to twangier possibilities. Their first two albums have been in limbo for years, another victim of the disintegration of the fabled Slash record label... Now, thanks to the folks at Collector's Choice, we can once again hear these old albums in their full fury, without the tics, pops and scratches of our beat-up old vinyl... Worth checking out -- "Coyote" still echoes in my memory as a staple of the early '80s "college rock" scene.
Rank And File "Long Gone Dead" (Slash, 1984)


(Produced by Jeff Eyrich)
Nice one! Largely forsaking the trappings and obligatory 'tude of the LA punk scene, the Kinman's embraced the breezy retro pop of the so-called Paisley Underground and, when they felt like it, tapped into old-school country. Both strains are pretty satisfying. After a nice, pepped-up version of Lefty Frizzell's "Old Old Man," they mostly stick to the rock side of things, but in a pleasantly melodic way -- if anything, the band's super-earnest presentation is its only shortcoming, or rather, it probably opened them up to derision from their snarky, punkier-than-thou contemporaries... But now that the whole hardcore things is so thoroughly decades over, it's kind of nice to be able to listen to a record like this and hear it just for what it was: a sincere, fairly engaging, light melodic rock set with some charming weak spots. Certainly worth a spin.
Rank And File "Rank & File" (Rhino, 1987)


Whatever country cred they'd build up is largely lost on this would-be anthemic rock outing... The banging, big-sound '80s style drums clobber most of the subtlety that might lie underneath these songs. Then again, if you're a big fan of X's twangier outings, this is kind of in the same range... Doesn't do much for me, though -- too mainstream, overall.

Dave Rawlings "A Friend Of A Friend" (Acony, 2009)



(Produced by David Rawlings)
A stellar "debut" album from Gillian Welch's longtime collaborator, guitarist Dave Rawlings, who really pulls out the stops on this rock-folk mini-masterpiece. (Welch is on here, too: I guess they figured it was time to give him more props and give him a "solo" album of his own...) As with the other Rawlings-Welch outings, this record is packed with original songs that sound uncannily like traditional tunes and oldies... There are also several great cover tunes, which are particularly effective at showing what a strong performer Rawlings is... On both his covers of Neil Young's "Cortez The Killer" and Jesse Fuller's "Monkey And The Engineer," I "got" the lyrics in ways that I simply hadn't before (particularly on "Monkey": ooooooooh -- I get it! It's a coded-message dope fiend song! No wonder the Grateful Dead covered it...) Anyway, Rawlings makes the lyrics to all these songs come alive because of his total commitment to whatever he plays -- he's an artist who is really "in the moment" when he plays, and that comes through crystal clear on this album. A great record from start to finish... Maybe more electrified than previous records with Gillian, but no less captivating, and sure to wow their fans. Me, for one!
---
Alt.Country Albums - More Letter "R"
---