<! MP3 04/06/09 > <! update 04/06/09 - still no new album? geez. > <! outside 00/00/00 > <! pix 00/00/00 > <! 208-pix: 00/00/00 > <! icons 03/19/11 >
---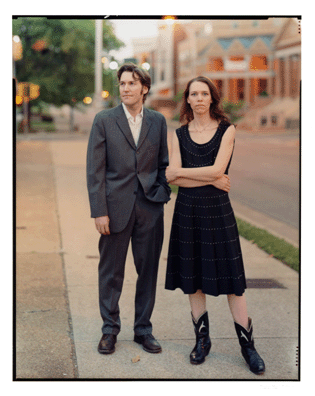 Gillian Welch and Dave Rawlings have emerged as the soulful voice of the Americana scene's most accomplished musicians, mixing a sombre modern irony with the hard-bitten grit of old-fashioned American folk music. An indie darling from her first record on, Welch has been propelled into the limelight by her appearance in the Coen Brothers film & soundtrack for O Brother Where Art Thou?, the movie that made bluegrass safe for the whole family, while guitarist Rawlings is her not-quite silent partner, a player of uncommon subtlety and grace. Here's a quick look at the Welch & Rawlings ouvre...
---
Discography
---

Gillian Welch "Revival" (Almo, 1996)



It's tempting to peg Gillian Welch as a hypertraditionalist... the Carter Family-styled lead-in to this album ("Orphan Girl") certainly shows that she's got real folkster roots, and the starkness of her vocals point to an austere streak. But there are plenty of modern embellishments as well, with a slight Cowboy Junkies undertone... On balance, you really have to be amazed at the strength of this debut, and Welch's ability to avoid the cliches and pitfalls encountered by her alt.country contemporaries. Only on occasion does her work appear overly clever, as on the effective but gimmicky bank-robber ballad, "Pass You By..." The rest of this album is hardly as transparent, though, and it's delightfully difficult to get a handle on what Welch is all about. Innovator, or keeper of the flame? Perhaps a bit of both? She manages to be inscrutiable as well as magnetic, poetic without sounding lofty or strained... here's an artist who requires several return visits from her more attentive listeners. Cool album!

Gillian Welch "Hell Among The Yearlings" (Almo, 1998)



More solidly produced and focussed than Revival, this is certainly no less alluring an album. Welch really is a remarkable artist. It's particularly interesting to see such a hip, modern young'un who so completely "gets" the haunting appeal of old-fashioned gospel material -- there are several gospel/revival oriented tunes on here, though I would hesitate to call this an overtly evangelical album. Heck, even if it was, it wouldn't matter -- Welch captures the eerie essence of the material every bit effectively as the Blue Sky Boys or the Louvin Brothers did... You'd have to be a die-hard, militant atheist to get your knickers in a bunch about such compelling material. The rest of us can simply enjoy this for it's musicality and emotional depth. Another highly recommended album!


<! really 110 x108 >
Gillian Welch "Time (The Revelator)" (Acony, 2001)



A masterful album. Almost alone among her alt.country contemporaries, Gillian Welch has overcome the twin temptations of slavish neo-traditionalism and the urge towards rock-oriented "creative growth." Sure, she indulges in a few Songs About Rock And Roll (another potential pitfall), but she does it with enough moodiness and depth to pull it off. Welch merges a rich empathy for old-time mountain music with her own, modern yearnings, mixing Appalachian twang with Spinanes-y indie dolefulness. Without feeling strained or pretentious, The Revelator is one of her eeriest and most reflective albums Ð a truly arresting work of art that sparkles like a grimy diamond in a world of trite, glossy prefab pop fantasies. It turned my head around, that's for sure!

Gillian Welch "Soul Journey" (Acony, 2003)



Another winner! Though this album album may seem like a retreat to a simpler sound, appearances can be deceptive. Welch is still wrestling with time, and from all indications, she seems to have the upper hand. This album is peppered with catchphrases from old country and acoustic blues: the lowlands, soldier's joy, one monkey don't stop the show, make me a pallet on your floor, et al. Anachronisms are Welch's stock in trade; in one breath she sings of the regimental soldier, in the next, about a ragtop convertible Ð the past, present and future getting together in a bar to hoist a few drinks and catch her second set. Welch and guitarist Rawlings have a peculiar kind of perfect pitch, an ability to craft irresistible modern music from a pastiche of old-fashioned sources. As on other albums, they stick to a single mournful, nostalgic emotional tenor, but though monochromatic, their songs are hardly monotonous. A brief album, Soul Journey is packed with slight, subtle gems, captivating tunes that usher you from moment to moment, until abruptly, perfectly, it's all over and you're ready to hear it again. The best songs on here, particularly "Back In Time" and "Look At Miss Ohio," have the kind of melodies that linger in the back of your mind and come back at odd moments. This narcotic poppiness suggests that if they wanted to, Gillian Welch and David Rawlings could easily plug in, pump up the volume and conquer the world; thank goodness they're content to hang around back here, picking a few tunes on the front porch for the rest of us young fogies.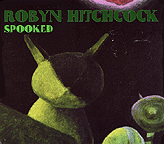 Robyn Hitchcock "Spooked" (Merge, 2004)



The combination of avant-indie trickster Robyn Hitchcock and alt-folkies Gillian Welch and David Rawlings seemed a bit unlikely, considering how much of a goofball Hitchcock can seem, and how resolutely serious and dour both Rawlings and Welch are. Still, it seems the match may be appropriate, as this album is one of Hitchcock's more serious record... As ever, his songs appear to be packed with non-sequiturs and absurdist flights of folly. Underneath, though, there seems to be a streak of horror (hence the album title), with resigned references to war, and even a "Condoleeza" sighting towards the end. Like many of his rock contemporaries, loathe to announce themselves politically, Hitchcock slips into escapism, sometimes consciously and facetiously, as on "We're Gonna Live In The Trees," and other times through force of habit, as on "English Girl." But to the degree this is a politically overt record, its observations are welcome -- the anti-TV song, "Television," literally personalizes the boob tube and makes its point in a way that may be more effective than a warehouse full of old Jerry Manders tomes, and while musing about the drive towards war, Hitchcock scores a bullseye with the observation that it can pit "good people against Good." For their part, Rawlings and Welch are largely in the background -- the album gives them a chance to indulge their rocker side, and to provide some of their Appalachian Gothic mystique in a few key places... Some of the riffs that drift up are lifted directly from their own albums, and seem a little out of place, but for the most part it works just fine... It's not the quirky Americana gem I'd anticipated, but it is another fine Robyn Hitchcock album, one that -- like his many others -- will grow on you, sometimes in ways you'd least expect. Worth checking out!
Gillian Welch "Songs From The Revelator Collection" (Acony, 2006)


A download-only set of live songs from the The Revelator Collection film, listed below. I'm not much into digital downloads, so I sure wish this were available in physical form. Oh, well.

Dave Rawlings "A Friend Of A Friend" (Acony, 2009)



(Produced by David Rawlings)
A stellar "debut" album from Welch's longtime collaborator Dave Rawlings, who really pulls out the stops on this rock-folk mini-masterpiece. (She's on here, too: I guess they figured it was time to give him more props and give him a "solo" album of his own...) As with the other Rawlings-Welch outings, this record is packed with original songs that sound uncannily like traditional tunes and oldies... There are also several great cover tunes, which are particularly effective at showing what a strong performer Rawlings is... On both his covers of Neil Young's "Cortez The Killer" and Jesse Fuller's "Monkey And The Engineer," I "got" the lyrics in ways that I simply hadn't before (particularly on "Monkey": ooooooooh -- I get it! It's a coded-message dope fiend song! No wonder the Grateful Dead covered it...) Anyway, Rawlings makes the lyrics to all these songs come alive because of his total commitment to whatever he plays -- he's an artist who is really "in the moment" when he plays, and that comes through crystal clear on this album. A great record from start to finish... Maybe more electrified than previous records with Gillian, but no less captivating, and sure to wow their fans. Me, for one.
Gillian Welch "The Harrow & The Harvest" (Acony, 2011)



In tone and temperament, this is a remarkably dreary, downcast album. It's so much of a downer, and has such an unrelentingly slow tempo, that it's hard not to detect a slight singe of resentment or even hostility in Welch's vocals, in one slow, depressing song after another. The music is beautiful, but it's sad and monochromatic. If you're in a gloom junkie phase of your life, this could be the soundtrack you've been waiting for, but I have to admit I found this to be kind of a chore. Wonder why.
---
Other Media
---
Gillian Welch & Dave Rawlings "The Revelator Collection" (Acony, 2002)


Videos, concert footage and a glimpse at their work in the studio... What more could you want? I haven't seen it myself yet, but I imagine it's pretty cool.
---
Links
---
Acony Records is Welch & Rawlings's own indie label... Their website includes tour info and other news, some groovy pictures and opportunities to check out their groovy t-shirts and other merch.
---



Hick Music Index



---
Top photo by Mark Seliger. Used by permission of Acony Records.
---