<! MP3 07/04/09 > <! outside 00/00/00 > <! pix 00/00/00 > <! icons 12/13/10 > <! UPDATES: 07/04/09 - expand Mavericks (also in mersh) > <! Chris Mills CHUCK MCCABE >
---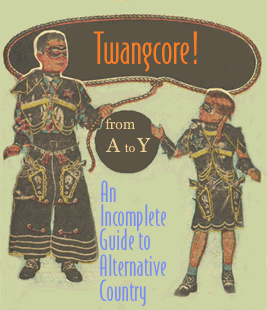 This page is part of an opinionated overview of "alt.country" music, with record reviews by me, Joe Sixpack... Naturally, it's a work in progress, and quite incomplete, so your comments and suggestions are welcome.
This page covers the letter "M"
---
A | B | C | D | E | F | G | H | I | J | K | L | M / M-2 / M-3 | N | O | P | Q | R | S | T | U | V | W | X, Y & Z | Comps | Other Country Styles
---
The Maines Brothers Band - see artist discography
Raul Malo - see artist discography
Mark David Manders "People And Places" (Campfire, 1996)

Mark David Manders "Tales From The Couch Circuit" (Blind Nello, 2000)





<! Mark David Manders & Nuevo Tejas "Headin' Out West" B000JIUT90 >

Mark David Manders & Nuevo Tejas "Chili Pepper Sunset" (Blind Nello, 2000)


A throaty Texas outlaw crooner, following in the footsteps of Steve Fromholtz, Rusty Weir, Robert Earl Keen, Jr. and all them kinda fellers. There's some good songwriting here, but if the truth be told, he wasn't quite ready for prime time on this disc... Mostly it's in his phrasing: Manders rushes his lines and falls out of the tempo a little too often; still, it's an enthusiastic, cheerful performance, with a few good boozin'-losin' tunes. Worth checking out.
Mark David Manders "Highs And Lows" (Blind Nello, 2002)


Also kind of uneven, tho' the loopy talking-blues ramble, "Suicidal Pigeon" -- a surrealistic shaggy dog story starring a sad, speaking pigeon and a concerned good Samaritan hitchhiker -- is a kooky classic.
Stewart Mann & The Statesboro Revue "Stewart Mann And The Statesboro Revue" (2007)


An Austin-based rock band with an old-school Allmanesque feel... This was their first album, with later records released under the band name, Statesboro Revue.
Carolyn Mark "Party Girl" (Mint, 2000)



Carolyn Mark & The Room-Mates "Terrible Hostess" (Mint, 2003)



Meditations on social drinking, late night parties, dirty dishes, bad sex and the more intoxicating side of the night life. Downbeat, kinda depressing, material, but with a wicked sense of humor and a more accomplished feel than other Mark outings. It seems like these are subjects nearer to her heart than the trailer trash-isms of her alt.country work... She also veers into jazzish torch singing and a bit of melodic indiepop. The stylistic variety helps, as does the moodiness of the bummerific songwriting. Probably her strongest work to date.
Carolyn Mark & The New Best Friends "The Pros And Cons Of Collaboration" (Mint, 2004)


Carolyn Mark & The Room-Mates "Just Married: An Album Of Duets" (Mint, 2005)


Carolyn Mark "Nothing Is Free" (Mint, 2007)



Although I'm not a huge fan of Carolyn Mark as a vocalist, I certainly accept her as a paragon of the DIY ethos in its more mature phase: she writes the songs she wants to write, she makes the records she wants to make, she gets very talented people to play with her, and in pursuing some odd song topics, she doesn't write the same-old, same-old kind of songs. Purists can debate her bona fides as a "real" country singer, but she certainly has a pleasant little rasp, and knows her way around the twangier tones -- I suppose it's easier to think of her as an urban alt-folkie, mining a certain vein of acidly-observed interpersonal barbs and party-going vignettes that bring Joni Mitchell to mind, in a way. There are several noteworthy tracks on here, notably the tart, double-edged "Point O View" and the galloping, bluegrassy "Get Along," as well as the scathing, sinister "Pink Moon And All The Ladies," which may or may not be some sort of commentary on the late Nick Drake and his legions of fans, but is certainly one of the stronger tracks on the album... Mark's lyrics can be a bit uneven, though -- the song "The 1 That Got Away With It," for example, opens with a couplet, "There's two kinds of women you let in your life/exciting new mistress and boring old wife..." that holds a bitterness worthy of Linda Thompson's newer stuff, and a poetic economy that almost makes it sound like a grand, old honkytonk classic. She doesn't sustain it, though, and the song meanders into spacy, self-referential metaphors that detract from the promise of a song that could have really gone for the jugular. Most of her songs hew close to the insular self-expression of the Pacific Northwest's lo-fi scene -- if you value small-press poets and local legend musicians just for who they are, Mark is an undeniable hero, but if the glimmers of brilliant songwriting may make you wish for a more focussed, more craftsmanlike approach. Mark remains an intriguing, challenging artist, true to her indie roots, even if this means she sometimes shies away from the symmetry and concision that make pop songs so memorable.
Mars Arizona "Love Songs From The Apocalypse" (Big Barn, 2002)


Mars Arizona "All Over The Road" (Brown Bear, 2005)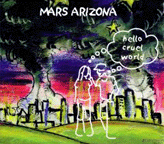 Mars Arizona "Hello Cruel World" (Big Barn, 2008)



A nice, rambling hillbilly-folk-twangadelic album from a SF Bay Area duo with a lot of cool friends... Newgrass patriarch David Grisman adds some lively mandolin on the opening track (with his son, Sam, on bass!) while pedal steel player Al Perkins also guests on a tune or two. The presence of both these old pros is a good indicator of where Mars Arizona are headed: this album echoes the rambling, eclectic country-folk of the early 1970s, bringing to mind work by bands such as the Goose Creek and New Riders Of The Purple Sage, or even older, spacier bands such as Hearts & Flowers or Fat City... Although they're notably twangier than the current crop of "folk-freak" acoustic psychedelic artists, I'd imagine fans of the style could also enjoy this album a lot. Fine musicianship along with lots of lyrics that might make you scratch your head a bit... Worth checking out!
Mars Arizona "High Desert" (Big Barn, 2010)



(Produced by Ray Kennedy & Mars Arizona)
This album opens with a couple of rock-solid alt-country tracks, drenched in pedal steel and regret, and with a philosophical bent that made me think of it as "existential twang." Midway through, though, they slip into guitar solo-y jam-band rock that didn't really do it for me... Their cover of the Stones' "Sweet Virginia" was fun though -- very Sticky Fingers sounding -- and they tip their hat towards the elder gods with covers of the Dreadful Grate's "Must Have Been The Roses" and Neil Young's "For The Turnstiles." The band offers original material that, while lyrically dense, keeps the faith and takes up the torch. Hippie twang is alive and well in Berkeley, California!


<! Daniel Lee Martin - see Top 40 (also alt?) >
Janis Martin "The Blanco Sessions" (Cow Island Music, 2012)



(Produced by Rosie Flores & Bobby Trimble)
Let's hear it for social media: A Kickstarter campaign brought this album to fruition, a sizzling set of bluesy rockabilly from 'Fifties firebrand Janis Martin, one of the wildest rockabilly singers of the original rock'n'roll era, who passed away in 2007, just months after completing these sessions. She was an old lady then, but also a total badass who threw herself into the songs, and infused them with vigor and soul. Backing her were several stalwarts of the Americana-indie scene, including guitarist Dave Biller (ripping it up on classic 'billy riffs), pianist T. Jarrod Bonta, and drummer/producer Bobby Trimble, who drove the band hard. Martin sounds great -- she's got a gruff granny voice, but the kind of granny voice you'd expect from a truck driver or the world's sweetest linebacker, with plenty of expressiveness and power. Joining her on a tune or two are hillbilly fillies Rosie Flores and Kelly Willis, who compliment Martin while never stealing focus from her powerful performances. If you loved Janis Martin's old stuff, you'll want to pick this up too: you'll really dig it.
Stan Martin "Wicked Heart" (EP) (Twangtone Records, 2001)


Stan Martin "Cigarettes And Cheap Whiskey" (Twangtone Records, 2002)



(Produced by Stan Martin & Ducky Carlisle)
A very strong indie-released honkytonk set, with a dozen original songs that delve deep into heartbreak, misery and regret, country style. There's a strong Dwight Yoakam influence, particularly on the vocals on the first half of the album, as well as on the musical end, which may not be too surprising since he thanks Pete Anderson for his help in the studio, as well as fiddler Scott Joss, who was also part of Yoakam's crew. There are some good uptempo numbers on here, though it's the weepers that really got me hooked... Good stuff... recommended!
Stan Martin "Distilled Influences" (Twangtone Records, 2012)


Stan Martin "Whiskey Morning" (Twangtone Records, 2014)






<! others? >


Steve Martin - see artist discography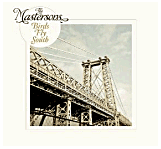 The Mastersons "Birds Fly South" (New West, 2012)



(Produced by The Mastersons & Steve Christensen)
An intriguing collaboration here featuring lead singers Eleanor Whitmore and Chris Masterson, who have wildly different approaches to the Americana genre, but meld their efforts well and present a cohesive band vision. Whitmore is more anthemic rock/pop inflected, with echoes of Mindy Smith and Aimee Mann, while Masterson reveals an introspective folk and twang influence, hearkening back to the Uncle Tupelo/Jayhawks/Old 97s style of yesteryear. Both their lyrics have what I would consider a college-student bent to them, with sort of finger-pointy lyrics about what "you" (the person they're singing to) did to inspire the song, using songwriting as a way to explore emotional revelations and new life experiences. There's a strong spiral-notebook feel to a lot of the lyrics, but several songs will stand out. This is maybe a little more rock-oriented than I care for these days, but I'm still curious to see where these guys will go from here.
The Mavericks - see artist discography
Owen Mays "Red Wine And White Lines" (EP) (Self-Released, 2011)


Pretty minimalist alt-plunking, with guitar, banjo and plain-spoken vocals. Lots of old-school songs about drinking and heartbreak, though not a lot of flash and fire in the performances.
Owen Mays & The 80 Proof Boys "Nobody Loves You When You're Down" (Solitary Records, 2013)



Pretty minimalist alt-plunking, with guitar, banjo and plain-spoken vocals. Lots of old-school songs about drinking and heartbreak, though not a lot of flash and fire in the performances.
Kimberly M'Carver "Breathe The Moonlight" (Philo-Rounder, 1989)


Kimberly M'Carver "Inherited Road" (Philo-Rounder, 1994)



Kimberly M'Carver "Cross The Danger Line" (Prime CD, 2001)


The vocal (and stylistic) similarity to Dolly Parton is the very first thing you'll notice with this Houston gal... Debts to Nanci Griffith and Rosie Flores also seem likely. At any rate, even though her material is patently derivative, she has her moments. Tunes such as "Death and Texas" and "When I Hear Trains" may point to future greatness... who knows?
Delbert McClinton - see artist discography
James McMurtry "Too Long In The Wasteland" (Sony, 1989)


James McMurtry "Candyland" (Sony, 1992)


James McMurtry "Where'd You Hide The Body" (Sony, 1995)


James McMurtry "It Had To Happen" (Sugar Hill, 1997)


James McMurtry "Walk Between The Raindrops" (Sugar Hill, 2003)


James McMurtry "Saint Mary Of The Woods" (Sugar Hill, 2002)



James McMurtry "Live In Aught-Three" (Compadre, 2003)



I've never really "got" McMurty's vibe... His studio albums seem too controlled and cerebral for my tastes... But here on this fine live album, he lets his hair down and gets a little rough, playing several long, grungy Americana jams (the average song length here is about six minutes), suggesting a mix of Warren Zevon, Neil Young and Steve Earle... I gotta say, I liked it, and I didn't really expect to... Worth checking out!
James McMurtry "Childish Things" (Compadre, 2005)


James McMurtry "Just Us Kids" (Lightning Rod, 2008)


James McMurtry "Americana Masters Series: Best Of The Sugar Hill Years" (Sugar Hill, 2007)


James McMurtry "Live In Europe" (Lightning Rod, 2009)


---
Alt.Country Albums - More Letter "M"
---