<! cd = 10/02/10 > <! Robert Reynolds - two solo EPs? unable to find ASINs > <! MP3 10/02/10, 03/26/11, 02/28/13 > <! outside 02/28/13 - WP > <! pix 02/28/13 - need more reviews > <! 208-pix: 00/00/00 > <! icons 10/02/10, 03/26/11, 02/28/13 > <! UPDATES: 10/02/10 02/28/13 - new review, pix, links >
---
Hailing from Miami, Florida, The Mavericks brought a lively new feel to contemporary country music, mixing in a Latin-American vibe as well as a deep love of old-school rock and pop vocals. One of their secret weapons was lead singer Raul Malo, who could sound, on a good day, like a dead ringer for the late Roy Orbison. The Mavericks enjoyed a strong fan following, but only moderate success on the charts, typically scoring just inside or outside of the Top 40 mark. In 2003, the band broke up, with Malo pursuing the strongest of their solo careers. Here's a quick look at their work (including solo albums, listed below...)
---
Discography - Best-Ofs
---
The Mavericks "Super Colossal Smash Hits Of The '90s: The Best Of The Mavericks" (MCA, 1999)



Okay, so maybe they don't hit the mark all of the time, and maybe their marimba-ish Latin stylings sometimes have a whiff of Jimmy Buffet exotica to them, but I still dig the Mavericks. They may be slick, but they seem more playful and adventurous than most Top Country acts, and Raul Malo's crooning Roy Orbison vocals do the trick for me. This best-of covers a lot of turf, and gives a pretty good sense of the band's range and diverse, lavish pop-country stylings.
The Mavericks "The Millennium Collection" (MCA, 2001)


The Mavericks "The Definitive Collection" (MCA-Nashville, 2004)



The Mavericks "Gold" (MCA Nashville, 2006)



This slam-bang, 2-CD best-of set captures Raul Malo and his posse at their finest, from the exaggerated twang of their early work to the romantic, Roy Orbison-esque croon that became Malo's signature sound. Although the Mavericks initially brought a fresh blast of traditionalist twang to the country charts, they never quite made it to the top, mainly warming the benches in the back half of the Top 40. They made some mighty nice records, though, and this generously programmed collection should just about cover it for the average listener. The first disc has all their early hits, while the second tracks their slide off of the Nashville radar. Included here are about a half-dozen previously unreleased tracks and a slew of one-off singles and rarities, including bonus tracks and tunes from various soundtracks and tribute albums. If you want to check these guys out, this is a great way to go.
---
Discography - Albums
---
The Mavericks "The Mavericks" (Cross Three, 1990)

The Mavericks "Fron Hell To Paradise" (MCA, 1992)


The Mavericks "What A Crying Shame" (MCA, 1994)


The Mavericks "Music For All Occasions" (MCA, 1995)



(Produced by Don Cook & Raul Malo)

The Mavericks "It's Now! It's Live!" (MCA, 1997)

The Mavericks "Trampoline" (MCA, 1998)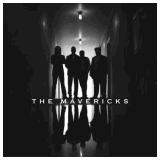 The Mavericks "The Mavericks" (Sanctuary, 2003)



It's been a while for these guys -- and the resulting new album may be surprise for many expecting a continuation of their twang'n'oldies formula. The doo-woppish Roy Orbison-style crooning is still there, but don't expect much country sounding material on here... The band seems to have staked out a neither-fish-nor-fowl sound that leaves them sounding too brainy and soul-influenced for commercial country, too slick and bombastic for alties to enjoy... Instead, there's plenty of bouncy melodic pop, kinda along the lines of a Ben Folds album(!) A few lightly cynical, topically-oriented songs as well, but Malo and the guys seem to advocate an apolitical, apathetical detachment -- which, while perhaps in line with the current attitude of mainstream America, is not, I think the answer to the problems that confront us. Still, it's an interesting change of pace, and songs like the Beatles-y "Would You Believe" are kinda thought-provoking. Willie Nelson guests on one of these fuzzy-philosophy tunes, "Time Goes By," which has a nice bluesy soul feel to it. But a "country" album, this definitely ain't.
The Mavericks "Live In Austin, Texas" (Sanctuary, 2004)


The Mavericks "Suited Up And Ready" (EP) (Valory Music, 2012)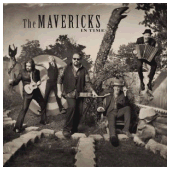 The Mavericks "In Time" (Valory Music, 2013)



(Produced by Raul Malo & Niko Bolas)
Their first studio album in roughly a decade... There are, of course, several of the sweeping, schmaltzy, Orbison-esque ballads that Malo excels at, as well as some bouncier, twangier songs, and a little bit of Latin swing. I prefer the band's uptempo tracks, and there's plenty of both kinds of music on here to satisfy any long-time Mavericks fan. If you liked their old stuff, you'll definitely want to give this one a spin, as well!
---
Solo Albums
---
Raul Malo "Today" (Higher Octave, 2001)



Raul Malo/Pat Flynn/Rob Ickes/Dave Pomeroy "The Nashville Acoustic Sessions" (CMH, 2004)



A nice, relaxed set, featuring country crooner Raul Malo (of the Mavericks), along with fusiongrass studio cats Rob Ickes (best known for his work with Alison Krauss), Pat Flynn (of Newgrass Revival) and bassist Dave Pomeroy, all longtime veterans of the Nashville studio scene. Here they indulge a passion for the simpler side of the country-folk tradition. Malo's mellow vocals on the album's opener, a sweet version of "Blue Bayou," is an album highlight. It's also a pleasant surprise to hear versions of two Louvin Brothers oldies, "When I Stop Dreaming" and "Great Atomic Power," and even a lazy version of "Moon River" and Van Morrison's "Bright Side Of The Road." In places, they overplay their hand -- Ickes' dobro work is mixed too hot throughout much of the album, and Malo goes a little overboard on the Gram Parsons white soul weeper, "Hot Burrito #2." Overall, though, this is a warm. Welcoming album that listeners in search of a softer sound will probably enjoy... Mavericks fans, in particular, will appreciate the chance to hear Malo back in a more mellow setting.

Raul Malo "You're Only Lonely" (Sanctuary, 2006)



(Produced by Peter Asher)
A mellow set of emotive romantic tunes, worthy of Roy Orbison or Aaron Neville. While the nod towards J.D. Souther (on the title tune) is certainly welcome, the overall tone of this album is too syrupy and soft for me; also, there's little variety to the tempo and feel from beginning to end. Still, if you like romantic ballads with glossy modern production, you might really dig this... It's certainly in keeping with Malo's earlier work, the soft stuff at least.
Raul Malo "After Hours" (Sanctuary, 2007)


Raul Malo "Marshmallow World And Other Holiday Favorites" (New Door, 2007)


Raul Malo "Lucky One" (Fantasy, 2009)



Raul Malo "Sinners And Saints" (Fantasy, 2010)



Another solid set from Mr. Malo, with his trademark mix of country, rock, Tex-Mex and other Latin styles, with a dash of rockabilly and old-school pop ballads. This is a vigorous, lively album, with some catchy tunes ("San Antonio Baby," "Superstar") and a bit of soul-searching as well. Other than a couple of cover tunes, most of the songs were written by Malo, and reflect his sometimes-cheery, sometimes rueful perspective. The record's only real bummer moment comes with "Living For Today," a politically-themed song which is an anthem for apathy and surrender, cloaked as a weary condemnation of politicians and schemers of all stripes, but really it's just an invitation to check out and get what you can out of life while you can. Malo's entitled to his own opinion -- and lord knows he's not alone in this one -- but I gotta say I don't think giving up and letting the chips fall where they may is the answer to the problems that confront us today. There are a lot of powerful interests that would like nothing better than for regular folks to check out and give up on political participation: taking part in the world and caring what happens may be a pain in the ass sometimes, but it beats the alternatives. Anyway, it's just one song on an otherwise groovy album... The rest of the record is tuneful and sweet, and will definitely satisfy fans; it's probably his strongest record in years.


<! Robert Reynolds - two solo EPs? >

---
Video
---
The Mavericks "Live In Austin, Texas" (DVD) (Sanctuary, 2004)

The Mavericks "The Best Of The Mavericks: The DVD Collection" (DVD) (MCA-Nashville, 2004)

---
Links
---
---