<! MP3 00/00/00 > <! update 00/00/00 > <! outside 00/00/00 > <! pix 00/00/00 > <! 208-pix: 00/00/00 > <! icons 04/09/11 >
---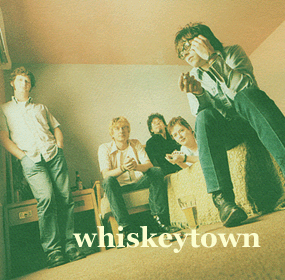 Whiskeytown is one of those iconic alt.country bands of the 1990s that I took my sweet time getting around to checking out. I guess I'm still forming my opinions, but generally the word is pretty good. The solo stuff that various members have put out has been pretty interesting, and their old pre-breakup albums definitely have their charm. In the final analysis, Whiskeytown were pretty darn rock-oriented, but they were way less pretentious than Wilco, that's for sure!
---
Discography
---
Whiskeytown "Angels" (Mood Food, 1995)
A 4-song EP.
Whiskeytown "Faithless Street" (Mood Food, 1996/Outpost, 1998)



Re-released on Outpost with several extra tracks.
Whiskeytown "Theme For a Trucker" (Bloodshot, 1997)
Another 4-song EP.

Whiskeytown "Rural Free Delivery" (Mood Food, 1997)


Early demo recordings dating back to the band's inception. Taking some of their musical cues from the '80s cowpunk scene, Ryan Adams and Co. play a deceptively rough-edged, raggedy-ass brand of alterna-country... In reality, they have some pretty interesting songs, and even while skirting WTS territory, they're pretty engaging. This album seems to re-surface from time to time on different indie labels. Not great or immortal, but worth tracking down just to see where it all started out.


<! with a cover of Greg Ginn's "Nervous Breakdown" > <! no Producer credit; recorded by Greg Elkins, mixed by Mark Cimerro & Kurt Underhill >

Whiskeytown "In Your Wildest Dreams" (Outpost, 1997)
This promo-only 4-song EP opens with a blaring, John Mellencamp-ish rocker, followed by another rock tune, with a slightly more interesting theme ("Rain Won't Help You When It's Over"). Next is a nice bitter acoustic ballad, "Factory Girl" (not the old Stones song), which proves to be the highlight of the disc, as the closing track, "Wither, I'm A Flower," is a meandering, mumbled, droning toss-off track. Released in conjunction with the Stranger's Almanac album, this made pretty clear that rocknroll was deifinitely on the agenda, in addition to the twangy stuff.

Whiskeytown "Stranger's Almanac" (Outpost, 1997)



Musically speaking, this is probably their best album, and their most competently country (with willful excursions into various rock styles...) Ryan Adams is the principal songwriter, writing either by himself or in collaboration with Caitlin Cary or Phil Wandscher. The lyrics run the gamut from pretentiously wan and clever to self-indulgent and spacy, and they uniformly betray Adams' restlessness with the hick music format... or perhaps just with songwriting itself. It just doesn't seem very cohesive or heartfelt... Then again, maybe that was the whole point, not taking it all too seriously. It's a pretty album, though, if you don't think too hard about its more vapid aspects.
Whiskeytown "Stranger's Almanac" (Expanded Edition) (Geffen, 1997/2008)



Whiskeytown "Pneumonia" (Lost Highway, 2001)



Feelgood alt-pop with a faint, lingering trace of twang. Whiskeytown's final, posthumously-released album shows songwriter Ryan Adams moving solidly into the more expansive horizons of his future solo career. Nothing on here is as edgy or immediate as his solo work or as unregenterately twangy as the band's early work; I wouldn't go as far as to say this is an unchallenging record, but it certainly is easy on the ears... It's also probably their best record -- nice, pleasant to listen to, although a bit gauzy and narcotic in its overall effect. Take only as directed. And enjoy.
---
Solo Albums & Related Records
---
Ryan Adams "Heartbreaker" (Bloodshot, 2000)



I suppose I should confess that I never really tracked Whiskeytown all that carefully, although I have friends who are totally ga-ga over them... Not really knowing much about them was what made this solo outing by singer Ryan Adams such a pleasant surprise for me. It kicks off with "To Be Young", a picture-perfect homage to Blonde On Blonde era Dylan, and continues on in a Zimmerman-esque vein through a series of songs that are alternately sentimental and vengeful, with concisely executed production that ranges from picked-bone sparse to eerily lush... It's a rock-country crossover with an album-wide cohesion that sneaks up on you, full of impressive, glittering nuggets of songwriting and soulful, catchy guitar twangery. There's also a super-sweet duet with Emmylou Harris, which is worth the price of admission alone. Very nice stuff, and very well written.
Ryan Adams "Gold" (Lost Highway, 2001)



Another nice album, which alternately takes things down a notch or two, sticking to even mellower terrain, and plunges headlong into blaring, glammy rockstar wankery. There are still a few Dylanisms at the start, but most of this is sort of introspective, folk-ish pop songcrafting. In timbre he reminds me of Loudon Wainwright III (or, by extension, Loudon's son, Rufus Wainwright...) But on several tracks he overplays his knowledge of the pop past: "Tina Toledo's Street Walkin' Blues," for example, is just a little too Sticky Fingers-esque and the baldness of the swipe is distracting. (Besides, hipsters singing about hookers -- yawn.) Overall though, this is a very fine album, nicely sculpted and quite listenable, though only tangentially "country." Worth checking out, though he is in the process of transforming himself into a bona fide rawk star.
Ryan Adams "Demolition" (Lost Highway, 2002)



This odds'n'ends set of demos and other "unreleased" material has its moments, both of purity and tedium, but it's certainly worth checking out, particularly if you're an Adams fan to begin with. Hey, I kept my copy...!
Ryan Adams "Love Is Hell, Pt.1" (Lost Highway, 2003)



Well, y'all can pretty much forget about his lingering "country" influences: this is a rock record, pure and simple. Still, the strummy acoustic vibe laced inside this set of slinky, super-mellow indierock tunes is mighty nice, and easy on the ears. I'm a little nervous about the way his vocals have begun to edge into a Bono-style U2-ish over-emotive warble, but on the whole this is quite a nice, listenable little record. Recommended.
Ryan Adams "Love Is Hell, Pt.2" (Lost Highway, 2003)


Ryan Adams "Rock'N'Roll" (Lost Highway, 2003)


Caitlin Cary "Waltzie (EP)" (Yep Roc, 2000)


Caitlin Cary "While You Weren't Looking" (Yep Roc, 2002)



A surprising, poppy outing for Ms. Caitlin... As a Whiskeytowner, Cary had a tendency to be a bit shrieky -- here, she takes a smoother path, following in the footsteps of Mekons frontlady Sally Timms who moved out of her twangcore phase into mistier pop balladeering. Like Timms, Cary appears to be chasing the ghosts of June Tabor and Linda Thompson, and likewise, it suits her well. The songwriting is also an improvement over her country-themed Whiskeytown material; without the WTS baggage, Cary proves capable of crafting fairly smooth, haunting pop material. She even dabbles in Phil Spector-style Brill Building pop. All in all, a nice record, although longtime fans may be a bit mystified. The CD also comes (or came?) with a 4-song mini-CD with much country-er material, including an excellent duet with Ryan Adams. Good record, worth checking out.
Caitlin Cary "I'm Staying Out" (Yep Roc, 2003)



Cary delves even deeper into her pop muse, chasing the spectres of Linda Thompson and Natalie Merchant, and leaving the country stuff almost entirely behind. Ex-DB Chris Stamey produces and writes some of the material... Not totally my cup of tea, but you can see where she's going on this one. If you liked the general direction of her previous album, While You Weren't Looking, then you're probably gonna love this one!
Caitlin Cary & Thad Cockrell "Begonias" (Yep Roc, 2005)


---
Links
---
Losering is a cool fan site, with an exhaustive discography which includes the zillions of one-off tracks placed on various compilations, etc., as well as updated tour info, reprints of reviews, interviews, etc. Good resource!
---