<! MP3 03/30/09 > <! update 03/30/09 - added DVDs > <! outside 00/00/00 > <! pix 00/00/00 > <! 208-pix: 00/00/00 > <! icons 11/15/10 >
---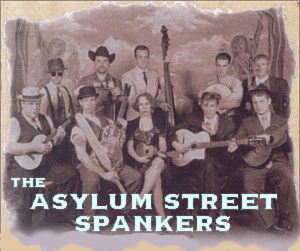 ---
Discography
---

Asylum Street Spankers "Spanks For The Memories" (Watermelon, 1996)



These giddy, retrorific Austinites follow in the footsteps of acoustic swing revivalists such as Dan Hicks and Bob Brozman, dashing through a wide and well-selected, ukulele-heavy repertoire of Tin Pan Alley oldies and countrified jazz jive. They're more rambunctious and scraggly than their predecessors, but the Spankers have real goods, and this is a pretty tasty album. With assist by a couple of guys from the Bad Livers, they mix nice original material with top-notch cover tunes. I'm not terribly fond of Christina Marrs' sub-Janis blues vocals, but otherwise, this is a charming, first-rate album, well worth checking out.

Asylum Street Spankers "Nasty Novelties" (Cold Spring, 1997)



I haven't actually heard this EP (yet), but I imagine it would fit in quite nicely into my listings of "forbidden" music... The Spankers delve into the naughty music of the past to cover such classics such as Lucille Bogan's "Shave 'Em Dry" and "Rotten Cock******'s Ball" (...the Clover's classic after-hours parody of "Darktown Strutter's Ball") You gotta be in the right frame of mind to enjoy this stuff, but if you are looking for titillation, I'm sure this one'll do it for ya!
Asylum Street Spankers "Hot Lunch" (Cold Spring, 1999)



Asylum Street Spankers "Spanker Madness" (Spanks-A-Lot, 2000)



Goodness gracious -- is there still a market out there for a whole album of stoner songs, with titles like "Getting High," "Winning The War On Drugs," "Wake and Bake," and the rather simply-themed "Beer"? Well, the Spankers seem to think so, and come to think of it, down on College Town Austin, USA, I'm pretty sure there is. This self-released ode to the joys of likker and weed again demonstrates what skillful students the Spankers are of the jive music of the past... Those of us who remember how fun it was the first time we came across those old doper tunes by Slim Gaillard and folks like that will be impressed by how well these fellows recreate the hep blues-jazz style of years gone by. But their sound has expanded to include a Taj Mahal-ish bluesiness, and the results are quite nice. While Christina Marrs' voice could still sound a little grating (if, for example, you woke up with a hangover and your roommate started cranking this album, you might be a little less than pleased...), this is still an album that would make Ry Cooder or Jim Kweskin proud. Of course, if you're not a pothead yourself, the subject matter is a bit old-hat. It's nice, though, that the kids still have something to get all worked up about.

Asylum Street Spankers "Christmas Spanking" (Bloodshot, 2001)



Hey, another one for my Hillbilly Holiday section... Just the thing to play next to that old Pat Boone album!

Asylum Street Spankers "Dirty Ditties" (Spanks-A-Lot, 2002)



Another naughty novelty album... With songs titles such as "If You Really Love Me (You'll Sleep On The Wet Spot)" and "The Scrotum Song," this is, clearly, a somewhat puerile record... But then again, isn't that the whole point? Plus, these four songs are all originals, new to the dirty-song genre!

Asylum Street Spankers "My Favorite Record" (Bloodshot/Spanks-A-Lot, 2002)



While their musical chops steadily improve, the Spankers devotion to novelty songs remains wholly undiminished. Clearly, they want to hit the magic formula to have a long-remembered goofball hit along the lines of "Euphoria," "Wahoo!," or "Marijuana Boogie" -- something that college radio DJs will play for decades to come. On one hand, they'll probably succeed -- this disc's title track comes pretty close. On the other hand, though, the sheer relentlessness of the pursuit is in itself a bit dreary, with the predictable application of time-worn, on-the-nose attention-getting themes such as irreverent religious references and druggie humor, etc. The songs I wound up playing off this record were the more or less straight swing-jazz tunes (mostly those written and sung by Christina Marrs)... I'd be interested to hear them try at least one full album where the repertoire tilts in this direction, showing off their musical chops rather than their sophmoric sense of humor.
Asylum Street Spankers "Mercurial" (Spanks-A-Lot, 2004)


Asylum Street Spankers "Mommy Says No!" (Spanks-A-Lot, 2004)



A kid's-music album, available through the band's website (linked to below...)
Asylum Street Spankers "Sideshow Fez" (DVD) (Spanks-A-Lot, 2004)

Asylum Street Spankers "Strawberry -- Bootleg Series Volume One" (Spanks-A-Lot, 2005)


Asylum Street Spankers "Pussycat -- Bootleg Series Volume Two: Live Rarities, 2000-2004" (Spanks-A-Lot, 2006)


Asylum Street Spankers "Re-Assembly: 10th Anniversary Reunion Concert" (DVD) (Spanks-A-Lot, 2006)

Asylum Street Spankers "What? And Give Up Show Biz?" (Yellow Dog, 2008)



A 2-CD set...
---
Related Records
---
Wammo "Fat Headed Stranger" (Mercury, 1996)

Wammo "Children Of The Corn Nuts (EP)" (Mercury, 1996)


Four songs from the Fat Headed Stranger album...
Wammo "Faster Than The Speed Of Suck" (Spanks-A-Lot, 2002)


Wammo "Lowriders On The Storm" (Spanks-A-Lot, 2005)

---
Links
---
---