<! MP3 04/01/10, 01/30/11 > <! update 00/00/00 > <! pix 00/00/00 > <! icons 01/30/11 > <! ED MCCURDY lyrica erotica vol.1- prestige - mono - RVG >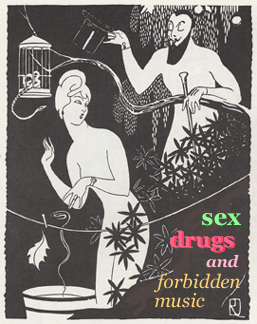 ---
Pop music's past is littered with plenty of great naughty records, from the "hokum" blues and country of the 1920s and '30s, to the saucy R&B of the '50s and the pre-Elvis era. This page is devoted to the silly, scandalous sex song and drug-oriented novelty tunes of days gone by. I am not necessarily advocating a liscentious lifestyle, but I do still get a kick some of these tunes, and I figured, what the hey... this still fits into Slipcue's general mission of providing information about under-represented musical styles. I'm sure many of you out there will have suggestions for other artists and albums that should be included here... Feel free to write me to make any suggestions along this line... Thanks!
---
A Few Dirty Records
---

Lucille Bogan "Complete Recorded Works v.1" (Document, 1994)


Lucille Bogan "Complete Recorded Works v.2" (Document, 1994)


Lucille Bogan "Complete Recorded Works v.3" (Document, 1994)


Lucille Bogan "Reckless Woman: 1927-1935" (EPM, 1994)


Lucille Bogan "Lucille Bogan 1924-1932" (Story Of Blues, 1993)


Mississippi blues singer Lucille Bogan (aka Bessie Jackson) came from the old school of commercial blues, working as a contemporary of Bessie Smith in the early 1920s. She pretty much specialized in singing dirty songs, and is best known as the author of the immortal "Shave 'Em Dry," although, as it turns out, that was one of the least raunchy of her songs. Any of these albums may include more than enough nasty songs to satisfy the casual listener, but if you're looking for some truly shocking material from the olden days, Bogan is an artist to search out. She also frequently appears on various hokum-oriented collections. She is, of course, wildly popular with connoisseurs of the style, meriting profile pages on many blues-related websites, including Eyeneer, Blue Flame Cafe and Red Hot Jazz, to name a few...
Lucille Bogan "Shave 'Em Dry: The Best Of Lucille Bogan" (Sony-Roots'N'Blues, 2004)


Oscar Brand "Bawdy Songs And Backroom Ballads, v. 1-6" (Audio Fidelity, 1955-1960) (LP)


For my father's generation, these bowlderized versions of various smutty old songs were the bee's knees when it came to what were then called "party records." Various tricks are used to get around the censor, including the dangling or incompleted rhyme, the "hey! that doesn't rhyme" rhyme, and a general softening of what was originally rather coarse material. You have to use your imagination to fill in the blanks (though that often isn't all that difficult, if you get my meaning, if you catch my drift...) Part of the fun, of course, is looking back and seeing where the lines of propriety were drawn, 'way back in the Eisenhower era, when these records were made, and getting in on the ooooh, that's naughty vibe of the performances. Brand is a pretty lively and enthusiastic singer, and he obviously took great delight in giving these ribald old songs new life, even if he did have to tone them down quite a bit. (By the way, if you'd like to hear some of these tunes in rawer, raunchier form, you might try tracking down the sadly too-rare collection, UNEXPURGATED SONGS BY MEN, which is reviewed below.)
Oscar Brand "Sings For Adults" (ABC-Paramount, 1961) (LP)


This live concert album, recorded at the Town Hall venue, follows much in the same steps as the Bawdy Songs series, although it may be a wee bit tamer (and also includes a few non-raunchy ditties, just for good measure...) As with those old Tom Lehrer albums, part of the charm here is hearing how responsive the early '60s audiences were, and the warmth of their connection to the performers. Fred Hellerman and Billy Faier pitch, adding some extra guitar ooomph and a rollicking vocal chorus on a song or three. Cute stuff. (You can check out www.oscarbrand.com for more info...)
Oscar Brand "Bawdy Briny Ballads: Oscar Brand Sings Sea Porn" (Sea Heritage Foundation, 1983)


Bo Carter "Banana In Your Fruit Basket: Red Hot Blues 1931-36" (Yazoo, 1978)



Bluesman Bo Carter was the master of the dirty "hokum" tune; his songs appear regularly on numerous compilations of this sort of material. But if you want to check him out all by himself, in a concentrated blast of lusty, playful wit, then this fine collection -- a staple of the LP era, now available on CD -- is your best bet. Never have metaphor and innuendo been bent to such odd angles and extreme lengths!
Bo Carter "Twist It, Babe: 1931-1940" (Yazoo)



More fun stuff!
Bo Carter "Complete Recorded Works v.1: 1928-1931" (Document, 1991)



Bo Carter "Complete Recorded Works v.2: 1931-1934" (Document, 1991)



Bo Carter "Complete Recorded Works v.3: 1934-1936" (Document, 1994)


Bo Carter "Complete Recorded Works v.4: 1936-1938" (Document, 1994)


Bo Carter "Complete Recorded Works v.5: 1938-1940" (Document, 1994)


These collections start with Carter's earlier career, and continue right through to his waning years. It's not all hokum blues, but there sure is a lot of the wacky sex-related stuff on each of these volumes. Mostly just for the true believer, but rewarding for blues fans and hokum aficianados alike.
Chinga Chavin "Country Porn" (Fruit Of The Tune, 1976)


It doesn't get much more crude or lowbrow than Chinga Chavin's cult classic, with tunes like "Sit, Sit, Sit On My Face," "Jailbait" and "Dry Humping In The Back Of A Fifty-Five Ford..." Well, you really have to hear it to believe it.
Jimmie Davis "Nobody's Darlin' But Mine" (Box Set) (Bear Family, 2001)


Although he did his best to sanitize his c.v. after getting elected governor of Louisiana (and finding religion), Jimmie Davis started out his country music career as a Jimmie Rodgers-style white blues yodeler, in this case, one whose specialty was singing smutty hokum numbers, such as "Tom Cat And Pussy Blues" and "High Behind Blues." This 1930's material is all a far cry from his big 1946 hit (future campaign song), "You Are My Sunshine," but it's also very good, and very entertaining. Davis obviously loved singing this stuff, and these randy old recordings have more gusto to them than pretty much anything he did as a mainstream commercial singer. Unfortunately the LPs that have just the blues stuff are long out of print, so the only way to get new it is to buy the mongo, 5-CD box set. Still, it's definitely worth checking out. You'd be surprised.
The Earthy Side "The Earthy Side" (PIP, 196-?) (LP)


Apparently this was a group of anonymous members of the Norman Luboff Choir, singing some off-color, bawdy material just for fun... Haven't heard it yet.
Hartman's Heartbreakers "Give It To Me Daddy" (Rambler, 1981) (LP)


Compiled by Marty Pahls, one of R. Crumb's old record collecting cronies, this set of country-oriented '30s hokum is all pretty classic, if shamelessly dumb, material, and a longtime favorite of good old Doctor Demento. The basic gag is that "Pappy Hartman" whips his raspy old stringband up into a fervor as he goads the mousy-voiced "Betty Lou" along in her interpretations of suggestive ditties such as "Fetch It On Down To My House," "Feels Good," "Give It To Me Daddy" and "Let Me Play With It" (otherwise known as "Let Me Play With Your Little Yo-Yo"). Her character is the playful, sex-positive nympho, he's the dirty old man, cat calling in the background; who the original musicians were, I'm not sure, but their characters are pretty unforgettable. This album is a perfect example of the form -- and the appeal -- of old-fashioned hokum blues, as well as where the genre cross-connected with country and hillbilly music. I'm pretty sure this is out of print, but the LP is definitely worth looking for.

Elsa Lanchester "Sings Bawdy Cockney Songs" (Legacy, 1994)



This CD collects material from two LPs originally released in America as Elsa Lanchester Sings Bawdy Cockney Songs and More Bawdy Cockney Songs, Vol.II, which came out on the Everest/Tradition imprint. It was also issued (in the UK, perhaps?) under the title Elsa Lanchester Sings Songs For A Shuttered Parlor, with many tracks featuring spoken intros by Lanchester's then-hubby, Charles Laughton. Pianist Ray Henderson provides accompaniment; Elsa provides the colorful interpretations.
Katie Lee "...Sings Loves Little Sisters" (Katydid, 1975) (LP)


(Produced by Mickey Hart)



<! "...Katie Lee's Tender Documentary of the Early American Whore">

Julia Lee "Kansas City Calling" (Jasmine, 2005)


Pianist Julia Lee was the queen of the Kansas City swing-blues scene, leading a powerful big band packed with some of the best KC musicians of the post-WWII era. She specialized in raunchy, even scandalous novelty songs in which sexual matters were dealt with in honest appraisal. This is a generously-programmed single disc retrospective, with nearly two dozen tracks culled from Lee's career... Plenty of her well-known raunchy novelty songs are included -- "My Man Stands Out," "King Size Papa," "Snatch It And Grab It," "Chuck It In A Bucket," "I Didn't Like It The First Time," etc. and a couple of less-salacious numbers added in the margins. Odd that they included "Don't Save It Too Late," but didn't pair it with the companion number, "Don't Come Too Soon." Still, a pretty good introduction to her work... If nasty novelty blues tunes appeal to you, you'll definitely want to check Ms. Lee out.

Julia Lee "Kansas City Star" (Bear Family, 1995)


This extensive, 5-CD box set offers a fuller version of Lee's work than the standard compilations of her risque novelty hits... Which isn't to say there isn't plenty of smut on here as well, but you also get a chance to hear her cut loose with the groovy blues riffs without the potential distraction of the novelty tropes... Pretty cool stuff!
Julia Lee "Ugly Papa" (Jukebox Lil, 1995)


Julia Lee "The Chronological Julia Lee: 1927-1946" (Classics, 2005)


Julia Lee "The Chronological Julia Lee: 1947" (Classics, 2005)

Emmett Miller "The Minstrel Man From Georgia" (Sony Legacy, 1996)



This fella has two marks against him, as far as modern-day audiences go... He was one of the last white popular artists to make singing in blackface a full-time schtick (boo, hiss!) and he also dabbled in smut songs, which some listeners may find objectionable for similar reasons. Actually, though, most of the tunes on here are standards, with backing by pioneering jazz guitarist Eddie Lang, and the Dorsey Brothers, early in their careers. Although Miller only recorded a couple dozen songs back in the 1920s, he was apparently a huge influence on Jimmie Rodgers, and hence on every country singer from the great Hank Williams on down to Toby Keith today. Yeah, sure, he trafficks in some offensive Southern nostalgia ("That's The Good Old Sunny South" and "Picaninny's Paradise," for example), but what's most notable is how mainstream most of his material was -- tunes like "Right Or Wrong" and "You're the Cream in My Coffee..." As Spike Lee points out, elliptically, in his film Bamboozled, blackface and minstel music was the foundation of much of our popular American music... so rather that attempt to keep it in a box and try to pretend it never happened , it may be worthwhile to modify our understanding of the pop music past, and figure out where -- and why -- this stuff fits in. Doubtless, some people buy these records for all the wrong reasons, but you can't let that lead you to a ban-it-all mentality. One must have faith that an honest dialog about our culture and its values will, someday, work these issues out in the wash.
The Movement To Preserve Scatological And Prurient Materiel In Its Original Form "The Earthy Side" (PIP, 1971) (LP)


I haven't heard this old (out of print) album, but it comes highly recommended. And hey, it even includes liner notes by Studs Terkel...! Anyone have any info on who "The Movement" might have acually been?


<! Anonymous Members Of The Norman Luboff Choir >

---
Naughty Compilation Albums -- click here
---
Links
---
Roots & Rhythm mailorder has a nice selection of raunchy pre-war oldies available for sale. Good way to find some of these hard-to-find indie releases... <! a href= "http://www.africana.com/Utilities/Content.html?&../cgi-bin/banner.pl?banner=Arts&../Articles/tt_654.htm" Africana.Com has a good article about gospel pioneer Thomas A. Dorsey, who is also credited as a co-creator of hokum blues. The essay describes, in slightly clinical terms, what the hokum blues were all about... 04/10: redirected to generic "black voices" website >
The Blue Pages has a truly encyclopedic overview of the "party record" genre, with copious information about many hokum blues and jazz artists as well... great resource!
Book author Eric Nuzum has a nice website devoted to music that was banned in the United States, handily divided by decades, spanning back as far as the 1950s. Plenty of examples are given of songs and lyrics that were banned from radio or TV... very funny, hah, hah! Oh, wait... maybe it's not so funny...!!
---



Main Jazz Index
Pop Reissues
Pop Music Index



---