! MP3 00/00/00 > <! update 00/00/00 > <! outside 00/00/00 > <! pix 00/00/00 >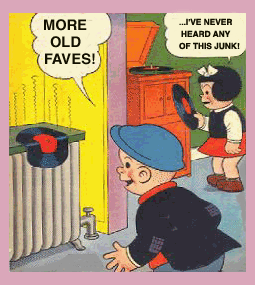 ---
THE MISTAKES OF THE PAST
Joe Sixpack Reveals
A Few Cherished Albums
---
Hey, welcome to my "guide" to a few of my favorite rock and pop records. This isn't a definitive list, by any means, just some random comments about a few records that have stood out over the years, or that I've found the time to review.
This page covers compilation albums.
---
A | B | C | D | E | F | G | H | I | J | K | L | M | N | O | P | Q | R | S | T | U | V | W | X | Y | Z | Comps | Other Pop Styles | Pop Music Index
---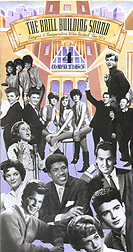 Various Artists "THE BRILL BUILDING SOUND" (K-Tel, 1993)


If you're like me and have a sweettooth for prefab, early '60s teenpop, then allow me to recommend this awesome collection from the loveable folks at K-Tel. Four CDs worth of primo material from the "Brill Building" pre-Beatles pop factory, home of tunesmiths Carole King, Gerry Goffin, Ellie Greenwich and Jeff Barry -- the heirs to the old Tin Pan Alley ethos of songwriting on demand. Guided by producer Don Kirshner, the Brill Building pumped out the real hits of the Kennedy era, goofy teenpop full of melodramatic handwringing angst, and the occasional awesome pop arrangement. This box set sticks pretty closely to the big hits and the big artists - including folks straight outta Squaresville like Neil Sedaka, Bobby Darin, Connie Francis and Bobby Vee. It's precisely the straight-up Top 40 orientation that makes this such a great retrospective. Maybe you're having trouble tuning the oldies station in? Find this collection, and worry no more. Really... it's just pure fun.

Various Artists "BUBBLEGUM CLASSICS v.1" (Varese Sarabande, 1995)


Various Artists "BUBBLEGUM CLASSICS v.2" (Varese Sarabande, 1995)


Various Artists "BUBBLEGUM CLASSICS v.3" (Varese Sarabande, 1995)


Mmmmmmm. Bubblegum music. That ludicrously pre-fab, late-60s/early '70s faux genre of catchy fluff tunes performed by studio bands with goofy names -- the Archies, The Ohio Express, The Shondells... These three CDs are a real class act, with a generous helping of irresistable old hits ("Dizzy", "Sugar, Sugar", and "I Think We're Alone Now"...) as well as tons of less-well known, silly little gems. This collection is clearly a labor of love, and highly recommended -- you simply can't find a better summary of the style.

Various Artists "THE COLPIX-DIMENSION STORY" (Rhino, 1994)


In my humble opinion, this is one of the single best records that Rhino ever put out. Some of the most deliciously wimpy, whiny teenpop handwringing ever recorded, with absurd novelty tunes and boo-hoo ballads culled from the vaults of Columbia Pictures short-lived music operation. Sure, there are a few verifiable hits on here, such as "Blue Moon" by the Marcels, and "Loco-Motion" by Little Eva, but it's the super-dopey wannabee tunes that give this 2-CD collection its kitschy appeal. Even though most of these songs were produced on the Brill Building assembly line, with writers like Cynthia Weil, Barry Mann and Carole King seemingly trying to outdo each other in a quest for the inane, there's also something mysteriously and legitimately charming at work here. Sincerity somehow seeps out of these tracks, which were mainly cynical and off-handedly produced but still captured the gee-whiz Leave It To Beaver teen yearnings of the time. The best tracks, though, are a couple of ancient Carole King singles, including "He's A Bad Boy", from 1963, which I've always thought should covered by the queercore band Pansy Division.
Various Artists "DOO WOP BOX" (Volume 1) (Rhino)


Various Artists "DOO WOP BOX" (Volume 2) (Rhino)


Various Artists "DOO WOP BOX" (Volume 3) (Rhino)


These three box sets (3-CDs each) are about as super-sweet as you can get in the vocal groups tradition... Tons of hits ("Duke of Earl", "The Glory of Love," etc.) as well as an exhaustively researched catalog of songs that doowop collectors treat as the Holy Grail. And, yes, this is a collection intended to make a certain variety of collector nerd sweat profusely -- the best thing is that we mere mortals can enjoy it, too -- a lot. Well programmed and great sounding, this series is highly recommended.

Various Artists "GIMME INDIE ROCK v.1" (K-Tel, 2000)


Whoa. Okay, so, like, I've always had a soft spot for K-Tel... there's that bigtime kitsch factor of all their old '70s pop comps... you know: "20 Smash Hits" etc etc... But who would have suspected that K-Tel of all places would put out such a completely killer indie pop collection?? Witness if you will, The Wedding Present, The Fall, The Wipers, The Feelies, Nikki Sudden, Giant Sand, Spacemen 3, Pastels and The Vaselines... along with more predictable inclusions such as Husker Du, The Minutemen, Yo La Tengo and The Mekons... even Slipcue darlings such as The Chills and Scrawl are present on this fab 30-song, 2-CD collection. The songs, like the bands, are well-selected, and well programmed. Really, the only thing to complain about here are the insufferable liner notes by series editor Scott Becker (also the founder and editor of OPTION magazine...) Becker tosses off obligatory slaggings of the music of the 'Sixties and 'Seventies as a way to set up the lionization of the godlike indie-rockers of the '80s and '90s (who were, like, so cool...) Y'know, even if it's done tongue-in-cheek, it's tedious and unnecessary... could we get out of high school already, and just appreciate music for what it is? But really, this is a mere quibble... the good news is that this collection is way, way better than we ever had any right to expect. Go, K-Tel, go!!

Various Artists "GROWIN' UP TOO FAST" (Mercury, 1996)


Awesome! This 2-CD set full of classics and oddities is, quite simply, one of the best and most enjoyable girl group comps out there. A sweet cross-slice of a particular brand of American teen culture... If you don't have it in you to spring the big bucks for the various fetishistic European imports, but still want something that'll make you crank the volume and turn up the treble, this is about as good a collection as you could ask for. Plus it's got Ginny Arnell's backlash anthem, "Dumb Head", which is worth the price of admission alone. Highly recommended.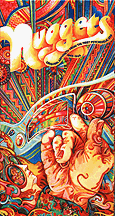 Various Artists "NUGGETS: ORIGINAL ARTYFACTS FROM THE FIRST PSYCHEDELIC ERA - 1965-1968" (Rhino, 1998)


The granddaddy of all garage rock reissues, the NUGGETS series dates back to 1972, when Lenny Kaye, Patti Smith's future guitarist, was tapped to assemble a two-LP collection of his favorite American garage rock. It was a wicked set of snotty, snarly '60s "punks," no-hit wonders who dedicated themselves to cranking their Voxx amps to "11" and popping as many eardrums as possible. NUGGETS later expanded to over a dozen volumes, albums that became '80s collector nerd staples, and helped paved the way for other series such as PEBBLES, DESPERATE ROCK AND ROLL, BACK FROM THE GRAVE, GIRLS IN THE GARAGE, etc. This 4-CD box set winnows through the series for the best half-bazillion tracks. And it's all pretty groovy - full of brand-name bands like The Sonics, Standells, Seeds, Beau Brummells and Remains, along with the lesser legends and luminary legions. Great material, and great sound quality... What's to complain about? Yow!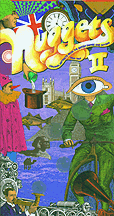 Various Artists "NUGGETS II: ORIGINAL ARTYFACTS FROM THE BRITISH EMPIRE AND BEYOND" (Rhino, 2001)


Okay, so maybe Rhino chickened out and backed off from the original concept of an "International Nuggets" collection -- including all the French ye-ye, crazy Asian rock, Brazilian jovem guarda and non-English language rock that we know and love so well... just wouldn't sell in Peoria, the higher-ups said. Still, that doesn't mean this Brit-centric 4-CD set doesn't completely kick ass... 'cuz it does! Lots of great hits and obscure, killer oldies from the heyday of the garage-psych era. This collection is also a must-have item... highly recommended. (And who knows? Maybe this set will sell well enough that Rhino will rethink its English-only policy when putting out Volume III...!!)
---
More Pop Faves
---



---