! MP3 00/00/00 > <! update 00/00/00 > <! outside 00/00/00 > <! pix 00/00/00 >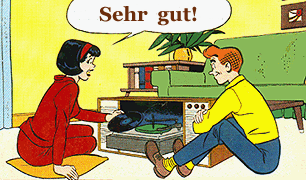 ---
THE WAYBACK MACHINE
Foreign Compilations
---
Hey, my apologies in case you're reading this page and live inside one of the countries I've labeled as "foreign"... No slight was intended -- but you know how we Americans are! We just think we're the center of the Universe! Anyway, all y'all with a proclivity for "the other" may enjoy some of these exotic collections. Enjoy!
---
Those Crazy Foreigners!
---

Various Artists "BIET HET v.1-2" (Distortions, 1998, 2000)
Yow! Dutch and Belgian garage rock from the hippie days that will knock your socks off! The BIET HET collections are both pretty awesome, and feature excellent liner notes (a rarity among these kind of collections). The track selection is uniformly excellent, running the gamut of styles, from the obvious (Dylanesque, Beatles-y, garage beat) to the more surprising (Brecht-ian propaganda, Indian psychedelia, etc.) Some pretty cool stuff from a wildly cool scene. (PS - if you like these collections, then definitely check out the collossal NEDERBEAT box set below!)
Various Artists "BRITISH BEAT BEFORE THE BEATLES, v.1: 1955-1958" (EMI, 1993)
Yeesh. I mean, yeah, this is historically significant and kinda good kitschy fun... But it's also kind of appalling bad! Here they are, the early pioneers of British rock'n'roll, mostly sad, stiff, rhythm-challenged big band-ish hacks on the various major labels of the day: HMV, Parlophone, Decca and Columbia, bashing their way through covers of early rock'n'roll standards shipped back from the colonies. "Rock Around The Clock," "Tutti Frutti," "Tweedle Dee," "Earth Angel" and others get the deluxe send-up... from Squaresville! If you want to understand just how radical and sexy the Beatles really were when they came on the scene, check out these iffy oldies by Tommy Steele, Ray Ellington, Suzi Miller, Humphrey Lyttleton and their clumsy contemporaries, and you'll see how foreign American rock really was to British ears when it first hit the White Cliffs. On the bright side, Lonnie Donnegan was there as well, and there were the inevitable kooky novelty wonders, such as Don Lang's "Rock 'N' Roll Blues," Ellington's "Left Hand Boogie" and Tony Crombie's "Let's You And I Rock," which each have a certain charm. Certainly as time went on, the lads learnt to rock out a bit more, and by the end of this album they're almost ready for things to come...
Various Artists "BRITISH BEAT BEFORE THE BEATLES, v.2: 1957" (EMI, 1993)

Various Artists "BRITISH BEAT BEFORE THE BEATLES, v.3: 1958" (EMI, 1993)

Various Artists "BRITISH BEAT BEFORE THE BEATLES, v.4: 1959" (EMI, 1993)

Various Artists "CAMBODIAN ROCKS" (Parallel World, 1996)


WOW! This is one of the most amazing collisions of global culture I've ever had the pleasure of hearing. This disc collects about a dozen tunes taken off of cassette releases that the album's compiler picked up while travelling in Cambodia during the mid-1970s. It's an incredible, dissonant assimilation of good old American rocknroll full of wailing, shrill Asian vocals, and plenty of unpredictable melodic twists. I'd call some of this stuff "garage rock", except that I'm fairly sure that at the time, Kissenger's secret bombing campaign had reduced most of Cambodia's garages to mere rubble. Um. Anyway, the only drag of about this release (other than it's current unavailability...) is that the record had no track listings, so both the artists and song titles are unknown. Still, you may find yourself surprised to recognize the melody to an old Santana tune or R&B cover floating up out of the crazed, cacophonous mix. This one is a real doozy. Apparently it's been re-released on CD with about twice as many tracks... I'll let you know more about that when I track a copy down.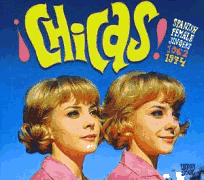 Various Artists "CHICAS -- SPANISH FEMALE SINGERS: 1962-1974" (Vampi Soul, 2011)


A truly groovy collection of femme-led "twist" rock and teenybopper pop singles from Franco-era Spain... Fans of French ye-ye and other "foreign" rock scenes will appreciate the raw energy and charming innocence of these performances, culled from countless rare 45s, many from the long-lived Catalonian indie label, Belter. Personally, I love collections that introduce me to music and musicians that I'm not familiar with, and I'm pleased to admit that I didn't know a single artist on here before checking this album out - now I'm a fanatic. There's plenty of stuff that sounds like you'd expect, enthusiastic, uncomplicated kiddie-pop, often delightfully imitative of American and British trendsetters (and several cover songs, such as a fun version of the Rolling Stone's "Off Of My Cloud...") There are also some quirky, more modern tracks from the early '70s, such as Los Que Vivimos's vaguely Abba-esque "Contrapunto" and others that hint at the sunshine pop and nascent disco of the era, along with a legion of perky Petula Clark/Dusty Springfield wannabees. Altogether, a really fun collection well worth tracking down.
Various Artists "DAS WAR EIN HARTER TAG: BEATLES LEIDER AUF DEUTSCH" (Bear Family, 1995)


German rock'n'roll, in the wake of the Beatles. Lots of Beatles covers mit lots of compound verbs. If you like this, check out the other volumes below...
Various Artists "DELINCUENTES: JOVENES PUNKS DE AMERICA LATINA" (Martian, 2000)
This LP picks up where the MEXICAN ROCK AND ROLL RUMBLE left off... and pretty much blows it out of the water. This collection is far above average, a great set of snarly, gnarly garage rockers from Mexico and throughout South America... Bands such as Los Hitters, Los Beat 4, Los Shains and (my favorite name) Los Ampex tear it up and give all those NUGGETS bands a run for their money. Better still, most of the songs aren't sung in English, and the disc includes a nice set of xeroxed liner notes...what more could we ask for? As far as I know, this is only out in LP format, but who knows what the future will bring? Recommended!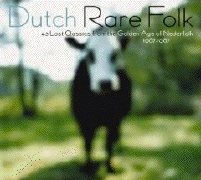 Various Artists "DUTCH RARE FOLK: 43 LOST GEMS FROM THE GOLDEN AGE OF NEDERFOLK" (Food For Thought, 2007)


A delicious, super-groovy 2-CD collection of folk, freak-folk and folk-rock rarities from Holland. Psychedelic pop fans have long treasured the hard-driving Nederbeat garage rock of the 1960s and '70s, but this is a new, gentler and equally delightful sound, Dutch artists following the lead of American and British artists who dreamt of capering about the forests with unicorns and elves, sowing the seeds of peace and love, teaching the world to sing. There are a variety of styles on here, most of them recognizable from their English-language counterparts -- there are soft, pastoral folk and folk-pop pieces, as well as edgier rock-oriented tracks, and a wide spectrum of acoustic tunes, and only the slightest hint of '70s prog. Perhaps most amusing (though also compelling) are the clompy folk-rock artists such as Sido Martens, the Eerste Hollandse Dansband, Fungus and others, who studiously aped the style and mannerisms of British bands such as Fairport Convention and Lindesfarne. There are also plenty of gals -- Dageraad, The Deirdres, Ouwejan & Makkers, and Whitsuntide Easter -- who sang genteel Judy Collins-ish folk ditties and lofty art-folk ala Shirley Collins. Of course the sometimes too-faithful imitations are a great part of the charm; artists who drew more directly on purer Dutch folk traditions, like Cobi Schreijer, are at times less appealing, but the historical perspective is definitely welcome. Likewise, I prefer hearing them singing in Dutch -- there are several English-language songs included, and somehow hearing what fluffy, fuzzy the Holland hippies were actually saying has a bit less charm. Overall, this is an astonishing collection -- music fans who yearn for obscurities and exotic recordings that don't also suck will swoon over this set. I know I did.
Various Artists "ELANOR RIGBY: NOCH MEHR BEATLES SONGS AUF DEUTSCH" (Bear Family, 2002)


German rock'n'roll, in the wake of the Beatles. Lots of Beatles covers mit lots of compound verbs. Ja! Ja! Ja!

Various Artists "EL SOUL ES UNA DROGA v.1-4" (Spanish Soul Style, 2000)
This ongoing bootleg series collects dozens of rare Spanish soul 7"s from the late '60s/early '70s... "Spanish" as in, European, on the Iberian Peninsula, under the Franco dictatorship. I can't honestly say that this is the funkiest stuff you'll ever hear in your life, but these LPs do gather together material that we mere mortals could never, ever hope to come across in our wildest collector nerd fantasies, packages it handsomely, has good sound quality, and (yay!) bilingual liner notes. The series gathers steam as it goes along, with each disc gradually shedding the jittery Steve Cropper/Stax-Volt-clone jones of the first volume in favor of a wider, fatter range of pop and soul influences. (If you're interested, but leery, I'd recommend picking up Volume 3, and scaling your expectations back from there...) There are a few gloriously wild performances, full of wailing, fuzzed-out, wah-wah pedal action... although the bulk of the material is the work of earnestly hopeful wannabees. As is often the case with foreign rockers, several cover tunes are disappointing simply because they are sung in English (when it would have been so much more fun in proper Castillian...) (But, hey, whatever...) The big-name act on here is, of course, Los Bravos, who are best known for the 1966 hit, "Black Is Black", but who were also a credible soul band in their time. Los Iberos, who contribute several sweet original tunes, in addition to a cover of "Liar, Liar". Sure, maybe this isn't the most swinging music ever, but it is a nice glimpse into a cute pop scene of years gone by.

Various Artists "FROM THE KITCHEN TO THE GARAGE: DUTCH GIRLS AND GIRL GROUPS IN THE SIXTIES" (Distortions, 2000)


Another set of hippie-era Dutch garage rock, with a feminist slant (or at least a femme twist...) This "girl group" collection is a little less exciting than some of the raw, rocking Nederbeat sets that are out there -- even given that much of the charm of girl group archivism is coming across charmingly inept material, many of these tracks are just plain irritating, or merely musically flat. It's super-rare stuff, though, and definitely worth checking out, although you may be a little disappointed. Still, this is where the girls were, and they were rockin', too!


Various Artists "G.S. I LOVE YOU" (Ace/Big Beat, 1996)


Various Artists "G.S. I LOVE YOU, TOO" (Ace/Big Beat, 1999)


Two stunning volumes of Japanese garage rock and psychedelic beat from the '60s... Usually these sorts of "foreigners doing rock" discs achieve kitsch value at best -- but these two discs are flat-out goddamn awesome, full of forgotten bands such as The Spiders, The Out Cast, and The Carnabeats. If anything, the second volume is even better than the first -- it delves farther into reverbed-out psychedelic territory, whereas the first is more garagey and teenpoppy. It's pretty amazing how hardcore some of these groups were, and how their legacies have lain dormant for so long. If you stumble apon either of these discs, don't ask questions -- just snap 'em up! (For more music like this, check out my Asian Rock Page.)
Various Artists "HEARTS OF STONE/CORACOES DE PEDRA" (Magica, 2000)
Yeah, baby. Most Brazilian rock oldies were nothing to write home about, but this is the real deal -- big beat from the mid-'60s, with plenty of cover tunes but also a healthy dose of originals. The best known groups on here are (of course) Renato e Seus Blue Caps and Os Beat Boys, but mainly this is for-real, off-the-beaten-track, honest-to-goodness teenage garage rock from the British Invasion days. For those of us who like kitschy cover tunes that don't suck, and who are trying to delve into the dim, misty past of Brazil's pre-tropicalia jovem guarda rock scene, this is an ultra-cool find. Plus, it's even got (gasp!) great, well-written liner notes. Okay, so when's volume dois come out?
Various Artists "MEXICAN ROCK'N'ROLL RUMBLE" (1995?)
Originally LP-only, this was one of the earliest collections of Latin American garage rock to make the hipster circuit in the mid-1990s... It actually isn't that strong a set (as later compilations have demonstrated), but it's still pretty cool. Surfy, mildly garage-y, moderately rocking, worth checking out, although some of these bands are now turning up on newer collections. Still, if you're curious and come across this one, go for it. It'll give you a good sense of what to expect further down the line.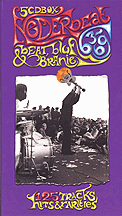 Various Artists "NEDERBEAT: '63-'69" (Universal/Hunter Entertainment, 2001)


An incredible 5-CD, aboveground, 100% legit major-label release of some of the greatest Dutch rock and roll ever recorded. All the fabbest groups are on here -- Q65, The Outsiders, Golden Earring and the other big boys, as well as dozens of bands that only the most hardcore collectors have ever heard of. It's a beautifully programmed collection, full of one great Beatles-Stones-Byrds-Dylan-Kinks-Pretty Things-flavored tune after another. Jaw droppingly great, although the lavish liner notes are all in Dutch, so other than the band names, song titles and years of release, so for non-Netherlanders the music remains as mysterious as ever. (Then again, is that really so bad?) Nice collection -- recommended!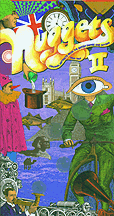 Various Artists "NUGGETS II: ORIGINAL ARTYFACTS FROM THE BRITISH EMPIRE AND BEYOND" (Rhino, 2001)


Okay, so maybe Rhino chickened out a little and backed off from their original concept of an "International Nuggets" collection -- one that would have included all the French ye-ye, crazy Asian rock, Brazilian jovem guarda and non-English language rock that we know and love so well... it just wouldn't sell in Peoria, the higher-ups said. Still, that doesn't mean this Brit-centric 4-CD set doesn't completely kick ass... 'cuz it does! Lots of great hits and obscure, killer oldies from the heyday of the garage-psych era. This collection is also a must-have item... highly recommended. (And who knows? Maybe this set will sell well enough that Rhino will rethink its English-only policy when putting out Volume III...!!)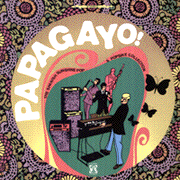 Various Artists "PAPAGAYO! THE SPANISH SUNSHINE POP & POPSIKE COLLECTION" (Toytown, 2007)
A groovy collection of cute, perky, early 1970s pop songs from various Spanish labels. These artists take their cues from pop-psychedelic "sunshine pop" bands such as The Association, The Cyrkle, The Left Banke, et al. and all the wacky, baroque production values of their Americana and British counterparts are present here... Swirly, glimmering, kaleidoscopic, multicolored sonic curlicues, although not all out psychedelic freakout tedium... Nope, this is a true pop set, with clean-cut melodic structures and bright, cheerful choruses... It's a bunch of bands no one has ever heard of: Angeles, Caoba, Dulces Anos, Ellos y Ellas, Licia, Nuevos Horizontes, Oveja Negra, Reaccion, Tiza, Voces Amigas, Los Yetis, and others. It's not just an obscuro-fest, though -- this is a really fun record, sweet-sounding and all the innocence of a bygone era. If you can track it down, snatch it up! (You might try specialty mailorder services like Aquarius Records, Other Music or the Bomp Store...)
Various Artists "POMEGRANATES" (Finders Keepers, 2010)



Iranian pop-psychedelic music from the 1960s and '70s... Haven't heard it yet, but it sounds pretty groovy...

Various Artists "SEARCHIN' FOR SHAKES" (Amigo Musik, 1999)
Psychedelic Swedish garage rock from the mid-'60s... a lively, hard-rockin' collection that's definitely above average... The guitars are all top-notch, and the songs are fun... My only complaint is that I wish more of these songs were sung in Swedish so that the local flavor came through a bit more; they still rock, but English is a bit less special. Overall, though, this one's a doozy.

Various Artists "SENSACIONAL SOUL, v.1" (Vampisoul, 2007)



A fascinating set of Spanish rock, soul and garage oldies from the 1960s and early '70s, gathering a wide swath of artists on rare, old 45s, EPs and other sources. Groovy stuff, with some real gems and nuggets. Volume Two (below) is also a gas; if you like these records, you might also want to track down the more twee-oriented PAPAGAYO sunshine pop collection which covers the same era.


<! also mention "PAPAGAYO" sunshine pop collection >

Various Artists "SENSACIONAL SOUL, v.2" (Vampisoul, 2009)



There are some sizzlers on here as well; one surprise was hearing Los Bravos (who had the big English-language hit, "Black Is Black") playing a rock-steady reggae tune. Some of the great garage-soul stompers here include "Hey Hey Bunny" by Los Gatos Negros and "El Sol Es Una Droga" by Los Kifers, which each have plenty of Arthur Conley-style horns and hand-clapping feistiness.
Various Artists "SIE LIEBT DICH: WEITERE BEATLES SONGS AUF DEUTSCH" (Bear Family, 1997)


Everybody knows the story of how the fledgling Beatles got their start in show biz playing in the sweaty subterranean clubs of Germany's northern port cities... The Germans certainly never forgot it, as evidenced by these dozens of German-language covers of various Beatles classics. Some versions are peppy and rockin', while many are unbearably cheesy and horrendous. I've only heard the first of these two volumes, but it certainly had some fun material on it -- Beatles diehards will definitely want to track these collections down. Also check out the ELANOR RIGBY: NOCH MEHR BEATLES SONGS collection, above.
Various Artists "SIE LIEBT DICH, v.2" (Bear Family, 1997)

Various Artists "SONS OF YMA" (Martian, 2000)


This LP picks up where the MEXICAN ROCK AND ROLL RUMBLE left off... and pretty much blows it out of the water. This collection is far above average, a great set of snarly, gnarly garage rockers from Mexico and throughout South America... Bands such as Los Hitters, Los Beat 4, Los Shains and (my favorite name) Los Ampex tear it up and give all those NUGGETS bands a run for their money. Better still, most of the songs aren't sung in English, and the disc includes a nice set of xeroxed liner notes...what more could we ask for? As far as I know, this is only out in LP format, but who knows what the future will bring? Recommended!
Various Artists "ULTRA CHICKS v.1" (1996)


Fab French pop music! A great series, with plenty of punch compared to similar releases. Whether you're a francophile or a ye-ye girl-groupie, these comps are worth tracking down. Yes, Jacqueline Taib's often-collected "7 Heurs du Matin" is on here, but so are a whole host of others, including dozens of artists zat no one has evair 'eard of... All three CDs are high-test; Volume Three gets a little more modern, but in a power-poppy kinda way, not new wave. As with the ILS SONT FOUS LPs, this covers France, Belgium and the new world... v.3 also includes Tuesday Weld, which seems to be stretching things a bit... but who am I to say? HIGHLY recommended!
Various Artists "ULTRA CHICKS v.2" (1996)

Various Artists "ULTRA CHICKS v.3" (1996/1999)

Various Artists "ULTRA CHICKS v.4" (1996/1999)

Various Artists "ULTRA CHICKS v.5" (1996/1999)

Various Artists "ULTRA CHICKS v.6" (1996/1999)

---
Related Slipcue Pages
---
If you dig reissued rocknroll, here are some other pages that might be of interest:
---



Indiepop Indiedex
Slipcue Main Page




---