! MP3 00/00/00 > <! update 00/00/00 > <! outside 00/00/00 > <! pix 00/00/00 >
---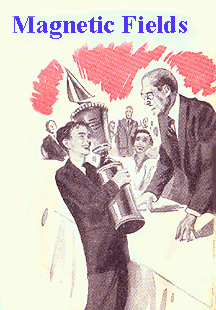 Stephin Merritt, the lyricist and leading light behind the critically acclaimed Magnetic Fields and the occasionally reviled Future Bible Heros, is now universally recognized as the ultimate indiepop Renaissance man -- Irving Berlin, Leonard Cohen and The Human League all rolled into one. Merritt approaches lo-fi pop with a torch singer's sensibility; he also combines a sincere love of goofy '80s synthpop with a whimsical eclecticism -- his 1999 tour-de-force, the three-disc songbook, 69 Love Songs encompassed Merritt's divergent musical interests, and showcased his considerable skill as a old-fashioned tunesmith in the Tin Pan Alley tradition. (For a more focused explanation of my admiration for Merritt's songwriting, check out my related article, MagFields vs. MTX.) Here, then, is a mildly critical look at the work of one of pop music's most skillful craftsmen...
---
Discography
---
NOTE: There are also a bunch of singles and one-off appearances by various incarnations of all the Merritt-related bands... This discography only deals with albums and EPs, with all the records placed in what I hope is chronological order... For more complete info, please check out some of the other sites listed below...
---
Magnetic Fields "Distant Plastic Trees" (Red Flame, 1990)
Magnetic Fields "The Wayward Bus" (PopUp/Merge Recs, 1992)


If, like myself, you've come to this disc after having first heard 69 Love Songs, you will most likely experience these early recordings mainly as musical archaeology. The CD version combines two separate early releases and, to be honest, a lot of Merritt's ideas are only in their formative stages here. To begin with, his lovely voice is nowhere to be heard, as Susan Anway is his female "beard" here. The lo-fi production values are pretty dodgy -- at least on the PopUp Records edition -- and the musical arrangements are also pretty rough, with a comparatively shaky grasp on melody and rhythm. Finally, there's an indulgent edge to the synth work, as Merritt slathers on goofy sound effects, much to the expense of the material. As is often the case with his Cyrano-type efforts, it's hard to get a feel for his lyrics when someone else sings them... Susan Anway's vocal limitations aside, I think it's safe to say that Merritt's songsmithing was also a work in progress at this point. A few songs, such as "Summer Lies", have the artful cohesion of his later work, but mostly reads like spiral ring binder stuff. Probably of interest to diehard fans, but not as immediately gratifying as his later work.
Magnetic Fields "The House Of Tomorrow" EP (Feel Good All Over/Merge, 1992)


Pretty fab, and pretty trancey. This 5-song EP highlights Merritt's dronier, mopier, more navel-gazing guitar rock leanings, with nods towards the Feelies and Joy Division (at least that's who I hear...) The lyrics are a little harder to parse out, but this is nice stuff! (Attentive listeners will notice a bit of musical recycling from this EP to the 69 Love Songs set... We shall graciously allow the artist this small liberty without much comment...)

Magnetic Fields "Holiday" (Feel Good All Over/Merge, 1993)


More than just an indierock home run, this is more like a Series-clinching grand slam -- a brilliant, giddily seamless synthpop extravaganza, highlighting Merritt's pop songwriting skills at their playful best. Ever-so-clever, yet narcotically melodic, this is a masterful, shameless homage to the goofy '80s synthpop that Merritt loves so much -- Erasure, Human League, The Psychedelic Furs and The Cure all get their due, though arguably Merritt uses the haircut band sounds to frame a much more mature, winsome song style. Taken on musical merit alone, songs such as "Strange Powers" and "The Flowers She Sent..." could easily have been radio hits if recorded a decade earlier, and lyrically, this is also pretty groovy. Merritt's wordplay, his sophisticated, droll delivery and overall sense of humor make this an album that stands up to -- indeed, demands -- repeated listening. Overtly gay themes occasionally pop up, although with marked subtlety -- just a line or two here and there -- and with a matter-of-fact presentation that makes Merritt's point much more solidly than any amount of sloganeering ever would. Possibly my favorite MagFields record... Highly recommended.

Magnetic Fields "The Charm Of The Highway Strip" (Merge, 1993)


In retrospect, this can be seen as a prelude to the multi-stylistic "69 Love Songs" tour-de-force, but even on its own Highway Strip is a minor masterpiece. Here the MagFieldhands refine the synthy drones and laconic tone that filled so much of the later 3-CD set. Merritt deftly shows his strength as a songwriter in his ability to pursue a single theme (wanderlust, and the lure of the open road) through the length of an entire album. The sound mix hits the exact perfect balance between bubblegummy comfort and tantalizing challenge, pop music that prods yet pays off. In a dreamy, synthetic soundscape, Merritt's vocals are oddly compressed into a narrow sonic niche that verges on complete obscuration. Listeners are compelled to strain --ever so slightly -- to catch his lyrics, yet will invariably be delighted at his cleverness and emotive power. It's pretty durn nice.
The 6ths "Wasps' Nests" (London Records, 1995)


A brilliant concept, though tragically flawed in its execution. Here Merritt pens songs for over a dozen of his favorite artists to sing, literally putting the words right in their mouths. The list of musicians is impressive, and speaks well of Stephin's taste in indiepop: Anna Domino, Barbara Manning, Lou Barlow, Georgia Hubley (of Yo La Tengo), various members of bands such as Galaxie 500, Velvet Crush, Superchunk, and Chris Knox and Robert Scott, of kiwipop fame. It's an all-star lineup, to be sure. The down side is that the synth-poppy arrangements, while appropriately camp and all, are both monotonous and poorly mixed, very much to the detriment of the lyrics. The only song I can honestly say that I could zero in on the lyrics to is the Mitch Easter track, "Pillow Fight", which is also -- thankfully -- one of his greatest, goofiest songs. Otherwise, though, this album is a bit of a blur.
The 6ths "Wasps' Nests 6 & 6/6ths Inch" (box set) (London Records, 1995)
The collector-nerd special edition version, released on a series of seven inch singles, with (gasp!) one extra track, featuring Stuart Moxham. Must... get... collector's... item....
Magnetic Fields "Get Lost" (Merge, 1995)


Bleak and beautiful, this is probably the darkest, most pessimistic MagFields album -- although Merritt demonstrates great skill masking the desolate material with some of his most sophisticated tounge-in-cheek songwriting to date. Deploying a barrage of deceptively perky music with a liberal peppering of positive lyrical iconography, Merritt delves into the heart of free-floating romantic obsession, with all the subdued rage that implies. Of particular musical note is the song "Why I Cry", with a slow, rain-soaked guitar riff that sounds for all the world like an outtake from a Bats album. Another excellent album, although more heavily slanted to the Smiths-y side of things.

Future Bible Heroes "Memories Of Love" (Slow River, 1997)


On the face of it, Merritt's mopier-than-thou lyrics seem almost like stick-figure excuses to indulge in his love of ridiculously lavish synthpop. To be sure, there are gems on this album, notably the arch "Death Opened A Boutique," which has some nice asides about chic culture, and the title track, "Memories Of Love," which stands out musically. This is also one of Merritt's most deliberate examinations of gay sexuality, with songs such as "Blond Adonis" standing out as playful favorites. Unfortunately, the blunt cleverness of some of the lyrics seems a little forced, especially in comparison to Merritt's best work. Most of the songs are intended as wicked, anti-romantic barbs, but the acidic bon mots seem overly haughty and high-handed, and not quite as subtle as needed to carry the day. Part of it may be a genuine ragefulness on Merritt's part than doesn't quite fit into the glibness of the format... "You Pretend To Be The Moon" seems to be about the emotional toll that HIV disease took on the gay community, and if that's the case, maybe Merritt just had other fish to fry than all that clever, cutesy boy-meets-boy stuff. Like most Merritt albums, this grows on you, yet it also has a eggshell fragility that threatens to cave the disc in at any moment.

Future Bible Heroes "Lonely Days (EP)" (Setana, 1997)


This UK-issued EP has several splendid tracks, particularly the wildly ornate synthpop extravaganza, "Hopeless", and the "Greensleeves"-derived "Love Is Blue", which features vocals by Claudia. The last couple of tracks are a bit more forgetable, particularly the murky "How To Get Laid In Japanese", which is a funny song-title, but a poorly produced tune. Nice overall, though. Worth checking out!
Gothic Archies "The New Despair" (Merge, 1997)


Stephin goes jangly, cloaking ever-more-depresso lyrics with fairly bouncy melodies... More than anything else, this reminds me of the fabbest New Zealand kiwipop bands, such as the Chills and Bats... a comparison that is born out by his inclusion of Robert Scott of the Bats on the first 6ths album... It's a weird mismatch of mopey tone and bouncy beat, and pretty nice.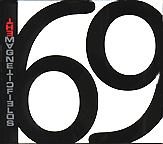 Magnetic Fields "69 Love Songs" (Merge, 1999)


I can think of few recent pop efforts as ambitious -- or as successful -- as this. Three CDs (which can be bought separately or as a box set...) exploring various facaetious, silly and ironic angles of that crazy little thing called "love"... There are so many highlights to this collection it's difficult to know where to begin, and at a full 69 tracks, there's a lot to keep you occupied. The variety of musical styles (torch song, art song, indie-fied banjo plunking, goofy '80s retro synth-pop and lo-fi galore...) is one factor that stands out immediately, as is the unusually high level of songcraft. Main Mag Fielder Stephin Merritt's skill as a lyricist is almost unparalleled in today's indie world -- it's very New York, very self-consciously kitschy and clever, and also straight out of the classic Tin Pan Alley tradition that brought the world Cole Porter and the Gershwins. He's is such a confident and capable songwriter, that many of these tracks come pre-packaged with the feel of a classic tune, one that you've been familiar with for years. His playfully laconic stage persona is delicious as well -- kind of like Leonard Cohen with a lifetime subscription to Sassy... It's great that someone so concerned with songcraft is getting so much attention -- maybe he'll even help raise the bar a bit, above the half-formulated ironies and oblique noodliness that predominates in the indie scene today. If you want to something that's challenging, varied and can keep you entertained for a long, long time, then this oughtta fill the bill.
Magnetic Fields "69 Love Songs v.1" (Merge, 1999)


Magnetic Fields "69 Love Songs v.2" (Merge, 1999)


Magnetic Fields "69 Love Songs v.3" (Merge, 1999)


You can also buy the discs separately, though it kind of defeats the purpose...
Future Bible Heroes "I'm Lonely (And I Love It)" (Merge, 2000)


Nice 5-song EP. The title track is classically clever Merritt material, a hilarious exploration of the inner working of the mind of a man convincing himself he "never wanted to be in that relationship anyway..." Be forewarned, though, that the obsessively Erasure-y disco kitsch of the rest of the tracks may wear you down after a while...

The 6ths "Hyacinths And Thistles" (Merge, 2000)


The second 6ths release is far more varied and engaging than the last, with a much clearer mix that lets Merritt's brilliant wordplay come through loud and clear. The choice of guest artists is more varied and eccentric. Indie icons such as Sally Timms (of the Mekons) and Sarah Cracknell (of St. Etienne) rub elbows with '60s folkies Odetta and Melanie, and new wave pioneers Gary Numan and Marc Almond. The results are mixed. One can understand why the stagey, ironically melodramatic Merritt would get a kick out of working with Soft Cell's Marc Almond, although the resulting track ("Volcana!") is unbearably schmaltzy. There are other moments of profound self-indulgence, such as the 28-minute long "Oahu", which meanders interminably through a spacey synthesizer riff reminiscent of the old-school New Age electronic music they used to play at the Nature Company. Still, this disc has its fair share of home runs, including a dreamy mix of "Just Like A Movie Star" featuring Dominique A, one of France's great unknown indie-popsters, and "As You Turn To Go" by Scotland's Momus. One surprise highlight is an understated ballad by Katherine Whalen of the Squirrel Nut Zippers, who may be the singer most successful at picking out the poetic inflections and emotional ironies in Merritt's lyrics, while Bob Mould's rendition of "He Didn't" follows Merritt's own vocal style so closely that it hardly qualifies as a cover song. Finally, Sarah Cracknell's version of "Kissing Things" -- a melancholy love song that Merritt has performed in concert for several years -- shows that, indeed, the guy has what it takes to create a great pop standard.
Future Bible Heroes "Eternal Youth" (Instinct, 2002)

Future Bible Heroes "The Lonely Robot" (EP) (Instinct, 2003)


Surprisingly good dance remixes of material from the Eternal Youth album; as a cohesive piece of work, this may even hold up better than the original album.
I confess that at this point, I'd sort of lost track of Stephin and his coterie... I know there are a few albums out that I need to catch up on... I just haven't had time yet. Some day, maybe... Meantime, I still like all the old ones!

---
Links
---
---



---