! Rez Abbasi > <! Carsick Cars "Carsick Cars" (Maybe Mars, 2008) B0015WLEXO B001GEL454 Carsick Cars "You Can Listen You Can Talk" (Maybe Mars, 2009) B0032168P0 mp3 punky Chinese art rock Airport Indus Creed The 5678's > <! MP3 00/00/00 > <! update 00/00/00 > <! outside 00/00/00 > <! pix 02/04/11 > <! icons 02/04/11 >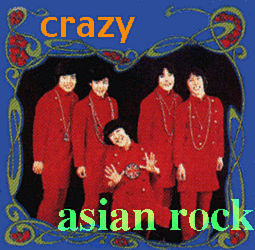 ---
Over the years, I've seen a lot of Asian pop albums float through the used record bins here in the Bay Area... Not that I buy any of them, mind you... let some other braver, heartier soul plow through all those lukewarm Taiwanese pop albums, and tell me the results later... Speaking of which, in the last few years several collections have surfaced that feature the best of Asian garage rock and psychedelia... the cool stuff we knew had to be out there, but couldn't find on our own. Here are some of the best of these releases, as well as other albums that have come out over the years.
---
Recommended Records
---




Sheila Chandra -- see artist profile


<! actual release date? >

Cornelius "First Question Award" (Trattoria/MSI, 1994)

Cornelius "69/96" (Trattoria, 1995)

Cornelius "96/69" (Trattoria, 1996)


A remix disc...
Cornelius "Fantasma" (Trattoria/Matador, 1997)



Cheery, kaleidoscopic, mix'n'match, big beat bounce-a-tronica from this beloved Japanese studio wizard/DJ (whose given name is Keigo Oyamada), formerly of the band Flipper's Guitar. This album is bombastic and catchy, but may feel a little one-dimensional and gimmicky after a few auditions. Although he hit big with the electronica crowd, this disc has plenty of electric guitars, used both as attractive plumage and as an ironic nod towards the pop music "past." Plenty of folks in the know consider this an indiepop classic, but even if it doesn't ultimately enter your Top Ten list (or whatever), it's still a pretty fun disc.
Cornelius/Various Artists "FM" (Trattoria, 1998)


Several artists remix the Fantasma album...
Cornelius/Various Artists "CM" (Trattoria, 1998)


...and Cornelius remixes their remixes...
Cornelius "Point" (Matador, 2002)



Here Oyamada veers away from the deliberate vapidity of 1998's Fantasma into calmer, more subtle terrain -- personally, I find this a lot more engaging and substantive its predecessor. It's jittery and mildly irritating, though not overly cluttered, opening with a dreamy, repetitive patch of pop-ambient froth worthy of Kraftwerk, then nimbly drifts from genre to genre. Cornelius touches on clockwork-y King Crimson-style angularities, mellow, multitextured cricket-and-bird laced exotica (ala Martin Denny), a momentary lapse into screeching, guitar-based grindcore, and caps the album off with a majestically synthetic rendition of Ary Barroso's samba classic, "Brazil," the most widely recorded song in the world. Odd but engaging; this holds up to repeated auditions, particularly with the lights low and the headphones on.
Cornelius "CM2" (Matador, 2003)


More remixes!


<! DVD "Cornelius - 5.1 Plus PM" (DVD) (Matador, 2004) B00015YW9O >

Cornelius "Sensuous" (Warner-Japan/Everloving, 2007)






<! with DVD "Sensurround + B-Sides" (DVD) (Everloving, 2008) B001CISIL2 > <! http://en.wikipedia.org/wiki/Cornelius_(musician) > <! http://en.wikipedia.org/wiki/Shibuya-kei includes list of bands > <! Cornelius EPs: * Holidays in the Sun EP (1993) * Cornelius Works 1999 (1999), rare CD-R promo from 3-D Corporation Ltd. (Japan) * Gum EP (2008) >

Cornershop "When I Was Born For The 7th Time" (Luaka Bop, 1997)



Although their early singles seemed like pretty standard indiepop fare, this lushly-produced, intermittently brilliant, album lives up to the hype of an organic Indian/Brit pop crossover... True, they owe more to Portishead and Oasis than to Kishor Kumar, but the affectionate name-dropping in the hit single "Brimful of Asha" (a tribute to bhangra, filmi, and soul music) is pretty convincing. So far, various side projects by vocalist Tjinder Singh haven't been enough to satisfy those of us waiting for a follow-up... but I certainly have my fingers crossed!
Dengue Fever "Dengue Fever" (Mimicry, 2003)


Dengue Fever "Escape From Dragon House" (Matador, 2005)



Dengue Fever "Venus On Earth" (M-80, 2008)



From their home base in LA, Dengue Fever have quickly established themselves as one of the hottest live acts on the West Coast, and on their latest album, their third to date, the band proves more nuanced and versatile than ever before. The high-octane ensemble provides fluid backing for Cambodian singer Chhom Nimol, but where their earlier albums were a wild, aggressive, and utterly amazing recreation of the insane garage-pop mashups of Cambodian 1960s rock, this time around their sound has greater tonal depth and variety... A bit of Zappa and classic jazz seems to have crept into the mix, along with soul music and funk. Although there's still plenty of rock and electric guitars, the sound is less shrill and the band's musical chops are more fully explored... It's still pretty out there, but now it sounds more like something you could expose more than just a couple of friends to... If you like crazy Asian pop, you'll want to check this out!
Flipper's Guitar "Three Cheers For Our Side!" (3D, 1989)

Flipper's Guitar "Camera Talk" (3D, 1990)





<! 3D ? >

Flipper's Guitar "Doctor Head's World Tower" (1991)





Flipper's Guitar "On Pleasure Bent" (1992)
A live album...




Flipper's Guitar "Colour Me Pop" (1991)

Flipper's Guitar "Singles" (1992)

Flipper's Guitar "Treasure Collection" (2000)





<! Polys label?? >

Gary Lucas "The Edge Of Heaven: Gary Lucas Plays Mid-Century Chinese Pop" (Indigo, 2002)



Avant-pop guitarist Gary Lucas, known for his work with the ever-freaky Captain Beefheart, delves into the work of Chinese vocalists Bai Kwong and Chow Hsuan, film actresses whose work is obscure to Western ears, but which was quite popular in Taipei and Hong Kong during the 1940s and '50s. As might be expected, Lucas approaches the music from unusual angles, playing some classic-sounding Chinese themes as moody ambient pop, others as they might have been imagined by bluegrass pickers or acoustic guitar legend John Fahey. Interesting, unusual take on familiar old melodies.
Monsoon "Third Eye" (Mobile Suit, 1983)



An early highwater mark for Asian/indierock crossovers... Sixteen-year old Sheila Chandra had the voice, and for the most part, the band had the chops. This enthusuiastic, innovative British band stuck to a rich, swirly, sensuously harmonic sound, and their blend of East and West was far more skillful than they may be given credit for. Monsoon's ability to balance the propulsiveness of Western rock and the hypnotic qualities of Indian classical music was quite striking; having more to do with drone than cliched sitar riffs. Although a few of the songs aren't that amazing, at least nothing sounds forced or false.
Pizzicato Five "Happy End Of The World" (Matador, 1997)



Gimmicky but great, Japan's Pizzicato Five are the template that many mix-and-match retro-pop-collage bands (Stereo Total, Die Moulinettes, etc.) are stamped from. P5 remain miles ahead of their brethren, as this seamless, skillful sample-y mix of hip-hop, electronica, spy jazz, house music, sunshine pop and Muzak ably proves. Some Pizzicato Five albums have weak spots; this one really doesn't. Pop culture camp taken to previously unimaginable heights. Recommended!
Ryukyu Underground "Ryukyu Underground" (Riverboat/Respect Records, 2002)



Beautiful ambient-dance electronica from the island of Okinawa, south of Japan. The mixing is skillful and the specifically Asian elements are both intact and integral to the music. The opening tracks feature Japanese vocals and koto strings mixed in with standard-issue beats; later the album shifts into mellower material, with spacy songs such as "Shinkaichi" and the alluring "Tinsagu Na Hana Dub." Nice stuff... definitely worth tracking down!
Seagull Screaming Kiss Her, Kiss Her "Pink Soda" (EP) (Polystar-Japan, 1996)
Seagull Screaming Kiss Her, Kiss Her "Fly" (EP) (Polystar-Japan, 1996)


Seagull Screaming Kiss Her, Kiss Her "Sweet Home" (EP) (Polystar-Japan, 1997)


Vocalist Aiha Higurashi certainly removes herself pretty far from the confines of the traditional role of woman in Japanese society... Equal parts punky Sleater-Kinney rriot ggggeisha, later-day Nina Hagen/Iggy Pop hard rocker, and Bongwater artsy-fartster, Higurashi runs a wide gamut of purposefully irritating material. Japanoise fans who aren't too hung up on the whole rejection-of-melody thing may find these CD-EPs fun; like many artsy musical outings, this is perhaps easier to appreciate for its intellectual audacity, rather than its listenability or long-term durability.
The Spiders "Let's Go Spiders!" (Big Beat, 2000)


A cute Japanese garage-pop band from the height of Beatlemania, the Spiders had a tougher edge than a lot of other bands, but also a strong melodic sense. As well as this fab best-of, there are four CD album reissues out there; one may be enough... Or, to get your feet wet slowly, you might try the Spiders tracks on the GS I LOVE YOU Japanese garage rock collections first, which were compiled by the same fellow who put this disc together...
The Steps "Krontjong Warna Warni" (Time Stereo, 2000)
A groovy hoax! This wild, offbeat, limited edition indie release purports to collect various rare 45 rpm singles from an obscure '60s Indonesian surf band. It's really just some clever indie-rock dude 4-tracking it at home, but it still sounds hella cool. The riffs are simple, odd, alluring, full of bizarrely drippy, dangling notes with a decidedly different musical sensibility... a weird blending of Indonesian music and European rock. Includes cover versions of songs by the Bee Gees and Andre Popp, among others -- very distinctive
Yat-Kha "Yenisei-Punk" (Global Music Centre, 1995)


Another weird one: Tuvan throat singing merged with slow, folk/blues arrangements, and a dark tinge of difficult-listening art-rock. There's a strong influence (whether conscious or not) of the Velvet Underground, particularly with the presence of a droning string instrument, rather similar to John Cale's early abrasions with the VUs. If you crave unusual albums, this is one worth tracking down.
Various Artists "26 TURKISH DELIGHTS: ULTRARARITIES FROM BEYOND THE SEA OF MARMARA" (Grey Past Records, 2001)
A killer collection of Turkish garage-psychedelia from the 1960s and '70s. Turkey had a long love affair with psych rock, running from the mid-'60s through the end of '70s, when government repression brought an abrupt end to a long period of liberalization. This disc gathers several dozen tracks from the masters of the style, including artists such as Erkin Koray, Cem Karaca and Baris Manco -- little known in English-speaking climes, but huge local heros in their day. This Turkish material is especially appealling to fans of foreign rock who tire of poorly-enunciated English-language cover tunes, as most of the songs are sung in Turkish (a language that has no linguistic connection to English) and many are crazy rock adaptations of traditional themes. This is a rock collection that really shows some local character... and is highly recommended! (It may be hard to find this disc online or in stores, so maybe you can try writing the label directly at: huiboki@wanadoo.nl)
Various Artists "TALVIN SINGH PRESENTS ANOKHA -- SOUNDZ OF THE ASIAN UNDERGROUND" (PolyGram, 1997)


I was never that taken with this compilation, although many people consider it to be a bellweather album for Asian pop in the '90s. The problem that I have with it is that it doesn't seems particularly "Asian", and the electronica itself isn't that compelling. For me, at least. I know plenty of people who absolutely adore this album, and it is admittedly rather mellow and nice. If you're into electronica to begin with, this is certainly worth checking out.
Various Artists "ASIAN TRAVELS" (Six Degrees, 2000)


A compelling set of Asian electronica, with a heavy emphasis towards the Indian subcontinent. This gathers several well-known crossover acts, such as Najma, Fila Brazilia and Banco de Gaia, as well as a slew of equally engaging, lesser-known artists. This chill-room collection has a solid groove throughout, and unlike the much-vaunted Talvin Singh ANOKHA disc of several years ago, the "Asian-ness" is much more prominent, and the techno aspect is much more interesting... or at least has more of a melody. Surprises abound, not the least of which is that -- in this limited context-- I even enjoyed the Michael Brooks/Nusrat Fateh Ali Khan track that's included... and I hated the original album when it came out. A really nice, really listenable disc.
Various Artists "ASIAN TRAVELS 2: ARABIAN TRAVELS 2" (Six Degrees, 2003)


Somehow this follow-up disc seems less engaging than the first ASIAN TRAVELS set (reviewed above). Neither the electronic mixing nor the Arabic elements really seem to be going anywhere new, and while the longer I listened to this album, the more I got onto its wavelength, overall it didn't grab me that much.

Various Artists "CAMBODIAN ROCKS" (Parallel World, 1996)


WOW! This is one of the most striking collisions of global culture I've ever had the pleasure of hearing. This disc collects about a dozen tunes taken off of cassette releases that the album's compiler picked up while travelling in Cambodia during the mid-1970s. It's an incredible, dissonant assimilation of good old American rocknroll full of wailing, shrill Asian vocals, and plenty of unpredictable melodic twists. I'd call some of this stuff "garage rock", except that I'm fairly sure that at the time, Kissinger's secret bombing campaign had reduced most of Cambodia's garages to mere rubble. Um. Anyway, the only drag of about this release (other than it's current unavailability...) is that the record had no track listings, so both the artists and song titles are unknown. Still, you may find yourself surprised to recognize the melody to an old Santana tune or R&B cover floating up out of the crazed, cacophonous mix. This one is a real doozy. Apparently it's been re-released on CD with about twice as many tracks... what more could you want?!
Various Artists "CAMBODIAN ROCKS, v.1" (Khmer Rocks, 2003)

Various Artists "CAMBODIAN ROCKS, v.2" (Khmer Rocks, 2003)


Various Artists "CAMBODIAN ROCKS, v.3" (Khmer Rocks, 2003)


A fine follow-up to the wild weirdness of the original CAMBODIAN ROCKS collection... This disc has the added advantage of (gasp!) liner notes that actually explain who these obscure artists were, and introduces us -- by name -- to the likes of Ros Sereysothea, Pan Ron, Thra Ka Band and others, musicians who were previously anonymous aural oddities... This disc is on a par with the first, and is also well worth picking up. (PS - Many of these singers even have whole albums out on the Khmer Rocks label... ) Cool stuff!!
Various Artists "CAMBODIAN ROCKS, v.4" (Khmer Rocks, 2005)


Various Artists "THE CULT G. S. - THE COMPLETE SINGLES" (Teichiku Entertainment, 2000)


"Group Sounds", or GS, was how Japan came to embrace Beatles-era rock. The Asian "rock" sound ranged from ultra-tepid pop vocals (think, The Association, only milder...) to all-out raging, crazy psychedelic garage rock. This disc - a rather expensive import -- features bands such as The Toys, The Napoleon, D'Swooners, The Unicorns and The Eagles, who were all decidedly on the mellower side of the Asian pop spectrum. The liner notes are all in konji, so I could only make out recording dates -- all apparently in the 1966-68 range. Despite the fab Peter Max-ish album art, the music is pretty softcore. (For really wild stuff, check out the GS I LOVE YOU collections below...)
Various Artists "THE CULT G. S. - MONSTERS, VICTOR EDITION" (Teichiku Entertainment, 2002)


Vintage Japanese pop and rock from the RCA Victor catalogue...

Various Artists "G.S. I LOVE YOU" (Ace/Big Beat, 1996)


Various Artists "G.S. I LOVE YOU, TOO" (Ace/Big Beat, 1999)


Two stunning volumes of Japanese garage rock and psychedelic beat from the '60s... Usually these sorts of "foreigners doing rock" discs achieve kitsch value at best -- but these two discs are flat-out goddamn awesome, full of forgotten bands such as The Spiders, The Out Cast, and The Carnabeats. If anything, the second volume is even better than the first -- it delves farther into reverbed-out psychedelic territory, whereas the first is more garagey and teenpoppy. It's pretty amazing how hardcore some of these groups were, and how their legacies have lain dormant for so long. If you stumble apon either of these discs, don't ask questions -- just snap 'em up!

Various Artists "HAVA NARGHILE: TURKISH ROCK MUSIC 1966 TO 1975" (Bacchus Archives, 2001)


As noted on the 26 TURKISH DELIGHTS collection above, Turkey had a long love affair with rock and roll, and psychedelic rock in particular. This disc is a perfect compliment to that album, since there is actually no overlap between the two, but plenty more great music. This set gets a bit more "Oriental" than the DELIGHTS collection, which is to say, it goes off on more Asiatic instrumental, belly-dancey tangents, particularly towards the second half of the album. But it's great stuff nonetheless, documenting a once-big scene that has been little known out here in the English-speaking world. Recommended!
Various Artists "JAPANESE ROCKIN' PSYCHE & PUNK '65-71: PSYCHEDELIC MAN" (Toshiba-EMI, 2005)
Various Artists "JAPANESE ROCKIN' PSYCHE & PUNK '65-71: HAPPENING AT 3 O'CLOCK AM" (Toshiba-EMI, 2005)


This is a pretty cool series, with plenty of real-deal, hardcore Japanese garage-psychedelic gems rescued from the shorelines of obscurity... The music is remarkably rugged and robust, with numerous Japanese bands full of the same energy and attitude as their snotty, brash contemporaries in the UK and USA. The sound quality's really good, too... Indeed, the only real drawback here is the lack of English-language liner notes, even, in most cases, the lack of non-Kanji song titles or artist names, which is pretty unusual for a Japanese reissue record. I guess the folks at EMI-Japan thought that no one outside of Japan would be interested in their old '60s rock records? Obviously they were wrong, but I'm still glad they put these records out. (There are at least three volumes I know about, two that I have, only one where I've been able to track down the song info...) Anyway, if you dig gnarly global retro-rock, and don't mind not knowing who the artists are, track these discs down. You might also enjoy poking around my Crazy Asian Pop pages...

Various Artists "LOVE PEACE & POETRY v.3: ASIAN PSYCHEDELIC CLASSICS" (Normal Records, 1999)


This is a real doozy, collecting kitschy yet challenging oldies from Turkey, India, Japan, Hong Kong, Cambodia and South Korea. All the tracks are top-notch material -- if you're familiar with the first two volumes of this series (Latin America and North America), then let me be the first to tell you that this disc knocks both of those collections way out of the water. A few songs on here appear elsewhere, notably on the CAMBODIAN ROCKS album, and Normal's own SIMLA BEAT compilation, but the presentation of this set is a class act, full of hard rock and trippy folk-tinged psychedelia alike.
Various Artists "THE ROUGH GUIDE TO THE ASIAN UNDERGROUND" (Rough Guide, 2003)


Generally speaking, I'm not the world's biggest electronica-dance fan, but as the genre goes, I find myself frequently drawn to Asian-oriented releases, since they often seem to have more going on, rhythmically and melodically, than your typical club mix disc. I guess it's because they have to introduce some distinctively "Asian" element, such as a sitar or koto, or readily identifiable Chinese or Hindustani melody...something to set the music apart. Or, maybe, it's just that some of Asian mixmasters have better taste or a wider palatte than their Europhilic contemporaries. At any rate, this collection has plenty of nice, mellow, listenable tracks on it, and makes a worthy contribution to the growing catalogue of likeminded records that are available to inquisitive music fans. Worth checking out!

Various Artists "SIMLA BEAT 70/71" (Normal Records, 1999)


In the late '60s/early '70s the Indian cigarette company, Simla, held (or purported to hold) a series of rock'n'roll talent contests, and from these came the albums that are reissued in this 2-CD set. The reissue seems to be pretty much a straight reissue of both albums, with the album art and the original (highly amusing) liner notes reproduced within. The music is pretty cool -- in some respects it recreates Western pop, and even includes covers of oldies such as "You Can't Judge A Book" and "Born On The Bayou." But there's definitely a wild and unruly local twist on the proceedings, an unusual metric twist that creeps into the music. Even better yet is when the artists sing in their own language (as opposed to English), which usually occurs on the wilder, more psychedelic tunes. I'm not personally that up on the history of Indian pop-rock, so I can't even speculate on how popular any of these bands really were back in the hippie days, but these recordings are a real find. A perfect companion to the CAMBODIAN ROCKS albums listed above.
Various Artists "TRIBUTE TO FLIPPER'S GUITAR: FRIENDS AGAIN" (Pastel, 2004)





<! Korean Edition of 2004 Tribute to Japanese Pop Act. 11 Tracks. 01. Groove Tube / Izumikawasora 02.T he Chime Will Ring / Hurdy Gurdy Meets Marseeside Derby (Seizi Kimura From Zeppet Store) 03. Camera! Camera! Camera! / Roboshop Mania 04. Young, Alive, In Love 05. Summer Beauty 1990 / Bice 06. 3.A.M.Op (3) / Lisa 07. Love And Dreams Are Back / Inohiroki 08. Sending To Your Heart / Rumtag 09. Coffee-Milk Crazy / Swinging Popsicle 10. Blue Shinin' Quick Star / Fleming Pie 11. Aquamarin / Inotomo Meets Lake >


---



Asian Music Index
World Music Index




---