<! cd = 08/14/04 > <! MP3 09/12/08, 12/01/09 > <! update 09/12/08 > <! pix 12/01/09 > <! icons 01/23/11 >

---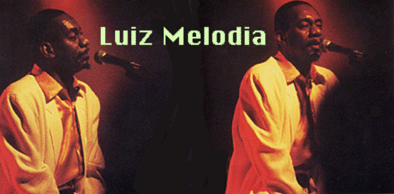 Singer Luiz Melodia emerged in the 1970s as one of the new generation of modern MPB artists, picking up where Gilberto Gil and Caetano Veloso left off. The vigor of his early albums dimmed as his later records became slicker and more mainstream... His own songs became standards in the repertoire of Gal Costa and other MPB superstars. I can't say that I'm really his hugest fan, but here's a quick look at Melodia's work...
---
Discography
---

Luiz Melodia "Perola Negra" (PolyGram, 1973)



(Produced by Guilherme Arajau)
In the 1970s, Melodia became a favorite songwriter among the swank MPB set. I've really hated what I've heard of his later work, but this disc -- his debut album -- is pretty groovy. Co-produced by tropicalia scenester Guilherme Arajau, it opens with a nice soft samba cancao, and drifts into jazz-inflected material that brings to mind Stevie Wonder and Gilberto Gil. The album's second side gets into some interesting bluesy R&B material, ala Joe Cocker, perhaps... a style of music that is rarely heard in the Brazilian scene. A good record, definitely worth checking out.

Luiz Melodia "Maravilhas Contemporaneas" (PolyGram, 1976)


(Produced by Guta Graca Mello)
On his second album, Melodia mimicked the freewheeling style of tropicalia king Gilberto Gil, copying Gil's funk vibe, but without matching the feeling or sophistication that Gil and othe MPB pioneers brought to their work of the early '70s. Yes, there's a mix of rock and pop and soul, but it all seems flat and by-the-numbers -- indeed, Melodia seems like an outright phony. Not that he doesn't have a good band behind him, it's just that they don't seem to believe in what they're doing, at least not on the spacier stuff. When they try to play "psychedelic" style, they basically just abandon basic musical principles for a bar or two and let the drummer bonk out a lame rhythm, or whatever. My take on this album is that Melodia was trying to prove himself an artist of great merit, versatile and confident enough to tackle every style under the sun. He should have stuck to the music he really liked, though... this exercise seems stagey and forced. That being said, however, this disc is still more vigorous and interesting than much of his later work, and is certainly worth checking out if you want to give this guy a fair shake. I found it kind of irritating, but I can be kind of crabby sometimes.
Luiz Melodia "Mico De Cerco" (PolyGram, 1978)

Luiz Melodia "Nos" (PolyGram, 1980) (LP)

Luiz Melodia "Felino" (PolyGram, 1983)


Luiz Melodia "Claro" (Warner/Continental, 1988)

Luiz Melodia "Pintando O Sete" (PolyGram, 1991)

Luiz Melodia "Reliquias" (PolyGram, 1995)






<! B00008G1RZ "Geraco Pop" 1996 ?? >

Luiz Melodia "14 Quilates" (PolyGram, 1997)



Luiz Melodia "Acustico Ao Vivo" (Universal-Indie, 1999)


There's a great appeal to hearing Luiz Melodia, who is known for his lavishly overproduced pop records, performing in the stripped-down confines of the acoustic/unplugged genre. This album's first track, "Fadas," holds great promise, with sweetly clean, elegant acoustic guitar notes curling around Melodia's intimate vocals. The feeling of enchantment doesn't last, though: almost immediately the guitars take on a more processed feel, washing through the effects box so that they come out with a distinctly Pat Metheny-like air, and this is the sound Melodia and his band stick with through the end of the album. It gets quite monotonous, and it again places him squarely into the slick pop camp. By the end of the album, I was again disinclined to go ga-ga over the Melodia sound. (The Brazilian audience, at Rio's Teatro Rival, however, seems to have gone wild over the show, so take what I say with a grain of salt...)
Luiz Melodia "Retrato De Um Artista Enquanto Coisa" (Universal-Indie, 2001)

Luiz Melodia "Ao Vivo Convida" (PolyGram, 2003)

Luiz Melodia "O Melhor De Luiz Melodia: Acustico Ao Vivo" (Universal-Indie, 2005)

Luiz Melodia "Estacao Melodia" (Biscoito Fino, 2007)


---
Best-Ofs
---
Luiz Melodia "Preferencia Nacional" (Copacabana/EMI, 1998)
A best-of collection of this rather goopy, mainstream pop balladeer. Melodia's songs have been covered by many Brazilian MPB stars but judging from this collection, you shouldn't go too far out of your way delving into his recorded output. Slushy post-disco romantic pop from the 1980s and '90s; midway between Bethania and Djavan, with plinky pianos and Barry Manilow-ish horn/synth arrangements, and mild dashes of samba and fake, poppy rap. If you don't like this kind of music when you hear it in English, why bother when it's in Portuguese?
Luiz Melodia "Serie Bis" (EMI, 2000)

Luiz Melodia "Millennium" (Polygram, 1998)

Luiz Melodia "A Arte De Luiz Melodia" (Universal, 2006)

Luiz Melodia "The Essential Luiz Melodia" (EMI, 2006)


---
Links
---
---



Other Brazilian Artists
Main Brazil Index



---