<! MP3 05/05/10, 06/25/10 > <! update 06/25/10 - link to Patsy Cole video might date quickly > <! outside 06/25/10 - BB > <! pix 00/00/00 > <! icons 12/21/10 > <! Carlette (Carlette West) 1980s, on Luv Records/Oak >
---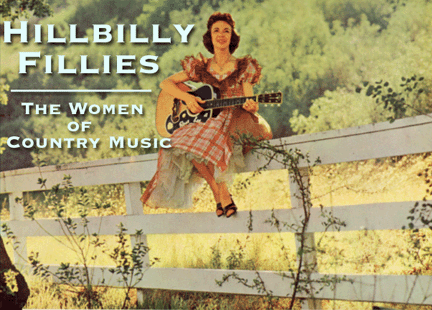 Welcome to my overview of women in country music, with reviews ranging from folk and bluegrass to honkytonk, rockabilly and Nashville pop. This is the first page covering the letter "C."
---
A | B | C-1 / C-2 / C-3 | D | E | F | G | H | I | J | K | L | M | N | O | P | Q | R | S | T | U | V | W | X, Y & Z | Comps
---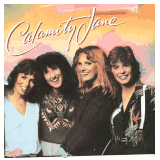 Calamity Jane "Calamity Jane" (Columbia, 1982) (LP)


(Produced by Billy Sherrill)
Terrible. Utterly forgettable and un-noteworthy except that this all-gal band was the genesis of the songwriting partnership of Pam Rose and Mary Ann Kennedy, who went on to bill themselves as "Kennedy Rose" and develop a faithful following in the '80s and '90s. This is a remarkably tepid album, marked by the sad, impotent dregs of the '70s countrypolitan sound -- Billy Sherrill was billed as producer, but there's very little of his signature wall-of-sound style on display here. It's a very thin-sounding album, with arrangements that do very little to boost their voices, leaving the vocals sounding flat and forlorn. Some unfortunate pop covers, as well as some original material that may be of interest to fans.
Kate Campbell - see artist discography
Canadian Sweethearts/Lucille Starr "Side By Side: Pop And Country/Lonely Street" (Collector's Choice, 2004)


The Canadian Sweethearts were the husband-wife duo of singer Lucille Starr and guitarist Bob Regan, who were regional stars in the 1960s, dabbling in a wide variety of pop styles, in addition to a healthy base of fairly twangy country. This CD combines two albums recorded in 1968 for Epic Records -- Side By Side: Pop And Country and Lonely Street, which was released as a Lucille Starr solo album... It's a little bit staid, but a nice time capsule, nonetheless. Also see Lucille Starr's solo albums.
Canadian Sweethearts "Eeny Meeny Miney Moe" (Hydra, 2003)


Early rock'n'roll/rockabilly oriented material... and it's pretty fun! Interesting intersection of hick-oriented country and teenybopper pop. Also includes some of Starr's solo pop recordings ("The French Song," etc.) and lots of kooky novelty tunes, such as a surfabilly version of the Scottish bagpipe tune, "Highlands Lassie." Definitely worth checking out.



<! Canadian Sweethearts "Introducing the Canadian Sweethearts" (A&M, 1964) Canadian Sweethearts "The Canadian Sweethearts" (Epic, 1968) 67? >

Judy Canova "Collector's Edition" (Simitar, 1998)

Judy Canova "Ozark Nightingale" (Collector's Choice, 2004)


She wasn't really a country singer, but like many mainstream pop artists such as Dorothy Shay and Arthur Godfrey, Canova played on a broad "hillbilly" stereotype to deliver warped versions of popular songs of the day. These radio performances (from the 1940s perhaps?) capture Canova at her best: playful, corny yet canny, and a powerful performer. Included are several of her signature tunes, such as her rollicking versions of "Just Because" and "The Wabash Cannonball," and omits other songs that play more into the hick schtick... All in all, this is a pretty fun set, although it really should be classed more closely with pop vocals and show tunes than with legitimate country stuff. But does that really matter? Check it out for yourself, and find out.

Laura Cantrell "Not The Tremblin' Kind" (Diesel Only, 2000)



New York's singing cowgirl, songwriter Cantrell hosts a country show on renowned freeform radio station, WFMU, and has parlayed her love of twangitude into a full-fledged recording career. Honestly, despite having several mutual friends in common with her, this debut disc doesn't do that much for me... The songs are just a little too overwritten and self-consciously crafted, also, her vocals kinda bug me; imperfections that could have been disguised in a rock'n'roll context are all-too apparent in the more stripped-down country context. Still, Cantrell has a lot going for her, not the least of which is a sharp band, culled in part from the East Coast power-pop/indie scene. Folks looking for alt.country that breaks out of the usual ruts of white trash stereotypes, etc., and aims to revitalize the old traditions of well-crafted heart songs will wanna check this gal out.

Laura Cantrell "When The Roses Bloom Again" (Diesel Only, 2002)



Although Cantrell's voice -- kinda like Mary McCaslin, but not quite -- still falls short, her songwriting is much sharper and direct, particularly on this album's opening numbers. Her band is tight as well: several songs are melodically strong, with an almost power-poppy propulsiveness, and Cantrell is closer to finding an effective tunesmithy voice. The slower numbers still seem a bit muddled, but less so than on her first album -- listeners may have to work a bit to get caught up in her songs, but the lyrics and emotional content are all pretty solid.
Laura Cantrell "The Hello Recordings" (Diesel Only, 2004)



A 5-song EP...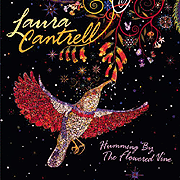 Laura Cantrell "Humming By The Flowered Vine" (Matador, 2005)



It's a delight to see when an independent artist crafts a masterpiece, particularly someone who's been around for a while and whose imperfections have been almost as charming as their artistic passion. On her third album, East Coast alt-country songwriter Laura Cantrell has crafted a solid, soulful work that may be the soundtrack for many a moody afternoon to come. Backed by East Coast indie-popster Dave Schramm and members of the uber-artsy, amorphous band Calexico, Cantrell shifts from style to style, drawing on numerous influences to forge a sparkling record with several memorable melodies. Unlike many big city altabillies, Cantrell seldom trawls through the depths of phony hick sterotypes to "prove" how country she is, and on this record she goes out of her way to claim ownership of her own urban identity, with songs that place the listener smack dab in the middle of New York, New York. For example, the album kicks off with its strongest track, "14th Street," a walking tour of heartbreak on concrete that half-unconsciously swipe its melodic hook from "There She Goes" by the La's. (Which, frankly, is fine by me. The next song, though, quotes that old Budweiser jingle... "when... you say... Bud!", which is a little more questionable...) Calexico & Co. prove themselves adept at absorbing country music, and when they do add a rock touch, it feels a bit raspy and Neil Young-ish; Cantrell anchors herself to her country roots through a fine, wistful version of the old Wynn Stewart hit, "Wishful Thinking," a plaintive rendition of the ballad, "Poor Ellen Smith," and her own "California Rose," a heartfelt homage to West Coast wild woman Rose Maddox. But while flexing her musical strengths inside a professional studio, with a versatile, ultramodern band to back her, Cantrell also zeroes in on unsuspected depths as a rock-popster, sounding as much like Linda Thompson as folkies such as Mary McCaslin. It's a glorious transformation, and this is an album that might floor more than a few listeners. Recommended!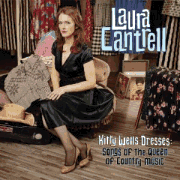 Laura Cantrell "Kitty Wells Dresses: Songs Of The Queen Of Country Music" (Diesel Only, 2011)



(Produced by Laura Cantrell)
A pure delight for pure country fans. Singer Kitty Wells was a country music trailblazer -- the first woman to hit the top of the charts and a towering figure in the Nashville landscape throughout the 1950s and '60s. Alt-country heroine Laura Cantrell kicks off this tribute album with a self-penned original, "Kitty Wells Dresses," which pays homage to the queen of country and namechecks many of the great female singers who came in her wake. Despite Wells' resolutely traditional image, Cantrell holds her up as an iconic modern woman, and given Wells' professional successes in the male-dominated honkytonk scene, I guess she has a point: for Cantrell, the stiff-collared, old-fashioned gingham dresses are just costumes and window-dressing -- it's that glint in Kitty's eyes that counts. Cantrell is herself a modern gal with a retro inclination, and she can tap into old-school twang like nobody's business. She finds a powerful muse in Kitty Wells, cherrypicking classic heartsongs and ballads, and channeling the plaintive, true-country vibe that made Wells' work so compelling. It's easy to imagine Cantrell sitting around at home over the years, guitar in hand, singing these songs for fun, harmonizing along with those old records. Now that she's put it down on wax, the results are pitch-perfect, a solid set of traditional, old-school country with strong contributions from numerous talented pickers: steel guitarist Chris Scruggs perfectly captures the simpler, Hawaiian-inflected style of the early '50s, bluegrass bassist Mike Bub thumps along in a minimalist mode while neo-twangsters such as Paul Burch, Fats Kaplin and Chuck Mead chime in as well. This is perhaps the finest album of Cantrell's career and a fitting tribute to Kitty Wells and her era -- a rock-solid set of heartfelt twang. Highly recommended!
Carlette "The Anthology" (Lost Gold)



A collection of Back Forty stuff from the mid-1980s by singer Carlette Ruff...
Brandi Carlile - see artist discography
Paulette Carlson "Love Goes On" (Capitol, 1991)

Paulette Carlson "Christmas Is For You" (Music Mill, 1995)


A holiday offering from the former lead singer of Highway 101... Features two originals by Carlson, "Christmas Is For You" and "Mrs. Santa Claus," along with a slew of standards... (For more holiday music, check out my Hillbilly Holiday section...)

Paulette Carlson "It's About Time" (Pandean, 2006)


(Produced by Paulette Carlson)
A reissue of her 2005 album of the same name (reviewed here earlier): "The former lead singer from Highway 101 soldiers on... in more ways than one. Draping herself in the flag, Carlson pays tribute to Vietnam-era veterans, on "Thank You Vets," and sings a couple of other patriotic songs... The stars-and-stripes imagery may be a little misleading, though, since most of the songs on this album are straightforward heartsongs, which she carries pretty well. Regardless, Carlson's fans should be thrilled to hear this self-produced effort... All but two of the songs are Carlson originals, and she shows herself to be a capable performer, even with her voice thinning a bit with age. It's been a while since she was in the charts, but she's still a solid, sincere singer, and this is a good independently-released effort, soulful and understated. Worth checking out!" One thing I neglected to mention back then was what a striking vocal similarity she has to Stevie Nicks... (and I mean that in a good way!) Overall, pretty durn good.
Janis Carnes "Hoagy 'N Me: Janis Carnes Sings The Songs Of Hoagy Carmichael" (Peer Music, 2005)



A later recording from a successful '80s/'90s songwriter, whose stuff was recorded by Trisha Yearwood, Reba McEntire, Steve Wariner and others. She recorded a series of singles (on various labels) with her husband and songwriting partner, Rick Carnes, but as far as I can tell none of that stuff has made it onto an album. This album indulges her love of old jazz-vocal standards.


<! Janis Carnes - recorded w/ husband - can't find early stuff on ASINS Janis entered the music business with a bang as a hit songwriter for such artists as Trisha Yearwood, Reba McYntire, Alabama, Steve Wariner, The Whites, and many more. Even though Janis' success has been primarily in country music, she has always had a deep connection with jazz and swing music. One of the key hits she wrote (with Rick Carnes and Chip Hardy) was "Hangin' Around," a bluegrass-swing song recorded by The Whites and Dean Martin, which helped bring mainstream awareness to the jazz influenced style. After forming a duo with husband and fellow songwriter Rick Carnes, Janis was signed as an artist to Elektra Asylum by the infamous Jimmy Bowen (one of the most influential figures in the Nashville music scene). They followed Bowen to Warner Brothers and then to MCA Records, having success with self-penned singles like "Poor Girl" and "Does He Ever Mention My Name." >
Carolina Cotton "Yodel, Yodel, Yodel" (Binge Discs, 2003)
Outstanding! This disc collects the work of Helen Hagstrom, aka Carolina Cotton, a little-remembered, post-WWII yodeler who worked extensively with Spade Cooley, Bob Wills, Merle Travis, and many of the West Coast honkytonk-swing scene elite. There's lots of accordion on here, as well as Cotton's winsome vocals -- and she was one heck of a singer! Her signature tune was "Three Miles South Of Cash (In Arkansas)," a reference to her hometown, where she was born just before the Great Depresssion... There are three versions of the song on here, two from live transcription recordings, and one from a 1952 MGM single; the material on this disc comes from a variety of sources, mostly from "Soundies" transcriptions and other radio shows, but also from various movie appearances and a handful of singles, scattered over several labels. It's all pretty good, with some stuff that's surprisingly electrified and other material that's straight out of the West Coast playbook... This disc was one of my big new discoveries of the year -- a great country gal singer, with a big, friendly voice and plenty of great songs. The only weak spot on the album is a live 1946 recording of a great novelty song, "I'd Like To Be A Cowgirl (But I'm Afraid Of Cows)," which has the hilarious chorus, "Moo! Moo! Moo! How they scare me..." A wonderful tune, but unfortunately the source material is very poor, and while you can easily enjoy the song at home, I wasn't able to play it on the radio. The rest of the album sounds fine, though... All in all, this disc is a real find. Highly recommended!
Carolina Cotton "Yodeling Blonde Bombshell, v.1" (Self-Released, 2006)



This is a real gem, a lively, long-overdue collection of prime material from one of the West Coast's most vivacious postwar country gals... Helen Hagstrom, aka Carolina Cotton, was a consummate country performer, belting out lively western swing novelty tunes, heartsongs, yodels and Western ballads, singing alongside folks like Bob Wills, Ernest Tubb, Spade Cooley, Joe Maphis, Deuce Spriggins, and Hank Penny... She easily kept up with all these high-power bandleaders, singing with as much gusto and guts as the style required. It's amazing, really, that she isn't more well-known -- she certainly must have cut quite a figure in California's booming country scene, and there weren't many women out there in the forefront at the time. Anyway, this is great record, self-released by Carolina Cotton's daughter, and available through her website, www.carolinacotton.org It has great sound quality, tons of fun songs and great performances... Her high energy and good cheer will win you over every time... If you're into discovering the hidden history of women in country music, this disc is a must-have! (Also check out the Carolina Cotton website, which has tons of historical info and archival photos...)
Carolina Cotton "Yodeling Blonde Bombshell, v.2" (Self-Released, 2010)
As in the first volume, this second disc of archival recordings is uniformly magnificent and full of fun. It's packed with tons of zesty songs and great performances, including several singles on the MGM label and old airchecks for the Armed Forces Radio Service and even an extended sample of her own radio show, "Carolina Cotton Calls," where she's backed by Joe Maphis and others. The sound quality is great, as are the songs, which include a great version of "I'd Love To Be A Cowgirl (But I'm Afraid Of Cows)" which is one of my all-time favorite cowpunchin' novelty songs. Carolina's high energy and gutsy good cheer will win you over every time... If anything, this volume is even better than the first -- and that one was a gem! Highly recommended.
Mary Chapin Carpenter -- see artist discography
Jenny Lou Carson "The Chin-Up Girl" (BACM, 2007)


One of the most successful songwriters of the WWII era hillbilly scene, Jenny Lou Carson (nee Virginia Lucille Overstake) was also one of the first female country stars. Carson started out in a family trio with two of her sisters, billed as the Overstake Sisters, and as "The Little Country Girls"; she also recorded under the pseudonym of Lucile Lee, and finally as Jenny Lou Carson, the name where she found her greatest fame. Carson wrote numerous hits, including "You Two-Timed Me Once Too Often," "Let Me Go, Lover," and "Don't Rob Another Man's Castle," which will be familiar to many fans of old-school country, albeit in mostly-male versions. This disc gathers her recordings as a solo performer, mostly with sentimental songs like "I L-O-V-E You" and "I Feel Like Crying Over You," but also with spicier novelty songs such as "I Married A Mouse Of A Man..." To be honest, even though she had a reputation as a bit of a wild woman, Carson sounds quite matronly and prim on many of these songs -- much more fun are the handful of earlier, raunchier novelty songs that come at the end of this album, saucy hokum-blues tunes recorded back in 1939, when she was just setting out on her own. These are all rare recordings from an artist best remembered as a composer, and nice nostalgic material that will be of interest to anyone looking into the foremothers of modern country. (Available through the British Archive of Country Music website.)


<! tribute album B000CA2T20 > <! opens with a 1944 transcription disc, which contrasts the sometimes bluesy arrangements with Carson's rather matronly vocals... This is followed with a pair of 1946 singles on Mercury>

Kendel Carson "Rearview Mirror Tears" (Train Wreck, 2007)


Kendel Carson "Alright Dynamite" (Train Wreck, 2009)



Martha Carson & James Roberts "I'm Gonna Let It Shine" (BACM, 2005)


Old-time gospel favorites from the fabled Martha Carson and her husband James Roberts... These old recordings haven't see the light of day in a long, long time...


<! CD D 161 >

Martha Carson "I'll Shout And Shine" (BACM, 2005)





<! CD D 204 >

Martha Carson "Martha Carson Sings" (RCA-Camden, 1965) (LP)





<! Satisfied; (Get On) The Heavenly Road; He'll Understand and Say "Well Done"; Get That Golden Key; Get On Board Little Children; Rock-a My Soul; I'm A Pilgrim; He Was There; All these Things; A Satisfied Mind. >


Anita Carter -- see artist discography





Carlene Carter -- see artist discography





Deana Carter - see artist discography





The Carter Family -- see artist discography



Jenny Carter "Layback With Jenny Carter" (Carto Records)
This looks promising. I'm not sure when this self-released album came out or what it sounds like, but I sure am curious... Late 1970s, perhaps? Anyway, Jenny Carter was a Memphis-area musician, and this album appears to include a lot of original material, possibly all of it written by Ms. Carter(?) but definitely not a bunch of country cover tunes here! Anyone out there have more info abut this one?


<! - private label Memphis country - no ASIN 11/2013 - Looks like a lot of original material: Oh Daddy I Love You Home Little Angel Could The Good Book Be Wrong My Son SIDE TWO Freedom It Takes A Whole Heap Of Loving Motel Cowgirl Cheaters Never Win I'll Never Play Second Fiddle Again I'll Let You Even Up The Score >


Maybelle Carter & The Carter Sisters -- see artist discography



Carter's Chord "Carter's Chord" (Universal-Show Dog, 2008)


Carter's Chord "Christmas" (EP) (Universal-Show Dog, 2010)


Carter's Chord "Wild Together" (EP) (Universal-Show Dog, 2011)



(Produced by Toby Keith & Mark Wright)
You might be disappointed if you thought this three-gal vocal group's name was an homage to the Carter Family... Unless of course, you were talking about Carlene Carter, 'cuz like Carlene in her younger years, this rough-cut trio want to make sure you know that they aren't just a bunch of harmless little "good girls." Indeed, on songs like "We Ain't Makin' Love," they go out of their way to underscore their carnality and downright raunchy horniness. Forget about the scented candles, baby, it's time to burn a hole in the rug!! To balance things out they close this 6-song EP with "Love A Little Bigger," a socially-conscious Christian country-pop song that urges everyone to be more thoughtful and thankful in life. (Of course, it's still a little self-absorbed: they start out by worrying about strangers who are starving, but instead of deciding to volunteer at a soup kitchen, they resolve to call their moms on the weekend. Well, every little bit helps, I guess...) Proteges of label head Toby Keith, these gals are a bit too overproduced for my tastes, but I'm sure old Toby knows what he's doing when it comes to making hits... So keep your eyes peeled.
Caitlin Cary "Waltzie" (EP) (Yep Roc, 2000)



A 5-song EP that heralded Cary's independence from her defunct-ish band, Whiskeytown.
Caitlin Cary "While You Weren't Looking" (Yep Roc, 2002)



A surprising, poppy outing for Ms. Caitlin... As a Whiskeytowner, Cary had a tendency to be a bit shrieky -- here, she takes a smoother path, following in the footsteps of Mekons frontlady Sally Timms who moved out of her twangcore phase into mistier pop balladeering. Like Timms, Cary appears to be chasing the ghosts of June Tabor and Linda Thompson, and likewise, it suits her well. The songwriting is also an improvement over her country-themed Whiskeytown material; without the WTS baggage, Cary proves capable of crafting fairly smooth, haunting pop material. She even dabbles in Phil Spector-style Brill Building pop. All in all, a nice record, although longtime fans may be a bit mystified. The CD also comes (or came?) with a 4-song mini-CD with much country-er material, including an excellent duet with Ryan Adams. Good record, worth checking out.
Caitlin Cary "I'm Staying Out" (Yep Roc, 2003)



Cary delves even deeper into her Pop muse, chasing the spectres of Linda Thompson and Natalie Merchant, and leaving the country stuff almost entirely behind. Ex-DB Chris Stamey produces and writes some of the material... Not totally my cup of tea, but you can see where she's going on this one. If you liked the general direction of her previous album, While You Weren't Looking, then you're probably gonna love this one!
Caitlin Cary & Thad Cockrell "Begonias" (Yep Roc, 2005)


Neko Case - see artist discography
Laura Cash "Awake But Dreaming" (Cash House Records, 2010)



(Produced by Laura Cash)
The debut album of singer Laura Cash, wife of John Carter Cash, a gal who pays allegiance to old-school country heartsongs and western swing. Backing her are several top-flight studio pickers, including steel legend Lloyd Green, fiddler Bobby Flores, Pig Robbins on piano and Pete Wade on guitar. The songs are classics from the likes of Harlan Howard, Hank Snow, Bob Wills and other hillbilly composers... Cash herself contributes one original tune, a tribute to Appalachian impresario Roy Acuff -- "Song For Roy (Country Music's King)" -- which is one of the album's highlights. Can't say I'm actually that wild about Cash's vocals, but her heart is definitely in the right place, and she knows her hillbilly history -- a very sincere and thoughtful set of traditionalist twang.
June Carter Cash - see artist discography
Rosanne Cash - see artist discography
Linda Cassady "Just Bein' Me" (Cinkay Records, 1977) <! date ???? >





<! CINDY CASHDOLLAR - more? >

Cindy Cashdollar "Slide Show" (Silver Shot, 2004)

The Cates Sisters "The Cates Sisters" (Caprice, 1977)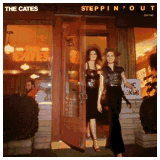 The Cates "Steppin' Out" (Ovation, 1979) (LP)


(Produced by Brien Fisher)
A fairly tepid countrypolitan-meets-disco production, with sisters Marcy and Margie Cates harmonizing over mediocre pop-country arrangements. They seem caught between the future and the past: although there are hints of the synthy, new wave-ish style that groups like the Judds would perfect in the early '80s, these gals fall short of the sound and fall back on the sort of flowery sunshine-country/AOR that Donna Fargo and Anne Murray were singing about five years earlier. I guess these two had been singing together since the early '60s: the Praugefrank discography shows them releasing singles as early as 1963(!), assuming it's the same gals. Anyway, this isn't really a "bad" album, just kinda bland and a little behind the times. But if you're a fan of '70s soft pop and country-pop, this could be worth checking out.
The Cates Sisters "That's What I Like About The South" (Music Masters, 1980)

The Cates Sisters "Moments" (Salute, 1992)

The Cates Sisters "Crazy Dreams" (Red Bus, 2011)


This download-only reissue gathers the less-than-a-handful of singles they recorded for MCA around 1973-74, stuff that's more country, and more fun than their later work, including a little hint of honkytonk and western swing. Still not stellar, but okay for the times.


<! The Cates Sisters "The Cates Sisters" (Caprice, 1977) The Brothers Of Love; Mr. Guitar; Out Of My Mind; I Can't Help It + more unknown tracks – 04-77 The Cates "Stepping Out" (Ovation, 1979) Make Love To Me; Show Me The Way; Don't Say Love; Let The Tenderness Turn You On; Day After Day; I've Been Loving You Too Long; Let's Go Through The Motions; Can I See You Tonight; Why Don't We Lie Down And Talk It Over; Goin' Down Slow – 10-07-79 The Cates Sisters "That's What I Like About The South" (Music Masters, 1980) (tracks unknown) - 80 The Cates Sisters "Moments" (Salute, 1992) 'Neath The Moon And The Morning Star; My Very Best Friend; When I'm Dreamin'; Paris In The Rain; January Night; Home again; Shenandoah Night; Winter's All We Have; November Rain; Sunny Days Of September; In The Arms Of Love; Christmas Long Ago – 92 The Cates Sisters "Crazy Dreams" (Red Bus, 2011) B007N2T41E - MP3 Crazy Dreams; Double Your Pleasure; He Fiddled His Way in to My Heart; Uncle Pen; Whats a Little Dirt; Like Ive Been Holding You in My Heart; A Pretty Country Song; Release Me - 11 >

Connie Cato "Whoever Finds This, I Love You" (Capitol, 1977) (LP)


Only in the '70s could you have gotten away with an album title like this...
---
Hillbilly Fillies - More Letter "C"
---