<! MP3 05/12/10, 12/23/10 > <! update 05/12/10 - need to add other Marie Osmond albums? > <! outside 06/25/10 - BB, but nothing added > <! pix 00/00/00 > <! icons 12/23/10 > <! BB - 06/16/10: Donna Odom Karen O'Donnal (2/ Dave Dudley) Gail O'Doski Cathy O'Shea '78 Marie Owens > <! Old Mother Logo "xxxxxxxxxxxxxxxxx" (Silver Swan, 1980) recorded live at McCabe's Produced by Gee Martin old-timey Nel Rosenblum, Piper Heisig, Monika White - banjo, Dodi Klein, guitar, Gitta Morris - bass >
---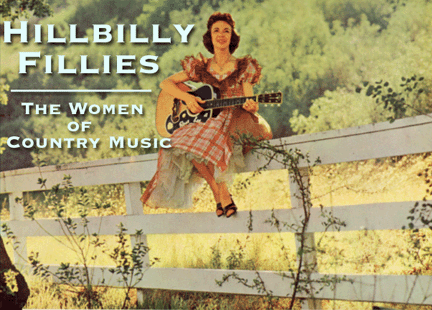 Welcome to my overview of women in country music, with reviews ranging from folk and bluegrass to honkytonk, rockabilly and Nashville pop. This is the first page covering the letter "O."
---
A | B | C | D | E | F | G | H | I | J | K | L | M | N | O | P | Q | R | S | T | U | V | W | X, Y & Z | Comps
---




Mollie O'Brien -- see artist discography


<! Nora O'Connor "Cerulean Blue" (Uncommon Underground, 1996) indie? B000IPQIM6 >

Nora O'Connor " 'Til The Dawn" (Bloodshot, 2004)



This is one of my favorite Americana/indie country albums of the year, kicking off with a quartet of memorable, compelling songs, each one a little gem. The doleful, indie-ish "Revolver" is perhaps the catchiest song on here, with a lovely, simple acoustic riff that stands up there with the best stuff Gillian Welch has ever done. Midway through, the music shifts into more pensive, singer-songwriterish territory, and Neil Young's influence (and perhaps Joni Mitchell's) seeps into the album's end. Chicagoan O'Connor is one of those folks who has played with a bazillion other artists, including Neko Case, Jeff Tweedy, The New Pornographers and a regular gig with Andrew Bird's Bowl Of Fire. Now she's finally come out with an album of her own and it's really, really good. Finally an artist on the Bloodshot label who isn't striking a pose when they put on some twang! I can't wait to hear more.
Aoife O'Donovan "Fossils" (Yep Roc, 2013)



A solo set from a member of the alt-old timey stringband, Crooked Still, going out into poppy, artsy territory, similar to that of Sarah Jarosz and Chris Thile...
Jill Olson "The Gal Who Would Be King" (Eggbert, 1996)


I love this record! This local San Fran gal has been in a lot of great bands, from the Movie Stars to Red Meat, and many other folks, including actress Mare Winningham, have benefited greatly from her friendly assist as a back-up bassist. Still, nothing matches the exuberant playfulness of this bouncily Beatles-ed out solo album. The musical hooks are all killer -- pure melodic pop in a countrified backdrop -- and Olson's squeeky-clean vocals are a delight. Besides, anyone with the cheek to cover America's "Sister Golden Hair" and back it up with the one-two punch of her own fab original material (esp. "Oh My God" and "Conquer The World") deserves all the adoration we can heap on her. Probably won't be on the racks at your local K-Mart, but the label still has a few copies on hand.
Jill Olson "My Best Yesterday" (Innerstate, 2002)



This charming SF Bay Area thriftstore cowgirl is back with an album that shows off her sweettooth for treble-heavy melodic pop. The Beatles, Byrds and Belly echo through this bouncy little disc, which nonetheless has an undefinable hillbilly twist. There's also the bright trademark sound of producer Dave Alvin, who is a welcome addition to any team! This charming indie outing has its odd moments, but with perky, memorable tunes like "When You Gonna Love Me Again?" it my also be the kind of record you can't quite get out of your mind. It took me a while to warm up to this one, but now I'm into it. (Also see: Movie Stars, Red Meat, Yard Sale)
Jamie O'Neal "Shiver" (Mercury, 2000)


Jamie O'Neal "On My Way To You" (Mercury, 2003) (Unreleased)
I guess I'm with George Jones: country just ain't country anymore, and O'Neal is as good an artist to pick on as any to prove the point. Oh, sure, she sort of hits an old-fashioned novelty groove on songs such as "Tryin' To Find Atlantis," and she can hit a Crystal Gayle-ish pop ballad groove (on sappy slow songs like "When Did You Know?") but her records are dominated by glitzy, overblown rock-soul arrangements, and precious little twang. The overly-obvious lyrical gestures towards an audience of presumably harried, perpetually frazzled and looking-for-love working gals are a little tiresome as well: does this sort of stuff really attract a widespread audience? I dunno. I guess as a latter-day practitioner of Judds-style country-pop, O'Neal is alright, but what's with this whole rocker wannabee thing? Can't these folks just play real country music anymore? Either that, or stop looking for airplay on the Country charts? I guess O'Neal's label ultimately agreed, since this album wasn't released commercially, even though the disc briefly went out to radio... Oh, and then they released her from her contract.
Jamie O'Neal "Brave" (Capitol, 2005)



(Produced by Keith Stegall, Rivers Rutherford & Jamie O'Neal)
Well, she took her marbles and moved over to a new label... and took some of her songs with her, too. I don't still have my copy of the On My Way To You album, so I can't really remember if the mixes of "Atlantis" and the other songs are still the same or not, but I guess it doesn't really matter, since this album isn't really my cup of tea, anyway. The songs are generally high-concept pop-soul with countryish affectations -- a fiddle here, and banjo plunk there -- and lots of drums, samples and synth riffs in support of O'Neal's flat, half-recited vocals. She's trying to pull a Sara Evans or a Shelby Lynne, but it really isn't working. I can see how she'd have her fans, and they must be ecstatic that her record did finally come out, but I find it rather dreary and robotic. The would-be working girl anthem, "Girlfriends," is particularly blunt and ineffective. I'll pass.
Jamie O'Neal "Eternal" (Shanachie, 2014)



Mattie O'Neil & Salty Holmes "...With The Amber Sisters And Joe Maphis" (Binge Discs, 2004)
They just don't make hillbilly music like this anymore... Floyd "Salty" Holmes was a founding member of Patsy Montana's old band, the Prairie Ramblers, as well as a pal of Gene Autry and Tex Ritter, appearing onscreen in several of their films. His career started in the early 1930s, though by '42 he set out as a solo act and sort of drifted along the peripheries of the country scene as it changed from its early stringband roots towards the harder honkyton style and then into the poppy goop of the late 'Fifties. In 1946 he married Mattie O'Neil, a Kentucky gal who went by a variety of stage names, including "Jean Chapel" when she recorded rockabilly material for the sun label... O'Neil also came from a stringband background, having worked in a later edition of the famed Coon Creek Girls, and several on-again, off-again family acts with her sisters Martha and Minnie. (Martha and Minnie also sang with Bill Carlisle in the early 'Fifties lineup of his band, the Carlisles...) Anyway, this is real hick stuff, with plenty of rowdiness and gumption, which makes it enjoyable even if the gals involved didn't have the greatest voices. There's sentimental stuff, heartsongs and blues, as well as some choice novelty material like a goofball Salty Holmes tune, "I Found My Mama," in which Mattie O'Neil "duets" with Holmes on harmonica, imitating a little kid reading "Mary Had A Little Lamb," and O'Neil prompts his "recitation." This isn't the greatest country msuic ever, but it is a nice slice of old-school hillbilly entertaining, and fills in a few gaps in various people's careers. Worth checking out, though it may be only for hardcore hillbilly fans.
Original Harmony Ridge Creekdippers - see Victoria Williams
Lindi Ortega "Drifter EP" (Cherrytree/Interscope, 2009)



A four-song EP; three of the songs (excluding the title track, "Drifter") also appear on her full-length album, below.

Lindi Ortega "Little Red Boots" (Last Gang, 2011)



(Produced by Ron Lopata)
An excellent set from a modern Canadian cowgirl who bears an amazing stylistic and vocal similarity to the young Dolly Parton. Some songs, like "Angels" and "Dying of Another Broken Heart" sounds like straight-up outtakes from Dolly's early '70s "Tennessee Mountain Home" era, albeit with an overlay of spooky, Chris Isaak-y reverb-y post-rockabilly electric guitar. There are hints of rock roots here, but overall this is a deliciously twangy set from a refreshingly original voice. Strong songwriting throughout, backed with rich, powerful musicianship and a very clear artistic vision. Highly recommended!
Lindi Ortega "Tennessee Christmas" (Last Gang, 2011)

A 4-song holiday EP from this alt.country up-and-comer... The standout track is an original weeper called "Christmas Carol," which has a Lucy Kaplanski-ish folkie feel.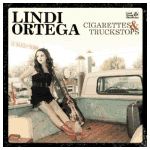 Lindi Ortega "Cigarettes & Truckstops" (Last Gang Records, 2012)



(Produced by Colin Linden)
Canada's Lindi Ortega has retrenched a little from the true country of her last album, exploring more rock-y, bluesy themes with the help of producer Colin Linden... Oh, there's still plenty of twang there, but the lyrics are more arty and ambitious and the music more eclectic and involved -- the rootsy Dolly Parton vibe giving way to something closer to alt-country's Paula Frazer or Maria McKee. Indeed, on the closing track, "Every Mile Of The Ride," I was unexpectedly reminded of Camera Obscura's artsy, plaintive indierock portraiture... This gets into the Americana-music-as-modern-poetry thing, and since I'm more of a verse-chorus-verse, singalong, simple themes kind of guy, it doesn't sing to me in quite the same way as a bunch of dumb, funny drinking songs might. But folks with more sophisticated, youthful tastes should find this quite exciting: Ms. Ortega is one of the strongest, most vibrant voices on the (North) Americana scene today. Certainly worth a spin!

Joan Osborne "Pretty Little Stranger" (Vanguard, 2006)



Honorable mention goes to erstwhile pop star Joan Osborne, who returns to her rootsy roots a little bit, on this country-folk tinged outing. Folks such as Rodney Crowell, Vince Gill, Alison Krauss and Dan Tyminski drop in to sing some harmony or pick a few licks, and while this doesn't sound like her Bonnie Raitt-ish old stuff, the Americana edge is there in the mix... Maybe a bit more like Rosanne Cash or Beth Nielsen Chapman, perhaps? Overall, this is a little too slickly produced and pop-oriented for me, but fans and adult-alternative listeners will probably dig it.
K. T. Oslin - see artist discography

Donny & Marie Osmond "The Millennium Collection" (Universal, 2001)



Fans complain, perhaps with reason, that this half-this, half-that collection shortchanges Marie's country career, and also doesn't have enough of their (rather dreadful) pop duets on it. I can't say I'm wild about any of their stuff (I still have sweat-drenched, teeth-clenching nightmares of seeing their TV show back in the '70s...) Still, this disc is noteworthy for including the original version of Marie Osmond's huge 1973 Nashville hit, "Paper Roses," which is, arguably, the best thing she's ever done. Heck, even I like it -- in an I'll-never-admit-it, guilty pleasure kind of way.

Marie Osmond "The Best Of Marie Osmond" (Curb, 1990)



Ten tracks, collecting her '80s hits and not-so-much-hits for the Curb label. As usual, I find myself surprised at how cheesy and lackluster the old Curb production style can be, although overall this seems to be less slapdash than, say, their work for the various Judds albums. Anyway, Marie's OK; basically soft pop, but she fit in with the synthy "country" of the times, and made it into the Top Ten several times. Silly stuff, when seen from a real country perspective... especially tracks like "Think With Your Heart," which steals its hook directly from some old Sheena Easton song or another. But hey, what are ya gonna do? Includes a so-so remake of her old 1973 hit, "Paper Roses," in which Marie sounds a bit like Patti Page... but the original was better.
Marie Osmond "Paper Roses" (MGM, 1973)

Marie Osmond "In My Little Corner Of The World" (MGM, 1974)

Marie Osmond "Who's Sorry Now" (MGM, 1975) <! twofer (7T's, 2009) >

Marie Osmond "This Is The Way That I Feel" (Polydor, 1977) <! twofer (7T's, 2009) >

Marie Osmond "There's No Stopping Your Heart" (Curb, 1985)

Marie Osmond "I Only Wanted You" (Curb, 1986)

Marie Osmond "All In Love" (Curb, 1988)

Marie Osmond "Steppin' Stone" (Curb, 1989)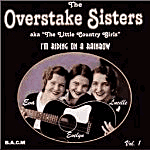 The Overstake Sisters "Volume One: I'm Riding On A Rainbow" (BACM, 2005)


One of the first major female country acts, the Overstake Sisters (who were also known as "The Little Country Girls") featured two future solo stars, cowgirl Judy Martin (nee Eva Overstake, whose marriage to Red Foley ended in Martin's tragic suicide) and Jenny Lou Carson (nee Virginia Lucille Overstake) who later became one of the most successful songwriters of the WWII era hillbilly scene. In the 1930s, along with their third sister, Evelyn, they sang cowgirl songs galore, in the fashion of the Girls Of The Golden West, though with a little less pep... Lots of great sentimental material, with simple, accordion-led arrangements. In general, their style seems pretty lethargic, although this could depend a lot on what kind of instrumental backup they got -- some of the tracks here are more uptempo, or feature a bigger, livelier band, and on these songs, the gals shine. Otherwise, with fairly morose backing, they can sound a bit monotonous. (It's interesting to compare these early recordings to the later solo work of Jenny Lou Carson and Judy Martin -- Martin's vocals are crisp, while Carson's are matronly, and Carson hews closely to the slow-tempoed style heard here. She was doubtless the band's guiding force; in addition to the tempo, you can also hear her trademark three-note decrescendo intros on a few of these tunes, a signature sound that quickly wears thin.) This disc is drawn from a long series of transcription recordings for the M.M. Cole company -- no recording dates are given, but it must be somewhere in the 1930s -- the performances are strong, if monochromatic. An important link in the history of women in country music, and the early origins of two significant solo artists.


<! CD D 098 >

The Overstake Sisters "Volume 2: End Of The Trail" (BACM, 2005)


More radio recordings made for the Cole transcription company, originally released under the stage name of "The Little Country Girls." Oh, by the way, I almost forgot that Judy Martin was also the grandmother of Debby Boone -- her daughter married Pat Boone in the 1950s. Talk about a small world! (Available through the British Archive of Country Music website.)


<! CD D 099 >


Bonnie Owens - see artist discography


<! Marie Owens >

---
Hillbilly Fillies - Letter "P"
---