<! MP3 00/00/00 > <! update 00/00/00 > <! outside 07/07/10 - BB/1 > <! pix 00/00/00 > <! icons 12/24/10 > <! RAA- REZ > <! BB: 06/16/10 > <! Johnny Ray "On The Trail" (Columbia) > <! Reel World String Band - info below > <! LuLu Roman - from Hee Haw, went into gospel music, recorded 20 albums Pearle Rae "Welcome To The World" (Raemax, xxxxx) R-1002 - country??? - "music arranged and conducted by Max Di Julio" >
---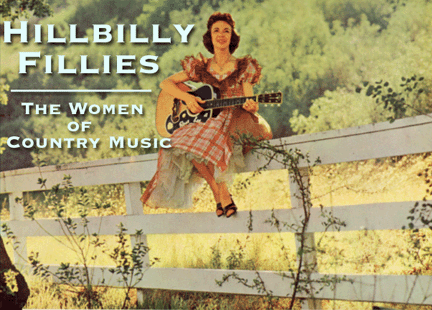 Welcome to my overview of women in country music, with reviews ranging from folk and bluegrass to honkytonk, rockabilly and Nashville pop. This is the first page covering the letter "R."
---
A | B | C | D | E | F | G | H | I | J | K | L | M | N | O | P | Q | R-1 / 2 / 3 | S | T | U | V | W | X, Y & Z | Comps
---
Arum Rae (Valkonen) "Arum Rae" (Hyperreallist, 2008)


(Produced by Michael Bongiorno)
Gritty electric blues, seen through an indie-rock/folk filter. Originally released in '06 under the title Too Young To Sing The Blues, this disc features songwriter Arum Rae Valkonen, backed by a solid band of guys that've played with pros such as Ani Difranco, Paul Simon and Tom Waits. The songs range widely, from a robust opening number, "Lookin' For Love," which echoes Lucinda Williams in her more Delta-y moments to more diffuse, spacy material that pulls us further from roots-music turf and more deeply into the orbit of indiedom and its cultural reappropriation committee. It's a strong record with a singular vision; might not be for everyone, but those who are game will really dig it. (Note: this reissue has a different sequencing and fewer songs than the original edition.)
Download picks:

Lookin' For Love
Tina Rainford "Silver Bird" (Epic, 1977) (LP)


(Produced by Sonny Limbo, Marty Buckins & Drafi Deutscher)
Only marginally country (or marginally successful...) German songwriter Tina Rainford scored a Top 30 hit with the title track, and then dropped out of sight, at least as a recording artist. Several of her songs were recorded by other artists in the 1970s, but her solo career never really took off. You can kind of see why -- this album sounds more like Olivia Newton-John than Tammy Wynette or Loretta Lynn, and the production is vaguely disco-y and 'Seventies-style scary. Then again, once you realize she wasn't a native English speaker, her American accent is pretty impressive. You can skip this album, though.


<! 12/10: not great GIF quality >

Missy Raines & Jim Hurst "Two" (Pinecastle, 2000)


Missy Raines "My Place In The Sun" (Mr. Records, 2008) <! 1998? >


Missy Raines & The New Hip "Inside Out" (Compass, 2009)



(Produced by Missy Raines & Ben Surratt)
Not surprisingly, bluegrass bassist Missy Raines tilts towards the funky and melodic as a bandleader: there's probably no way to avoid it, since every bassist in America just has to learn the "Barney Miller" theme song when they start out, and that's a hard template to shake. This disc alternates between vocal numbers (which are very sweet; Raines has a lovely, inviting voice) and muzak-y instrumental numbers... The too-cute fusion instrumentals don't do much for me (I'd rather hear a few straight-ahead bluegrass breakdowns...) but fans of Bela Fleck, et. al. will dig it. The tracks where she sings are great, though, and fit in nicely with a wide variety of folk/Americana styles. Worth checking out.
Bonnie Raitt - see artist discography
Ranch Romance "Western Dream" (Ranch Hand Records, 1989)


(Produced by Ranch Romance & Michael Lord)
A fun, swinging set from this lively all-gal band. Fiddler Barbara Lamb and singer Jo Miller are the best known members of this short-lived Seattle quartet; Lamb went on to do studio work in Nashville and has released a few progressive bluegrass albums as a solo artist, while Jo Miller has been solo ever since Ranch Romance broke up in the 1990s. Here on their debut, they were a force to be reckoned with, updating Patsy Montana's cowgirl swing, with a mix of bouncy hillbilly bop, western swing and some sweet sentimental tunes, all filtered through a distinctly un-grungey rock sensibility... The choice of material is faultless, with a couple of swinged-up Hank Williams covers, some old-fashioned cowboy tunes, a pair of W.C. Handy blues standards and a pair of sublime ballads -- Otis Watkins' "Cowboys & Indians" and the achingly beautiful "Ain't No Ash Will Burn," which Miller later recorded along with Laura Love. This is a fine record, a self-released gem well worth searching for!
Ranch Romance "Blue Blazes" (Sugar Hill, 1993)


Ranch Romance "Flip City" (Sugar Hill, 1993)



The band's mix of twang and swing takes a tilt towards the hyperactive... There's a definite nod towards Dan Hicks, and his mix of retro styles, but unfortunately, the mood is way too manic on this album -- there's never a moment's pause for listeners to catch their breath, or a quiet moment for any of the songs to sink in beyond the surface level. Guess they were trying to establish their bona fides as a funky-twang party band, but I wish they'd reined it in a little. Also, I can't say I'm wild about Jo Miller's vocals, either... But hey -- is that a boy in the band?? Why, yes, it is! David Keenan pitches in on a slick (but again, overly forceful) guitar... He even sings lead on one song! Producer Tim O'Brien also sits in on a couple of tunes; and Barbara Lamb's fiddle work is a highlight... Overall, though, not much that resonates with me.




Lynda Rask "Lynda Rask" (Stop Records, 1972) (LP)



<! - #STLP 1029 - no ASIN 04/01/15 >

Rattlesnake Annie (Anne McGowan) "Rattlesnakes And Rusty Water" (Rattlesnake, 1980)


(Produced by Annie McGowan)
A self-produced album by Texas-based songwriter Anne McGowan (aka Rattlesnake Annie), This is a pretty stripped-down and unpretentious, bluesy set, as much influenced by Jimmie Rogers and the '60s folkies as by more modern country types. Not mindblowing, but kind of an interesting footnote to the whole "outlaw" scene... Sorta similar to Townes Van Zandt, I suppose. After recording this disc, McGowan set up shop as a "true country" heroine for the adoring twangfans in Europe; it could be argued that country listeners back here in the States were a little more discerning.


<! 144 x 144 > <! - pals with Willie Nelson?? >

Rattlesnake Annie "Country Livin' " (1986)





Rattlesnake Annie "Rattlesnake Annie" (CBS, 1987) (LP)


(Produced by Buddy Blackmon & Rattlesnake Annie)
An all-star cast backs McGowan on this sleek major-label offering... Recorded both at Willie Nelson's maverick Pedernales Recording Studio and at several Nashville locales, this disc reprises a couple of the tracks on her independently released Country Livin' album, with Willie himself dueting on "Long Black Limosine" and folks like Vassar Clements, Jerry Douglas, Johnny Gimble, Lonnie Mach and Charlie McCoy pitching in to buoy Annie's vocals. It's an iffy triumph of DIY indie-osity: the material is good, but her limitations as a vocalist are inescapable. Worth checking out, I suppose, though it didn't wow me.
Rattlesnake Annie "Indian Dream" (Sony-Japan/Rattlesnake, 1993)

Susan Raye - see artist discography

Red Meat "Meet Red Meat" (Ranchero, 1997)



Well, I guess this is probably the one record most likely to cement my reputation as a too-serious country music curmudgeon. Red Meat were Oakland, California's premiere honkytonk novelty band, and though a lot of folks love these guys, I found this first album to be a bit of a disappointment, particularly since I'm such a big fan of one of the main Meat grinders, bassist and harmony singer Jill Olson. Mostly, I just don't like the endless novelty-songiness of it all, in particular the low-key redneck/trailer trash stereotypes, which aren't as vulgar here as most rock-oriented twangcore albums, but they still drag the material down. Great picking and playing, but the songs don't have enough of an emotional core to reach me as a listener.

Red Meat "13" (Ranchero, 1998)



Again, the band's musical skill is readily apparent, but both the playing and the songwriting seem too broadly drawn, and too into kitschy novelty-isms (chicken pickin' rhythms galore, twangy songs about S&M, job layoffs and going on the wagon...) Produced by Dave Alvin, the record sounds clean as a whistle, and the instruments are all given room to breathe. It's not bad, by any means, but thematically speaking, it does seem to under-utilize depth that the band actually has at its disposal.

Red Meat "Alameda County Line" (Ranchero, 2001)



On another outing with Dave Alvin, the Meaties decide to emphasize their musical chops a bit more, with plenty of solidly delivered, fat-toned Buck Owens riffs -- less twang, more rhythm, producing what I think is their strongest album to date. This album emphasizes the band's considerable musical chops, with plenty of solidly delivered, fat-toned Buck Owens riffs -- less twang, more rhythm. Also, the lyrical attack is less overtly novelty oriented than on previous albums, which tended to bog down in exaggerated humor and WTS gags. There are still several funny songs, like Scott Young's genuinely hilarious car repair ballad, "Under The Wrench", but here the goal is more one of humorous wordplay, rather than rigorously enforced dopiness. There are also some timely tunes, such as Jill Olson's "Midwest Blues", and the title track, "Alameda County Line", which both reflect a growing local sense of disillusionment with a Bay Area that's shifted from a haven of alternative culture into a traffic-jammed, wildly overpriced consumerist war zone. The album also features a couple of nice live tracks, tucked away at the end of the CD, that highlight the band's charming live presence. Plus, what a treat to hear Jill Olson singing lead once again! Recommended! (Check out the band's website for more info.)
Red Meat "We Never Close" (Ranchero, 2007)


Redmon & Vale "Redmon & Vale" (Dreamworks, 1999)



A duo featuring Allison Redmon and Tina Vale...

Red, White & Blue(Grass) "Red White & Blue(Grass)" (GRC, 1973)


Ginger and Grant Boatwright originally hailed from Birmingham, Alabama, but when they moved up North to join the folk scene in Chicago, they morphed into RW&BG, one of the most experimental and commercially successful of the progressive 'grass bands in the early '70s. Their first album featured stellar picking by banjoist Dale Whitcomb and multi-instrumental whiz kid Norman Blake, who contributed plenty of hot licks and some sweet original songs as well, including his own "Ginseng Sullivan" (later recorded, in a much more satisfying version, by guitarist Tony Rice). Along with a few dazzling instrumentals, the album's musical highlight is a perky rendition of John Stewart's classic, "July, You're A Woman." More controversial were the band's stabs at a grass-classical fusion, heard in the oceanic orchestral prelude to the otherwise rootsy "Linda Ann," which features some fine vocals by Blake (despite an overall goopiness which makes the song seem a bit sluggish...) The CD reissue (also called Guaranteed) includes several bonus tracks which are listed as "previously unreleased," although I'm pretty sure I remember some of them, such as their lavish rendition of Stephen Stills' "Love The One You're With" coming from the band's second album, which I also owned as a kid... This album has its odd moments, but is definitely an honest document of its time, and has a lot of real charm to it. (See also: Ginger Boatright.)

Red, White & Blue(Grass) "Pickin' Up" (GRC, 1973)





<! RWBG - other albums? Berline connection? > <! Reel World String Band Reel World String Band "Reel World String Band" (Vetco, 1981) (LP) B00BIPKCAY Reel World String Band "Long Way To Harlan" (Vetco, 1982) Reel World String Band "In Good Time" (xxxxxxxx, 1984) Reel World String Band "Mountain Song: Reflections" (xxxxxxxxx, 2007) B000N69U3E Reel World String Band "Whatnots" (xxxxxxxxx, 2007) B000N69U3O Reel World String Band "The Coast Is Clear" (xxxxxxxxx, xxxxxxxx) Reel World String Band "Live Music" (xxxxxxxxx, 2005) B000FTAJX4 B0016LR5T6 Reel World String Band "Appalachian Wind" (Flying Fish, 1989?) B000000MOS B001282PN4 Reel World String Band "The Coast Is Clear" (xxxxxxxxx, 2001) B001ANW9Y6 >
Julie Reeves "It's About Time" (Virgin-Nashville, 1999)



(Produced by Scott Hendricks & Trey Bruce)
Looking at the flashy album art, I thought, "oh jeez -- it's another Shania Twain wannabee..." but was pleasantly surprised to hear the disc's opening salvo of upbeat, semi-rowdy, rompy-stompy tunes like "Trouble Is A Woman" and "Party Down," songs that stand out like chunks of Kentucky coal amid the increasingly glossy pop fare that was passing for "country" in Nashville at the time. She's got a Tanya Tucker/Trick Pony rocker-gal thing going on, and for the most part it works pretty well. I mean, this isn't my kinda music -- I wouldn't put it on for fun at home -- but I'd still rather hear twangy stuff like this on the radio than pretty much anything Martina McBride or Garth Brooks has to offer. Midway through, Reeves changes focus and slows down to croon a few ballads, and again, while it's not completely perfect honkytonk heaven, it's still way better than average. Pity Reeves hasn't made an album since this one: she was clearly one of the most promising new artists of her day. (And, no, as far as I can tell, she was not related to Jim Reeves...)
Ronna Reeves "Only The Heart" (Mercury, 1991)

Ronna Reeves "The More I Learn" (Mercury, 1992)

Ronna Reeves "What Comes Naturally" (Mercury, 1994)

Ronna Reeves "After The Dance" (River North, 1995)

Ronna Reeves "Day 14" (River North, 1998)

Regina Regina "Regina Regina" (Warner, 1997)


Rita Remington "Songs Of Lorettta Lynn" (Pickwick, 1974) (LP)


(Produced by Shelby Singleton)



<! - also: B0030L0RIQ >

Rita Remington "Country Girl Gold" (Plantation, 1977) (LP) <! date? >

Rita Remington "My Melody Of Love" (Plantation, 1977) (LP)





<! - with The Smokey Valley Symphony >

Rita Remington "Magical Musical Memories" (Plantation, 1978) (LP)

Rita Remington "The Country Collection" (Sun, 2012)

---
Hillbilly Fillies - More Letter "R"
---