<! MA - > <! MP3 05/09/10 > <! outside 07/01/10 - BB > <! pix 00/00/00 > <! icons 12/23/10 > <! UPDATES: 07/01/10 - still no Olivia Newton-John, though. Just can't do it! 10/02/10 - new Kathy Mattea page, added Mila Mason > <! Miss Willie Brown A&M/Octone Records, 2011 > <! Cara Luft, Ruth Moody, Heather Masse (of Wailin' Jennys) also have solo albums > <! Ginny Mitchell - Santa Cruz bluegrasser, later kind of an adult-pop country singer > <! MIchelle Malone "Day 2" (SBS Records, 2013) (Produced by Shawn Mullins & Gerry Hansen) backup singer Laverna Moore (1938-2013): http://obits.dignitymemorial.com/dignity-memorial/obituary.aspx?n=Laverna-Moore&lc=2267&pid=163916500&mid=5477693 "...MOORE, Laverna Rose Escue, age 75, passed away Thursday, March 28, 2013. She was born Wednesday, February 9, 1938 in Nashville, Tennessee to the late Forrest Ross and Evelyn Vantrease Escue. Laverna retired from the music industry; her career included being backup singer with Porter Waggoner, Johnny Cash, Conway Twitty, Dolly Parton just to name a few. She also sang with the Jordanaires and the Carol Lee Singers on the Grand Ole Opry. She is survived by her daughter, Staci (Thomas) Everroad; her son, Jeremiah (Laura Bracey) Moore; her sisters, Sherry (Douglas) Roberts; Rosalyn (James) Green; her brother, Forrest Ross (Cheryl Kiser) Escue, Jr.; her granchildren, Hailey, Ian, Riley, Olivia, Dylan, Willow, Avani." - in the Carol Lee Singers, Sound 70 Singers and Jordainaires - any relation to bassist Bob Moore, of the Nashville "A-team"? www.nashvillesound.net rnmguard2000-nashvillesound@yahoo.com Pamela Miller "Throw A Little Love My Way" (Tower, xxxx) Susie Monick "Melting Pots" (Adelphi, xxxxx) - instrumental - acoustic fusion? KAREN MACKAY "Annie Oakley Rides Again" (xxxxxxx, 1985) (LP) -Private Label Folk - w/ Mike Auldridge >
---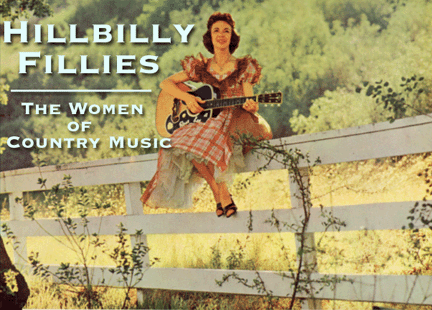 Welcome to my overview of women in country music, with reviews ranging from folk and bluegrass to honkytonk, rockabilly and Nashville pop. This is the first page covering the letter "M."
---
A | B | C | D | E | F | G | H | I | J | K | L | M / M-2 / M-3 / M-4 | N | O | P | Q | R | S | T | U | V | W | X, Y & Z | Comps
---
Kate MacKenzie "Let Them Talk" (Red House, 1994)


Kate MacKenzie "Age Of Innocence" (Red House, 1996)






<! Kate MacKenzie was a favorite guest on Garrison Keillor's "A Prairie Home Companion" radio show from 1981-1999. As lead singer with her bluegrass band, Stoney Lonesome, she recorded six albums, and toured Japan, Europe and North America. As a member of The Hopeful Gospel Quartet, she recorded two live albums, including one from Carnegie Hall with Chet Atkins. >

Natalie MacMaster "Blueprint" (Rounder, 2003)



A sweeping, masterful fiddle album, ranging from tightly interlocked reels to slower, more moody aires. Bela Fleck, Jerry Douglas and others from the Rounder stable of "usual suspect" superpickers chime in on various tracks. A nice, solid set, mixing Celtic-derived Canadian with a variety of styles and moods.

Natalie MacMaster "Yours Truly" (Rounder, 2006)



Canadian fiddle whiz Natalie MacMaster is as technically dazzling as ever, although the popped-up arrangements that define this album aren't really my cup of tea... A nice mix of Celtic-based and bluegrassy/newgrassy styles, mixed with a heavy backbeat and some super-slick chord progressions... Most of the songs are McMaster originals, although she still finds time to saw through a medley of raw-sounding Strathspey reels and other traditional material that reflects her Cape Breton roots... McMaster's fans will dig this one.
Rose Maddox - see artist discography
Eleni Mandell "Country For True Lovers" (Zedtone, 2003)






<! other albums - not twangy? >


Barbara Mandrell - see artist discography



Irlene Mandrell "Texersize" (Panda Productions, 1983) (LP)


(Produced by Andy Murphy)
Geez, really? A Lone Star line-dancing aerobics album? Well, sure, why not? What the heck. And, yes, Irlene Mandrell is actually the younger sister of Barbara and Louise, and joined them in the Mandrell Sisters road show... As far as I know, this was Irlene's lone solo album, and she appears appropriately svelte on the front cover, while the gatefold obligingly wraps around to display her pert heinie and well-toned gams on the back, as well as a pair of rad-looking red cowgal boots, complete with high heels and decoratve spurs. (Lesson Three on Side Two tells you how to work out while wearing them...) Ah, the Eighties. And though you may laugh, this album is packed with top Texas talent, including steel player Jimmy Day, fiddler Danny Levin, Asleep At The Wheel's Ray Benson (doing some square dance calls!) and even indie twangster Kimmie Rhodes, singing in the chorus. So bust out your chaps, and feel the burn! Yee-haw!!


<! - was arranger Carl Dean related to bandleader Al Dean? >


Louise Mandrell - see artist discography





Lorene Mann - see artist discography





Rose Lee Maphis - see artist discography




Carolyn Mark "Party Girl" (Mint, 2000)



Carolyn Mark & The Room-Mates "Terrible Hostess" (Mint, 2003)



Meditations on social drinking, late night parties, dirty dishes, bad sex and the more intoxicating side of the night life. Downbeat, kinda depressing, material, but with a wicked sense of humor and a more accomplished feel than other Mark outings. It seems like these are subjects nearer to her heart than the trailer trash-isms of her alt.country work... She also veers into jazzish torch singing and a bit of melodic indiepop. The stylistic variety helps, as does the moodiness of the bummerific songwriting. Probably her strongest work to date.
Carolyn Mark & The New Best Friends "The Pros And Cons Of Collaboration" (Mint, 2004)


Carolyn Mark & The Room-Mates "Just Married: An Album Of Duets" (Mint, 2005)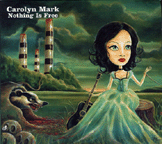 Carolyn Mark "Nothing Is Free" (Mint, 2007)



Although I'm not a huge fan of Carolyn Mark as a vocalist, I certainly accept her as a paragon of the DIY ethos in its more mature phase: she writes the songs she wants to write, she makes the records she wants to make, she gets very talented people to play with her, and in pursuing some odd song topics, she doesn't write the same-old, same-old kind of songs. Purists can debate her bona fides as a "real" country singer, but she certainly has a pleasant little rasp, and knows her way around the twangier tones -- I suppose it's easier to think of her as an urban alt-folkie, mining a certain vein of acidly-observed interpersonal barbs and party-going vignettes that bring Joni Mitchell to mind, in a way. There are several noteworthy tracks on here, notably the tart, double-edged "Point O View" and the galloping, bluegrassy "Get Along," as well as the scathing, sinister "Pink Moon And All The Ladies," which may or may not be some sort of commentary on the late Nick Drake and his legions of fans, but is certainly one of the stronger tracks on the album... Mark's lyrics can be a bit uneven, though -- the song "The 1 That Got Away With It," for example, opens with a couplet, "There's two kinds of women you let in your life/exciting new mistress and boring old wife..." that holds a bitterness worthy of Linda Thompson's newer stuff, and a poetic economy that almost makes it sound like a grand, old honkytonk classic. She doesn't sustain it, though, and the song meanders into spacy, self-referential metaphors that detract from the promise of a song that could have really gone for the jugular. Most of her songs hew close to the insular self-expression of the Pacific Northwest's lo-fi scene -- if you value small-press poets and local legend musicians just for who they are, Mark is an undeniable hero, but if the glimmers of brilliant songwriting may make you wish for a more focussed, more craftsmanlike approach. Mark remains an intriguing, challenging artist, true to her indie roots, even if this means she sometimes shies away from the symmetry and concision that make pop songs so memorable.
Linda Martell "Color Me Country" (Plantation, 1970)



Oh, the ironies. That one of the first female African-American country stars should have such a humiliatingly obvious album title... And that it came out on the Plantation label, no less. Anyway, with a background singing gospel and soul with her family band, Linda Martell is said to be the first African-American woman to play the Opry... She made a few appearances on Hee Haw in the early '70s, as well... Many years before her country career, she recorded an R&B single with a group called the Anglos... and this album is her legacy as a country gal.


<! Linda Martell "Color Me Country" (Plantation/Real Gone Music, 1970/2014) B000P6LONQ - LP >
Bobbi Martin "For The Love Of Him - Anthology" (Crash, 2007)


A nightclub singer who "went country" in the late 1960s, Bobbi Martin probably really belongs more in the "pop" camp, but she definitely did a lot of country stuff and had real success on the Nashville charts. This album (of dubious provenance) appears to be one of very few collections of her stuff on CD... Also, it tilts more towards her country material, so for twangfans, this would be the one to shoot for...


<! Bobbi Martin "Don't Forget I Still Love You" (Coral, 1964) (LP) Bobbi Martin "I Love You So" (Coral, 1965) (LP) Bobbi Martin "With Love" (United Artists, 1970) (LP) Bobbi Martin "Tomorrow" (Buddah, 1971) (LP) >

Bobbi Martin "Harper Valley PTA" (United Artists, 1968) (LP)

Bobbi Martin "For The Love Of Him" (United Artists, 1969) (LP)

Janis Martin "The Female Elvis - Complete Recordings: 1956-60" (Bear Family, 1987)


Being nicknamed "the female Elvis" sure would be a hard reputation to shake. Still, worse things could happen. And make no mistake, Martin was a hella ripsnorting gal, and if anything she may have outdone The King in the rocker department. This excellent retrospective of her old RCA material goes a long way to explain Martin's enduring legend in the rockabilly scene -- though it gets a little repetitious after a while, on the whole this is well worth checking out. (By the way, Martin came out of retirement a few years back, and cut a few duets with Rosie Flores, which got released on the Hightone label... also worth tracking down...)
Janis Martin "My Boy Elvis" (Jasmine, 2014)


The late Janis Martin was one of early rock'n'roll's most sizzling singers, male or female, and left a great legacy in the two-dozen-plus tracks she cut for RCA in the late 1950s and early '60s. This fab, generously-programmed collection reprises the same material as Bear Family's The Female Elvis best-of, although Jasmine one-ups the Bear Family folks with the inclusion of several live tracks taken from a radio appearance, with versions of three songs, "Crackerjack," "Love Me To Pieces" and "Two Long Years," which are also heard in the studio versions. A must-have for rockabilly fans, particularly if you didn't already own the original Bear Family disc.
Janis Martin "The Blanco Sessions" (Cow Island Music, 2012)



(Produced by Rosie Flores & Bobby Trimble)
Let's hear it for social media: A Kickstarter campaign brought this album to fruition, a sizzling set of bluesy rockabilly from 'Fifties firebrand Janis Martin, one of the wildest rockabilly singers of the original rock'n'roll era, who passed away in 2007, just months after completing these sessions. She was an old lady then, but also a total badass who threw herself into the songs, and infused them with vigor and soul. Backing her were several stalwarts of the Americana-indie scene, including guitarist Dave Biller (ripping it up on classic 'billy riffs), pianist T. Jarrod Bonta, and drummer/producer Bobby Trimble, who drove the band hard. Martin sounds great -- she's got a gruff granny voice, but the kind of granny voice you'd expect from a truck driver or the world's sweetest linebacker, with plenty of expressiveness and power. Joining her on a tune or two are hillbilly fillies Rosie Flores and Kelly Willis, who compliment Martin while never stealing focus from her powerful performances. If you loved Janis Martin's old stuff, you'll want to pick this up too: you'll really dig it.
Judy Martin "Straight Shootin' Cowgirl" (BACM, 2004)


Solo recordings from 1940s cowgirl Eva Overstake, who recorded under the stage name Judy Martin. Martin was a sprightly singer who had once been part of a family trio called "The Little Country Girls," along with her two sisters, one of whom grew up to be the famous songwriter, Jenny Lou Carson. Martin's story is tragic: as her own career took off, she met and married country star Red Foley, a marriage that ended horribly when Martin committed suicide after learning that he was having an affair. It's a pity, really, since she was such an appealing singer and could have gone on to make more great music, had the fates allowed.
Judy Martin "...And The Mountain Rangers" (BACM, 2005)


More transcription disc recordings from the M.M. Cole company... Martin didn't record much in the studio, so these radio shows were her prime legacy. Includes some recordings with Red Foley, and more of her sweet, soulful singing.
Judy Martin "...Presents Red Foley And The Mountain Rangers" (Binge Disc/Cattle Records)





<! not sure about this entry - info from Amazon >
Mila Mason "That's Enough Of That" (Atlantic, 1996)


Kentuckian Mila Mason is an adequate singer, backed by fairly run-of-the-mill country-pop arrangements, roughly in the Martina McBride/Shania Twain neck of the woods. Didn't really rock my world, but there are some glimmers of ruggedness and vigor in her presentation, though mostly it's pretty glossy and generic. Nothing special, really. The title track was a Top 20 hit, as well as a career highwater mark.
Mila Mason "The Strong One" (Atlantic, 1998)


Mila Mason "Stained Glass Window" (Twinbeat, 2003)


Molly Mason & Jay Ungar "Brother's Keeper" (Soundtrack) (Angel, 1993)


Re-released under the title, Waltzing With You.
Molly Mason & Jay Ungar "The Lover's Waltz" (Angel, 1997)


Molly Mason & Jay Ungar "Civil War Classics: Live At Gettysburg College" (1994)


Molly Mason & Jay Ungar "Harvest Home: Songs For All Seasons" (Angel, 1999)


Molly Mason, Jay Ungar & James Galway "Song Of Home: An American Musical Journey" (RCA, 2002)


Molly Mason & Jay Ungar "Waltzing With You" (Soundtrack) (Angel, 1998)



Music from the film, Brother's Keeper. Previously released under the title of the movie.
Molly Mason & Jay Ungar "Relax Your Mind" (Angel, 2003)



A perfect mix of all that is great and good about American acoustic music. The album title is a nostalgic nod towards the old Jim Kweskin/Leadbelly anthem, and like the early '60s jug bands, this disc is a model of versatility and stylistic depth, mixing bluegrass, blues, folk and acoustic jazz with equal ease. On my first listen I thought I'd heard the influence of guitarist David Bromberg: turns out it wasn't just his influence: Bromberg plays on several tracks, and the album is drenched with his good-natured, boozy bonhomie. There are soft, melodic fiddle tunes and waltzes, a bit of Bob Wills swing, goofy folk-club novelty songs like Mason's "Bad Attitude" and Guy Clark's "Homegrown Tomatoes," and touches of sheer genius such as the New Orleans jazz woven into the old Delmore Brothers hit, "Blues Stay Away From Me." The band, Swingology, is playing at the top of its game, yet has that aw-shucks, front porch informality that the bluegrass/old-timey crowd so wisely values. This is a really sweet record, well worth picking up.


<! a whole BUNCH more on Amazon >

Sandy Mason "Out There And In Here" (Good Music, 2008)



Perhaps best known as a songwriter (and a very successful one at that!) Sandy Mason Theoret had a rather, um, modest voice, although she did record about a dozen singles during the 1960s and early '70s, her songwriting will be her greater legacy. Later in life, Mason shifted her focus towards more of a jazz/introspective sound, and these later recordings are definitely an acquired taste... I wouldn't exactly recommend them, but they are unusual, particularly this album, which has a gentle but weird folkie-Christian vibe. As far as I know, her earlier country singles have not been collected anywhere...

Louise Massey And Her Westerners "Swing West" (Binge Disc/Bronco Buster)
Corny cowboy tunes, polkas, and a smattering of western swing from this Depression-era family outfit. This disc has a strong Tin Pan Alley pop feel to it -- western music similar to Bing Crosby's version of "Don't Fence Me In", etc. Louise Massey is certainly one of the forgotten female country music pioneers, though if the truth be told, her vocals are a bit schmaltzy -- her brother Curt is more of a good time than she is. Each sibling solos on a handful of tunes, and there are several instrumental tunes on here as well.
Louise Massey And Her Westerners "Ridin' Down That Old Texas Trail" (Binge Disc/Bronco Buster)

Louise Massey & The Westerners "Ridin' High: 1933-1941" (BACM, 2005)





<! CD D 173 >
Liz Masterson & Sean Blackburn "Swingtime Cowgirl And Tune Wranglin' " (Western Serenade, 1995)

Kathy Mattea - see artist discography
Imelda May "Mayhem" (Decca, 2010)



(Produced by Imelda May, Andy Wright & Gavin Goldberg)
Groovy, high-tech, modern-day rockabilly from this feisty Irish firebrand... Although there's a clear alt-rock modernism in the production style, this Dubliner has a gritty rootsy-retro vibe that brings Holly Golightly to mind, if maybe she had a major-label budget. Fun stuff, and almost all the songs are originals, written by Ms. May herself. Check it out!
---
Hillbilly Fillies - More Letter "M"
---