<! MP3 06/23/09, 05/06/10 > <! update 05/06/10, 06/28/10 - still no Tish Hinojosa adds > <! outside 06/28/10 - BB > <! pix 00/00/00 > <! icons 12/22/10 > <! MARIAN HALL - native Californian - steel player for Town Hall Party http://steelguitarforum.com/Forum14/HTML/003528.html "...Marian became a familiar face on live TV in Los Angeles in the 1950s as part of the Town Hall Party cast along with "superpickers", Joe Maphis and Merle Travis. Marian spent time gigging with Tex Ritter's Ranch Party, Tex Williams band, and even Spade Cooley's all-girl orchestra. I'll remember her as a whip-smart, gracious lady who was modest about her abilities yet quietly proud of her accomplishments and her rightful place in the history of California Country and Western Swing music. No doubt feeling the same way, last year, the Seattle Western Swing Society inducted Marian into its Hall of Fame. Not bad for a career that began on live TV at age twelve as one half of the sister duo, The Saddle Sweethearts. I join Cindy Cashdollar and all who knew her in remembering a great lady. R.I.P. Marian." https://www.vintageguitar.com/2993/marian-hall/ - interview article - recorded for Columbia and for Sand & Sage label From 1954 to 1958 Marian was a member of the house band for the "Town Hall Party" and "Ranch Party" TV shows. Hall in the 1970s with Randy Price and the Jubilaires. >
---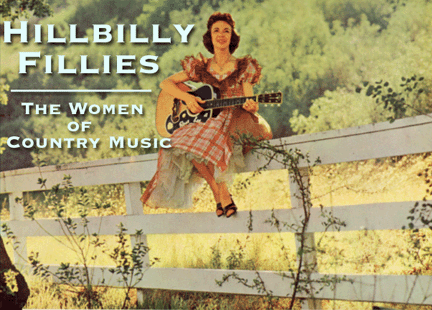 Welcome to my overview of women in country music, with reviews ranging from folk and bluegrass to honkytonk, rockabilly and Nashville pop. This is the first page covering the letter "H."
---
A | B | C | D | E | F | G | H-1 | H-2 | I | J | K | L | M | N | O | P | Q | R | S | T | U | V | W | X, Y & Z | Comps
---
Brittany Haas "Brittany Haas" (Ook, 2004)



An early solo album from fiddler Brittany Haas, of the band Crooked Still...




Connie Hall "Connie Hall" (Decca, 1962) (LP)



<! CONNIE HALL - Foolin' Around / Key To Your World / You're The Only Good Thing / Yellow Roses / Slowly / Pick Me Up On Your Way Down / Fools Like Me / Love's Been Good To Me / What A Pleasure / I Miss You Every Day / Sleep Baby Sleep / Many Tears Ago >

Connie Hall "Country Songs" (Decca-Vocalion, 1965) (LP)





<! Don't Tempt Me / Second Best / I Reserve The Right / Mark On My Finger / Sittin' Out The Last Dance / Daddy Doesn't Live Here Anymore / I'm As Lonely As Anyone Can Be / Yes There's A Reason / Fool Me Once / It's Not Revenge I Want / Half The Time / We Don't Have Much In Common (Anymore) >

Connie Hall "Country Style" (Decca-Vocalion, 1967) (LP)


This is a budget-line reissue of material from her self-titled 1962 album; several songs are missing from the original release...


<! 06/10: no ASINs!! >
Jennifer Hanson "Jennifer Hanson" (Capitol, 2003)



Densely-produced, but fairly rootsy, rock-flavored Nashville country, with more than a nod or two towards roots-rock foremothers Rosanne Cash and Sheryl Crowe. Hanson's best on the upbeat numbers -- the ballads just don't fly -- and she's got several catchy tunes here that might get her into the Top Country stratosphere. I like "Half A Heart Tattoo," myself. Her dad, by the way, played guitar in the Top Country supergroup, Alabama. Oh, and she was also voted Miss California, in 1994.... Who knew??


<! Jennifer Hanson "Somethingcool" (Self-released, 1998/2006) B00006L5WT B001BVGXPI jazz-vocals album. Same gal? >

Jennifer Hanson "Thankful" (Universal South, 2008)


Arlene Harden "What Can I Say" (Columbia, 1968) (LP)


A solo album from Arlene Harden (who also spelled her name "Arleen"), the "girl" singer for the family band known as The Harden Trio. For more info on the band, see below...


<! date? > <! pic copied - promo w/ label >

Arlene Harden "...Sings Roy Orbison" (Columbia, 1970) (LP) <! date? >





<! 12/10: B003K4S21C ASIN no longer functional - no new listing. :-/ >

Arlene Harden "I Could Almost Say Goodbye" (Capitol, 1975) (LP)

The Harden Trio "Tippy Toeing" (Columbia, 1966)


This perky family act from out Arkansas way was sort of like a modernized version of the Browns -- two sisters and a brother, but with more rockin', popped-out arrangements on a couple of tunes. The catchy title track, "Tippy Toeing," had a pop-rock kookiness to it, as did a couple of other tunes on here, though for the most part it's a softened country-folk vibe that predominates. The band put out at least one other record that I know of; sister Arlene Harden also had a fairly successful solo career, in which she pursued a more serious artistic image, albeit in a soft, weepy kinda way.


<! 130 x 130 >

The Harden Trio "Sing Me Back Home" (Columbia, 1968)





<! Faye Hardin >


Gus Hardin - see artist discography





Linda Hargrove - see artist discography




The Harmony Sisters "The Early Years" (HS, 1999)


This trio included folkies Alice Gerrard, Irene Herrmann and Jeanie McLerie, playing a variety of traditional music styles. This CD combines their two albums, 1981's Harmony Pie and Second Helping, from 1983.
Joni Harms - see artist discography
Lynn Harper "...Sings Country Favorites" (Alshire, 1972) (LP) <! year? >


I picked this one up because of the groovy picture of a go-godelic gal in a fringed-leather buckskin mini-skirt (and matching cowgirl hat) singing onstage in front of an anonymous band... Of course, I fully realize that this being a knockoff album from the Alshire label, chances are the woman in the photo might not actually be Lynn Harper, but whatever: it's still a cool album cover. The album itself is worth a whirl because most of the songs are originals credited to Ms. Harper (whoever she was) and while the vocals are admittedly pretty clunky, there's plenty of early '70s-style twang in the band, and a rough, authentic feel overall. Two songs are credited to Lynn Gibson, and they are standouts, the biker-themed "Chrome Plated Harley" and the raunchy, carnal "In the Back of My '57 Chevy," which has surprisingly sex-positive lyrics for a "girl" singer of the time... This one's obscure, but intriguing.
Emmylou Harris - see artist discography
Joan Harris "Harper Valley PTA" (Custom, 196-) (MP3)





<! any originals? not a great country voice > <! also a "Country Girl" album? > <! B000S5550W - MP3 link >

Tara Lyn Hart "Tara Lyn Hart" (Epic, 1999)


A Canadian Top-40er who left the music business before her second album was completed... She also had a few singles-only releases after this disc came out...




Tonya Harwell "Foxy Lady" (HOMA Records, 1976) (LP)
(Produced by Mickey Sherman)
A pretty negligible album from a teenage Oklahoman who was, according to the liner notes, voted "The Best Female Vocalist Under the Age of Eighteen for 1975" by the Oklahoma Country Music Association, which kind of makes me wonder what Reba McEntire was up to that week. Tonya covers a few standards such as "Bobby McGee," "Silver Threads And Golden Needles," Merle Haggard's "That's The Way Love Goes" and even a mildly twangy version of the Beatles' "Yesterday." She also showcases some local (Oklahoma) songwriters -- herself included, writing the title track -- as well as "A Picker's Wife" by Bob Lendrum and "Shadows Of Love," written by Lee Hunter and Wait Wilder. I don't think any of these folks really did much after this, though fiddler Benny Kubiak also recorded a couple of albums on the Homa label, and was in a number of regional bands; Tonya Harwell apparently was in a rock band with her brother Paige in the early '80s, but I think this was about it for her country career.


<! in a pop-metal band called Pearle Handle with her brother Paige Harwell >

Carrie Hassler "...And Hard Rain" (Rural Rhythm, 2006)


Carrie Hassler & Hard Rain "CHHR2" (Rural Rhythm, 2008)



(Produced by Jim Van Cleve)
Nice modern, country/folk-tinged bluegrass, sort of in the same general area as Alison Krauss and Rhonda Vincent. Pretty solid picking, although not all the songs really caught my imagination... Steve Gulley sings harmony throughout, and producer Jim Van Cleve plays fiddle... Worth checking out if you like the style.
Ginny Hawker & Kay Justice "Come All Ye Tenderhearted" (June Appal, 1995)





<! other June Appal release? >

Ginny Hawker/Carol Elizabeth Jones/Hazel Dickens "Heart Of A Singer" (Rounder, 1998)



Ginny Hawker & Kay Justice "Bristol" (Rounder, 1999)



That's Bristol, as in, "the Bristol Sessions," the famous 1927 Ralph Peer recording trip which brought to the wide world both Jimmie Rodgers and The Carter Family, laying the foundation for the growth of commercial country over the next decade. This Carter Family tribute is about as rootsy and true to the original wellspring as you could imagine, especially with for New Lost City Ramblers members Mike Seeger and Tracy Schwartz pitching in on autoharp and guitar. Highly recommended!

Ginny Hawker & Tracy Schwartz "Good Songs For Hard Times" (Copper Creek, 2000)



Beautiful! '50s/'60s folk scene veteran Tracy Schwartz has, of course, been one of the great champions of old-timey music ever since his days in the New Lost City Ramblers, and Ginny Hawker has been rising through the ranks in recent years... On this early album, they sing fifteen lovely, understated duets, presenting some of the finest, most heartfelt songs in the mountain music canon, including tunes of aching beauty such as "Your Lone Journey" and gospel tunes galore. Their approach to the material is just so right, and so wonderfully unpretentious and filled with sweet, simple harmonies that this disc is a real gem. In later years, Hawker started to exaggerate her twang a bit too much; here she sings in a much sweeter, less craggy style than you may have heard on subsequent releases. Anyway, this album's a keeper, as far as I'm concerned. Highly recommended!

Ginny Hawker "Letters From My Father" (Rounder, 2001)



With old-timey gospel numbers, bluegrass heartsongs galore, and even a bit of Emmylou-ish country harmony, this disc's another real winner. Although Hawker's loyalty to the raspy old-timey melodic structure may make it hard for some folks to get into her work, these are recordings that will richly reward your time. Recommended!

Ginny Hawker & Tracy Schwartz "Draw Closer" (Rounder, 2004)



As fine and understated a set of old-timey ballads as you're likely to hear... Really fine stuff! Tracy Schartz has, of course, been one of the great champions of old-timey music ever since his days in the New Lost City Ramblers, and Ginny Hawker has been rising through the ranks in recent years... Together they have made one of the prettiest, simplest, most emotionally direct records of the year... The accompaniment is a delight: straightforward and no-frills, but also very melodic and sweet, a perfect match for their plainspoken vocals. Dirk Powell pitches in playing mandolin on a couple of tunes, but fancy picking isn't the point of this new record, the songs are and that's the way it should be. Includes some standards such as "Poor Willie" and "Katie Dear," as well as a bunch of well-chosen obscurities, and some wonderful gospel tunes. Highly recommended!


<! Ginny Hawker & Kay Justice "Signs And Wonders" (June Appal) Ginny Hawker & Kay Justice "Pathway To West Virginia" (Pathway) >
Lisa Hayes "Sweet Forgiveness" (Gracye, 2005)



(Produced by David Kitay)
Independently produced country stuff, a mix of indie and Top 40 sensibilities. I don't care much for her vocals, but the music has some nice touches, especially the sometimes-spectral pedal steel... She's a too bit warbly and emotive, in a Faith Hill-ish way, for me, but if you're looking for an independent artist shooting in that same direction, this might be fun.


<! Louis Meyers, steel >

Donna Hazard "My Turn" (Excelsior, 1981) (LP) <! date? >





<! Donna Hazard "Donna Hazard" (xxxxxxxxxx, xxxxxxx) -- unable to confirm this one (or others besides above) >


Hazel & Alice -- see Hazel Dickens (and/or Alice Gerrard)




---
Hillbilly Fillies - More Letter "H"
---