<! MP3 08/20/09, 05/19/10 > <! update 05/19/10 > <! outside 00/00/00 > <! pix 00/00/00 > <! icons 12/03/10 >
---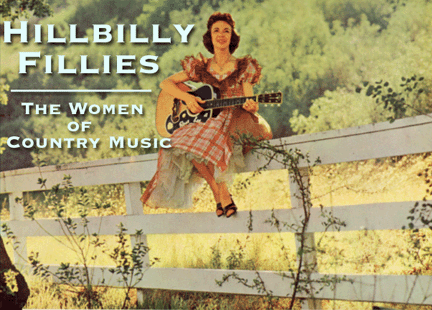 Welcome to my overview of women in country music, with reviews ranging from folk and bluegrass to honkytonk, rockabilly and Nashville pop. This is the first page covering the letter "U."
---
A | B | C | D | E | F | G | H | I | J | K | L | M | N | O | P | Q | R | S | T | U | V | W | X, Y & Z | Comps
---
Donna Ulisse - see artist discography
Uncle Earl "She Went Upstairs" (2002)

Uncle Earl "Raise A Ruckus (EP)" (2005)



Uncle Earl "She Waits For Night" (Rounder, 2005)



Cool stuff. There's some overlap between this all-gal bluegrass/old-timey band and other eclectic modernists such as Be-Good Tanyas, et al., but the Earlies also dig deep into the spookier, darker, more inaccessible side of mountain music -- not so much the craggy, "bent" rhythms of the old-time crowd as the eerie, mournful, pre-bluegrass melodies that were channelled directly from the Celtic isles into the Appalachian tradition. Mostly, I'm thinking here of the fiddle work of Rayna Gellert, who lingers where other players might have the urge to gallop, and whose rich-toned, graceful bow work is one of the most striking elements of this noteworthy album. The song selection is also great, including a few nice original songs and a slew of traditional tunes, and the vocal harmonies add a nice, joyful quality as well. The soulful/bluesy vocals bring the Tanyas to mind, which a lot of people is a good reason to run out and track this record down... What caught my attention, though, was the glowing praise from Dirk Powell, one of the finest traditional musicians in America... If he's on board, so am I! Check this one out.

Uncle Earl "Waterloo, Tennessee" (Rounder, 2007)



Oh. My. Goodness. Now, see, I kinda liked this quartet's previous album, but I am completely floored by this one. A lovely set by one of the freshest-sounding, most creatively engaged combos on the bluegrass/old-timey scene today. The four gals in Uncle Earl -- Kristin Andreassen, Rayna Gilbert, K.C. Groves and Abigail Washburn -- dig deeper into the pre-bluegrass stringband tradition than anyone this side of Dirk Powell, but they do it without getting caught in the more-unlistenable-than-thou, stylistic purity trap. Unafraid to smooth out the rough spots, they've crafted a wonderfully, delightfully listenable album, cohesive and continually revelatory, admirably diverse but cannily programmed, so that one song flows easily to the next. But just when you started getting lulled into the fuzzy zone, some new surprise leaps out at you -- Washburn yodeling in Chinese, the quartet harmonizing on a sweet, archaic shape-note tune, the g'Earls knocking a Carter Family tune clean out of the park. I dunno... I suppose I could go on and on, but suffice it to say this disc is a winner. Run, don't walk, down to your local record hut and snap this puppy up. You'll be glad you did.
Carrie Underwood "Some Hearts" (Arista Nashville, 2005)


Carrie Underwood "Carnival Ride" (Arista Nashville, 2007)


Carrie Underwood "Play On" (Arista Nashville, 2009)


---
Hillbilly Fillies - Letter "V"
---