<! MP3 05/05/10 > <! outside 06/25/10 - BB > <! pix 00/00/00 > <! icons 12/21/10 > <! update: 06/25/10 > <! Wendy Dawn "Harper Valley PTA And Other Country Hits" (RCA-Camden, xxxxx) (LP) B00C7FQJY2 (Produced by Bob Ferguson & Ethyl Gabriel) from Memphis, Texas (near Amarillo) - covers "DIVORCE," "Only Mama That'll Walk The Line" Kathy Dee "DEElightful" (BW Music, 1963) (Produced by Quentin "Reed" Welby - six originals, plus two by Ray Rowlands, covers of Willie Nelson, Hank Cochran, - from Moundsville, West Virginia, had a Top 20 hit with "Unkind Words" in 1964 died in 1968 from cancer. The Dixie Dewdrops "Down Home In The City" (Tex Grass/Trusty Productions, 1983) (Produced by Slim Richey) - recorded at Crystal Clear Sound, same studio as the Dixie Chicks - Starr Green (b), Nancy Kamm (fid), Janita Jo Thomas, Julie Anne Kirby, Suzanne McDonald - country/bluegrass mix - no ASIN >
---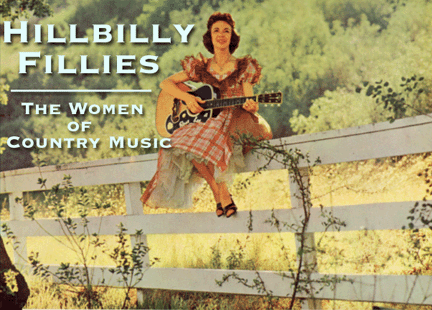 Welcome to my overview of women in country music, with reviews ranging from folk and bluegrass to honkytonk, rockabilly and Nashville pop. This is the first page covering the letter "D."
---
A | B | C | D / D-2 / D-3 | E | F | G | H | I | J | K | L | M | N | O | P | Q | R | S | T | U | V | W | X, Y & Z | Comps
---
Lacy J. Dalton -- see artist profile
Dale Daniel "Luck Of Our Own" (BNA, 1994)



(Produced by Jerry Crutchfield)
The lone solo album from this modest Nashville songbird... It's fairly generic early-'90s Nashville fare, with an okay bouncy, uptempo opening track, "In The Middle Of A Miracle," and then a bunch of less vigorous stuff, much of which has tinkly, thin-sounding production that sounds like leftovers from the 'Eighties. She's an okay singer, I guess, but doesn't make much of an impression. Strangely enough, the Nashville establishment seems to have agreed: not a single track on here got the least bit of traction in the Billboard charts... That's harsh! I mean, she kinda sounds like everybody else, so she must have had some major strikes against her to get so little love from the hitmakers... Wonder what the deal was... (?)


<! http://en.wikipedia.org/wiki/Dale_Daniel >

Helen Darling "Helen Darling" (MCA-Decca, 1995)

Donna Darlene -- see artist profile
The Daughters Of American Bluegrass "The Daughters Of American Bluegrass" (CMH, 2004)


The Daughters Of Bluegrass "Back To The Well" (Blue Circle, 2006)


The Daughters Of Bluegrass "Bluegrass Bouquet" (Blue Circle, 2009)



(Produced by Dixie Hall, Paula Wolak & Frances Mooney)
When they say "daughters of bluegrass," they really mean "daughters of bluegrass": this disc features contributions from dozens of female artists, including folks like Carol Lee Cooper (daughter of Wilma Lee Cooper), Lisa Martin (Jimmy's daughter), Jeanie Stanley (Carter's "baby girl") and Sonya and Becky Isaacs, of the Isaacs family band... Along with a slew of other female picker, plunkers and harmonizers, including well-known artists and newcomers such as Tina Adair, Dale Ann Bradley, Becky Buller, Sierra Hull, Alecia Nugent and many more whose names are less familiar; Rhonda Vincent, who gets a teasing shout-out as a big star with a tour bus to travel in, also pitches in. It's a big helping of talent, with many faces that are doubtless familiar to folks who frequent the festivals and hang out at informal jam sessions. The project is the brainchild of Dixie and Tom T. Hall, who also wrote or co-wrote all of the songs on here, so if you're a bluegrass fan searching for new, original material, this disc is a much-welcome treasure trove as well. Good spirits, fine picking and fuzzy nostalgia mix together quite nicely here... It's a sweet humble, down-to-earth album that reflects the DIY culture of the modern bluegrass scene... Nice!
Dave & Sugar -- see artist profile
Dianne Davidson "Baby" (Janus, 1971) (LP)





<! Tracks are:- You're The Only One; Just How Different Am I; I Can't Help But Wonder; Contemplation; Sixty Minute Man; Trying Times; Clowns Exit Laughing; Until I Get Back Home; You Might As Well Be Free; We Have Seen The Sign/Coming To Take You. >
Dianne Davidson "Backwoods Woman" (Janus, 1972) (LP)





<! This is one of the greatest Country Rock albums of all time - I kid you not. Sadly, Janus Records closed in the early seventies - this came out in 1971, and Dianne wasn't heard of again until the eighties. The album starts with 'Delta Dawn' the Tanya Tucker standard but Dianne's vocal is better and includes some searing slide guitar from Mac Gayden. Also worthy of note is Elton John's 'Country Comfort' with some sterling work from Weldon Myrick on Steel Guitar. In fact all the playing on this album, by Area Code 615, is exemplary. > <! Chess/Janus/GRT >
Dianne Davidson "Mountain Mama" (Janus, 1973) (LP)





<! Tracklist A1 Mountain Mama A2 Brand New Tennessee Waltz A3 Something Fine A4 I Want To Lay Down Beside You B1 Carey B2 When My Room Gets Dark Again B3 Song For Adam B4 Ain't Gonna Be Treated This Way Credits Backing Vocals - Tracy Nelson Mastered By - Robert Ludwig* Performer, Lead Vocals, Acoustic Guitar - Dianne Davidson >
Dianne Davidson "Breaking All The Rules" (Second Wave, 1988)

Gail Davies -- see artist profile
Linda Davis - see artist discography
Skeeter Davis - see artist discography
Stephanie Davis - see artist discography
Wendy Dawn "Harper Valley PTA" (RCA-Camden, 1969) (LP)

Jennifer Day "The Fun Of Your Love" (BNA, 2000)



Perky, upbeat country-pop. Pretty glossy, but not as weighed-down by would-be soul warbling as some of her Y2K Nashville contemporaries. It's okay, if you like the poppy stuff.
---
Hillbilly Fillies - More Letter "D"
---