<! MP3 00/00/00 > <! update 00/00/00 > <! outside 00/00/00 > <! pix 00/00/00 > <! icons 12/23/10 > <! BB 06/17/10: Jenny Yates Gayle Zieler (aka "Ethel" of Ethel & The Shameless Hussies) From Gilroy Bethany Zill "Where Roots Run Deep" Pegi Young & The Survivors "Lonely In A Crowded Room" (New West Records, 2014) B00NNQJS7Y B00OFHDAYC (Produced by Niko Bolas & John Hausmann) - Neil Young's ex-wife (divorced in 2014) - Spooner Oldham (keyboards), Neil Young plays guitar on one song, "Don't Let Me Be Lonely" as well as Rick "The Bass Player" Rosas - also an album for 2007 - others? - just rock- ? >
---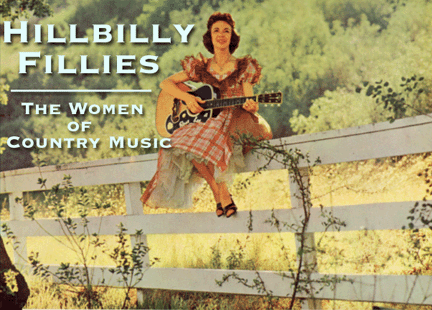 Welcome to my overview of women in country music, with reviews ranging from folk and bluegrass to honkytonk, rockabilly and Nashville pop. This page covers the letters "X," "Y" and "Z".
---
A | B | C | D | E | F | G | H | I | J | K | L | M | N | O | P | Q | R | S | T | U | V | W | X, Y & Z | Comps
---

Yard Sale "Everything's A Dollar" (Self-Released, 2006)



Well, like the event this band takes its name from, this disc is an odd hodge-podge of influences and interests; what it has to offer might not be for everyone, but if the right person comes along and something catches their eye, they might be really happy to take it home. Jill Olson of the Oakland-based twangband, Red Meat, teams up with a couple other stalwarts of the SF Bay Area indie music scene, and their rock/folk/billy offerings are highly personal and a bit raggedy. Didn't quite grab me, but it's a nice little DIY-type disc.
Jenny Yates "Out Of The Blue" (Self-released, 2007)


An indie release from an established mainstream songwriter (with a lot of material covered by Garth Brooks and other Nashville stars) whose own performing career stalled out in the late 1980s. Yates released a couple of singles on Mercury, but no album was forthcoming... Now, two decades later, she gets her revenge.


<! 1. The Streets of Your Town 2. Tender Is My Heart 3. Pages 4. They Called Her America 5. Just Another Jane 6. The Plain Old Truth 7. Not Lovin' You Enough 8. A Good Rain 9. Desire 10. This Boat 11. Lindy, Amelia & Me 12. Standing Outside the Fire 13. Shine A Light 14. Beautiful World DOES NOT contain '87 single "A Whole Month Of Sundays" http://www.jennyyates.com/bio.html >

Lori Yates "Can't Stop The Girl" (Columbia, 1989)







Lori Yates "Breaking Point" (Virgin, 1994)



<! Canada only? >

Lori Yates "Untogether" (Virgin, 1996)

Lori Yates "The Book Of Minerva" (2007)





<! Canadian. also in these bands: Rang Tango "Rang Tango" (1987) (no ASIN 06/10) Hey Stella! "Hey Stella!" (1999) (no ASIN 06/10) >


Trisha Yearwood - see artist discography



Adrienne Young "Plow To The End Of The Row" (Addie Belle, 2003)



One of the most striking and original "Americana" albums to come down the pike in a while! Aptly described as "a fresh bunch of old rhymes and new tunes," this is a fascinating mix of styles -- branching off from old-timey bluegrass into more expansive folkish material (ala the Be Good Tanyas), Young has a stylistic and vocal range that's quite nice. At times she sounds Rosanne Cash-ish, at others a persona emerges that is very much her own. Also, this album has an impressive batch of original material, particularly songs like "Plow To The End Of The Row," and the album's tweaky opener, "I Cannot Justify." Towards the album's end, she shifts twoards more rock-oriented material, which is less alluring, but on the whole this is quite innovative and well worth checking out. Highly recommended. (For more information, check out Young's website at www.adrienneyoung.com)
Adrienne Young & Little Sadie "The Art Of Virtue" (Addie Belle, 2005)



Consider yourself put on notice: Adrienne Young is a contender for the throne. Which throne? You name it. The opening track, "Art Of Virtue," has a sleek, velvetlike feel and a vocal performance of such warmth and self-assurance that makes it clear that Young could easily slide into the upper tiers of the pop-bluegrass scene, if she were so inclined... (Alison Krauss might wanna check and make sure her 401Ks are all in order...) But the rest of the album has plenty of rasp and twang to it, keeping Young & Co. well within the bounds of the indie/old-timey camp as well. The pickin' is solid but not overly flashy and the band encompasses an admirable variety of musical styles and tones. Plus, basing some of the material on a pamphlet by founding father Ben Franklin (and including an abridged facsimile of the pamphlet in the booklet inside the album...) Well, how much more "Americana" can you get?? I'm not sure if this album has as much freshness or immediacy as Young's debut, but it's still pretty damn good... It's certainly one of the best newgrass/alt-Americana albums you're going to come across this season... Recommended!
Adrienne Young "Room To Grow" (Addie Belle, 2007)



On her third solo record, Americana darling Adrienne Young edges away from her bluegrassy roots and goes more high-concept (and a bit closer to mainstream country...) The album opens with the in-your-face pop lavishness of "All For Good," which harkens more to Mary Chapin Carpenter or Sarah McLachlan than to Delia Bell and Alison Krauss... Young follows this adult-alt outburst with a Celtic track, giving twangfans pause: has she gone down a different path? Well, the answer is "yes," but in a good way... I didn't like the start of this album, but Young definitely hits a groove halfway through, and fans of contemporary triple-A singer-songwriter material (including the current Nashville pop crossovers) may fine a new heroine here. Young is a solid singer and musician, she sings with conviction and feeling, and she has found able collaborators in guitarist Will Kimbrough, as well as Nashville stalwart Mark D. Sanders. It's not totally my cup of tea, but I'm still on Young's bandwagon... Definitely worth checking out.
Dulcie Younger & The Silencers "Kitty, Kitty... Growl" (Golly Gee, 2004)


I'm as much a sucker as any other old-style country fan for a fiesty gal what wants to snarl out a few fast-paced rockabilly tunes... Add guitar god Deke Dickerson into the mix, and I'm on board. Now sure, Ms. Younger is hardly half as super-cool as, say, Wanda Jackson was... But then again, who is? All in all, this is a pretty nice offering from the modern-day California indiebilly scene... The production quality and guitars are as fine a frame for her voice as Younger's ever gonna find, and she throws herself into these songs (most of them originals) with all her heart... This record might not change your life, but if it doesn't at least make you tap your toes and smile a little -- if not, then, Jack, you're dead!
---
Hillbilly Fillies - Compilation Albums
---