<! MP3 05/23/10 > <! update 00/00/00 > <! outside 00/00/00 > <! pix 00/00/00 > <! icons 12/21/10 >
---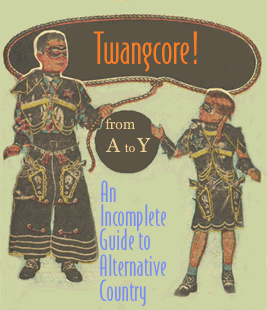 "Hillbilly Fillies" is part of an opinionated overview of country music, with record reviews by me, DJ Joe Sixpack... This page reviews various female-artist country compilation albums. Naturally, it's a work in progress, and quite incomplete, so your comments and suggestions are welcome.
---
A | B | C | D | E | F | G | H | I | J | K | L | M | N | O | P | Q | R | S | T | U | V | W | X, Y & Z | Comps | Other Country Styles | Hick Music Index

---
Compilation Albums
---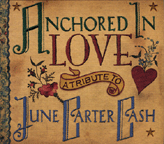 Various Artists "ANCHORED IN LOVE: A TRIBUTE TO JUNE CARTER CASH" (Dualtone, 2007)



(Produced by John Carter Cash)
An star-studded cast pays homage to June Carter Cash, the late, beloved doyenne of the Cash family, on a disc that's a companion to John Carter Cash's autobiographical memoir of the same title. In keeping with the Carter/Cash legacy, there are several duets here, the best of which is Patty Loveless and Kris Kristofferson's stately intertwine on "Far Banks Of Jordan." Other album highlights include Rosanne Cash's sorrowful "Wings Of Angels," Brad Paisley's rock-solid rendition of "Keep On The Sunny Side" (Note to Brad: do more traditional stuff!! Could we get a whole album's worth someday?) and Billy Joe Shaver's irrefutably desolate "Kneeling Drunkard's Plea." Loretta Lynn, Ralph Stanley and Emmylou Harris weigh in as well, and doubtless many will be thrilled by Elvis Costello doing "Ring Of Fire..." Overall, a nice record, although in some ways it almost feels too soon for a tribute album to come out; so many fine June Carter reissues and the like have come out in the last few years, it feels like a record like this might get lost in the shuffle. Certainly worth checking out, especially for the fine gospel track by Mr. Paisley.
Various Artists "BANJO PICKIN' GIRL" (Rounder, 1990)


A sampler of various female banjo plunkers of yesteryear, including tracks by Rubye Blevins, The Coon Creek Girls, Girls Of The Golden West, Moonshine Kate and Roba Stanley, who was country music's first solo female recording artist.


<! With Moonshine Kate, Roba Stanley, Rubye Blevins, The Coon Creek Girls, Girls Of The Golden West, and others, including Eva Davis & Samantha Bumgarner -- the first female duet to record country music (for Columbia in 1924) and Roba Stanley was the first female solo artist to record a country tune (for OKeh) >
Various Artists "BEEHIVES AND BUMPER BULLETS" (T-Bird, 2010)





<! 2010 collection of classic early female Country artists. Early Country music, with the notable exception of The Carter Family, was a male dominated genre. By the 1950s however things were beginning to change when more female artists began to invade the charts. Tracks 1 to 13 on this compilation features artists released on Nashville's Bullet and Sur-Speed labels. Tracks 14 to 22 are releases from Nashville's Spar Records, many produced by song writer Johnny Elgin who produced many of Spar's country session. Includes two previously unreleased Freda Burrell titles. Clara Dean, Penny Jay, Beverly Buff, Carol Johnson, Peggy King, Janette Monday, Deanna Rocket, Prissy Sue... >
Various Artists "COUNTRY GIRLS" (Mountain Dew, 1970?)


This somewhat random budget-line reissue capitalized on the growing fame of one of the Chart label's biggest stars, countrypolitan diva Lynn Anderson, but is more useful for its inclusion of several other, less well-known Chart "girl" singers. The other known quantity is Maxine Brown, of the Brown family, who made an unsuccessful stab at a solo career, but it's the other gals whose work has really been lost to the tides of time. Canada's Dianne Leigh is the standout, particularly with her upbeat "The Wife You Save," although she and Debra Berry were both basically indistinguishable from Anderson -- perky female honkytonk pop, with a nice rural undertone. Both tracks by Trina Love are a little too teenybopper and novelty-oriented, but worth a whirl anyway. The Chart catalog is long overdue for re-evaluation, but if you see this disc, it's worth picking up just to let this handful of rare old singles see the light of day again.
Various Artists "COUNTRY MUSIC CLASSICS: THE WOMEN" (Time-Life Records, 1981)
An outstanding 3-LP overview of classic music by country gals from the dawn of the recording industry up through the twilight of the countrypolitan years. Disc One starts off with pioneering Depression-era artists such as Lulu Belle, The Coon Creek Girls, Zora Layman, Louise Massey, songwriter Cindy Walker and -- of course -- a couple of sweet, sweet tracks by Patsy Montana. Disc Two inches its way into the honkytonk years, moving from the old-time sentimentalism of Molly O'Day into the more rugged stylings of Rose Maddox and Jean Shepard. Chart-toppers like Patsy Cline and Kitty Wells also chime in, along with fondly-remembered second-stringers like Goldie Hill and Chickie Williams, and then comes the 1960s, with superstars like Loretta Lynn, Dolly Parton and Tammy Wynette parting the waters with their classic hits. This set tilts heavily towards traditional, "real" country music: it isn't until the last side of Disc Three that the really slick stuff comes into play, with a song each by Lynn Anderson, Barbara Mandrell and Jeanne Pruett, and some alt-ish neotrad material by Emmylou Harris closes things out... This collection is a fantastic resource; too bad it's not still in print and available on CD. And, obviously, it would be nice to have it updated to include the phenomenal commercial success of Top 40 divas such as Faith Hill and Shania Twain... Time-Life has kept the "country women" idea alive in various forms, but nothing as comprehensive or as satisfying as this has ever come out since the '80s... (You can check on their website to see what the current version is...) Otherwise, if you're vinyl-friendly, keep your eyes open for this little gem.
Various Artists "COWGIRL SHUFFLE" (BACM, 2013) <! DATE? >


A swell collection of early country recordings, featuring a number of obscure singers such as Becky Barfield, Sybil Hopkins, Helen Phelps, Eva Summers and Kitty Williamson, as well as stars such as Dale Evans, Mary Ford, Zora Layman and Cindy Walker... Most of these recordings were made with the artists working as the "girl singers" in male-led hillbilly and western swing bands... More great stuff from a bygone era.


<! Harold & Hazel (Artist), Zora & The Hometowners (Artist), W. Lee O'Daniel with Kitty Williamson (Artist), Bob Dunn's Vagabonds with Sybill Hopkins (Artist), Cindy Walker with Red River Dave (Artist), Dale Evans with Cliffie Stonehead & Art West (Artist), Colleen Summers aka Mary Ford (Artist), Spade Cooley with Becky Barfield (Artist), Helen Phelps with Old Pop Watts (Artist), Eva Summers with Roy Lanham >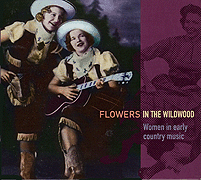 Various Artists "FLOWERS IN THE WILDWOOD: WOMEN IN EARLY COUNTRY MUSIC" (Trikont, 2003)


Women have always been part of the country music scene, both as stage and recording stars and as the singers of lullabies and old folk ballads, back home on the farm... Some, like Sara and Maybelle Carter, were top-tier stars who had a decisive influence on the genre, while countless others were side players, ancillary to the men who headlined the shows and chaperoned them from venue to venue. This set gathers a couple dozen fine examples of odd, early recordings from the 1920s and '30s, including a few Carter family tracks, along with the ever-delightful Girls Of The Golden West, the Dezurik Sisters, the Coon Creek Girls, Lulu Belle & Scotty, as well as a host of less well-known performers. The Aaron Sisters contribute a couple of mildly raunchy comedy songs (which are innocuous by today's standards, but pretty racy stuff for "girls" to be singing 'way back then...) and folks such as Moonshine Kate, the Leatherman Sisters, Louisiana Lou and Roba Stanley round out the set. It's mostly old-timey, bluesy stuff -- you have to tap into that Depression-era mindset to enjoy this, but once you're onboard, this disc's a doozy.
Various Artists "THE GALS OF THE BIG "D" JAMBOREE" (Dragon Street, 2001)


Fans of Charline Arthur will be psyched to hear these lives tracks, recorded onstage at the legendary Big "D" Jamboree, one of the Grand Ole Opry's old competitors... Also included are songs by Sherry Davis, Doreen Freeman, Helen Hall, The Lovett Sisters (...any relation to Lyle...?), Abbie Neal, Pat Smith and rockabilly legends Janis Martin and Wanda Jackson. Whew!!
Various Artists "GOOD GIRLS GONE BAD" (Ace, 2004)





<! 26 track compilation spotlights weird, wild and wonderful women in a wigged-out collection of stone rockers and the occasional walk on the strange side. It features all of Fraternity Records bombshell Sparkle Moore's rockin' sides together on one CD, including alternate takes. It also contains alternate unreleased sides by Jeani Mack and Billie Jo Spears, with obscure sides by Janice Morgan and others. Also features Jackie Shannon, Helen Bozeman, Barbara Pittman, Margaret Lewis, Kirby Sisters, Starr Sisters, Bonnie Lou and others. >

Various Artists "HILLBILLY FILLIES AND ROCKIN' CHICKS" (Charly Records, 1999)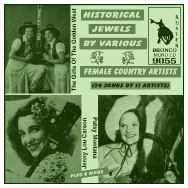 Various Artists "HISTORICAL JEWELS BY VARIOUS FEMALE COUNTRY ARTISTS" (Binge Disc, 2000)
Here's a swell set of country rarities, with vintage recordings by dimly-remembered stars such as Jenny Lou Carson, Patsy Montana, Minnie Pearl and Chickie Williams, along with a slew of less famous fillies from years gone by, such as Joan Brooks, Polly Jenkins, the Oklahoma Sweethearts and Judy Perkins... There's sentimental "western" material, yodeling, and some great novelty songs. Highlights include "The Moon Shines Still On The Moonshine Still" (by Judy Perkins) and "I'm Gonna Straddle My Saddle," by Polly Jenkins, as well as a couple of classic numbers by the Girls Of The Golden West, "I Wanna Be A Real Cowboy" and "Boots And Saddle," which feature their sweet, delicate harmony singing. There are also, it should be said, a few tunes that seems subpar, such as Joan Brooks' clunky vocals on "Headed Back To Houston," but the amateurishness actually kind of adds to the charm. (This disc is available only through the amazing German collector label, Binge Disc Records... but it's worth it!)


<! 02/2014: no ASIN >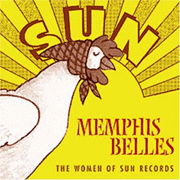 Various Artists "MEMPHIS BELLES: THE WOMEN OF SUN RECORDS" (Bear Family, 2002)


This is an amazing and historically significant 6-CD set that gathers together all the songs ever recorded by female artists on the legendary Sun Records label during its brief and glorious reign in the early years of rock'n'roll. To be honest, these are mostly marginal performances, demo-y sessions from a flock of gals of variable talent, with material ranging from triplet-heavy pop vocals and proto-girl group weepers to awkward hillbilly numbers and a surprisingly solid cache of little-known blues sides. There was very little of the raw rockabilly that the label's male artists made so famous -- if you're looking for some obscure, unremembered Janis Martin or Wanda Jackson type, this set will come as a bit of a letdown. But as a glimpse into the creative process at Sun, hearing their house bands back up the gals is a pretty fascinating exercise -- and there are certainly several gems scattered throughout the collection. (These tunes could probably be condensed down to a single-disc set that would still have a mediocre air about it, but would give more bang for the buck. But then the authoritative, archival quality of the collection would be lost, and that would be a shame.) There are tantalizing glimpses of lost opportunities: some of the most promising rockers never really got a fair shot, gals like Gloria Brady, who apparently only got to record a handful of demos, but never waxed a proper single. Jerry Lee Lewis's little sister, Linda Gail Lewis emerges clearly ahead of the pack with a couple of ripsnorters, but really it's the forlorn, amateur-hour quality that makes many of these tracks so charming, and the clear emulation of other artists, particularly the heavy presence of Dinah Washington hovering over the robust vocals on the fourth disc, "Blues," and the taunting awareness of how much more vibrant --and more successful -- the sides recorded by the boys had been. The packaging of this set should also be noted... What the box set lacks in musical punch, it more than makes up for in scholarship and presentation -- the enclosed squarebound booklet is an impressive coffeetable collection, with copious liner notes and archival photos and extensive biographical entries for each of the artists. These gals might not have shaken up the world with their chart action, but they still occupy a unique and significant place in the heart of American popular culture, and this box set certainly does their legacy up right. If you're a 'Fifties rock or pop music fan, it's certainly worth checking this set out.

Various Artists "TREATING HER WRONG: SWEETHEART AND HEARTBREAK SONGS" (Jasmine, 2006)


For those of us interested in super-obscure hillbilly singers, and gal singers in particular, this disc is a real goldmine. The Beaver Valley Sweethearts? Betsy Gay? Jenny & Jill? Jeanie Peason? Never heard of 'em. Now, Melisa Monroe was the daughter of bluegrass patriarch Bill Monroe and Margie Collie was Floyd Tillman's wife, but I'd never heard of them before, either. Charline Arthur and Helen Carter (of the Carter Family) are the most recognizable names... This isn't an earthshaking set, but it's genuine hillbilly music and the rediscovery of a slew of long-forgotten country gals is always a welcome thing, as far as I'm concerned... Good heartsongs and a few surprisingly rough honkytonk numbers as well... Worth checking out!
Various Artists "THE WOMEN OF KERRVILLE, v.1" (Silverwolf, 1996)



Live performances selected from the stage of the fabled Kerrville Folk Festival, with artists such as Catie Curtis, Eliza Gilkyson, Tish Hinajosa, Cheryl Wheeler, Dar Williams and many others... A little bit of bluegrass and twang, but mosty on a more folkie-confessional vibe.
Various Artists "THE WOMEN OF KERRVILLE, v.2" (Silverwolf, 1999)


---