<! MP3 08/20/09. 05/05/10 > <! update 08/20/09 - not all; need disco for Nancy & Norman Blake; research Delia Bell > <! outside 06/22/10: BB adds > <! pix 00/00/00 > <! icons 12/21/10 > <! ADDS MARGIE BOWES - needs a page - tons of singles before (and after) Decca LPs http://countrydiscoghraphy2.blogspot.com/2015/10/margie-bowes.html Bridget Ball "Duffy Rose" (Hotel Silly Productions, 1986) - more folk? not really country? - includes some originals - covers Bill Staines, who also sings on that track - she tracks in her own harmonies Glenna Bell - four(?) albums Crystal Bernard Michele Ann Blizzard "Ragtime Annie" 1980's Bluegrass LP, Nice EX!, Vinyl Reva Banks "Reva Remembers" (Heritage Records, xxxxx) (LP) (Apalachian Music) Kathy Barnes "Sings Gene Autry" (Republic, 1977) GIDGET BAIRD "Sweet Moments" (xxxxxx, xxxxx) Carroll Baker "Carroll Baker" (Excelsior, xxxxx) (LP) - with Nashville studio crew - includes the song, "Mama What Does Cheating Mean?" (Produced by Don Grashey & Ed Keeley) Michele Ann Blizzard "Ragtime Annie" (xxxxxx, xxxxx) - fiddler, 1980's Bluegrass GLORIA BELLE "Love Of The Mountains" (xxxxxxx, xxxxx) LP Bluegrass GLORIA BELLE "A Good Hearted Woman" (Southern Belle, 1978) (Produced by Gordon Reid) - bluegrass? Bell - single-name artist, 1980s - dedicates a track to Nancy Reagan "Please Come Down" (about drug abuse?) - also "Don't Ever Let A Drunk Take You Home" dedicated to MADD - thanks the Garrett Brothers, Shorty Sprang and Mark Donahue - the musicians?? Marlene Beaudry "Harper Valley PTA" (ARC, xxxxxx) - from Alliston, Ontario - album includes several Beaudry originals (as well as a cover of Donovan's "Hurdy Gurdy Man" hmmmm Beth And Cinde "Cross Country" (xxxxxxx, xxxxxxx) (Produced by Beth Pederson & Cinde Borup) - a healthy dose of originals spiced up with covers of Billy Joe Shaver, Earl Scruggs and a cover of Bobby Troup's "Route 66" >
---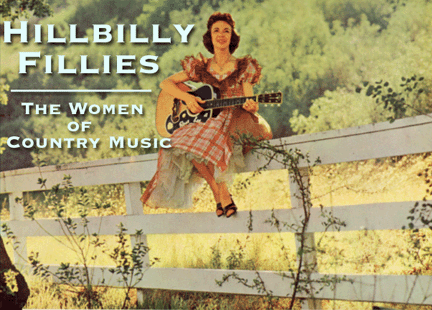 Welcome to my overview of women in country music, with reviews ranging from folk and bluegrass to honkytonk, rockabilly and Nashville pop. This is the first page covering the letter "B."
---
A | B-1 / B-2 / B-3 | C | D | E | F | G | H | I | J | K | L | M | N | O | P | Q | R | S | T | U | V | W | X, Y & Z | Comps
---
Kathy Baillie/Baillie & The Boys -- see artist profile
Gidget Baird "Sweet Moments" (CCHB, 1983) (LP)


The Band Perry "The Band Perry" (Universal Republic, 2010)



(Produced by Nathan Chapman, Paul Worley & Matt Serletic)
I guess that singer Kimberley Perry is supposed to be the bad-girl version of Taylor Swift, with the same mix of pop-savvy teen-sensation twang and junior-high diary lyrics, with a hint of Gretchen Wilson tough-girl sass in there as well, and more controversial lyrics. For example, the suicide-friendly "If I Die Young" will probably upset a parent or two, but it's painful to listen to less because of the familiar, self-pitying teen angst than because of its utter artlessness... This bluntness of Perry's lyrics is repeated in song after song, with the upside that it rings true as teenage self-absorption: perhaps the most emotionally effective song on the album is "Walk Me Down The Middle," in which she tells her new boyfriend to show her off to everyone in town, particularly his old ex, who never deserved him anyway. It's a totally shallow song, but it does sound like something a teenager would write, if not actually say out loud. I do think that Ms. Perry has what it takes to make it big, although I'm not sure the whole family-band concept works for her: flanking Kimberly are her two brothers, Neil and Reid, who with their shaggy rocker hair and ready-for-the-WB telegenics, are credited with co-writing many of the songs on this album. They also accompany her on some -- but not all -- the songs, playing mandolin and bass, although on most of the album it's a crew of Nashville studio musicians who provide the real oompf. As long as she's leaning on the teen-popstar angle, I guess they're useful, but in the long run, she can probably ditch her sibs and make it on her own. For now, though, Taylor doesn't have that much to worry about: this album has enough adolescent navel-gazing to build up a younger fan base, but Perry's going to have to up her game as a songwriter if she wants to attract older fans. Time will tell.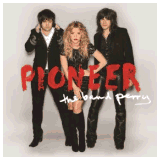 The Band Perry "Pioneer" (Big Machine, 2013)

Ava Barber "Country As Grits" (Ranwood, 1977) (LP)

Ava Barber "You're Gonna Love Love" (Ranwood, 1978) (LP)

Ava Barber "All Time Gospel Favorites" (LP)

Kathy Barnes "I Started Living Today" (MGM, 1975) (LP)

Kathy Barnes "Someday Soon" (Republic, 1976) (LP)

Kathy Barnes "...Sings Gene Autry" (Republic, 1978) (LP)

Kathy Barnes "Body Talkin' " (Republic, 1978) (LP) <! Republic 35493 disco album? >





<! Kathy Barnes "Fun And Games" (LP) B003B6NDV8 (?) couldn't track this one down online Ah... appears to be a 12" single from '78 disco, probably >
Mandy Barnett "Mandy Barnett" (Elektra, 1995)



An unabashed Patsy Cline copycat (she actually portrayed Cline in the stage musical, "Always, Patsy Cline...") Barnett gets extra points for draping a jazzy torchsong arrangement around Jim Lauderdale's loopy "Planet Of Love," but immediately loses traction on the generic "young country" grind of "Maybe," the song that follows. In general, she seems to have a good sense of material to cover (Willie Nelson's "Three Days," for example...) and is fairly "rootsy," at least in comparison to her Nashville contemporaries. Still, outside of the Patsy-isms, she's not that tremendous of a vocalist, and if she doesn't have the right arrangements behind her, Barnett's music lapses into mediocrity fairly fast. Mellow, easy on the ears and a nice change of pace, but she still doesn't really wow me.
Mandy Barnett "I've Got A Right To Cry" (Sire, 1999)



(Produced by Owen Bradley)
An absurdly derivative recreation of Patsy Cline's smooth, pioneering proto-countrypolitan sound. Legendary Decca arranger Owen Bradley -- who produced many of Cline's biggest hits -- helps sculpt this album, and studio veterans such as pianist Pig Robbins and guitarist Harold Bradley refabricate the feel of the old Decca sessions. Nonetheless, this dose of old-timer authenticity doesn't compensate for Barnett lack of Cline's slick, bluesy bite and sweet, soulful delivery... When not simply mimicking Patsy's intonations, Barnett slips perilously close to approximating Linda Ronstadt's lesser efforts. Sure, the song selection is cool (not a Cline cover among the lot), but neither Barnett nor her band are speaking with an original voice, and this homage founders in comparison to the real thing. Pleasant, and easy on the ears, but kind of self-defeating.
Mandy Barnett "Winter Wonderland" (Crackerbarrel, 2010)






<! width=161 height=144 >
Darlene Battles "I Just Want To Love You" (Bejay Records, 1984) (LP)
(Produced by Mickey Moody)
Arkansas singer Darlene Battles sang backup gigs in Nashville throughout the late 60s and got married to country/R&B singer Jerry Jaye in the early '70s. She recorded this solo album with Jaye and his band backing her up, including steel guitar player (and label owner) Ben Jack, Darrell Price plunking piano, and Curly Lewis on fiddle. This was Darlene Battles only solo album as a secular artist -- she got religion in 2003 and has since recorded several gospel albums, bother under her own name and with the band On Call...


<! - no ASIN 04/20/15 http://www.rockabillyhall.com/JerryJaye1.html http://darlenebattles.synthasite.com/ >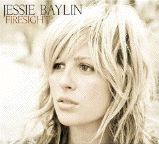 Jessie Baylin "Firesight" (Verve, 2008)



Although mostly pop-oriented and tailormade for placement in the background of a primetime TV drama, this album also encompasses wisps of jazzy cabarets with a hint of the twang of Baylin's hometown of Nashville. Several singers spring to mind, notably Dusty Springfield, Phoebe Snow and Maria Muldaur along with numerous modern musicmakers -- an eclectic mix, to be sure. Tonally, Baylin's voice shares a familiar, bluesy white-girl rasp with that of Amy Whitehouse, although her music is decidedly much mellower. Spotting similarities with Norah Jones wouldn't be misplaced, either, since one of Baylin's songwriting partners is Jesse Harris, who is also one of Norah's crew. This is a fine record for "mature" music fans looking for something new that doesn't fit into easy modern pop categories.


<! Bear Creek Band "Bear Creek Band" (Bear Creek Records, xxxxx) (LP) B001KKFHRA (f) vocalist AS TEARS GO BY, TRIBUTE TO PATSY CLINE, FALLING IN LOVE RIGHT AND LEFT, ALMOST PERSUADED, FADING AWAY; side two: TO LOVE SOMEBODY, A GOOD DAY, WE JUST HAVEN'T SAID GOODBYE, KIND OF A HUSH, I'VE HAD ENOUGH, WHY ME LORD >
Bearfoot Bluegrass "Only Time Knows" (2002)



A mostly-female bluegrass/newgrass band from Alaska... Later they shortened their name to just plain old "Bearfoot."
Bearfoot Bluegrass "Back Home" (Glacier, 2004)


Bearfoot "Follow Me" (Glacier, 2005)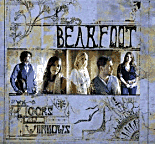 Bearfoot "Doors And Windows" (Compass, 2009)



This Alaskan ensemble has beautiful mix of luminous bluegrass and tender, confessional neo-folk, all delivered with an impeccable sense of melody and timing. The female vocals intertwine while bouncing around to the well-placed fiddle and mandolin... A sly dobro slips in and out, underscoring the playful, allusive lyrics. This is, in short, one of the sweetest and most listenable Americana-folk albums of the decade, taking deeply traditional sounds and giving them an original-sounding, soulful modernization. Very distinctive, and very nice. Highly recommended!
Bearfoot "American Story" (Compass, 2011)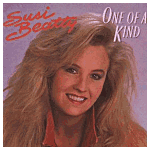 Susi Beatty "One Of A Kind" (Starsong, 1990)



The Starsong label was one of the last gasps of country indie labels in an increasingly corporate Nashville landscape, with singer Susi Beatty one of their most successful artists. The music is a somewhat muted mix of '80s synth-twang and early '90s "young country," while Beatty's vocals are kind of so-so. She scraped the lower rungs of the Top 100, but sort of faded from sight after this lone album came out.
Molly Bee -- see artist profile
Philomena Begley - see artist profile

The Be Good Tanyas "Blue Horse" (Nettwerk, 2001)



This all-gal trio from Canada has a super-sugary, folk-tinged take on the Americana sound, with traces of acoustic soul-gals Tracy Chapman and Ani DiFranco evident in their sound, as well as more standard-issue folk-scene types like Cathy Fink and Greg Brown. Their big trick, musically speaking, is to take everything at a slow-moderate pace, with gentle syncopation punctuated with trad instruments such as the banjo and mandolin. The funny thing about it is that while the music is fairly monochromatic, their odd approach is still intriguing enough to hold your attention the hole way through. The weak spot is when they cover old folk tunes such as Stephen Foster's "Oh Suzannah," or public domain ditties like "Lakes of Ponchartrain" or "The Coo-Coo Bird," in the same lazy, disjointed slowcore style. THEN they sound mannered and pretentious, and may tax the good will of their listeners. Worth checking out, though, especially if you're looking for something mellow.

The Be Good Tanyas "Chinatown" (Nettwerk, 2003)



This moody, magnificent followup to the first BGT album finds the band gaining solid footing, penning stronger material while self-producing the album, perfecting an oddball trip-hop folk style with a uniquely disjointed, mellow sensibility. The gals deploy old-timey instruments in an unusually relaxed manner, plunking the banjo at a loping gait, sawing a lazy fiddle along with a few funk-laced guitar riffs and unexpected modern touches. They indulge in little of the drag-racing flash and fire of the traditional bluegrass scene; indeed, the band's low-key, minimalist approach is what makes it consistently listenable and alluring. In an era of bombastic, overly-layered corporate pop, the Tanyas are a model of restraint and willful imperfection. Sadly, they seem unwilling to shed the almost-tedious, mumbly-voiced, white-girl acoustic soul murmuring they apparently copped from Ani DiFranco. It's an affectation that muddles an otherwise refreshingly direct presentation; nonetheless, the band's quiet grace will doubtless cast a comfortable glow on a thousand cafes across the land. This is a swell record, highly recommended!
The Be Good Tanyas "Hello Love" (Nettwerk, 2006)


Delia Bell -- see artist discography
Glenna Bell "Face This World" (2005)


Glenna Bell "The Road Less Traveled" (2008)






<! w/ Johnny Bush stripped down acoustic country and folk >

Glenna Bell "Perfectly Legal: Songs Of Sex Love And Murder" (Honey Island, 2010)





<! Glenna Bell "Nobody's Girl" (????) B002TTR84Q first album? not listed on her website http://www.glennabell.com >

Gloria Belle "...Sings And Plays Bluegrass In The Country" (Rebel Records, 1967) (LP)



<! - # R-1479 - no ASIN 04/05/16 >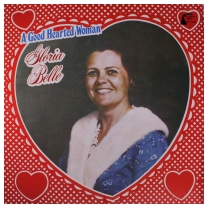 Gloria Belle "A Good Hearted Woman" (Southern Belle, 1978) (LP)





<! - bluegrass - 208 loaded 11/01/15 https://www.youtube.com/watch?v=EOjoYC3Qn_s https://en.wikipedia.org/wiki/Gloria_Belle http://bluegrasstoday.com/on-his-day-13-gloria-belle/ "...Born in 1939, an only child, Gloria Bernadette Flickinger was raised in Hanover, Pennsylvania." >

Gloria Belle "Love Of The Mountains" (Webco, 1986) (LP)

Laura Benitez "For Duty Or For Love" (Copperhead Records, 2010)








Laura Benitez & The Heartache "Heartless Woman" (Copperhead Records, 2014)
(Produced by Gabriel Shepard)



<! - other than a cover of a Gillian Welch song, all songs are Benitez originals - - no ASIN 10/31/14 >

Stephanie Bentley "Hopechest" (Sony-Epic, 1996)


(Produced by Todd Wilkes and Paul Worley)
The lone album by this clear-toned singer-songwriter from Georgia. Bentley initially made her mark as Ty Herndon's duet partner on "Heart Half Empty" (which is featured here, as well as on one of his albums) although a few tracks on this album were modestly successful as singles. Like many aspiring Nashville artists, Bentley was more successful as a songwriter: she wrote "Breathe," which as a huge hit on Pop and Country for Faith Hill, as well as hits for singers such as Martina McBride, Jo Dee Messina, and Pam Tillis. As that list might imply, she was pretty solidly in the pop-crossover style of modern Nashville music, and this album reflects that, largely through the by-the-numbers production, with a bright, but bland, sound. Still, I wish Bentley'd had the chance to go further as a recording artist... she had a nice voice, with a Nanci Griffith-ish feel on some songs, though also capable of getting a little gritty when she wanted to give a song more of a rootsy feel.


<! http://en.wikipedia.org/wiki/Stephanie_Bentley She has also co-written album cuts for Cˇline Dion, et al >
Barbi Benton "Barbi Doll" (Playboy, 1975) (LP)


An actress and popular Playboy "bunny," Barbi Benton also was a regular on the Hee Haw TV show, and parlayed that gig into a moderately successful country career, which saw the release of several albums during the 1970s... On the Playboy record label, no less!
Barbi Benton "Barbi Benton" (Playboy, 1975) (LP)


This album included her biggest hit, "Brass Buckles" which hit #5 on the charts...


<! Her second album includes the Top 5 country smash "Brass Buckles" which remained her only Top 40 hit beside a duet with fellow Playboy recording star Mickey Gilley... >

Barbi Benton "Something New" (Playboy, 1976) LP)

Barbi Benton "Ain't That Just The Way" (Playboy, 1978)

Barbi Benton "Kinetic Voyage" (Takoma, 1988) (LP)

Barbi Benton "Barbi Benton" (Max Cat, 2010)


Matraca Berg -- see artist profile
Crystal Bernard "Girl Next Door" (River North, 1996)



Actress (and singer) Crystal Bernard is perhaps best known for having sung the goofy anti-evolution novelty number, "The Monkey Song" on the Jerry Falwell show back in 1972 when she was just a little kid. Her father was an evangelical preacher who was in Falwell's orbit and they must have thought it was really cute having her and her sister Robin sing about how silly primate evolution was. But hey, "The Monkey Song" got her and her sister into show business, so I guess whatever works... Anyway, she did a lot of TV work and recorded a couple of albums as well. This one's the most country, and grazed the middle rungs of the Top 100. If you like glossy pop-country, this might be of interest... it's not terribly distinctive, but for the genre, it's okay.
Crystal Bernard "Don't Touch Me There" (Platinum, 1999)



There's a teensy bit of twang in here, but mostly I'd consider this a gooey pop album... I suppose fans of Sara Evans, et. al. could get into this... Doesn't do much for me, though.


<! also: Jerry Fallwell "Feudin' Fussin' and Frettin' " (1972) B001F4PTV0 Crystal Bernard & Jerry Wayne Bernard (dad) album B0002IN1PG >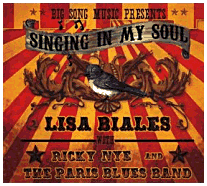 Lisa Biales "Singing In My Soul" (Big Song Music, 2013)



(Produced by Ricky Nye)
A really nice retro-blues record, with Ohio's Lisa Biales moving further back in time from her pervious Bonnie Raitt-ish album back to the sounds of the 1920s and '30s, covering classics by Blu Lu Barker, Mississippi John Hurt, Sister Rosetta Tharpe and Sippie Wallace. Her vocals are cool and confident, with strong string-swing accompaniment from pianist Ricky Nye and his Paris Blues Band. She includes several familiar tunes, such as "Careless Love" and "You Got To Know How," so listeners get to adjust themselves to this being a set of standards, and pay attention to her interpretations, which -- I gotta say -- are uniformly pleasant. She also contributes one original composition, the playful, eccentric "Magic Garden," which has a saucy take on the Garden of Eden scenario. Nice record... highly recommended!
Rae Billing "Rae Billing" (Other People's Music, 2001)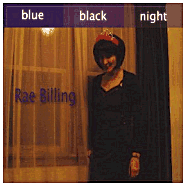 Rae Billing "Blue Black Night" (Hug Music, 2008)



(Produced by Peter J. Moore)
An independently-released Canadian alt-country outing that is intensely derivative of raspy-voiced twang-gal balladeers such as Lucinda Williams, Mary Gautier and Eliza Gilkyson. Not that there's anything wrong with that, per se, but at times you do wish you were hearing more of Billing singing with her own voice, either metaphorically or literally. She tends towards the introspective and confessional side of the 'cana spectrum, not quite cutting loose with honkytonk twang or bluesy romps, but for fans of downcast, rueful-poetic lyrics, here's another album to put into the hopper.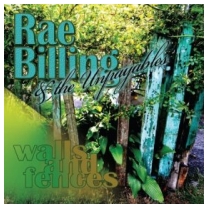 Rae Billing & The Unpayables "Walls And Fences" (Hug Music, 2013)



(Produced by Michael J. Birthelmer)
Canadian songwriter Rae Billing is one of a generation of alt-country gals who sound like Lucinda Williams in much the same way skinny white guys in the early '70s all sounded like Dylan. But, hey, if you're gonna sound like someone famous, go for the gold. This album has a heavier, folkier, more singer-songwriter feel than some of her earlier work, but even though it's not my cup of tea, some songs stand out, such as the rueful "Sacramento River" and the Neil Young-ish "Seven Days." The production on this one's a bit lush for me, but folk fans might dig it.
Terri Binion "Leavin' This Town" (Daemon/Shinola, 1997)



Terri Binion "Fool" (Richter, 2002)



One of the most distinctive indie-Americana albums to come down the pike in quite some time! This record makes a strong first impression, and only gains depth with each successive listen. Orlando, Florida's Terri Binion sings with an irony-laced raspiness, making it easy to draw a facile Lucinda Williams comparison (especially since Lucinda sings harmony on the bouncy opening track, "GayleAnne"...) yet Binion clearly has her own artistic voice, and every song on this album has a compelling, off-kilter charm. Cloaked in familiar-sounding country-tinged arrangements, she glides subtly into pop-folkish singer-songwriter terrain, balancing wry lyrics and skillfully crafted melodies in a way that is also reminiscent of the Roches early work. Many of today's alt-hick types have their glimpses of brilliance; Binion is able to sustain her connection to the Muse throughout the length of the entire album. Nice touch on the "mystery track" at the end -- Binion does a little field recording with one of her old-timer Southern relatives, who she sits down and asks to sing the song about a moonshiner relative, Jim Binion, locally famous for having taken a pot-shot at the sheriff one day. with banjo plunkin', and quiet self effacement, he answers her question, "who wrote this song?" by saying, "I dunno: it was here when I was here!" Just one more charming touch on a compelling, noteworthy album. This is one you'll definitely want to pick up -- and hang onto. (Here's her website for more info.)
Vicki Bird "I'm Gone" (Aaron Records) (LP)

Vicki Bird "God Is In The House"

The Biscuit Burners "Fiery Mountain Music" (Indidog, 2004)


Bluegrass-meets-indie from a North Carolina band featuring singer Shannon Whitworth, who went on to record several solo albums... Very choppsy, but also very eclectic... Fans of Uncle Earl or the Be Good Tanyas might enjoy this as well.


<! band included Shannon Whitworth >

The Biscuit Burners "A Mountain Apart" (Indidog, 2005)


The Biscuit Burners "Take Me Home" (Indidog, 2008)


---
Hillbilly Fillies - More Letter "B"
---