<! MP3 05/07/10, 12/21/10 > <! outside 06/26/10 - BB > <! pix 00/00/00 > <! icons 12/21/10 > <! UPDATES: 05/07/10 - could spin Judds off into own discography, Norah Jones, too 10/31/11 - a couple of adds from Fillies 11/12/13 - Sarah Johns review, a few 170s > <! Sherri Jerrico "Hell Yes I Cheated" (Gusto, 1977) 7" J'Anna Jacoby "Little Girl With Her Hair All Down Behind" (Paradise Productions, 1978) J'Anna Jacoby "J'Anna Blossoms" (Paradise Productions, 1978) - California State Oldtime Fiddling Champion, Junior Division 1975 and 1976 - 13 Year old fiddler - all flower-themed songs - "...currently featured musician with Rod Stewarts band" (in 2010s) Ramona Jones "Back Porch Fiddlin', Vol. 1" (Happy Valley, xxxxxx) Julie & The Electric Rangers "Front Burner Country" (Lehua, xxxxxx) Anne Johnson "Here I Go" (Pacifica Records, 1986) (LP) (Produced by by J. R. Edmonds & Jesse Boyce) - (RARE PRIVATE PRESS COUNTRY - Hoot Hester, Vic Jordan and Doyle Grisham in studio band - recorded in LA - a bunch of originals by J. R. Edmonds Pamela Jean "A New Star In The Western Sky" (New Pioneer, xxxxx) - Private /Vanity Country TEEN Gal Singer LP 80s PAMELA JEAN New Star WESTERN SKY - Small Label from NEW PIONEER Records, La Puente, California... I assume Pamela Jean was in her EARLY teens when she recorded this... Numbers are: "MY WINGS, OLD MAN, TROUBADOUR, MAN IN BLACK, FALLEN LITTLE SISTER, CITY OUTLAW, TEDDY BEAR, OUTLAW LADIES, HOW ABOUT IT, JOHNNY" Reesa Kay Jones "Simply For You" (xxxxxxxxx, xxxxxxxx) (LP) - no ASIN 11/2013 - no label info - 1970s(?) Nancy Johnson "Mellow Lady" (Tree Frog, 1973) - private press folk country sam bush LP NM+ 1973 >
---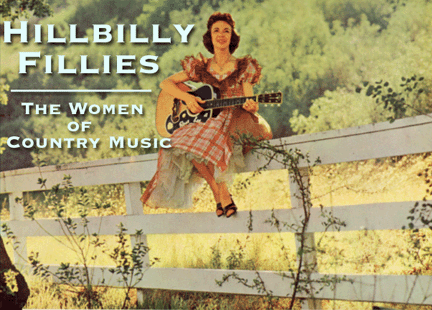 Welcome to my overview of women in country music, with reviews ranging from folk and bluegrass to honkytonk, rockabilly and Nashville pop. This is the first page covering the letter "J."
---
A | B | C | D | E | F | G | H | I | J | K | L | M | N | O | P | Q | R | S | T | U | V | W | X, Y & Z | Comps
---
Wanda Jackson - see artist discography
Jana Jae -- see artist profile
Elana James "Elana James" (Snarf Records, 2006)



An absolutely captivating and lively record from fiddler Elana James (nee Fremerman), formerly of the Hot Club Of Cowtown. Given her illustrious swing-string pedigree, the mix of western swing and jazz standards is no surprise, but what's a delight is the album's focus and cohesion, and how gosh-darn well-produced it sounds. It just sounds like a pure, unfettered expression of what she wants to do, and with an artist this talented, that's a pretty cool thing. Throughout the album, James is clearly channeling the spirit of Bob Wills, but with a lively snap of the bow that's all her own; the vocals are also nice, as are the nods to Duke Ellington, Billy Strayhorn and Eubie Blake. If you liked the Hot Club, you're gonna want to pick this one up... pronto! (Available through www.elanajames.com)
Jessie James "Jessie James" (Mercury, 2009)



A mostly-pop outing, with mild "country" undertones (a little bit of lackadaisical banjo plunking, amid the synthy drum machines...) I suppose this is meant to be a have-your-cake-and-eat-it-too marketing effort, that'd maybe play on country radio as well as pop. But who cares? Whatever style she sings in, James isn't that memorable.


<! 144 x 144 >
Mickie James "Strangers & Angels" (CountryShowcase, 2010)


(Produced by Kent Wells)
A champion pro wrestler goes Nashville, with a couple of songs that make nods to her rowdy past ("Dumb B*itch" and "I Call The Fight...") Can't say that this did much for me: the music is more generic rock-blues than it is twang, and if I wasn't so afraid that she'd kick my ass for saying so, I'd point out that her vocals ain't that great, either. She's definitely not much of a country singer, but I guess the idea was to be some sort of Gretchen Wilson wannabee... I'll stick with Wilson, though... thanks.


<! 144 x 144 >
Bobbi Jane "Bobbi Jane" (Pentagon, 1981) (LP)


(Produced by Alan L. Dote)
The Pentagon label was an ambitious, if minor, indie out of Millbrae, California (near San Jose) which seems to have issued a few LPs (and presumably singles) in the late 1970s and early '80s... Singer Bobbi Jane was decidedly a back-bencher, really not a very good vocalist, although she threw herself into it with great gusto, and a few songs work as rudimentary country thumpers, albeit with a strong whiff of so-bad-it's-good kitschiness. The more straightforward country numbers are best, though a disco-era hangover is present throughout, in the persistent presence of a cheesy keyboard-synth. The keyboards are unleashed in a bombastic solo on "Gone Too Long," a straight disco pop song that's kind of jarring in comparison to the rest of the record. Most of the songs are credited to producer Alan L. Dote, although a couple were written by Bobbi Jane... Overall, I have to admit there's not a lot to recommend this record, although obscuro-twang fans (like me) may enjoy it for its very DIY-ishness.


<! label is from Millbrae, CA - not sure where Jane was from - liner notes say she played gigs in Vegas and Reno. >
The Jane Dear Girls "The Jane Dear Girls" (Warner-Reprise, 2011)



Faux-roots country with antiseptic modern production; the slick studio sound I can handle, but what really bugs me are their vocals -- the flat, phony sneer of contemporary teenybopper pop infects their harmonies, and shrieks out the blandness of their product. Yeah, I "get" that commercial country has cross-pollinated with post-Miley Cyrus pop, and I get that this is a valid stylistic choice... I just personally find it terribly empty and uninvolving. Oh, well. Can't win 'em all.


<! 144 x 144 >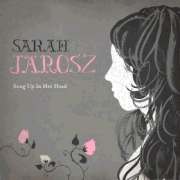 Sarah Jarosz "Song Up In Her Head" (Sugar Hill, 2009)



(Produced by Gary Paczosa & Sarah Jarosz)
On her opening track, "Song Up In Her Head," newcomer Sarah Jarosz namechecks the mighty Gillian Welch and then moves through a series of songs that easily put her on a par with her Americana-indie icon. While that track may seem imitative, the next, "Edge Of A Dream," is revelatory -- a moody, mystical tune with a drifting melody that can get stuck in your head for days on end. Jarosz, a multi-instrumentalist who is equally at home on clawhammer banjo, piano or mandolin, performs with immense confidence, which is all the more remarkable given that she was only seventeen years old when this record was made. In the last five years she has been performing onstage with some of the biggest names in bluegrass, including spacegrass elder David Grisman. Grisman's son Samson is in Jarosz's posse, playing bass on this album, alongside studio pros such as Jerry Douglas and Stuart Duncan, and former Nickel Creek-er Chris Thile. She clearly has an affinity for a wide range of bluegrass and other acoustic styles, from traditional/old-timey sounding songs in the David Rawlings-Gillian Welch mold to more exploratory, poetic songwriting, ala Nickel Creek and Alison Krauss. As a songwriter and performer, Jarosz is a marvel, penning "Broussard's Lament," one of the most powerful of the recent crop of modern topical folk songs about Hurricane Katrina, while tapping deep into the blues-gospel spirituality of "Come On Up To The House," and the Joni Mitchellesque melancholy of "Long Journey." On these songs, as on others, she sings with an emotional depth and level of understanding that belies her youth. Only on a couple of tunes, the goofy-gothy "Shankill Butchers" and the sprightly but amorphous "Left Home," is there the tiniest hint of her as a teenager learning her craft; otherwise, she reveals herself as one of the most powerful performers in her field, newcomer or otherwise. This is one of the best Americana albums of the year, and Ms. Jarosz is an artist to keep close track of, a real gem.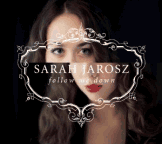 Sarah Jarosz "Follow Me Down" (Sugar Hill, 2011)



(Produced by Gary Paczosa & Sarah Jarosz)
I am a big fan of Sarah Jarosz -- she has a penetrating, timeless voice; her debut album of a couple of years ago had a revelatory feel, and I do believe that she is a major talent on the bluegrass(y) acoustic music scene. That being said, I had a hard time getting into this album, where the delicate balance between exploration and tradition has been pretty thoroughly upended in favor of the singer-songwriter pop-folk crossovers pioneered by Nickel Creek, Alison Krauss and company. That's okay, I guess, but I really feel Jarosz's sublime side shows better in more traditional, old-timey flavored songs, and that is borne out on this album in her adaptation of Edgar Allan Poe's ghost story ballad, "Annabelle Lee," a mix of folk and electric that sounds, for all the world, like an old Steeleye Span song. The rest of the record is largely taken up with her own compositions, which lean heavily on what I would call spiral-bound notebook lyrics, the kind of teenager poetry that Taylor Swift, Fiona Apple and others have taken to the top of the charts and which thousands of budding bedroom poets pen every day... But heartfelt and talented though Jarosz may be, these songs -- particularly self-involved, emotionally baroque anthems such as "My Muse" and "Floating In The Balance" -- needed more self-editing and paring down, and seem too complicated and thematically on-the-nose to resonate as much as the musicianship that accompanies them. Maybe it's just that I'm too old or too square or too into traditional music to hear this as anything but juvenilia, and I'm sure there is an enthusiastic audience to be found, but still I found myself disappointed, especially in comparison to her first record, which knocked me flat. The good news is that Jarosz is young, immensely talented, and working in an indie environment that can foster niche music-making and stylistic experimentation... Her future looks bright, no matter what grumpy old farts like me have to say. If you're looking for forward-thinking folk/grass, you might wanna check this one out -- but if you haven't heard her first album, it is an absolute must-have.
Sarah Jarosz "Live At The Troubadour" (Self-Released, 2013)



Apparently this disc is available through her website, though I've also seen it at my local record hut... More genre-bending Americana brilliance from this wildly creative fiddlin' gal...
Norma Jean - see artist discography
Sherri Jerrico "County Heartaches" (Crazy Cajun) (LP)

Eilen Jewell "Boundary County" (2006)

Eilen Jewell "Letters From Sinners And Strangers" (Signature Sounds, 2007)


Eilen Jewell "Heartache Boulevard" (EP) (Signature Sounds, 2008)


Eilen Jewell "Sea Of Tears" (Signature Sounds, 2009)


Eilen Jewell "Butcher Holler: A Tribute To Loretta Lynn" (Signature Sounds, 2010)


Eilen Jewell "Queen Of The Minor Key" (Signature Sounds, 2011)



Jim & Jennie "...And The Pine Barons"


Jim & Jennie And The Pinetops "Little Birdie" (Overcoat, 2000)



This clattersome, Philadelphia-based quartet brings back some of the rowdy rambunctiousness of the old-timey stringbands... Their original material, about half of this album, is pretty strong, though it's also nice to hear them pay homage to their inspirations -- among them, the Carter Family, Flatt & Scruggs and the Delmore Brothers. I have to confess that although he's a very strong songwriter, Jim Krewson's vocals irritate me in that he's too strained and exaggeratedly twangsome, a little too schtick-y, if you see what I mean. His partner Jennie Benford mostly sounds pretty nice, though, and the two harmonize in a pleasantly unruly fashion. Benford reminds me quite a bit of Hazel Dickens, and it's quite appropriate that she pays Hazel homage, in a version of "Won't You Come Sing For Me." Nice record, definitely worth checking out.

Jim & Jennie And The Pinetops "One More In The Cabin" (Overcoat, 2002)



This is the first J&J album that's composed of all-original material, and it's a real doozy. Kinda hard to believe that these perfectly-crafted old-time-ish tunes were not in fact written by some mistily-remembered contemporary of the Carter Family or Grandpa Jones, but rather by a bunch of modern urban hipsters who just happen to have an uncanny grasp of the oddball mountain music of the early 20th Century. They get the constrained emotionality and matter-of-fact narrative tone just right, as well as the subject matter -- song after song starts with a familiar set-up, and it's really only until you open the CD booklet that you can be sure that these songs were actually written by the band. These folks aren't hotshot superpickers, and they purposefully sing all raspy and offkey, yet unlike oh, so many of their twangcore contemporaries, the Pinetops don't come off as pretentious dilettantes. Rather, this is a band that is respectful and utterly in command of the genre they've adopted, and their material is emotionally resonant and entirely convincing. In fact, I'd say that if at least some of these songs don't work their way into the official bluegrass canon, something is seriously wrong in the world. Highly recommended!

Jim & Jennie And The Pinetops "Rivers Roll On By" (Bloodshot, 2005)



It was definitely worth the three-year wait for fans to get this new Jim & Jennie album... They've rosined up the bow and spun another enchanting set of bluegrass and old-timey stringband music. Oddly enough, even though they've moved from the artsy Overcoat label onto the ostentatiously altie Bloodshot, the Pinetops have actually inched away from the clattersome anarchy of their previous albums towards something closer to straight-up bluegrass and folk. The softer, more professional approach gives their work a more authoritative feel, yet just as they seem to be settling into a more mainstream bluegrass mode, they gently drift into space-rockish terrain on a couple of tunes towards the end of the album, which helps keep things a little freaky. There's something compelling about this band -- the group has a singular presence, exuding a freshness and enthusiasm unlike that of many mainstream bluegrass crews -- Jim & Jennie take respectful advantage of the mountain music style without subsuming themselves to tradition and, as always, they dazzle us with a remarkable blend of naifish simplicity and canny innovation. Recommended!


<! 144 x 144 >

JJ White "Janice & Jayne" (Capitol, 1991)


Janice and Jayne White are a sister duo who wrote a lot of their own material... Their voices are twangy and rural, but the music is both slick and lethargic, monotonous, even. I suppose fans of the Judds or the Forresters might appreciate the family harmonies, but this isn't a very fun record.

Erika Jo "Erika Jo" (Universal South, 2005)



(Produced by Tim DuBois, Rick Giles & Steve Mandile)
A winner in the cable TV talent show, Nashville Star, teenager Erika Jo stood a good chance at becoming one of Nashville's new elite. Her major-label debut is a little too rock-pop at times, which is probably a hangover from an American Idol-y TV tilt towards perky, generic pop. But the album's opener, "I Break Things," is a great, upbeat honkytonkish tune that has a bit of Tanya Tucker sass to it, and hopefully it's a sign of good things to come. Like many younger singers, Jo doesn't quite sound like she has the real-life emotional experience to feel convincing on songs of heavy heartbreak and regret... But give her some time -- we all get kicked around a little, and when you're a country singer, that can come in handy. For fans of the current mix of ornate Nashville twang and fluffy, teenybopper pop (ala Lindsey Lohan), this disc might make for a little summer fun... I'll be interested to hear where she goes from here.


<! Sami Jo - see letter "S" >


Joey + Rory - see artist discography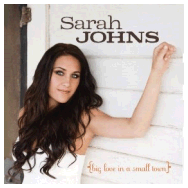 Sarah Johns "Big Love In A Small Town" (BNA, 2007)



(Produced by Joe Scaife)
One of the finer examples of the back-to-basics neo-trad country sound of the post-Gretchen '00s... There's lots of egregious twang with tons of fiddle and pedal steel, but unlike the trailblazing Gretchen Wilson, Kentucky-born Sarah Johns doesn't get stuck in macho-chick posturing. This is an album of country love songs, with a minimal use of novelty-song gimmicks and no references to shotguns, booze, tailgate parties or trucks. Thank God. There's only one track -- the milky, heavily-orchestrated "It's Hard To Be A Girl (In A Young Man's World)" -- that dips into the kind of gooey soul-ish pop that '90s femme-stars like Martina McBride and Sara Evans, et. al., made the dominant sound for Nashville women. Nonetheless, Johns keeps herself remarkably true to her country core, and the rest of the album, though tightly sculpted still has some real twang. It's particularly impressive to note that she wrote or co-wrote all the songs on here, making her a bit of a country auteur. Unfortunately, Nashville didn't reward her for her classiness: the album's two singles only made it to the outer edges of the Top 40, and that wasn't enough of a splash to earn her a second album. Pity. It's been a while, but I keep hoping she'll resurface, because modern country sure could use a few more artists with depth like this.


<! PS: interesting to see Melodie Crittenden singing backup on this one... >
Carolyn Dawn Johnson "Room With A View" (Arista, 2001)



(Produced by Paul Worley & Carolyn Dawn Johnson)
Although she dabbles in the glossy, poppy, overwritten style that defines post-millennial Nashville, Johnson still has a lightness of touch that makes some of these songs, like "Georgia" and "I'll Think Of You That Way," kind of compelling. The singles are kind of a mixed bag -- "Complicated" is a glossy, dreary bore, "One Day Closer To You" and "I Don't Want You To Go" both try and infuse more bounce into the formula, but they fall flat -- Johnson's sincere, bright vocals swathed in antiseptic, too-perfect studio production. It's too bad, really; she's an artist I have a natural sympathy for, but her records are simply more of the same mediocre, Martina McBride-ish pop-country "girl" stuff that crowded the radiowaves at the turn of the millennium... You can see why her career has kind of stalled, which is really kind of a shame, but honestly, there's no there there.
Carolyn Dawn Johnson "Dress Rehearsal" (Arista, 2004)



(Produced by Dan Huff)
As aggressively "pop" a country album as has been produced in the last five years or so... pretty lavish and heavy on the chiming electric guitars, compact rhythmic hooks and treble-tilting EQ, but also pretty effective at what it's trying to do. To their credit, the label picked two of the more demure, more country-sounding songs as the initial singles, "Simple Life," with it's pert little banjo riff, and "Die Of A Broken Heart," which is a rather nice little weeper... I would have picked those songs, too. The rest of the album, though, is a little bit busy for my tastes, and a few tunes are actually rather jarring -- the cloying pop-gospel of "God Doesn't Make Mistakes," the Stones-y Sheryl Crow-isms of "My Little Secret," the sheer shrillness of "Squeezin' The Love Right Out Of You," the awkward meter of the otherwise sweet "Life As We Know It," etc. Johnson's following the prefab pop diva path of Shania and them other 1990s gals, and while that style is a turnoff for me, more mainstream modern pop-country fans should find this album pretty satisfying. But really... why call it "country"??
Carolyn Dawn Johnson "Love And Negotiation" (Universal/Dancing Lily, 2009)


Carolyn Dawn Johnson "Love Rules" (Universal/Dancing Lily, 2010)

Lois Johnson - see artist discography

Jolie & The Wanted "Jolie & The Wanted" (Dreamworks, 2001)



(Produced by Dann Huff)
Very generic, very poppy stuff, with a few glimmers of life, but not much twang. Lead singer Jolie Edwards is perky, for sure, but the bright, bland production doesn't give her much room to do anything interesting. Includes a cover of Paul Davis' '70s AOR hit, "I Go Crazy." Jinkies.
Ann Jones - see artist discography
Diana Jones "My Remembrance Of You" (Newsong, 2006)



(Produced by Diana Jones & Mark Thayer)
A rambling, discursive, folkie set, with many songs that take a languid, repetitive approach, like "Pony," and "A Hold On Me." The jingling, blues-inflected guitar work strongly recalls Gillian Welch and David Rawlings, while the introspective, off-kilter lyrics are closer to Kate Campbell's difficult, unusual poetical style. Jones was a winner at the Kerrville Folk Festival, and the contemporary folk sound is pretty dominant in her work, though in a rather challenging form, full of odd time signatures and uneven, angular vocals. Worth checking out, though it's not quite my cup of tea.
Georgette Jones "A Slightly Used Woman" (Heart Of Texas, 2009)



The daughter of country superstars Tammy Wynette and George Jones, Tamala Georgette Jones cut her teeth touring and recording with both her parents, especially as a member of her mother's road show. Vocally, she takes after her mom, although she likes to dip into rougher honkytonk themes as well as more romantic material. She's recorded several records for the Heart Of Texas label, as well as some self-released material that's available through her own website.
Georgette Jones "Strong Enough to Cry" (Heart Of Texas, 2011)


Georgette Jones " 'Til I Can Make It On My Own" (Heart Of Texas, 2013)






<! Also gospel album and other available on her website > <! Tamala Georgette Jones (born October 5, 1970) is an American country music artist. She is most famously known as the daughter of country music royalty, George Jones and Tammy Wynette. She's been singing with one or both parents since the age of three. Jones recorded her first single with her Dad, "Daddy Come Home" when she was ten years old and performed it on an HBO special. Georgette truly kicked off her musical career working as a backup singer for her Mom. Through the years, she has appeared on TV shows such as Crook and Chase, RFD-TV and The Grand Ole Opry. Georgette is a songwriter and member of SESAC and the CMA. A highlight of Jones' career was recording a duet with Mark McGuinn that was included on his "One Man's Crazy" CD. Georgette tours Ireland twice a year, where she has developed a very loyal fan base, as well Europe and Asia. A duet entitled "You and Me and Time", which Georgette co-wrote for her Dad, was released as the first single from her Dad's last CD, "Burn Your Playhouse Down", released in 2008. Georgette filmed a TV series entitled "Sordid Lives" starring along side Emmy award winner Leslie Jordan (Will and Grace) and many other big stars such as, Olivia Newton-John, Bonnie Bedelia (Die Hard), Margaret Cho and more. In the soundtrack for the series, Georgette re-recorded three of her Mom's songs to be included with five songs from Olivia Newton-John. Georgette has recorded 3 CD's with Heart of Texas Records. They are, "A Slightly Used Woman", released in 2009, "Strong Enough to Cry", released in 2011 and her most recent, "Til I Can Make It On My Own", a tribute to her mother, released in 2013. You can also find some of her other CD's, such as "When Tractors Fly" and a gospel album, "I Believe", along with other merchandise at her website, http://www.GeorgetteJones.com >
Kacey Jones "Men Are Some Of My Favorite People" (Curb, 1997)



The solo debut of Kacey Jones, the country comedy grand dame who started out as the lead singer for Ethel & The Shameless Hussies... Jones first came to fame as the co-composer of Mickey Newbury's hit, "I'm The One Mama Warned You About," and after a couple of major label albums, she went indie, founding her own IGO record label.
Kacey Jones "Every Man I Love Is Either Married, Gay Or Dead" (Igo, 2000)


Kacey Jones "Never Wear Panties To A Party" (Igo, 2001)


Kacey Jones "The Sweet Potato Queens' Big-Ass Box Of Music" (Igo, 2003)


Kacey Jones "Every Man I Love Is Either Married, Gay Or Dead – Live" (Igo, 2005)


Kacey Jones "Kacey Jones Sings Mickey Newbury" (Image, 2006)


Kacey Jones "Nipples To The Wind" (Igo, 2007)


Kacey Jones "Kaceyoke, v.1" (Igo, 2008)


Kacey Jones "Donald Trump's Hair" (Igo, 2009)






<! Kacey Jones - also see: Ethel & The Shameless Hussies http://en.wikipedia.org/wiki/Kacey_Jones >


Norah Jones - see artist discography




Lorraine Jordan "Mandolin Rose" (West Station Records, 2002)


A tribute to bluegrass mandolinist John Duffy, co-founder of the Country Gentlemen...
Lorraine Jordan "Road Trip For The Lord" (Self-Released, 2005)


Lorraine Jordan "A Stop In South Port Towne" (Blue Circle, 2006)


Lorraine Jordan "Why Don't You Give Jesus A Try" (Blue Circle, 2008)


Lorraine Jordan "Christmas In Carolina" (Blue Circle, 2008)


Lorraine Jordan "Carolina Road" (Blue Circle, 2008)


Lorraine Jordan "Carolina Hurricane" (Rural Rhythm, 2010)


Lorraine Jordan "...And Carolina Road" (Pinecastle, 2012)



(Produced by Josh Goforth)
A slam-bang, super-pure set of traditionally-oriented bluegrass, with picture perfect harmonies and solid picking throughout. Mandolinist Lorraine Jordan makes a funny kind of bandleader: she has a great voice, but only sings on a few tunes, letting guitarist Tommy Long sing lead on all but one track, and she's not big on taking solos, either, happy to give the spotlight to the guys in her band. And, hey: whatever works. This is a great record, these are great musicians, and I'm not one to argue with success. There are a couple of well-chosen cover songs, as well as several excellent originals written by Jordan and by various members of her band, including a nice gospel tune, "I Saw The Golden Stairs," which is a fine showcase for their group harmonies. If you like old-school bluegrass, don't miss this one!


<! Lorraine Jordan "Inspiration" (Unforgettable Music, 1991) B000CAAM24 Lorraine Jordan "Crazy Guessing Games" (Lochshore, 1994) B004UVD2CI - I think this is a different person, Joan Baez-y folk - IRISH artist - - others as well Lorraine Jordan "Mandolin Rose" (West Station Records, 2002) B004FBZ6CM - tribute to John Duffy Lorraine Jordan "Road Trip For The Lord" (Self-Released, 2005) B000I5YI3M B0012JCJRK Lorraine Jordan "A Stop In South Port Towne" (Blue Circle, 2006) B000HA3TD8 B0012N31HS Lorraine Jordan "Why Don't You Give Jesus A Try" (Blue Circle, 2008) B001EGFWFW B0026ICYTE Lorraine Jordan "Christmas In Carolina" (Blue Circle, 2008) B001EN5N18 B001GCNR8S Lorraine Jordan "Carolina Road" (Blue Circle, 2008) B000UGZ4R8 B001I47C30 Lorraine Jordan "Carolina Hurricane" (Rural Rhythm, 2010) B003A060LK B004467EXC Lorraine Jordan "...And Carolina Road" (Pinecastle, 2012) >
Tresa Jordan "3D" (South River Road, 2005)



Pretty darn good. Jordan clearly has commercial aspirations and I'll bet she can make it, if she plays her cards right. This album shows her adept at a variety of Top Country styles, from the relatively rootsy to the sappy and poetic, reaching into the Sara Evans/Martina McBride side of pop-country, while still keeping sight of some good, old gravel-road grit. I didn't expect much from this record, but I was pleasantly surprised... You might be, too.


<! 144 x 144 >
Teri Joyce "Kitchen Radio" (Self-Released, 2009)



(Produced by Teri Joyce & Justin Trevino)
More great indie twang from Texas. This is one of those records that I find myself listening to over and over, and liking more and more... And there's a lot to enjoy. Backed by Americana stalwarts such as guitarist Dave Biller and pianist T. Jarrod Bonta, Joyce brings a pure DIY, indie-twang sensibility to this record, full of earnest feeling and pleasantly human imperfections. Best of all is her grasp of old-school country, although old-school of a certain variety... On the opening tracks, particularly on "Don't Look For Me 'Til You See Me Comin'," and "Belly Up," she magically captures the feel of the twangier end of the early '70s commercial country scene, the buoyant novelty songs you'd hear on the radio, circa 1972, sandwiched between the syrupy countrypolitan hits... Indeed, the album's title track is an ode to the old days, when country radio was less tragically prefab and predictable; she's also got an anthem to Austin and aching ballads, like the evocative "Bluebonnets For My Baby." Roger Wallace provides some fine, Haggard-esque harmonies and duet vocals on several tunes... All in all, a fine record from an artist worth keeping on your radar.
The Judds - see artist discography
Wynonna Judd - see artist discography
---
Hillbilly Fillies - Letter "K"
---