<! MP3 05/07/10, 12/21/10 > <! outside 06/26/10 - BB > <! pix 00/00/00 > <! icons 12/21/10 > <! updates 05/07/10 - could spin Judds off into own discography, Norah Jones, too 10/31/11 - a couple of adds from Fillies > <! Sherri Jerrico "Hell Yes I Cheated" (Gusto, 1977) 7" >
---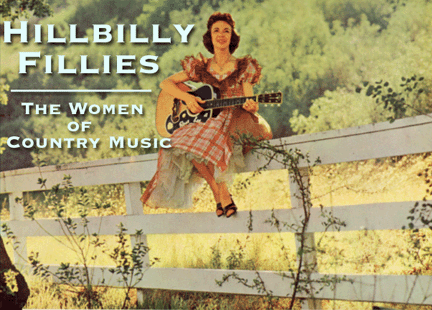 Welcome to my overview of women in country music, with reviews ranging from folk and bluegrass to honkytonk, rockabilly and Nashville pop. This is the first page covering the letter "J."
---
A | B | C | D | E | F | G | H | I | J | K | L | M | N | O | P | Q | R | S | T | U | V | W | X, Y & Z | Comps
---
Wanda Jackson - see artist discography
Elana James "Elana James" (Snarf Records, 2006)



An absolutely captivating and lively record from fiddler Elana James (nee Fremerman), formerly of the Hot Club Of Cowtown. Given her illustrious swing-string pedigree, the mix of western swing and jazz standards is no surprise, but what's a delight is the album's focus and cohesion, and how gosh-darn well-produced it sounds. It just sounds like a pure, unfettered expression of what she wants to do, and with an artist this talented, that's a pretty cool thing. Throughout the album, James is clearly channeling the spirit of Bob Wills, but with a lively snap of the bow that's all her own; the vocals are also nice, as are the nods to Duke Ellington, Billy Strayhorn and Eubie Blake. If you liked the Hot Club, you're gonna want to pick this one up... pronto! (Available through www.elanajames.com)
Jessie James "Jessie James" (Mercury, 2009)



A mostly-pop outing, with mild "country" undertones (a little bit of lackadaisical banjo plunking, amid the synthy drum machines...) I suppose this is meant to be a have-your-cake-and-eat-it-too marketing effort, that'd maybe play on country radio as well as pop. But who cares? Whatever style she sings in, James isn't that memorable.
Mickie James "Strangers & Angels" (CountryShowcase, 2010)


(Produced by Kent Wells)
A champion pro wrestler goes Nashville, with a couple of songs that make nods to her rowdy past ("Dumb B*itch" and "I Call The Fight...") Can't say that this did much for me: the music is more generic rock-blues than it is twang, and if I wasn't so afraid that she'd kick my ass for saying so, I'd point out that her vocals ain't that great, either. She's definitely not much of a country singer, but I guess the idea was to be some sort of Gretchen Wilson wannabee... I'll stick with Wilson, though... thanks.
The Jane Dear Girls "The Jane Dear Girls" (Warner-Reprise, 2011)



Faux-roots country with antiseptic modern production; the slick studio sound I can handle, but what really bugs me are their vocals -- the flat, phony sneer of contemporary teenybopper pop infects their harmonies, and shrieks out the blandness of their product. Yeah, I "get" that commercial country has cross-pollinated with post-Miley Cyrus pop, and I get that this is a valid stylistic choice... I just personally find it terribly empty and uninvolving. Oh, well. Can't win 'em all.
Norma Jean - see artist discography
Sherri Jerrico "County Heartaches" (Crazy Cajun) (LP)

Eilen Jewell "Boundary County" (2006)

Eilen Jewell "Letters From Sinners And Strangers" (Signature Sounds, 2007)


Eilen Jewell "Heartache Boulevard" (EP) (Signature Sounds, 2008)


Eilen Jewell "Sea Of Tears" (Signature Sounds, 2009)


Eilen Jewell "Butcher Holler: A Tribute To Loretta Lynn" (Signature Sounds, 2010)


Eilen Jewell "Queen Of The Minor Key" (Signature Sounds, 2011)


Jim & Jennie "...And The Pine Barons"

Jim & Jennie And The Pinetops "Little Birdie" (Overcoat, 2000)



This clattersome, Philadelphia-based quartet brings back some of the rowdy rambunctiousness of the old-timey stringbands... Their original material, about half of this album, is pretty strong, though it's also nice to hear them pay homage to their inspirations -- among them, the Carter Family, Flatt & Scruggs and the Delmore Brothers. I have to confess that although he's a very strong songwriter, Jim Krewson's vocals irritate me in that he's too strained and exaggeratedly twangsome, a little too schtick-y, if you see what I mean. His partner Jennie Benford mostly sounds pretty nice, though, and the two harmonize in a pleasantly unruly fashion. Benford reminds me quite a bit of Hazel Dickens, and it's quite appropriate that she pays Hazel homage, in a version of "Won't You Come Sing For Me." Nice record, definitely worth checking out.
Jim & Jennie And The Pinetops "One More In The Cabin" (Overcoat, 2002)



This is the first J&J album that's composed of all-original material, and it's a real doozy. Kinda hard to believe that these perfectly-crafted old-time-ish tunes were not in fact written by some mistily-remembered contemporary of the Carter Family or Grandpa Jones, but rather by a bunch of modern urban hipsters who just happen to have an uncanny grasp of the oddball mountain music of the early 20th Century. They get the constrained emotionality and matter-of-fact narrative tone just right, as well as the subject matter -- song after song starts with a familiar set-up, and it's really only until you open the CD booklet that you can be sure that these songs were actually written by the band. These folks aren't hotshot superpickers, and they purposefully sing all raspy and offkey, yet unlike oh, so many of their twangcore contemporaries, the Pinetops don't come off as pretentious dilettantes. Rather, this is a band that is respectful and utterly in command of the genre they've adopted, and their material is emotionally resonant and entirely convincing. In fact, I'd say that if at least some of these songs don't work their way into the official bluegrass canon, something is seriously wrong in the world. Highly recommended!
Jim & Jennie And The Pinetops "Rivers Roll On By" (Bloodshot, 2005)



It was definitely worth the three-year wait for fans to get this new Jim & Jennie album... They've rosined up the bow and spun another enchanting set of bluegrass and old-timey stringband music. Oddly enough, even though they've moved from the artsy Overcoat label onto the ostentatiously altie Bloodshot, the Pinetops have actually inched away from the clattersome anarchy of their previous albums towards something closer to straight-up bluegrass and folk. The softer, more professional approach gives their work a more authoritative feel, yet just as they seem to be settling into a more mainstream bluegrass mode, they gently drift into space-rockish terrain on a couple of tunes towards the end of the album, which helps keep things a little freaky. There's something compelling about this band -- the group has a singular presence, exuding a freshness and enthusiasm unlike that of many mainstream bluegrass crews -- Jim & Jennie take respectful advantage of the mountain music style without subsuming themselves to tradition and, as always, they dazzle us with a remarkable blend of naifish simplicity and canny innovation. Recommended!

JJ White "Janice & Jayne" (Capitol, 1991)


Janice and Jayne White are a sister duo who wrote a lot of their own material... Their voices are twangy and rural, but the music is both slick and lethargic, monotonous, even. I suppose fans of the Judds or the Forresters might appreciate the family harmonies, but this isn't a very fun record.

Erika Jo "Erika Jo" (Universal South, 2005)



(Produced by Tim DuBois, Rick Giles & Steve Mandile)
A winner in the cable TV talent show, Nashville Star, teenager Erika Jo stood a good chance at becoming one of Nashville's new elite. Her major-label debut is a little too rock-pop at times, which is probably a hangover from an American Idol-y TV tilt towards perky, generic pop. But the album's opener, "I Break Things," is a great, upbeat honkytonkish tune that has a bit of Tanya Tucker sass to it, and hopefully it's a sign of good things to come. Like many younger singers, Jo doesn't quite sound like she has the real-life emotional experience to feel convincing on songs of heavy heartbreak and regret... But give her some time -- we all get kicked around a little, and when you're a country singer, that can come in handy. For fans of the current mix of ornate Nashville twang and fluffy, teenybopper pop (ala Lindsey Lohan), this disc might make for a little summer fun... I'll be interested to hear where she goes from here.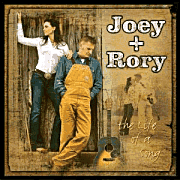 Joey & Rory "The Life Of A Song" (Sugar Hill, 2008)



The husband-wife duo of Joey Martin Feek and Rory Lee Feek became country stars after winning CMT's Can You Duet talent contest, and they really do have a great singing style: Joey sounds a lot like Kelly Willis (one of my faves) while Rory evokes any number of gruff-voiced country old-timers. They show an assured command of several styles of country, particularly sweet, old-style acoustic twang, the sort of roots-based material that was still common i the early '70s, when Porter Wagoner and Dolly Parton were in their heyday. This was their first album after winning the contest, a nice mix of old and new...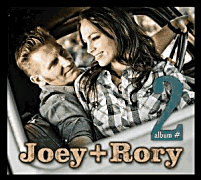 Joey & Rory "Album #2" (Vanguard/Sugar Hill, 2010)



(Produced by Carl Jackson & Keith Stegall)
Fun stuff! These two have a great sense of humor, as heard on this album's title track, which makes light of the pressures placed on new country artists in a mercilessly fickle marketplace. They sing about their newfound fame in a way that doesn't sound at all narcissistic or obnoxious: rather than sing about vacationing in the islands, or how tough touring is, they joke about how silly the world of image consultants and audience polling can be. They sound like real people -- folks you'd actually like to hang out with at a backyard barbecue -- and not big hat-act headliners pretending to be salt of the earth. This theme is reprised on "Farm To Fame," where they still sound remarkably down-to-earth, and other humorous tunes keep the album humming along, as well as some sweet heartsongs and gospel-oriented numbers that anchor the album in traditional values without seeming preachy or judgmental (the most overtly religious song, "Where Jesus Is," is actually partly a repudiation of the holier-than-thou crowd, kind of a bold stand for a contemporary country act to take... ) So, kudos to this amazing duo, for following their hearts and making such good music with such intelligent, entertaining lyrics. They take full advantage of working with the ever-amazing Carl Jackson, richly traditional but still in touch with the modern scene, acoustic-based but full of punch. This is a really fine record, definitely worth checking out!
Sarah Johns "Big Love In A Small Town" (BNA, 2007)


Carolyn Dawn Johnson "Room With A View" (Arista, 2001)



(Produced by Paul Worley & Carolyn Dawn Johnson)
Although she dabbles in the glossy, poppy, overwritten style that defines post-millennial Nashville, Johnson still has a lightness of touch that makes some of these songs, like "Georgia" and "I'll Think Of You That Way," kind of compelling. The singles are kind of a mixed bag -- "Complicated" is a glossy, dreary bore, "One Day Closer To You" and "I Don't Want You To Go" both try and infuse more bounce into the formula, but they fall flat -- Johnson's sincere, bright vocals swathed in antiseptic, too-perfect studio production. It's too bad, really; she's an artist I have a natural sympathy for, but her records are simply more of the same mediocre, Martina McBride-ish pop-country "girl" stuff that crowded the radiowaves at the turn of the millennium... You can see why her career has kind of stalled, which is really kind of a shame, but honestly, there's no there there.
Carolyn Dawn Johnson "Dress Rehearsal" (Arista, 2004)



(Produced by Dan Huff)
As aggressively "pop" a country album as has been produced in the last five years or so... pretty lavish and heavy on the chiming electric guitars, compact rhythmic hooks and treble-tilting EQ, but also pretty effective at what it's trying to do. To their credit, the label picked two of the more demure, more country-sounding songs as the initial singles, "Simple Life," with it's pert little banjo riff, and "Die Of A Broken Heart," which is a rather nice little weeper... I would have picked those songs, too. The rest of the album, though, is a little bit busy for my tastes, and a few tunes are actually rather jarring -- the cloying pop-gospel of "God Doesn't Make Mistakes," the Stones-y Sheryl Crow-isms of "My Little Secret," the sheer shrillness of "Squeezin' The Love Right Out Of You," the awkward meter of the otherwise sweet "Life As We Know It," etc. Johnson's following the prefab pop diva path of Shania and them other 1990s gals, and while that style is a turnoff for me, more mainstream modern pop-country fans should find this album pretty satisfying. But really... why call it "country"??
Carolyn Dawn Johnson "Love And Negotiation" (Universal/Dancing Lily, 2009)


Carolyn Dawn Johnson "Love Rules" (Universal/Dancing Lily, 2010)

Lois Johnson & Hank Williams, Jr. "Send Me Some Lovin' " (MGM, 1972) (LP) <! date? >

Lois Johnson "Lois Johnson" (20th Century Fox, 1975) (LP)


Jolie & The Wanted "Jolie & The Wanted" (Dreamworks, 2001)



(Produced by Dann Huff)
Very generic, very poppy stuff, with a few glimmers of life, but not much twang. Lead singer Jolie Edwards is perky, for sure, but the bright, bland production doesn't give her much room to do anything interesting. Includes a cover of Paul Davis' '70s AOR hit, "I Go Crazy." Jinkies.
Ann Jones "...And Her Western Sweethearts: 1949-1954" (Binge Discs, 2007)

Diana Jones "My Remembrance Of You" (Newsong, 2006)



(Produced by Diana Jones & Mark Thayer)
A rambling, discursive, folkie set, with many songs that take a languid, repetitive approach, like "Pony," and "A Hold On Me." The jingling, blues-inflected guitar work strongly recalls Gillian Welch and David Rawlings, while the introspective, off-kilter lyrics are closer to Kate Campbell's difficult, unusual poetical style. Jones was a winner at the Kerrville Folk Festival, and the contemporary folk sound is pretty dominant in her work, though in a rather challenging form, full of odd time signatures and uneven, angular vocals. Worth checking out, though it's not quite my cup of tea.
Kacey Jones "Men Are Some Of My Favorite People" (Curb, 1997)



The solo debut of Kacey Jones, the country comedy grand dame who started out as the lead singer for Ethel & The Shameless Hussies... Jones first came to fame as the co-composer of Mickey Newbury's hit, "I'm The One Mama Warned You About," and after a couple of major label albums, she went indie, founding her own IGO record label.
Kacey Jones "Every Man I Love Is Either Married, Gay Or Dead" (Igo, 2000)


Kacey Jones "Never Wear Panties To A Party" (Igo, 2001)


Kacey Jones "The Sweet Potato Queens' Big-Ass Box Of Music" (Igo, 2003)


Kacey Jones "Every Man I Love Is Either Married, Gay Or Dead Ð Live" (Igo, 2005)


Kacey Jones "Kacey Jones Sings Mickey Newbury" (Image, 2006)


Kacey Jones "Nipples To The Wind" (Igo, 2007)


Kacey Jones "Kaceyoke, v.1" (Igo, 2008)


Kacey Jones "Donald Trump's Hair" (Igo, 2009)






<! Kacey Jones - also see: Ethel & The Shameless Hussies http://en.wikipedia.org/wiki/Kacey_Jones >


Norah Jones - see artist discography



Tresa Jordan "3D" (South River Road, 2005)



Pretty darn good. Jordan clearly has commercial aspirations and I'll bet she can make it, if she plays her cards right. This album shows her adept at a variety of Top Country styles, from the relatively rootsy to the sappy and poetic, reaching into the Sara Evans/Martina McBride side of pop-country, while still keeping sight of some good, old gravel-road grit. I didn't expect much from this record, but I was pleasantly surprised... You might be, too.
Teri Joyce "Kitchen Radio" (Self-Released, 2009)



(Produced by Teri Joyce & Justin Trevino)
More great indie twang from Texas. This is one of those records that I find myself listening to over and over, and liking more and more... And there's a lot to enjoy. Backed by Americana stalwarts such as guitarist Dave Biller and pianist T. Jarrod Bonta, Joyce brings a pure DIY, indie-twang sensibility to this record, full of earnest feeling and pleasantly human imperfections. Best of all is her grasp of old-school country, although old-school of a certain variety... On the opening tracks, particularly on "Don't Look For Me 'Til You See Me Comin'," and "Belly Up," she magically captures the feel of the twangier end of the early '70s commercial country scene, the buoyant novelty songs you'd hear on the radio, circa 1972, sandwiched between the syrupy countrypolitan hits... Indeed, the album's title track is an ode to the old days, when country radio was less tragically prefab and predictable; she's also got an anthem to Austin and aching ballads, like the evocative "Bluebonnets For My Baby." Roger Wallace provides some fine, Haggard-esque harmonies and duet vocals on several tunes... All in all, a fine record from an artist worth keeping on your radar.
The Judds - see artist discography
Wynonna Judd - see artist discography
---
Hillbilly Fillies - Letter "K"
---