<! MP3 05/06/10 > <! update 00/00/00 > <! outside 06/15/10 - BB > <! pix 00/00/00 > <! icons 12/21/10 > <! BB: DONE Bobbie Eakes (fem?) - pop/standards, not so much country Kathy Edge - one single in '87 only ASIN is single Robin English (Columbia) - had a #10 hit in 2001... then nothing! (added 6/10) Esmereldy - on some cheapie LPs (w/ Red River Dave, Judy Canova) Ethel & The Shameless Hussies Paula Kay Evans Connie Eaton Patsy Elshire (aka Patsy Ruth Elshire, Patsy Elshire Blane, Patsy Blane) http://lonestarstomp.blogspot.com/2008/07/she-shoulda-been-big.html - from Texas - recorded for Starday and Capitol - was she also the gal Betty Lou on Hartman's Heartbreakers? - no, just sounds like her ESMERELDY: http://www.findagrave.com/cgi-bin/fg.cgi?page=gr&GRid=102232000 Verna "Esmereldy" Sherrill Boersma (1913-1997) - related to Billy Sherrill?? no - I don't think so - daughter is singer Ann Holland (aka Amy Celeste Boersma): https://en.wikipedia.org/wiki/Amy_Holland > <! ADD: Eden's Edge 05/11 - no album yet >
---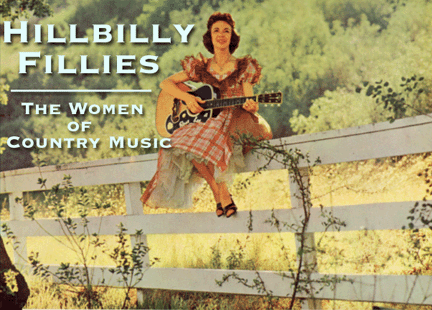 Welcome to my overview of women in country music, with reviews ranging from folk and bluegrass to honkytonk, rockabilly and Nashville pop. This is the first page covering the letter "E."
---
A | B | C | D | E | F | G | H | I | J | K | L | M | N | O | P | Q | R | S | T | U | V | W | X, Y & Z | Comps
---
Stacey Earle "Simple Gearle" (E Squared, 1999)


Stacey Earle "Dancin' With Them That Brought Me" (Gearle Records, 2000)



(Produced by Stacey Earle & Mark Stuart)
Steve's little sister Stacey is an endearing performer who's been pegged as having a more than slight vocal resemblance to Nanci Griffith, yet on this sweet, self-released record we find Earle moving steadily away from the Nanci-soundalike style of her previous album, into broader musical territory. Her voice still registers as chirpy, but with warmer and more confident phrasing. Likewise, her arrangements have expanded to include the sort of compelling pop-folk melodicism that lures listeners towards artists such as Slaid Cleaves and Dar Williams. Most importantly, Earle's a great songwriter, with a knack for a bouncy melody and a memorable chorus (particularly on the album's centerpiece, "Is It Enough?"). Like her well-known older brother, Stacey Earle's lyrics have an elusive, almost mystifying, quality -- along with a faint whiff of an autumn breeze on a back porch swing. Keep an eye on this gal.

Stacey Earle & Mark Stuart "Must Be Live" (Evolver, 2003)



A nice live set with Earle and her touring/life partner, guitarist Mark Stuart. Live, her likeness to Nanci Griffith becomes even more pronounced ("Thank yeww!") although her folkiness is also more to the fore. I guess I prefer her studio work, although these are fine, fragile, friendly folk performances. Fans will be pleased.
Stacey Earle & Mark Stuart "Never Gonna Let You Go" (Evolver, 2003)


Stacey Earle & Mark Stuart "S&M Communion Bread" (Funzalo, 2005)


Angela Easterling "Angela Easterling" (EP) (2002)





<! Rare 2002 release with 4 tracks - Better Off In Nashville / Rescue Me / Cowboy / Beloved. Issued with a cardboard sleeve >

Angela Easterling "Love The Danger" (EP)





<! 5-song EP - same as above? >

Angela Easterling "Earning Her Wings" (De L'Est Music, 2007)






<! plainspoken vocals >

Angela Easterling "Blacktop Road" (De L'Est Music, 2009)



Sheena Easton "Singles Collection" (Capitol, 1993)


I am forced here to mention Scotland's Sheena Easton because her duet with Kenny Rogers, "We've Got Tonight" -- one of the most horrible songs ever recorded -- went to #1 on the Country charts in 1983. Other than that one aural abomination, this highlands lassie ain't much of a country phenomenon.
Connie Eaton "I've Got A Life To Live" (Chart, 1969) (LP) (LP)

Connie Eaton & Dave Peel "Hit The Road Jack" (Chart, 1970) (LP)


(Produced by Cliff Williamson)
Some duets from Nashville second-stringers Connie Eaton and Dave Peel, recording for the independent Chart label. This album yielded two modest hits, both of them R&B cover tunes: Marvin Gaye's "It Takes Two" and the Ray Charles classic, "Hit The Road Jack," which went to #44 on the charts. Pretty obscure stuff, but a nice chance to hear one of the lesser known female country singers of the countrypolitan era. Also, a couple of the non-single album cuts are interesting, particularly the novelty number, "Our Divorce Was A Failure."
Connie Eaton "Something Special" (Chart, 1971) (LP)

Connie Eaton "Connie Eaton" (ABC, 1975) (LP)





<! http://en.wikipedia.org/wiki/Connie_Eaton http://www.chartrecords.net/ConnieEaton.htm >

Eden's Edge "Eden's Edge" (EP) (Big Machine, 2011)


An impressive debut -- even if it is just an EP -- by this talented trio. Lead singer Hannah Blaylock has a beautiful voice, not just technically strong, but expressive as well. Blaylock reminds me a bit of the Dixie Chicks' Natalie Maines: it sounds like there's someone at home in there, not just another country-pop singer going through the motions. Their repertoire is good, too... be nice to see what they do on a full-length album. This EP closes with a beautiful a capella gospel number, "Christ Alone," which shows the group's potential for branching out into the Christian music field, if things don't take off in Nashville.
Eden's Edge "Eden's Edge" (Full length) (Big Machine, 2012)


Meredith Edwards "Reach" (Mercury Nashville, 2001)



(Produced by Richard Marx, Robin Wiley & Keith Stegall)
Bland, generic, Britney Spears-ish pop, half-heartedly masquerading as Nashville 'mersh... The teenaged Edwards was apparently a protege of Lance Bass, of the pop band 'NSync, and this record shows how the apple doesn't fall far from the tree... Other than a little bit of tacked-on pedal steel, there isn't much that's "country" about this album... Nor is there much that's interesting. Edwards is a pretty weak singer -- she could do alright on one of those TV talent shows, but her clunky phrasing sinks her every time. Apparently the Nashville establishment agreed: despite the studio work of producers Keith Stegall, et al, this disc went nowhere on the charts. Good thing, too.

Katrina Elam "Katrina Elam" (Universal South, 2004)



(Produced by Tony Brown & Jimmie Lee Sloas)
At the tender age of sixteen, Oklahoman Katrina Elam got her entry into Nashville as a published songwriter, and here on her full-length debut, the 22-year old wrote or co-wrote all but two of the songs; pretty impressive for a newcomer. I can't say I care much for her vocals -- too much soul-ish swooping and sexy cooing -- but she sure does have the current Nashville rock-pop formula down pat, complete with the bombastic, swelling orchestrations and wave after wave of electric guitars... I'm not into it, but it has the feel of something over-the-top enough that it might just go over really, really big. I'm sure Elam will go places, soon enough.
Katrina Elam "Turn Me Up" (Universal South, 2007)

Alecia Elliott "I'm Diggin' It" (MCA, 2000)



(Produced by Tony Brown & Jeff Teague)
An inoffensive, but insubstantial mix of modern teen-pop and glossy contemporary country. Elliott doesn't have a great voice, and her penchant for untwangy, mid-tempo power ballads only serves to underline her shortcomings. The songs mostly seem like wordy, B-list material, with a few exceptions, such as Matraca Berg's "Some People Fall, Some People Fly," which has a strong thematic hook, and the bluesy title track, which allows Elliott to explore her superficial similarities to the young Tanya Tucker. Her mild snarl is undercut, though, by her nice-girl image, particularly on abstinence anthems such as her self-penned "You Wanna What?," which has the album's most vigorous guitar work, but is lyrically a little over-obvious and speaks to a limited audience. Overall, she strikes me as an artist who has potential, but still is pretty callow and too young to really bring much emotional resonance to her songs. Similarly, her phrasing needs time to grow, she seems pretty limited, and in particular she seems unable to transcend the confines of the stock country-pop arrangements that surround her. Here on her debut, Elliott doesn't even qualify as a second-stringer, but I'd still be interested to hear what she does a few years down the line...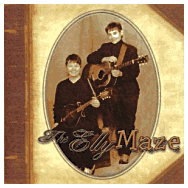 The Elly Maze "The Elly Maze" (Khat Bottom Records, 2002) <! year? not listed on CD >


(Produced by The Elly Maze)
Bluegrass-tinged, pleasantly twangy country-folk from the Indiana team of Joanna Maze and Loretta Vinson, who mostly play as a duo, but get some assistance from various pickers on a few tunes, most notably fiddler Carolyn Dutton... Nice, low-key, no-muss, no-fuss material, with both artists sharing vocals and Ms. Maze as the principal songwriter; they also cover songs by artists as disparate as Marshall Chapman, Harlan Howard and George Harrison, and one by their friend, Tom Roznowski, and nice covers of "Jackson Ain't A Very Big Town," an old hit for Norma Jean, and Tom Petty's "The Waiting." Not earthshattering, but nice... About as straightforward and down-to-earth as DIY twang gets.
The Elly Maze "The Elly Maze, Volume II" (Khat Bottom Records, 2010)


(Produced by The Elly Maze)
As on their first album, this is a mix of originals by mandolin picker Joanna Maze, and well-chosen covers of twang songs from a variety of sources. Once again they dip into Marshall Chapman songbook, with a moody cover of "Somewhere South Of Macon," along with tunes by Brewer & Shipley, Peter Rowan, The O'Kanes, '60s folkie Eric Andersen, and a couple by cajun country star Doug Kershaw. Their sound is still pretty simple and stripped-down, though augmented this time by a bit f pedal steel, as well as more fiddling by Carolyn Dutton.
The Elly Maze "Near South" (2011)

Robin English "Hello Me" (Global Row, 2004)



'Way back in 2001, Ms. English had an flash-in-the-pan hit single, "Girl In Love", which hit #10 on the charts and then apparently she parted ways with her label at the time (Columbia), reemerging a few years later with this indie album, which she has since re-jiggered a couple of times to try and hit the right formula... Not sure what the whole story is, but folks who like rootsier-than-usual mainstream twang might want to check her out...


<! 1. Hello Me Play 2. Let Love Drive Play 3. In My Life Play 4. Wake Up Loving You Play 5. Life Is Hard Play 6. I'm the One ** Play 7. All the Way Play 8. Enjoy the Ride ** Play 9. Least I Can Do ** Play 10. You See Me Through Play 11. Somewhere Along the Way Play 12. Cotton Field Girl ** Play 13. Mission of Mercy ** Play 14. Till Then >

Robin English "Robin English" (Aspirion, 2006)



Five of the songs on here originally appeared on 2004's Hello Me, including the song that seems to be her anthem, "Cotton Field Girl." In turn, all of the tracks on this album are reprised on the indie-again Velvet-Covered Brick album, below. There's some nice stuff, but be careful not to get the same material over and over again if you liked what you heard the first time around. Anyhoo, either version of this album would probably be fine.


<! 1. I'm The One 3:51 $0.99 Buy Track Play 2. Baby You're The Man 3:45 $0.99 Buy Track Play 3. Lion and The Lamb 3:30 $0.99 Buy Track Play 4. Hello Me 3:47 $0.99 Buy Track Play 5. Yellow Rose In Me 3:54 $0.99 Buy Track Play 6. Mission of Mercy 4:54 $0.99 Buy Track Play 7. Cotton Field Girl 4:41 $0.99 Buy Track Play 8. Least I Can Do 3:44 $0.99 Buy Track Play 9. Wake Up Loving You 3:31 $0.99 Buy Track Play 10. I'm Yours 3:02 $0.99 Buy Track Play 11. Enjoy the Ride 3:55 $0.99 Buy Track Play 12. Child In Me (A Christmas Song) 3:48 $0.99 Buy Track Play 13. Mama's Don't Let Your Cowboys Grow Up to be Babies >
Robin English "Velvet-Covered Brick" (2007)



An intriguing mixed bag. This disc opens with a bluesy, rootsy number called "Cotton Field Girl" that has a swampy feel worthy of old, classic Tony Joe White. After that, she leaps into some perky, generic pop-country fluff, and then into a few anguished ballads. She gets back to twang with a cheeky spoof of Willie and Waylon, "Mamas Don't Let Your Cowboys Grow Up To Be Babies," and closes with an aggressively popped-up radio remix of "Cotton Field Girl." There's an interesting mix of roots and Nashville savvy here, hinting at a Lee Ann Womack-like approach... Worth checking out if you go for both mainstream and indie-ish material.


<! 1. Cotton Field Girl 4:42 $0.99 Buy Track Play 2. Enjoy the Ride 3:56 $0.99 Buy Track Play 3. Mission of Mercy 4:55 $0.99 Buy Track Play 4. The Least I Can Do 3:45 $0.99 Buy Track Play 5. Mama's Don't Let Your Cowboys Grow Up to Be Babies 3:43 $0.99 Buy Track Play 6. Wake Up Loving You 3:32 $0.99 Buy Track Play 7. Yellow Rose in Me 3:54 $0.99 Buy Track Play 8. Baby, You're the Man Play 9. I'm the One 3:42 $0.99 Buy Track Play 10. Lion and the Lamb 3:31 $0.99 Buy Track Play 11. Cotton Field Girl (Radio Edit) >

Val Esway & El Mirage "Lovers, Losers, Liars" (Self-Released, 2005)



A charming self-produced 7-song EP from an SF Bay Area local has a strong whiff of Tarnation-style twang-meets-torch. A veteran of rock's Ramona The Pest and twang's Loretta Lynch band, singer-writer Esway scores a base hit (if not a homer) with the catchy opening track, "Someone I Used To Know," which has a nice, old-school country feel to it, and shows ever deeper roots on the sweet, Carter Family-flavored "Birds." This is neighborhood bar, open-mic night stuff, and that's a big part of its earnest, open-hearted charm. If you like your twang to be locally grown, then you might want to check this gal out.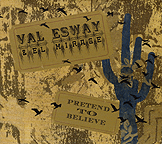 Val Esway & El Mirage "Pretend To Believe" (Staggering Siren, 2007)



The SF Bay Area's indiebilly scene is well represented on this new album from songwriter Val Esway, formerly of the twangband Loretta Lynch... The disc opens with some thumping honkytonkers, "Whiskey Trail" and "Sweet Thing," and settles into a more introspective, poetic mode, on songs like "Birthday" and "Pretend To Believe," songs that bring melancholy folk divas like Linda Thompson, et al to mind alongside twangsters... With the exception of a Doc Watson tune at the end of the album, all the songs are Esway originals... Most of the lyrics tap into the sad side of the country tradition, but there's an underlying feeling of joy, doubtless the artist's own satisfaction from a job well done! (Available through Esway's own website, www.staggeringsiren.com)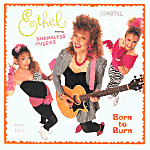 Ethel & The Shameless Hussies "Born To Burn" (MCA, 1988)


(Produced by Jimmy Bowen)
Rollicking, rowdy country novelty songs, often expressing a female viewpoint... Lead singer Kacey Jones went on to make a career out of this sort of thing, carving out a comedy niche that's kept her going for years.


<! 1. Takin' My Pain to the Bank 2. One Nite Stan 3. Last Night I Really Laid Down the Law 4. It's Just the Whiskey Talkin' 5. I'm the One Mama Warned You About 6. Born to Burn 7. Smokin' in Bed 8. Woman's Drinkin' Song 9. I Thought He Was Mr. Right But Then He Left 10. Mr. Cadillac >

<! GIF iffy quality > Evangeline "Evangeline" (MCA, 1992)


An all-gal band from Louisiana, with a somewhat simplistic musical sound, tending towards perky, upbeat material with group harmonies, or slower songs with individual bandmembers taking lead on different songs. One has a voice kind of like Linda Ronstadt; another has a bluesier approach, and delivers a clunky cover of Jesse Winchester's "Rumba Man." Odder still is an almost-liturgical rendition of the roots reggae oldie, "Rivers Of Babylon." Some songs have a cajun flavor to 'em, but mostly this is fairly bland, commercially-oriented material that never really found an audience.

Evangeline "French Quarter Moon" (MCA, 1993)


An exceedingly dreary album; includes their lone chart single, the cajun-flavored "Let's Go Spend Your Money Honey," an uptempo tune that's okay, but underwhelming. The rest of the record is pretty terrible... Some of it has a slightly alty, Lucinda Williams-ish feel, but the production is so generic it's hard to connect with any of it.


<! single charted at #70 >

Dale Evans & Roy Rogers "16 Great Songs Of The Old West" (Drive Archive, 1998)


Dale Evans & Roy Rogers "Say Yes To Tomorrow" (Homeland, 1995)

Dale Evans "Sweetheart Of The West" (Collector's Choice, 2003)

Dale Evans "Rage Of The Sage" (BACM, 2005)


(Available through the British Archive of Country Music specialty label.)
Sara Evans - see artist discography
---
Hillbilly Fillies - Letter "F"
---