<! MP3 03/31/10, 01/12/13 > <! pix 01/12/13 - a bunch of adds > <! icons 01/30/11 > <! UPDATES: 03/31/10 01/12/13 - adds including Hadda Brooks - could do more artist searches - Dinning Sisters, Ruth Etting, Lizbeth Cotten etc. But still a good update > <! Mae Barnes - with Buck Clayton, Jo Jones and Ray Bryant > <! Ora Alexander - eight tracks on Various Artists "Female Blues Singers, Vol. 1: 1924-32 - A-B" (Document, 1996) B000000JG0 B001U9BARW Ernestine Anderson "Let It Roll" (Riverside) Etta Baker >
---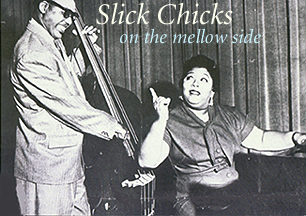 Here's a quick look at some bluesy wimmin singers and musicians who rock my world. I'll try to keep these recommendations a little off the beaten track, just so the page will be a little more fun. But I'm sure I'll work in a gal or two whose name will ring a bell as well...
---
Sisters Who Swung!! A | B | C | D | E | F | G | H | I | J | K | L | M | N | O | P | Q | R | S | T | U | V | W | X, Y & Z | Compilations
Main Jazz Index | Hillbilly Fillies - Women In Country | Girl Groups & Teen Pop

---

Marion Abernathy "The Chronological Marion Abernathy: 1947-1949" (Classics, 2001)


A lively, if little-known, West Coast blues singer, Marion Abernathy wasn't a top-tier artist, but she sure grows on you. By the end of this generously programmed, 20-song set, she emerges as a solid performer, with a good grasp of the hard, funky blues style that came into vogue after World War Two... Unfortunately this album only gathers her work for the King label and doesn't also include the indie-label recordings that bookended her career, before and after these late-'40s sessions. Probably the biggest omission is her first big hit from 1945, "Voo It! Voo It!," which is anthologized elsewhere, but sure would sound nice here, along with her other stuff. On about half the tracks here, she is backed by Hot Lips Page and his band... the performances are pretty workmanlike, but also unpretentious and loose-limbed, a nice slice of the postwar R&B sound.


<! Twenty tracks recorded for the King label, including twelve where she is backed by Hot Lips Page and his band... >
Faye Adams "The Herald Recordings" (Collectables, 1990)

Faye Adams "The Chronological Faye Adams: 1952-1954" (Classics, 2005)

Faye Adams "Greatest Hits" (Master Classics, 2012)


Faye Adams "Shake A Hand" (Acrobat, 2008)


Annisteen Allen "Fujiyama Mama" (Rev-Ola, 2007)





<! The Lovely Annisteen Allen was Discovered by the Legendary Louis Jordan, who Recommended her to Lucky Millinder, Then on the Lookout for a Top Notch, Sexy Female Vocalist. She Went Solo in the Early 1950s after Scoring Mega National Chart Hits with Lucky's Band, and Made Some Superb R&B Sides to Rival Those of Laverne Baker and Ruth Brown at Atlantic (She was a Much Better Singer Than Either Allegedly!) Annisteen Had Perhaps her Biggest and Most Notorious Hit in 1953 with "Baby, I'm Doin' It!" - a Saucy Answer to the Five Royales' Chart-topper "Baby, Don't Do It!". Her Most Famous Song is Undoubtedly the Explosive "Fujiyama Mama" which Wanda Jackson Turned Into a Rockabilly Classic in 1957. >
Annisteen Allen "The Chronological Annisteen Allen: 1945-1953" (Classics, 2004)





<! Another West Coast songbird whose vocal style is appealing but limited, and whose repertoire includes a lot of by-the-numbers uptempo R&B tunes... This was okay, but I'm not enough of a blues completist that I felt I had to hang onto the album. Interesting to check out, but not a keeper... >

Ivie Anderson "Duke Ellington Presents..." (Columbia, 1973)


Duke Ellington's vocalist on pop numbers during the 1930s and early 'Forties, Ivie Anderson was a classy dame with a sassy voice, and a singer who really knew how to swing. Not as flashy as Ella Fitzgerald or as moody as Billy Holiday, Anderson gets short shrift in jazz circles, but those of us who are fans know to treasure the few of her recordings that made it into print after the swing era came to a halt. This double LP is simply fabulous, but it's rather hard to find. If you see it, snap it up, as it has superior sound and song selection to any other collection in print on CD...in all its glorious monophonic splendor! (This just in: looks like Sony finally re-released this collection on CD!!! Yay.)

Ivie Anderson "With Duke Ellington & His Famous Orchestra" (EPM Jazz Archives, 1991)


In the CD era, this is the disc to aim for... A lot of the same material as the Columbia LP, but not all of it, and with slightly dulled sound quality. Still, if you see it, don't hesitate. It's all pure gold. The tail end of Anderson's story is that she was forced to retire in 1942, due to chronic asthma which made touring and singing in clubs and hotel venues increasingly difficult. And as the big band era gave way to softer pop vocals, Anderson's memory was consigned to the past... Until now, that is!
Ivie Anderson "It Don't Mean A Thing" (ASV Living Era, 2001)

Ivie Anderson "I Got It Good And That Ain't Bad!" (Jasmine, 2000)


Ivie Anderson "Cocktail Hour" (Allegro, 2001)


A cheapie budget edition -- no artwork or liner notes to speak of, but two CDs worth of great music, for a very affordable price. Nice option!

The Andrews Sisters "All-Time Greatest Hits" (MCA, 1994)


Highly recommended. I totally dig the Andrews Sisters, and you should too. LaVerne, Patty and Maxine were not the first gals to pioneer this type of tight, perky swing vocals... for that, you can credit others such as the Boswell Sisters and the Barry Sisters (who recorded "Bei Mir Bist Du Schoen" first, and kept it more Jewish...) But the Andrews gals perfected the style, and parlayed it into a dazzling top-of-the-pops commercial smash during the late '30s and all through the wartime era. This 2-CD set is probably the best Andrews set you can get, pretty much duplicating the content of their (also highly recommended) double-LP sets from the '70s, which gathered the best of their original Decca recordings from the 1930s and '40s. FYI, that's a lot of really, really wonderful music gathered together in one place at one time, classic tunes like "Boogie Woogie Bugle Boy," "Hold Tight," "Rum And Coca-Cola," and "Beat Me Daddy, Eight to the Bar." Really, it's just fabulous. Sure, they were "pop" through and through, but in the magical, irresistible way that the best big band-era artists were: great artists having fun performing slick, catchy, well-crafted songs. This is a nice trip down memory lane, but yummy music as well.


<! 130 x 130 >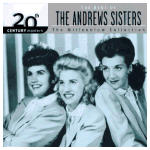 The Andrews Sisters "20th Century Masters -- The Millennium Collection" (Universal, 2000)



An all-too-brief budget line package, which nonetheless can serve as a handy introduction to this fabulous pop trio.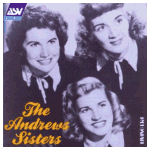 The Andrews Sisters "The Andrews Sisters" (ASV, 1992)


Another fine overview of their best recordings, concentrating on early stuff from 1937-1940. Like other ASV releases, this features great song selection and good sound quality, and actually has very little overlap with various American-issued "best-of" collections. A perfect compliment to the All-Time Greatest Hits set listed above.
The Andrews Sisters "Apple Blossom Time" (ASV, 2000)


Plenty of hits on here as well...!!

The Andrews Sisters & Bing Crosby "Their Complete Recordings Together" (Columbia, 1996)



Now, see, you'd think that the way I love both Der Bingle and Der Sisters, that this would be a favorite of mine. Sadly, it's not quite the case. For some reason these two acts don't quite click together the way they should, at least not to my way of listening to things. I think part of the problem is that it was just too much of a show-biz "event"... Both acts were so clearly defined and so keenly accomplished that in order to mesh them together it took an immense amount of calculated professionalism; it just sounds a bit too stiff and self-conscious to me, as well as a bit like the sound of -- ka-ching! a cash register ringing up another sale. I dunno... these recordings aren't necessarily bad, they just seem to lack the soulfulness and spark that made the Sisters and Der Bingle so much fun. Anyway, lots of other folks disagree with me on this one, and this 2-CD set is a boon to those fans, and for the undecided among us, an easy way to settle the issue, one way or another.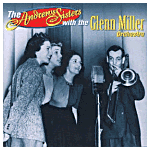 The Andrews Sisters & Glenn Miller "The Chesterfield Broadcasts, v.1" (BMG/RCA Victor, 1998)



These live radio broadcasts, made in 1939-40 with the Glenn Miller Orchestra backing them up, document the brief, four-month association between two of the greatest pop acts of the WWII era. The collision between Miller's muscular, monolithic big band music machine and the Andrews's deft vocals is overall a bit brusque and edgy, with a juggernaut-like quality that may be surprising to fans of both acts... Still, what a combo! Big band fans will definitely want to check this out.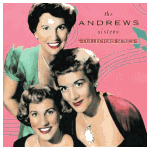 The Andrews Sisters "Capitol Collector's Series" (Capitol, 1991)



The thing to keep in mind here is that these are mostly late-'50s re-recordings (on Capitol), of songs that the Sisters originally recorded as hits in the '30s and '40s for Decca Records. A little more formal sounding perhaps, and less peppy than their early years, but still... it's the gals. They still swing! There are also a few tracks on here that were prevously unreleased, so it may be owrth checking out just for those tracks alone...
Maxene Andrews "...An Andrews Sister" (DRG/Bainbridge, 1985) <! reissued in 1993 >


In the early '80s Maxene Andrews carved a niche for herself as a cabaret singer; this album was based on her stage show of the time...
Patty Andrews "I'll Walk Alone" (Jasmine, 2000)


This disc bills Patty Andrews as a "dynamic lead singer," and indeed she was often seen as the star performer in the family trio, one of the factors that led to the group's fracturing and a tragic, lifelong rift between her and Maxene. Nonetheless, it's cool to hear her as a solo singer in the pop vocals era... This generously programmed 2-CD set covers a lot of territory, including ballads, pop duets and even some country-ish material. Most of the tracks are officially solo recordings, although quite a few are Andrews Sisters tracks that spotlight her a little more than usual... Considering that the Andrews gals recorded bazillions of songs, and there are still hundreds of their recordings that haven't yet been pulled out of the vaults, I'd guess most fans will be glad to see a few more emerge here. Nice set for collectors, and Patty fans in particular.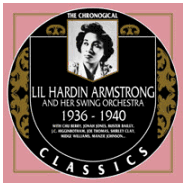 Lil Hardin Armstrong "The Chronological Lil Hardin Armstrong: 1936-1940" (Classics, 1994)


The one-time wife of Louis Armstrong, Lil Hardin Armstrong was a doozy of a musician and entertainer, in her own right... This disc collects two dozen-plus hot swing tracks from the tail end of the Great Depression, with plenty of great musicianship from the likes of Chu Berry, Jonah Jones and Buster Bailey, backing high-energy vocals from Ms. Armstrong. She more that holds her own against the brass section, projecting abundant charisma and radiant good cheer -- her voice is high and thin, but bluesy (much like Ivie Anderson) and her phrasing is great. In a word, this gal swings! Definitely worth tracking this disc down.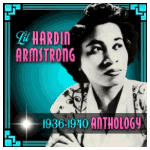 Lil Hardin Armstrong "1936-1940 Anthology" (Stardust, 2011)


A digital-only package that echoes the CD above...
Lil Hardin Armstrong "Chicago: The Living Legends " (Riverside, 1961)



Lovie Austin "The Chronological Lovie Austin: 1924-1926" (Classics, 1994)



Paving the path for Marylou Williams and all the female jazz & blues pianists in decades to come, bandleader Lovie Ausin was one of the handful of women pianists in the golden age of the blues. This disc collects all her recordings from the 1920s, with Austin and her bands accompanying obscure vocalists such as Edmonia Henderson, Viola Bartlette, Henry Williams and Priscilla Stewart. Her sidemen include such notables as Kid Ory, Johnny Dodds, Jimmy Bryant and Tommy Ladnier -- a powerful set of early jazz virtuosi, each contributing to the haunting, raunchy blues within. As with other Classics releases, the sound quality of this disc is top-notch, although the old-fashioned, brittle sound of the source material adds to its other-worldly feel. Nice stuff, and an important missing link for anyone studying the history of women in jazz.


<! 132 x 130 >
Lovie Austin & Alberta Hunter "Chicago -- The Living Legends" (Riverside, 1961)



Austin and her band provide backing for this soulful, but relatively staid set by Alberta Hunter, a first-generation blues singer from the 1920s who briefly came out of retirement to get into the groove again. This album is a mix of blues and gospel material, and while the music resonates with the authenticity and authority of these veteran performers, Hunter's later work from the '80s may have more heft. Worth checking out, although not their strongest work.
---
More Swingin' Gals -- Letter "B"
---



---