<! MP3 05/06/10 > <! outside 00/00/00 > <! pix 00/00/00 > <! icons 12/21/10 > <! updates: 00/00/00 - expand B. Fairchild 12/01/10 - Fairchild page added > <! BB: Ruby Falls The Family Brown Dawnett Faucett Donna Fargo Vicki Fletcher Joy Ford Shelley Ford Peggy Forman Sylvia Forrest Sally Foster - (fem?) w/ Hoosier Hot Shots Dolly Fox Kelly Foxton - w/ Hank Snow Brenda Frazier Micki Fuhrman Glenda Faye - bluegrass Rachel Farley - Top 40, EP out in 2009 Foster Family String Band "Help Foster Bluegrass Music In America" (Cricket Hill, xxxxx) (LP) - family band with two female members BONNIE FERGUSON "I'll Be There" (Ovation) Folktellers "White Horse And Whippoorwill" (Mama T Artists) - from Asherville, NC > <! FUTURE ADDS? Chelsea Field Boots Faye - female? Rita Faye "Rita Faye's Autoharp" (Capitol, 1961) (just solo autoharp?) >
---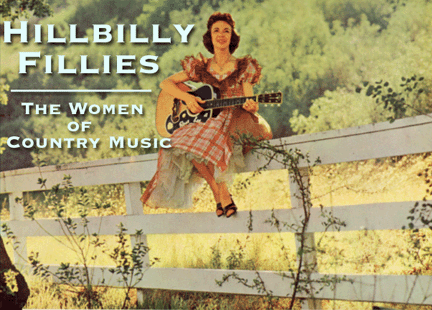 Welcome to my overview of women in country music, with reviews ranging from folk and bluegrass to honkytonk, rockabilly and Nashville pop. This is the first page covering the letter "F."
---
A | B | C | D | E | F / F-2 | G | H | I | J | K | L | M | N | O | P | Q | R | S | T | U | V | W | X, Y & Z | Comps
---
Barbara Fairchild - see artist discography
Shelly Fairchild "Ride" (Sony-Columbia, 2005)



(Produced by Buddy Cannon & Kenny Greenberg)
Blechh. In the wake of Gretchen Wilson's redneckin' breakthrough debut, Ms. Fairchild was hailed as another back-to-basics bad girl, part of a "new generation" of kickass country gals... Yeah, right. She just sounds like another warbling, overwrought wannabee soul singer to me, with bad, loud, clunky, overly-obvious, power chord-heavy musical backup. This is just bad music, and her vocals are really mannered and really irritating. Sorry, folks, but listening to this record is like having my teeth pulled by a blind tree sloth. I'm sure she'll be fabulously successful, but for an old-school country fan like me, this disc doesn't offer much that's worth revisiting.
Donna Fargo - see artist discography

Amy Farris "Anyway" (Yep Roc, 2004)



(Produced by Dave Alvin)
Fair-to-middlin' indiebilly/indie rock... There are several swell, catchy songs that start this album off, with Austin scenester Amy Farris riding a fine line between rock and twang tendencies. The country-ish stuff is the best, and while some of the more rock-oriented songs reveal some of her vocal limitations, on the whole this is a nice little record, with a cute DIY feel built around her off-kilter, mousy vocals, which bring Victoria Williams to mind, albeit with a more focussed musical vision. I've enjoyed hearing Farris in the background of many Kelly Willis records; it's a treat to hear her taking center stage at last. Sometimes producer Dave Alvin's guitar-heavy approach threatens to leave her high and dry, but for the most part this is quite nice. Definitely worth checking out.
Dawnett Faucett "Taking My Time" (Step One, 1988) <! (w/ GIF) >





<! (LP) = B000000P9S >
Boots Faye & Idaho Call "You Tried To Ruin My Name" (Binge Disc/Cattle Records)



<! 18 tracks from late 40s and early 50s by California based husband and wife duo including sides by Speedy West on steel guitar and Harold Hensley on fiddle. they also had a self-released LP on the Callfaye label: The Krawl Family (Boots Faye & Idaho Call) "Family Album" (Callfaye, 1964) (LP) >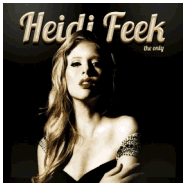 Heidi Feek "The Only" (Western Pin-Up Records, 2013)



(Produced by Heidi Feek & Rory Feek)
This is the debut album from singer Heidi Feek, daughter of the roots-country duo of Joey & Rory Feek... and while her parents pursue a harmony-rich, Dolly Parton-esque neotrad sound, the younger Feek is a rocker, albeit in the mellower adult-alt style, with a faint, Chris Isaak-y rockabilly tinge. The album opens with the bluesy grunge of "I Like The Way," which brings the roots-rock of Buddy Miller to mind, while echoes of Lone Justice's Maria McKee, Mary Chapin Carpenter, Neko Case and other moody alt-country gals are in their as well, particularly the legacy of the windswept, shimmering Cowboy Junkies sound. It's not really my cup of tea, but it's an impressive debut, and one that I'm sure will quickly find a loyal audience for this young new artist.
Judy Fields "Halfway To Paradise" (Victory, 1985) (LP)


(Produced by Ken Mansfield, Judy Fields & Larry Cumings)
An independently released album by Northern California artist Judy Fields, who moved to Nashville and worked as a songwriter, successfully pitching songs to artists such as Lee Greenwood and Reba McEntire. She was briefly signed to MCA Records, but only released a single or two, with no chart action... Her earlier work can be heard on an uber-indie album called CONTRA COSTA COUNTRY, which was recorded with several other NorCal artists. Unfortunately, this solo debut is fairly dreadful -- she "went pop" in a big way, drenching her songs in tinkly keyboards and glossy early-'80s production. Also, she had a penchant for anthemic romantic refrains which she would repeat and repeat and repeat, unwilling to let any crescendo die a natural death. I guess if you're into that particular era of Nashville "chick" music, this could be of interest... The Reba connection certainly makes sense once you've heard this album.


<! SIDE A: 1. The Magician 2. Sweet Misery 3. Paradise Motel 4. Gone for Good 5. (Baby) You Need Me SIDE B: 1. Waiting for an Answer 2. A Woman and a Man 3. Big Regret 4. Halfway to Paradise 5. All My Love >

Judy Fields "Eyes Of Love" (Dreamwest, 1992)





<! The CD has some of Nashville's premiere musicians performing with Judy. Artists include Award winning Vince Gill, Mark O'Conner, Jerry Douglas and John Jarvis. Judy wrote all but one song on this CD. All of the songs move through a refreshing variance of musical styles and colors and can be classified as New or Modern Country music. >

Judy Fields "Cloudless Sky" (2001)





<! Born in Orange, California, Judy spent her early years living with her family in Southern California. Judy's credits through the 1980's into the 1990's include: * Titled "Miss Northern California Country" by KRAK Radio in Sacramento for her musical ability. * Performed in one of the largest music festivals ever produced. The "US" festival in San Bernardino California. * Signed with MCA Records. * Later signed with an independent label and had a #1 single for two months. * Released an independent album "HalfWay To Paradise". * Released two music videos that received heavy airplay rotation on "The Nashville Network". Judy's video "Eyes of Love" can be seen on Launch.com. * Will be releasing her new CD "Cloudless Sky" in February 2001. This CD is Romantic, refreshing and a departure from Country music. Judy's education in the music business grew even more as she moved to Nashville, Tennessee. Writing for various publishers, Judy gained recognition as a talented singer/songwriter. ABC moves licensed Judy's songs in two of their movie productions. During the 1990's she signed as a staff writer for Reba McEntire's publishing company. Country music performers Lee Greenwood and Billy Jo Spears are among those who have recorded Judy's songs. >
Juni Fisher "Tumbleweed Letters" (Red Geetar, 1999)


Juni Fisher "Sideshow Romance" (Red Geetar, 2004)


Juni Fisher "Cowgirlography" (Red Geetar, 2006)


Juni Fisher "Gone For Colorado" (Red Geetar, 2008)


Juni Fisher "Let 'Er Go, Let 'Er Buck, Let 'Er Fly" (Red Geetar, 2010)


Juni Fisher "Secret Chord" (Red Geetar, 2012)


Juni Fisher "Listen... To The Horse" (Red Geetar, 2013)






<! http://en.wikipedia.org/wiki/Juni_Fisher Juni Fisher "Tumbleweed Letters" (Red Geetar, 1999) B000CAD6OU B000QR0ZSE Juni Fisher "Sideshow Romance" (Red Geetar, 2004) B000CA2JP2 B000QQZ0CQ Juni Fisher "Cowgirlography" (Red Geetar, 2006) B000HA3QPO B0013SGMUK Juni Fisher "Gone For Colorado" (Red Geetar, 2008) B0012RCQFW B00192TTIW Juni Fisher "Let 'Er Go, Let 'Er Buck, Let 'Er Fly" (Red Geetar, 2010) B003JSU7EY B003HW2YYI Juni Fisher "Secret Chord" (Red Geetar, 2012) B007Y56USK B007XCQSPO Juni Fisher "Listen... To The Horse" (Red Geetar, 2013) B00CAMJ020 B00CDU6CG6 >

---
Hillbilly Fillies - More Letter "F"
---