<! MP3 05/08/10 > <! update 06/30/10; 09/30/10: new page for Cristy Lane, broke LA and LE into separate pages > <! outside 06/30/10 - BB - still need Linda Gail Lewis, Nicolette Larsen, Brenda Lee, Cristy Lane & Judy Lynn > <! pix 00/00/00 > <! icons 12/22/10 > <! Marce LaCouture - also cajun http://en.wikipedia.org/wiki/Marce_LaCouture > <! Holly Lane "A Tribute To Grand Ole Opry Star Patsy Cline" (Crown, xxxxxxxx?) The Langner Sisters "On The Air" (Studio Five, xxxxxxx) The Langner Sisters "It's The Country In Me" (Studio Five, xxxxxxx) The LAINIE SISTERS "Emmy & Norma" (Repeat, xxxxx) (LP) B00BF45CBC - Noel Boggs backs them; over half the songs are originals The Ladies Choice Bluegrass Band "First Choice" (Boot Records, 1980) (LP) - only one bandmember was female - names nv The LaDelle Sisters - on Mercury's early '60s "Country Music Jamboree" compilation - singing "One Time Too Many" Leo Larkin "Hoot Owl Country" (Small World Records, 1980's ) Bluegrass - with lots of gospel - woman pictured on cover - but it that "Leo"? Leo Larkin "Sunday Go To Meetin'" 1986 Bluegrass LP, Nice EX!, Vinyl - same woman on cover Katie Lee "Folk Songs Of The Colorado River" (Folkways 5333) Rebel Lee "Love Games" (1984) - Private Vinyl 12'' Lp./ Shrink VG+/ Country Pop Ladies Choice Bluegrass Band "First Choice" (Boot Records, 1980) (LP) Ladies Choice Bluegrass Band "Bluegrass Is Our Business" (Boot Records, 1981) (LP) - mostly male band with a gal (name? what did she play?) Lillimae And The Dixie Gospel "Lord Lead Me On" (Old Homestead, 1983) - bluegrass gospel >
---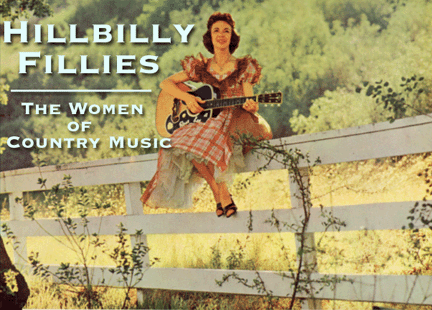 Welcome to my overview of women in country music, with reviews ranging from folk and bluegrass to honkytonk, rockabilly and Nashville pop. This is the first page covering the letter "L"
---
A | B | C | D | E | F | G | H | I | J | K | L / L-2 / L-3 | M | N | O | P | Q | R | S | T | U | V | W | X, Y & Z | Comps
---

Lace "Lace" (Warner Brothers, 2000)



Bland, prefab, Top 40 stuff. The three-part harmonies (from the trio of Corby Dyann, Giselle, and Beverly Mahood) have their moments, but both their vocals and the studio backing lack feeling or finesse -- the melodies are clumsy and blunt, the songs are unmemorable and overly poppy. Given the era this came out, many would be tempted to compare these gals to the Dixie Chicks -- y'know, three wimmin in a country band -- but they're nowhere near that challenging or dynamic; Olivia Newton-John or Maureen McGovern with a backbeat would be more like it. I'll pass.
Bobbi Lace "Holding My Own" (GBS, 1986) (LP)

LaCosta (Tucker) - see artist discography

Lady Antebellum "Lady Antebellum" (Capitol-Nashville, 2008)



Tragically bad, prefab pop-country, with alternating male/female vocals. Like their predecessors, Sugarland, they seem at least as equally rooted in rock and pop as they are in country (or what passes for country these days...) There are also some tepid nods towards some watered-down version of old-school R&B... I can't help thinking of Hall & Oates or John Mellencamp... But that's really giving these guys way too much credit. This is not worth listening to. Although the band is coed, gal singer Hillary Scott is generally overshadowed by the dude, Charles Kelley, and his vibe doesn't do much for me. They were wildly popular, of course, scoring several #1 hits and winning all kinds of industry awards. For a twangfan, though, this music is simply dreadful.

Lady Antebellum "Need You Now" (Capitol-Nashville, 2010)



Tragically worse than before, the band delves deeper into what seems to be a frightfully sincere love of really, really bad pop music. Hillary Scott forcefully comes into center stage, and with her increased exposure reveals herself to have even worse taste in pop music than what we'd heard before -- the worst, most vapid fake-soul melodrama, etc., etc. It's really horrifying -- while their first album wasn't one you'd want to waste time on, this one is sheer torture. Blech. I'll pass.
Lady Antebellum "Own The Night" (Capitol, 2011)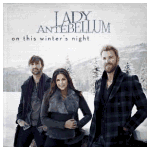 Lady Antebellum "On This Winter's Night" (Capitol, 2012)



(Produced by Paul Worley)
Christmas standards from the Lady Antebellum trio. They take a pretty strictly pop approach, with just a tiny trace of twang. Not much, though... I doubt it will matter to fans, though, particularly those in a holiday kind of mood. This sounds kinda like a lost Michael McDonald/Stevie Nicks album from the early '80s; make of that what you will.
Lady Antebellum "Golden" (Capitol, 2013)


Barbara Lamb "Fiddle Fatale" (Sugar Hill, 1993)



A swingin' set of fiddle tunes, mostly instrumental (but not all!), with high-powered pickers like Sam Bush, Jerry Douglas, Tim O'Brien, Tony Trischka, et al pitching in (along with a bunch of other folks you may or may not have heard of...) Barbara Lamb, from the all-gal band Ranch Romance, has a nice, hoedown-based style that can slip and slide between swing and bluegrass styles... This disc is a little on the safe side, but it's still quite nice. Worth checking out!
Barbara Lamb & Vivian Williams "Twin Sisters" (Voyager Recordings, 1994)


Barbara Lamb "Tonight I Feel Like Texas" (Sugar Hill, 1996)


Barbara Lamb "Blue On Dakota" (Lots Of Coffee, 2000)



Yikes. Fiddler Lamb decided to go out and record a "funk" album... And while it's not nearly as scary as it could have been -- the level of musicanship is very high, and sometimes quite soulful -- you ought not go to this album expecting to hear some bluegrass. Nary a twang to be heard.
Barbara Lamb "Fiddle Piggy" (Lots Of Coffee, 2003)


Barbara Lamb "Bootsy Met A Bank Robber" (Lots Of Coffee, 2003)


Barbara Lamb & David Lamb "Swedish Design" (Lots Of Coffee, 2007)


Barbara Lamb "Twisty Girl" (Lots Of Coffee, 2009) <! date? >


Miranda Lambert - see artist discography
Lynda K. Lance "A Woman's Side Of Love" (Buddah/Royal American, 1969) (LP)






<! video: http://www.youtube.com/watch?v=A8NkejHHSn8 >


Cristy Lane - see artist discography



Judi Lane "...Sings Hits Made Famous By The Country Queens" (Alshire, 1970)


Dunno what the story is behind this one... Alshire was a real label, but amid all the hundreds of 101 Strings albums, they bankrolled a bunch of soundalike albums, including this one, which covers some hits and more obscure material previously recorded by various female country stars. It made nary a dent in the charts --though I don't think it was meant to -- but maybe she would have done better with some original material (?)
k. d. lang - see artist discography
Sandy Lankford "Sandy's Country" (Total Eclipse, 1974) (LP)


(Produced by Charlie Callelo)
Wow, this is such a weird record. I mean, musically it's pretty pedestrian -- just how "country" it is, is pretty questionable. It's more like early '70s soft-pop/pop vocals lounge singing, more Vikki Carr than Anne Murray. Lots of cover tunes of mellow Top 40 hits like "Oh Happy Day," "For All We Know" and "Look What They've Done To My Song," delivered in perky yet low-key style, backed by a band that has a teeny bit of twang and a tiny dash of disco, very Vegas-y overall. What's most interesting, though, is the story behind it, and the weird vanity label that it's on, apparently a one-off imprint of RCA Records, which adds its Dynaflex logo and general art design, but not their corporate logo to the project. Hmmm. Then there are the liner notes, which describe Ms. Lankford's background as a Texas pageant winner and her being "discovered" singing at a Ford car dealers convention where they were launching a "Miss Ford Country" sales campaign, which she got hired to be the public face of... (Hey, there's even an old press kit for sale on eBay!) Anywayyyy... Well, I'd say as a country record this ain't no great shakes, but as a cultural artifact, it's rather intriguing. Along with all the pop covers there are a couple of original songs, the perky "A Texas Country Girl," and the very-'70s and semi-disco "You Don't Turn Me On Anymore." For some reason, I keep expecting to see Don Draper listed as an executive producer....


<! http://www.sandylankford.com - not the same person, I think >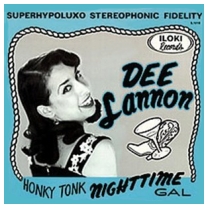 Dee Lannon "Honkytonk Nighttime Gal" (Iloki, 1994) (LP)


An irresistibly adorable -- though admittedly sometimes uneven -- countrybilly filly with a major Rose Maddox/Wanda Jackson jones... Working at an ultra-indie level, Dee sometimes had trouble balancing out her production, but her choice of material -- especially her originals -- is always first-rate. Cool beans. (For more info, check out Dee's website.)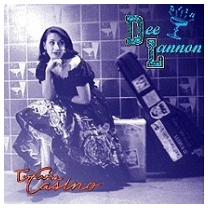 Dee Lannon "Town Casino" (Blue Puffer, 1996)

Dee Lannon "Dance And Sing With Dee Lannon & The Daredevil Dillies" (Tail Records, 2002)

Dee Lannon "Vinylly On CD" (Norge Texas, 2004)

Melissa Lawson "Constant" (2010)


Christian pop and Christian country from a finalist on the 2005 season of the Nashville Star TV talent contest. Decent material, if you like the style; veers a bit further into rock-oriented "contemporary Christian" territory than her EP made with Texas indie icon Ray Benson (above).
Melissa Lawson "United We Stand" (EP) (Bismeaux, 2010)


(Produced by Ray Benson)

Zora Layman/Frank Luther "Pioneers Of Country Music" (Binge Disc/Cattle Records)





<! Cattle Compact CCD-204 >

---
Hillbilly Fillies - More Letter "L"
---