<! MP3 05/07/10 > <! update 00/00/00 > <! outside 06/26/10 - BB a few adds > <! pix 00/00/00 > <! icons 12/22/10 > <! The Kimberlys, Hillary Kanter, Kennedy Rose Lynda Kay: Dream My Darling" (Dreamphonic, 2009) B0039NNGGA B002Z3MF1M Pamela Kay "Thank God I'm A Country Girl" (Self-Released, 1969) (LP) Dan Bradley: Guitar Pamela Kay: Banjo Billy Kay: Trumpet Roger Lowe: Drums Joe Fernandes: Piano >
---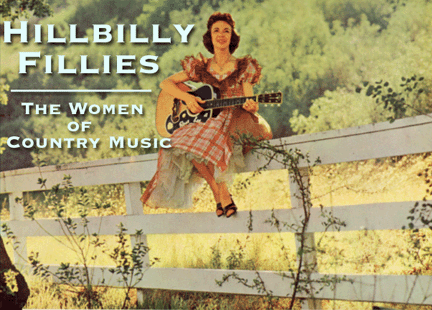 Welcome to my overview of women in country music, with reviews ranging from folk and bluegrass to honkytonk, rockabilly and Nashville pop. This is the first page covering the letter "K."
---
A | B | C | D | E | F | G | H | I | J | K | L | M | N | O | P | Q | R | S | T | U | V | W | X, Y & Z | Comps
---
Kathy Kallick & Laurie Lewis "Together" (Rounder, 1991)



A nice, simple, traditionalist bluegrass lovefest, with plenty of bouncy melodies and some very fine harmonies by Kallick and Lewis, who were formerly bandmates in the well-beloved Bay Area band, the Good Ol' Persons. The best thing here is their voices, which compliment each other perfectly. Lewis typically sings a bit on the thin side, but she provides the ideal underpinning for Kallick's growly purr. The material is all pretty straightforward, with crisp, heartfelt acoustic picking. It gets a little shaky on the slower, sappier material, but there really isn't much of that style heard on here, and on the whole this is an excellent album, well worth checking out!
Kathy Kallick "Matters Of The Heart" (Sugar Hill, 1993)



More of a crossover album, with some, well, sorta dorky reggae rhythms, blues riffs, sappy folkgrass lovesongs and even a bit of rock'n'roll. A few songs on here worked for me, but mostly this is more aimed at progressive-minded old folkies, and not towards stringband traditionalists. As crossover efforts go, though, this is perfectly fine... Anything with Kallick's voice on it gets extra points from me!
Kathy Kallick "Use A Napkin (NOT Your Mom!)" (Sugar Hill, 1995)



A bouncy set of bluegrassy children's music, with a few old faves ("Did You See Jackie Robinson," "Liza Jane," etc.) and a bunch of new tunes from Kallick and her crew.
Kathy Kallick "Call Me A Taxi" (Sugar Hill, 1996)



Another solid, traditional-sounding album with a slew of nice originals written by Kallick, and a Bill Monroe & Carter Family song thrown in for good measure. Plain, unfussy backup by Todd Phillips, John Reischman, Stuart Duncan and Sally Van Meter make for a perfect little package of bluegrass bounce.
Kathy Kallick "Walkin' In My Shoes" (Live Oak, 1998)


A pretty low-key, self-produced indie album, that doesn't have the full oompf of her Sugar Hill and Rounder releases, but still plenty of Kallick's unique, down-to-earth charm. Plenty of original tunes and some well-chosen cover tunes.
Kathy Kallick "My Mother's Voice" (Copper Creek, 2001)


Kathy Kallick "Reason & Rhyme" (Copper Creek, 2004)


Kathy Kallick "A Warmer Kind Of Blue" (Copper Creek, 2005)


Kathy Kallick "Between The Hollow And The Highrise" (Live Oak, 2010)



(Produced by Kathy & Tom Size)
Another nice set of traditionally-oriented bluegrass from one of the SF Bay Area's finest singers. I've been a longtime fan of Kallick's voice, which sounds as sonorous and velvety as ever; her songwriting is also on display here, with more than half the tracks being Kallick originals, complimented by oldies from Josh Graves, the Stanley Brothers and the Louvin Brothers. (The band has some sweet gospel harmonies on the Louvin's "There's A Higher Power," one of the album highlights...) There are also a couple of nice new instrumentals, one composed by mandolin picker Tom Bekeny, the other by dobro/banjo man Greg Booth, which give the band a chance to stretch out. All in all, a lovely set of back-porch bluegrass made (in my case) by the folks down the street... If you're an old fan, this album will be sure to bring a smile.
Kathy Kallick "Time" (Live Oak Records, 2013)


A superlative, picture-perfect West Coast bluegrass album. I've always been a fan of Kallick's warm, pleasantly burred vocals, as well as her flawless sense of melody. When she sticks to a traditional sound -- as she does on this excellent album -- she's plain old solid gold for a true twang fan. Backing her are a crew of low-key locals, regular folks from the SF Bay Area all playing their hearts out with sweet, melodic performances that get it right on song after song. Fiddler Annie Staninec is a particular standout, as is dobroist/banjo player Greg Booth, but honestly, every note on this album is a shiny gem. Kallick is a gracious host, and shares the spotlight with her fellow musicians, giving the lead vocals on several songs over to bassist Dan Booth while generously doling out plenty of room for everyone's solos. There's a sense of warmth and camaraderie on here that's delightful, with an underlying humanity that's sometimes missing on the the slick 'grass albums of today. Among many fine tracks are several sweet and penetratingly soulful gospel songs, notably a high-harmony version of "Lord Protect My Soul" and a brush-arbor "Precious Memories," with a sincere spirituality that's echoed in the reflective yet more secular originals such as the propulsive album opener, "Time" and Kallick's "Fare Thee Well." Other highlights include a cover of Terry Fell's "Old Black Choo Choo" (best known from the '50s hit by Rose Maddox) and a trio of zippy instrumentals. This is one of the most listenable and most satisfying truegrass albums in recent memory... Highly recommended!


<! no producer info > <! Angela Kaset "Underneath A Vincent Van Gogh Sky" B001H5Y32S (MP3) "Letter From God" B001H5S8MO - link to song > <! Janet Kay "Winding Roads" (xxxxxx, xxxxx) Janet Kay "Sing Unto The Sun" (xxxxxx, xxxxx) - Janet Kay Gaskill, from Monmouth, Illinois -- primarily a Christian musician, though she does seem to have had country touches (pedal steel, ) and some secular-ish songs such as "Mountains Of Montana" >

Lynda Kay & The Lickety Splits "Cowgirl!" (Firelight, 2004)

Lynda Kay "Singing Stomping And Strumming" (2005)





<! live album >

Lynda Kay "Dream My Darling" (Dreamphonic, 2009)


Nancy Kay "Sings For You" (Rosewood Records, 1985-?) (LP)


(Produced by Nancy Kay)
The first and quite possibly only album by Midwesterner Nancy Kay, who covers a couple of Loretta Lynn songs, along with some other standards and more obscure songs. No indication of where this was made, or where she was from, although Minnesota seems to be the answer... The album includes liner notes and two songs by John Volinkaty, a Minneapolis local who wrote Jeanne Pruett's mega-hit "Satin Sheets," but never quite grabbed the bras ring again. Here, he contributes "Whatcha Gonna Do" and a topical tune, "Now I've Got Women's Lib." Kay sings and plays bass, with backing by several Twin Cities professionals: Steve Shoquist on steel guitar and dobro, piano by Bruce McCabe, and Tom Ginkel on guitar, all of whom were well-regarded regional musicians. If anyone has more info about this one, I'm all ears!


<! - no info online 05/27/16 >

Lois Kaye "Country Girl" (Ovation, 1979) (LP) <! also B000RUAIIW >

Kortney Kayle "Unbroken By You" (Lyric Street, 2001) <! actually a CD single? >

Joanie Keller "Sparks Are Gonna Fly" (Broken Bow, 2000)





<! Pretty twangy and rootsy - check samples again. >
Irene Kelley "Simple Path" (Restless, 2001)


Songwriter Irene Kelley struck gold when her song, "A Little Bluer Than That," was recorded by Top 40 hard-country hero Alan Jackson, on his album Drive. That song, which opens this album as well, is a welcome throwback to the heartfelt simplicity of 'Fifties-style country heartsongs -- a good lyrical premise, a strong, simple, irresistible melody and nice, clean pickin' to back it up. She has some roots set down in the bluegrass scene as well; picker such as Aubrie Haynie and Viktor Krauss pitch in, and there are also a couple of songs co-written with Claire Lynch, one of the best trad-grassers around. Kelley's voice and her musical choices bring to mind alt.country female icons such as Iris DeMent, Nanci Griffith and Kelly Willis, although I'd hazard to guess that Kelley sees herself working more in a commercial, Top 40 vein, more as a composer than as a headliner act. Other songs on this album are more self-consciously and ostentatiously crafted, more in line with the overdoing-things style that's all the rage in Nashville; the other standout track is "Pilgrim In The Rain," a bouncy, anthemic upbeat number co-written with Kim Richey. I wouldn't say that the whole album bowled me over the same way "Bluer Than That" does, but she's certainly a strong performer and a songsmith to be reckoned with... Keep your eyes on this gal!
Irene Kelley "Thunderbird" (Irk, 2006)


The Kendalls/Jeannie Kendall - see artist discography
Mary Ann Kennedy "The Trail Less Traveled " (Tonka, 2000)



Solo work from a songwriter who was formerly half of the Kennedy Rose duo...
Mary Ann Kennedy "Hoofbeats, Heartbeats And Wings" (Tonka, 2005)


Mary Ann Kennedy "The Rhythm Of The Ride" (Tonka, 2008)


Mary Ann Kennedy "Who Saved Who" (Tonka, 2009)






<! Mary Ann Kennedy & Na Se˜id B0015I2X9C B0019J44VM "Strings Attached" B000UVPK3G Celtic albums - same artist?? >

Kennedy Rose "Hai Ku" (Capitol, 1990)


Songwriters Mary Ann Kennedy and Pam Rose, after a few years in the band Calamity Jane, split off to form this duo... Although they didn't do much on the charts, they became favorite composers for several big-name Nashville recording artists...
Kennedy Rose "Walk The Line" (Capitol, 1994)

Jenny Kerr "New And Improved - Extra Strength" (Okey Doke, 2003)


Jenny Kerr "Wood And Steel" (Okey Doke, 2009)


Jenny Kerr "Head Of Fire" (Okey Doke, 2013)



Kelly Kessler & The Wichita Shut-Ins "Life Of Regret (EP)" (Melungeon, 2002)



Another nice infusion of thoughtful, thought-provoking alt.country from Chicago... Kessler used to be in a band called the Texas Rubies -- here, she is the brains behind a more restrained, soulful set of tunes, sometimes sung by co-vocalist Lawrence Peters, who has a rich, smooth delivery, soulful and entirely free of urban-hick affectations. This 4-song EP is pretty darn good -- each song is solid and well-written, and catchy, in a subtle kinda way. Keep an eye on these folks!
Kelly Kessler "The Salt Of Your Skin" (Melungeon, 2002)


Weirder and more complicated than their earlier EP, this is an eclectic, untraditional, and ultimately challenging update of old-fashioned hick music, much in the style of Jim & Jennie or Freakwater. The ballads are more tuneful than the upbeat numbers, but it all points to an interesting future for this band. Worth checking out!
Arlene Kesterson "...Sings" (Mark Five Studios, 1974) (LP)


(Produced by Otis Forrest)
A set of bluegrass, ballads and old-timey tunes sung by Arlene Kesterson, co-director of the Mountain Folkways Center in Hendersonville, North Carolina. I'm not sure how long the Center was around, but among other things it was the place where songwriter Jim Lauderdale took banjo lessons as a teen. Backing Kesterson on several tracks are fiddler Bill Phillips, Ralph Lewis on mandolin, and banjo picker Marc Pruett, who was a member of Ricky Skaggs' band at the time.


<! > <! Cheyenne Kimball "The Day Has Come" (Sony-Epic, 2006) B000FMR4TI B00138H4IE Cheyenne Kimball "Hanging On" (Sony-Epic, 2007) B000NHG7AW pop, not country >
Jill King "Jillbilly" (Blue Diamond, 2003)


Rootsy, uptempo country with uneven vocals but plenty of spirit. The lead track, "98.6 Degrees And Falling" is a magnificent collaboration between songwriters Harlan Howard and Matraca Berg, a heavy Texas shuffle with a catchy chorus, with King nailing the tune from start to finish. This blast of true-country talent sets the bar pretty high, and the rest of the album seldom rises to the same heights. Still, the wordy stabs at contemplative commercial country aside, this is a solid, substantive debut, and one which should put King on the map in the alt-country/Americana camp, and might even land her a berth in Nashville as well. Other highlights include the rowdy drinkin'-at-the-bar anthem, "Down & Out," and the folkier feeling "Down The Fields To Hay" and "Three Months, Two Weeks, One Day." King has a real ear for good, old-fashioned material, stuff along the lines of Buck Owens backing Tanya Tucker... and where I come from, that's pretty high praise. Definitely worth checking out!
Jill King "Somebody New" (Blue Diamond, 2008)






<! mellower >
Jill King "Rain On Fire" (Foundher Records, 2010)



(Produced by Michael Flanders) <! prod. for Garrison Star >
Setting aside the indiebilly persona of her previous records, Jill King delves deep into the more pop-oriented sounds of "adult-alternative" music and the modern-day Nashville scene, with a set of songs that might be suited for Patti Griffin or some of the more introspective chart-topping divas such as Martina McBride, Sara Evans et. al. If you cherished the twang-tunes of her debut album, Jillbilly, the resolutely pop sound of this record may come as a little bit of a shock. But Ms. King has been plugging away in the underbelly of Nashville for a while now, and it seems she's ready to identify more opening with the Top 40 scene. I prefer the twang, myself, but certainly wish this gal all the luck in the world with the poppy stuff, too... She's plenty talented and deserves a break as much as anybody working in Music City these days. If you like the more elegaic, lovelorn pop-ballad side of Nashville, you might wanna check this out.
Shawn King "In My Own Backyard" (Lofton Creek, 2005)



(Produced by Keith Folesse, Carl Jackson, & Steve Tyrell)
Hey, the words "trophy wife" never left my lips, I swear... But, yeah, this is Larry King's wife, and she is awfully well-sculpted and blonde enough to blind a Swede. But, she can also sing, and has been doing so professionally for most of her life -- as a child, as a teen and as an adult -- albeit mostly in anonymous studio efforts. So, here's her bid to make it as a solo artist, a slick bit of modern Nashville pop, with lots of tinkly piano and confessional/topical lyrics, with songs from several modern songwriters such as Leslie Satcher, Jamie O'Neal and Rebecca Lynn Howard, as well as a few from co-producer Carl Jackson, who also plays guitar throughout. Vocally, there's a hint of Rosanne Cash in her voice and a heavy stylistic debt to Wynonna Judd, Trisha Yearwood and any number of 'Nineties Nashville divas. It's not my cup of tea musically, but King does it pretty well, particularly on the title track, which is one of the album's stronger tunes. There's not a lot of variety here, though -- King seems to love slow songs where she can linger on the lyrics and let her voice crack with emotion -- a few more uptempo tunes might've helped break things up a bit. But if you like the slow, sappy stuff, this disc'll do it for ya!
Sherri King "Almost Persuaded" (United Artists, 1976)


(Produced by Steven A. Davis)
The lone album by pianist/singer Sherri King, a Knoxville native who was backed here by a ton of top talent, including studio pros such as Tommy Allsup, Pete Drake, Buddy Emmons, Johnny Gimble, Hargus Robbins, Pete Wade and a couple of stray Gatlins on backup vocals. King is a decent but flawed vocalist with kind of a '70s Olivia Newton John/Karen Carpenter AOR undertone, along with a sincere country feel, maybe in sort of a Linda Ronstadt/Lynn Anderson kind of way. She's best on slower passages, and has rough patches on big key changes and big, emphatic moments. But overall this album has a nice feel, with a few mild standout tracks, particularly "I'm Alright 'Til I See You (Then I Fall Apart)". She also has a couple of notable good-girl tunes worthy of Tammy Wynette, "A Good Woman Waits For Her Man" and "I Don't Know What's Wrong (But I Know What's Right)" which show the virtues of suffering in silence. Clearly meant to be a commercial record, this one tanked: the title track grazed the Top 100 (at #95) though I suspect Ms. King must have done some studio work as a backup musician on a record or two. Anyone know more about her?


<! from King's 2013 blog: Sherri King is a singer, songwriter, composer, musician, recording artist and private music teacher. She lives quietly in McCordsville, Indiana. >

The Kinleys "Just Between You And Me" (Epic, 1997)



(Produced by Tony Haselden)
Super-blonde, identical twin sisters hailing from Philadelphia who have sort of a Judds-like close harmony, and a penchant for fairly generic pop-crossover production and wordy, folk-ish relationship songs. The Kinley sisters wrote more than half of the material on this album, but none of the songs really made much of an impression on me; producer Tony Haselden also contributed several songs, one of which, "Please," wound up as a Top Ten hit. Honestly, though, I had a hard time telling most of these songs apart from one another.

The Kinleys "II" (Epic, 2000)



(Produced by Tony Haselden & Radney Foster)
Bringing Radney Foster on board as a co-producer helped add a little ooompf to their sound, but overall they're still pretty bland and undistinctive. At least it doesnŐt do much for me.
The Kinleys "All In The Family" (Identical Records, 2004)

Jo Kiser "To Get To You" (Rome, 197--?) (LP)
(Produced by Jack Casey & Marvin Jones)
There's not a lot of info to be found about Jo Kiser, a country singer from Columbus, Ohio who apparently put out two albums in the 1970s. This first one has what I think are remakes of several singles -- "What's The Difference" first came out in 1967 on Jack O' Diamond's label, and in 1971 she cut Harlan Howard's "He's A Good Old Boy" as a single on for MGM. I'm not sure, but she might have also released some teen pop/rock earlier in the '60s, but it's hard to tell. Only so far back I can dig. Anyway, I haven't heard this album, but it's cover art is pretty, well, striking... Ms. Kiser fills the image, with her big, beehived hair, but mostly it's her gams you'll notice as she's sitting sideways with a brisk midi pulled up tight, revealing quite a bit of thigh. I guess that's one way to sell a record. This includes a lot of covers of country standards, as well as the remade singles mentioned above. If I give in and buy this, I'll give you an update. But after listening to album #2 (reviewed below) I'm not sure how big a hurry I'm going to be in...




Jo Kiser "With Love" (Concorde, 1977) (LP)
(Produced by Bill Walker)
I was all excited to find a "new," obscure female country singer and had high hopes for this Ohio local. But, jeez, this is a not-great record. Kiser's voice irritates me for some reason, and the arrangements on this album are flowery and pop-oriented, with a small string section that included cello and viola... Kiser may have been "more country" on her earlier work, but here she's trying too hard to sound classy, and the listener is constantly aware of the effortfulness of her performance. I actually couldn't listen to the whole thing -- it's not quite on a par with Mrs. Miller or the Shaggs, but headed in that direction.


<! She Don't Love You Like I Do Send In The Clowns Play A Simple Melody Safe In Your Arms Between Hello and Goodbye Ain't No Reason Medley: Have I Told You Lately I Love You / Because I Can't Help Wondering I've Got To Have You Who Says You've Got To Leave Home >

Kit & The Branded Men "Kit & The Branded Men" (2011)






<! Christina ŇKitÓ Lopez - SF Bay Area >


Alison Krauss -- see artist discography




Josie Kreuzer "Hot Rod Girl" (She-Devil Records, 1997)


Josie Kreuzer "As Is" (She-Devil Records, 1999)


Josie Kreuzer "Beggin' Me Back" (She-Devil Records, 2002)






<! Josie Kreuzer - rockabilly http://www.josiekreuzer.com >

Dayna Kurtz & Mamie Minch "For The Love Of Hazel: Songs For Hazel Dickens" (Kismet, 2010)



A 7" set from a Brooylyn-based acoustic duo, recorded in honor of folk-bluegrass legend Hazel Dickens. It's a curious tribute: these songs weren't all recorded by Dickens (although a couple of her own compositions are included) and the bluesy vibe seems to have more in common with Tracy Nelson or Odetta than with Hazel & Alice... But, hey, maybe I'm just being nitpicky... Kurtz and Minch seem to be having fun, and namechecking Ms. Dickens is pretty cool, whichever way you slice it. (For more info check out www.myspace.com/kismetrecords)


<! no producer info on CD >

---
Hillbilly Fillies - Letter "L"
---