<! MP3 05/20/10 > <! update 05/20/10 > <! outside 00/00/00 > <! pix 00/00/00 > <! icons 12/26/10 > <! The Wildwood Pickers "First Harvest" (Clogging Chicken Records) (LP) - #WWP 180 - four-women, one man bluegrass band from Downer's Grove(?), Illinois http://www.wvencyclopedia.org/articles/1284 "...Virginia Myrtle Ellis "Aunt Jennie" Wilson (February 9, 1900-March 2, 1992) was a Logan County traditional musician, considered a master of clawhammer-style banjo playing. The daughter of Huey Brian and Cinderella Lockard Ellis, she was born near Henlawson, West Virginia. She married James Wilson but was widowed in 1939 when he was killed in a mine accident. Wilson's musical talent was discovered by folklorist Patrick Gainer of West Virginia University in 1958, and she became a favorite of folk festival audiences until her death. She recorded her best songs for the Library of Congress and was featured on record albums, including A Portrait of Aunt Jennie Wilson, produced by Billy Edd Wheeler. She left behind recorded interviews about her early life and the folk customs of Logan County. -------------- The Wildwood Pickers "Bluegrass In My Heart" (Atteiram-API, 1987) (LP) - all-female bluegrass band BB 06/17/10: Tamara Walker 2000 - soap actor; really a (bad!) pop singer Kelly Warren - 1979 - no ASINs listed Nancy Wayne - two LPs in 1974-75 June Webb Weavers - did NOT research 06/10 Karen Wheeler Joy White - same as Joy Lynn White? Lola Jean Dillon (w/ L.E. White) Wickline - h&w duoKathy Morrison (w/ Bill Wilbourn) Wild Horses ' 81 h&w The Wilkinsons Becky Williams single: "Tie Me Up (Hold Me Down)" Beth Williams Diana Williams Leona Williams Lois Williams Andra Willis - from Lawrence Welk show Stephanie Winslow * Joann Wintermute Nancy Wood Amy Wooley Marion Worth Ginny Wright Nina Wyatt > <! Jennifer Weatherly http://countrydiscoghraphy2.blogspot.com/2013/08/jennifer-weatherly.html >
---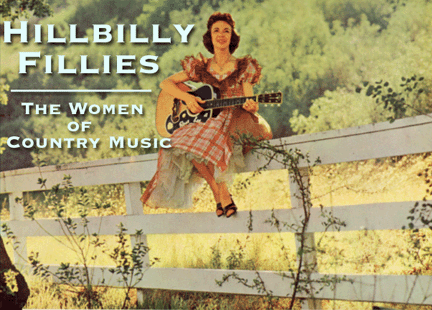 Welcome to my overview of women in country music, with reviews ranging from folk and bluegrass to honkytonk, rockabilly and Nashville pop. This is the first page covering the letter "W."
---
A | B | C | D | E | F | G | H | I | J | K | L | M | N | O | P | Q | R | S | T | U | V | W / W-2 | X, Y & Z | Comps
---

<! The Wailin' Jennys "The Wailin' Jennys" (EP) (xxxxxxxxxxxxx, 2003) >

The Wailin' Jennys "40 Days" (Red House, 2004)


The Wailin' Jennys "Firecracker" (Red House, 2006)


The Wailin' Jennys "Live At The Mauch Chunk Opera House" (Red House, 2009)


The Wailin' Jennys "Bright Morning Stars" (Red House, 2011)






<! Ruth Moody, Heather Masse also have solo albums >
Kelsey Waldon "Dirty Hands Dirty Feet" (2007)

Kelsey Waldon "The Gold Mine" (Kelsey Waldon, 2014)



(Produced by Michael Rinne)

Cindy Walker - see artist discography

Nancy Wayne "Cheatin' Was The Last Thing On My Mind" (20th Century Fox, 1974) (LP)


Nancy Wayne "I Wanna Kiss You" (20th Century Fox, 1975) (LP)


Abigail Washburn "Song Of The Traveling Daughter" (Nettwerk, 2005)



Solo work by the banjo player in the band called Uncle Earl.

Abigail Washburn "...And The Sparrow Quartet" (Nettwerk, 2008)



Abigail Washburn & The Shanghai Restoration Project "Afterquake" (Afterquake Music, 2009)



A very avant-tronic mix of Washburn's acoustic style and the electronic pop of Shanghai Restoration Project's Dave Liang... It's quite poppy -- and good -- but I don't hear much of Washburn's influence in the mix.


Abigail Washburn "City Of Refuge" (Rounder, 2011)



(Produced by Tucker Martine)
It's kind of hard to get a handle on this one... Banjoist Abgail Washburn, formerly a member of the innovative old-timey band Uncle Earl, has made an abrupt departure from her twangy roots, with this densely-layered folk-fusion outing. The tone is more what I might characterize as Lilith Fair-ish introspective fare, rather than the "indie" pop that others have mentioned. Teh songs are sort of free-flowing and (to my ears) amorphous - as I say, I couldn't quite get a handle on it, and other than the traditional gospel numbers that close the album out, I would be hard-pressed to tell you what most of the songs were about. Although this didn't really grab me, I'm sure it will be like catnip for some folks - and Washburn is certainly to be applauded for trying something new and breaking out of her old patterns (even if those old patterns had resulted in several very fine records leading up to this one...) Certainly a change of pace... try it for yourself and see what you think.





Sara Watkins - see artist discography


<! Jennifer Weatherly http://countrydiscoghraphy2.blogspot.com/2013/08/jennifer-weatherly.html > <! JUNE WEBB - no ASINs; married to Buddy Killen in 1952; had a duet act with her sister Shirley performing as the Webb Sisters; later sang in Roy Acuff's show - recorded over a dozen tracks for RCA, several singles issued 1957-60. Profiled as "Most Promising Female Artist" in the Nov. 9, 1959 Billboard C&W section > <! June Webb "Mansion On A Hill" B000WHOWB4 MP3 > <! "...Dave Demay, singer and bass player in the group, has been singing and playing instruments since childhood. He was trained vocally by his mother from early childhood. He came by his talents honest, being the son of a Grand Ole Opry member. His mother Shirley Webb and his aunt June Webb were known as the Harmony Sweethearts on the Opry in the late 50's. June Webb had a number 1 country single on Roy Acuff's Hickory Records. She was also produced by Chet Atkins on RCA Records. Dave's mother, Shirley Webb, has always been an extraordinary bass player, singer and song writer throughout her Opry years and beyond." >


Gillian Welch - see artist discography





Kitty Wells - see artist discography




Corinne West "Bound For The Living" (Make Records, 2003)


Corinne West "Second Sight" (Make Records, 2007)



(Produced by Mike Marshall)
An intriguing mix of bluegrass and adult-alt/folk-pop sensibilities... Hailing from the San Francisco Bay Area, Corinne West has a tinge of Natalie Merchant and Kate Bush about her, and while her pop-folk mysticism dominates the second half of the album, the twangier stuff is pretty fun at the start, particularly for folks that are into 'grassy music with lyrics that stretch beyond the genre's traditional themes. She's certainly got a wealth of high-power talent backing her up: Darol Anger, Jerry Douglas, Tony Furtado, Mike Marshall and Tony Phillips are among the newgrass heavyweights on this album, making for some pretty compelling melodic passages. Although bluegrass traditionalists won't find much here to dig into, fans of Nickel Creek and its various spinoffs might really get into it... There's a freshness that might draw them in, and it's certainly not the same-old same-old, lyrically. Worth checking out!
Corinne West "The Promise" (Make Records, 2009)



More of a straightforward, modern, melodic folk album... Less twang and more introspection... Not quite my cup of tea, but fine for the genre.
Dottie West - see artist discography
Emily West "Emily West (EP)" (Capitol Nashville, 2007)


This 4-song EP is sort of a standard-issue Top 40 outing, in the Martina-esque, Shania-ish range. Relatively upbeat as well as lavishly produced. Not bad for the style.
Emily West "Emily West" (Capitol Nashville, 2011)

Jeanie & Harry West "Country Bluegrass" (Fantasy Prestige, 2000)


A fine reissue of two albums from the '60s boom, with North Carolina native Jeanie West fronting a competent, mildly clattersome band through a nice set of traditional songs and old-timey oldies. Originally issued on LP as Roamin' The Blue Ridge and Country Music In Blue Grass Style, from 1960 or thereabouts. One album has Jeanie West singing unaccompanied, the other is a nice series of rough-cut duets with husband Harry West, music that, as the album title implies, hearkens back to the days when the dividing line between "country" and "old time" music was much more nebulous than it would later become. West's super-rural, unabashedly hillbilly delivery has hints of Molly O'Day's old Depression-era recordings, but also, in an interesting way, of the more contemporary sound of Jimmy Martin, who also melded the bluesiness of country with the propulsive acoustic style adopted by the bluegrass crowd. Country Gentlemen co-founder Bill Emerson contributes solid banjo picking on both albums, anchoring the band, and adding a muscular oompf that helps boost the energy level. The rugged vocals and primitive sound mix might not appeal to everyone, but I think this is an album well worth picking up, particularly for the West's ability to bring out the lyrics in each and every song. (By the way, the West's are still in the acoustic music business -- literally. Here's a link to their music store in North Carolina.)
Jeanie & Harry West "Smoky Mountain Ballads" (Perpetual, 2006)


Shelly West - see artist discography
Tabby West "Chat Chat Chatanooga" (BACM, 2009)


Super cool. West was a former big-band/pop vocals singer of the 1940s who made the switch to country music when her husband, a regional bandleader named Red Wortham, successfully pitched a hit song to Kitty Wells. He asked his wife, Phyllis Spain, to demo a few more tunes for him, and when these demos caught the ear of a Nashville producer, she changed her stage name and launched a new career. This disc collects all of West's material on several major labels -- Capitol, Coral and Decca -- recorded between 1952-58. At first she recorded solid, earthy honkytonk material (with a hefty dose of Kitty Wells-style heartsongs and intonation) including weepers like "Our Love Isn't Legal," "I Was The Bridesmaid," and "My Daddy Left My Mommy Again." Later she let a little more pop into her sound, pioneering the pop-country crossover style that Patsy Cline, Brenda Lee, Skeeter Davis and others would later perfect... These rare old, largely forgotten recordings by West will come as a revelation for fans of female country singers, particularly of old faves such as Jean Shepard. West was both a solid hard-country singer and a pioneer of pop-country crossover, as these great old recordings show. The BACM presentation -- low-budget graphics and simple, bootleggy presentation -- may throw a few folks off the trail, but if you're a fan of classic 'Fifties country, this is definitely a must-have collection. Highly recommended. (Available through the British Archive of Country Music website.)


<! CD D 260 > <! Karen Wheeler - Onie Wheeler's daughter(!) http://www.karenwheelermusic.com/pages/music.php numerous singles spread out over various labels toured w/ Conway Twitty for over a decade now mainly sings Christian music >


Whiskeytown (with Caitlin Cary) - see artist discography




Jonalee White "Jonalee White" (Lick Records, 2006)


Jonalee White "Wake Me" (Lick Records, 2008)


Jonalee White "Sugar" (Lick Records, 2010)






<! not as rootsy as I'd hoped - wannabee top 10 >

Jonalee White "...And The Late Nite Drivers" (Lick Records, 2012)

Joy Lynn White "Behind Midnight & Hindsight" (Columbia, 1992)



(Produced by Blake Chancey & Paul Worley)

Joy Lynn White "Wild Love" (Columbia, 1994)

Joy Lynn White "The Lucky Few" (Columbia, 1997)


Joy Lynn White "On Her Own: Demos 2002" (Thortch, 2005)

Joy Lynn White "One More Time" (Thortch Recordings, 2005)



(Produced by Kyle Lehning & Joy Lynn White)
It took me a while to warm up to this record... White's tactical retreat from would-be Top 40 success has left her sounding pretty snarly and rugged... So if you still groove out on old Lone Justice albums or early solo work by Maria McKee, this album's really gonna stir and excite you. White also has a surprising amount of Patti Smith in her and after a while that's what drew my attention, getting me past the roots-rock power chords and crunchy, bluesy guitar riffs (which, frankly, don't appeal to me that much...) and into the songs themselves. There's at least one real masterpiece on here, Phil Lee's soul-searing "Just Some Girl," which explores the "no humans involved" phenomenon, where anonymous young women wind up dead and unmourned, their deaths uninvestigated because the cops figure they were "just" prostitutes or whatever, and nobody's going to care that they're dead. Well, the song has a bit lighter touch than what I just wrote, but it touches on the same subject matter, and it packs a real wallop... It's also one of the most musically subtle songs, and as such highlights White's strengths much better than the louder, brasher songs that surround it. Similarly, "Girls With Apartments In Nashville" is a softer meditation on tough times trying to make it big in Music City... White also has fun with a chunky cover of Allan Toussaint's "A Certain Boy" (delivered with gusto with vocal assist from fellow alterna-chick Amy Rigby...) Even though this album is a little too abrasive for me, I'm sure many Americana lovers will dig it. Definitely worth checking out!
Lari White "Lead Me Not" (RCA, 1993)

Lari White "Wishes" (RCA, 1994)

Lari White "Don't Fence Me In" (RCA, 1996)

Lari White "The Best Of Lari White" (RCA, 1997)

Lari White "Stepping Stone" (Lyric Street, 1998)



(Produced by Dann Huff)
Yeesh. I can't say I'm wild about her voice (though at least she has some rough edges, which I'm always in favor of...) but the real problem here is the glitzy, overbaked, drum-machine-y prefab production. And the crappy songwriting. Ye gods. It'd probably be a little better, too, if every photo on the album didn't highlight her being all slinky and showing off her bod... It's all just so contrived, and poppy... and bad. Even though there are a few okay moment, you can skip this one. Worth noting: Toby Keith guests on one song ("Only God Could Stop Me From Loving You") and Wynona Judd took the song "Flies On The Butter" into the charts, several years after this disc came out. This really is quite bad, though.
Lari White "Green Eyed Soul" (Skinny White Girl, 2004)


Lari White "My First Affair" (Skinny White Girl, 2007)

Lari White "The Best Of Lari White" (RCA, 1997)

Buck White & The Whites -- see artist discography
Shannon Whitworth "No Expectations" (2007)

Shannon Whitworth "Water Bound" (Thirty Tigers, 2010)


Shannon Whitworth & Barrett Smith "Bring It On Home" (2012)






<! cover song duets >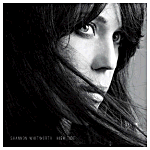 Shannon Whitworth "High Tide" (2013)



(Produced by Seth Kauffman)
Delicate, windswept twang, with a strong indie sensibility; this is the fourth solo album by songwriter Shannon Whitworth, also familiar as a member of the North Carolina indie-grass band, The Biscuit Burners... Paula Frazier's work comes to mind, although I find Whitworth's vocals (and songwriting) more straightforward and more compelling... These are low-key, pop-tinged songs, combining the slowcore drift of Cowboy Junkies with a hint of the simple melodic drive of indiepop's Camera Obscura. She gets a little glum, but if any of those artist touchpoints pique you're interest, you'll definitely want to give Whitworth a whirl.
---
Hillbilly Fillies - More Letter "W"
---