<! WI - WZ > <! MP3 05/20/10 > <! outside 00/00/00 > <! pix 00/00/00 > <! icons 12/26/10 > <! UPDATES: 12/13/13 - need Michelle Wright page? > <! Beverly Wright "Grass Doesn't Grow As High As The Tree" (Audio Fidelity, xxxxxx) - I think she's actually a '60s pop vocalist - >
---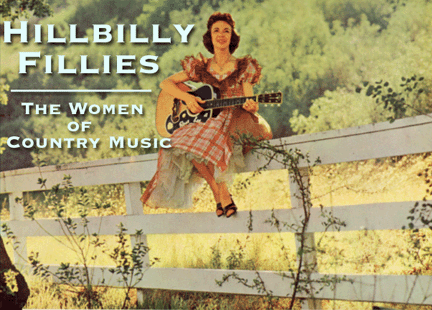 Welcome to my overview of women in country music, with reviews ranging from folk and bluegrass to honkytonk, rockabilly and Nashville pop. This is the second page covering the letter "W."
---
A | B | C | D | E | F | G | H | I | J | K | L | M | N | O | P | Q | R | S | T | U | V | W / W-2 | X, Y & Z | Comps
---
John & Audrey Wiggins "John & Audrey Wiggins" (Polygram, 1994)


John & Audrey Wiggins "The Dream" (Polygram, 1997)

Wild & Blue "Heirloom" (Pinecastle, 1993)



Heartfelt, unassuming bluegrass music, featuring the sisterly vocals of Jan and Jill Snider, and some fine, sweet picking...
Wild & Blue "Come On In And Make Yourself At Home" (Pinecastle, 1994)






<! Comprising David Harvey (mandolin and guitar), his wife Jill (rhythm guitar) and her sister Jan Snider (bass), Wild and blue made just two albums and some Christmas songs before returning to the obscurity from which they never really emerged. On this album, the guest musicians are Jim Britton (banjo), Bobby Hicks (fiddle) and Gene Wootton (dobro). Kenny Malone plays drums on two tracks (River of tears, You were only fooling). Mark Howard plays guitar on two tracks (Mountain memories, You must come in at the door) >
Wild Rose Band "Breakin' New Ground" (Universal, 1988)


Wild Rose Band "Straight And Narrow" (Capitol, 1991)


Wild Rose Band "Listen To Your Heart" (Capitol, 1991)


Marijohn Wilkin - Marijohn Wilkinsee artist profile
Lori Willcuts "Rainbows And Waterfalls" (Quiet Man Music, 2002)


Lori Willcuts "Blackeyed Susans" (Quiet Man Music, 2005)



(Produced by Paul Alfred Hart)
An independently released album by a gal who really wants to make it in Nashville, singing in sort of a Lorrie Morgan/Reba McEntire style style. Doesn't do much for me, but I admire her efforts, especially considering the longshot odds. If you're into commercial, Top 40-style country and are looking for stuff that's off the beaten track and not already being played on radio, you might wanna check this gal out.
Chickie Williams - see artist discography
Diana Williams "Diana Williams" (Capitol, 1976) (LP)


(Produced by Bill Denny)
This is what I believe to be the only album by singer Diana Williams, who first made a few waves with her recitation-song, "Teddy Bear's Last Ride." Included here, this single was an answer to Red Sovine's "Teddy Bear," a weeper about a paraplegic child who talks to truckers on the CB radio, "Teddy Bear" was was a big hit earlier in '76, and this sequel was an attempt to piggyback on Sovine's success -- it was also kind of a downer: in "Last Ride," the little boy dies of a mysterious disease. (In a different sequel, "Little Joe,"recorded by Sovine himself, the kid is cured by some miracle and grows up to live a long life... So I guess the Williams song can be considered some sort of alternate reality version? Anyway, here's Ms. Williams.
Holly Williams "The Ones We Never Knew" (Universal South, 2004)



(Produced by Monroe James & Holly Williams)

Holly Williams "Here With Me" (Mercury Nashville, 2009)



(Produced by Justin Niebank & Holly Williams)
A powerful set of confessional songs from the granddaughter of the great Hank Williams... Like her father (Hank, Jr.) Ms. Williams is perhaps not the most elegant or moving singer, but through sheer force of will, she embues her songs with raw emotional power. Interestingly enough, the artists this most reminds me of are also second- and third-generation country singers, particularly Rosanne Cash and Carlene Carter, whose self-awareness of themselves as members of hard-country royalty must color their art in some similar way. This album is full of searing emotional portraits, songs of love yearned for and lost, as well as intensely adult, real-life topics such as the loss of a child (in "Without Jesus Here With Me") in which she describes the coming-together of her entire family to help cope with the tragedy, and the comfort she found from religion as well. This dovetails into a nice, soulful cover of Neil Young's "Birds," which takes the anguished feel of the first song, and brings it to a quiet close. This isn't an album full of hummable pop hooks, but it packs a wallop, nonetheless. If you like the adult-contemporary leanings of Mary-Chapin Carpenter, et al., or sometimes wonder what Gretchen Wilson might sound like when she mellowed and matured, then you might wanna check this record out.
Holly Williams "The Highway" (Georgiana, 2013)



(Produced by Charlie Peacock & Holly Williams)
The third album from Holly Williams, granddaughter of Hank Williams, Sr., a soulful artist who is comfortable with country touches, but has set out on her own creative path, separate from the honkytonk and top-country legacies of her dad and granddad. This album anchors Williams firmly in the confessional, post-folk "adult-alt" pop landscape, with contributions by Jackson Browne, Jakob Dylan and others (including producer Charlie Peacock of the band, The Civil Wars...) but there's enough twang floating around that it's not hard to imagine some success with Nashville radio as well. Several very powerful songs on here, particularly the heartbroken weeper, "Happy." If you like Shelby Lynne, Rosanne Cash or Aimee Mann, you might wanna check this out as well.


<! her self-released third studio album due February 5 on her own imprint, Produced by Charlie Peacock (The Civil 11 original compositions written or co-written by Williams, the album includes guest vocals from Jackson Browne ("Gone Away From Me"), Jakob Dylan ("Without You"), Dierks Bentley ("'Til It Runs Dry") and Gwyneth Paltrow ("Waiting On June") >

Jeanette Williams "Dreams Come True" (Flying Cloud, 1994)



<! Jeanette's debut solo release >

Jeanette Williams & Johnny Williams "Johnny & Jeanette Williams" (Major Bluegrass, 1996)





Jeanette Williams & Clearwater "Blue Ridge Mountain Sun" (Mid-Knight, 1997)




Jeanette Williams "Cherry Blossoms In The Springtime" (Doobie Shea, 1999)


Very lovely stuff, with some of the sweetest, most upbeat melodies bluegrass has to offer. Dan Tyminski co-produced this album, which includes contributions by many of the late '90s "usual suspects" (such as Tyminski, Rob Ickes, Ben Isaacs and Aubrie Haynie). On a few numbers this bluegrass Wrecking Crew begins, not too surprisingly, to drift into sugary Alison Krauss-ish territory, but Williams seems to have a pretty clear sense of how she wants her music to sound, and the bouncy melodic drive is seldom lost for long. Really nice record... highly recommended!
Jeanette Williams Band "Too Blue" (Bell Buckle, 2002)



Back in the old days, they used to write songs about a dearly beloved mother died and gone to heaven... Here, singer Jeanette Williams updates the old formula with a sombre, powerful song about a parent diminished by Alzheimer's disease, unable to remember her own children as they visit her in the hospital. "I Ought To Know You" opens this disc, but is only one of several striking tunes on here, all delivered in a straightforward, traditionalist bluegrass style. Joining the Williams ensemble is guest fiddler Becky Buller, moonlighting from Valerie Smith's Liberty Pike band. Good stuff -- heartfelt and definitely worth checking out!
Jeanette Williams Band "Get In The Boat" (Bell Buckle, 2003)



A nice, heartfelt bluegrass gospel album. May be too Jesus-y for more secular-minded 'grass fans, but there are several nice slow numbers that stand out, particularly "When The Harvest Has Come" and "Come Morning," which both have an old-fashioned brush arbor feel to them.
Jeanette Williams "Thank You For Caring" (Blue Circle, 2008)


(Produced by Jeanette Williams, Wesley Easer & Johnny Williams)
Her continuing presence as one of the true independents on the bluegrass scene makes Williams a special performer... She's a strong bluegrass performer, and when the band is cooking behind her, Williams has a nice, lively presence. On this latest outing, however, she edges out into more of a contemporary folk territory than before, with less of a mountain music feel, an a bit more of the poetic-contemplative mood. Likewise, the gospel tunes are less oriented towards high lonesome harmonies or backwoods testifying, and sound more like folk-tinged Southern Gospel. I suppose in that sense there's a little something for everyone here -- I like the faster, twangier truegrass tunes, but I also wish there were more of them on here.
Leona Williams - see artist discography
Linda Williams - see artist discography
Lois Williams "A Girl Named Sam" (Starday, 1969) (LP)


(Produced by Louie Innis)
Nice hard-country record by this little-known hillbilly filly... The novelty number of the title track is a bit strained: it's an answer to Johnny Cash's "Boy Named Sue," but the humor is elusive... The rest of the record picks up steam, though, and honkytonk/hillbilly fans will want to check this out. Williams' vocals are pretty rough-cut and sometimes uneven, but she exudes pure country, with a deeply rural voice and lively personality. If you like Melba Montgomery, you'll probably love this, too. Red Sovine sings two duets, and they're okay although really he just kind of gets in the way... Songwise this is notable for a couple of early Whitey Shafer songs, as well as a drinking song written by Williams ("Bottles Of Wine") and some nice novelty numbers, particularly "I'm Looking For A Man, Boy" and "From Miss To Mistake," which close out the album. This album tanked when it came out, but it's certainly ripe for reissue now, especially if they add on her singles-only releases on King and Starday.
Lucinda Williams - see artist discography
Victoria Williams - see artist discography
Kelly Willis - see artist discography
Gretchen Wilson - see artist discography
Stephanie Winslow "Crying" (Curb, 1980) (LP)

Stephanie Winslow "Dakota" (Warner Brothers, 1981) (LP)

Kate Wolf - see artist discography
Lee Ann Womack - see artist discography
Carolyn Wonderland "Miss Understood" (Bismeaux, 2007)



(Produced by Ray Benson)
A really nice surprise here, with a powerful blast of raw, soulful blues from this throaty, rough-hewn Texas powerhouse. A Houstonite who used to front the Imperial Monkeys roots-blues band, Wonderland has made Austin her home for a while now, and is one of the finest blues singers in the area. The slashing steel guitar on this album's opening track should be enough to get your attention, and once you get to the mournful "Bad Girl Blues," a couple of songs later, this gal will have you in the palm of her hands. Sidestepping the smae-old raspy-Janis and sassy-mama Koko Taylor stereotypes, Wonderland taps into the more soulful tradition of gals such as Tracy Nelson, Marcia Ball and Lou Ann Barton. Asleep At The Wheel's Ray Benson produced this disc, and although he sneaks a teensy bit of twang in on a tune or two, he mostly plays to Wonderland's strengths and keeps it bluesy and brash. Her instincts aren't always right (a jarring rap interlude on "I Found The Lions" is just horrible, but it doesn't last long...) but raw power like this doesn't come around often and this is definitely an artist to keep our eyes on! <! February 5, 2008 >
Marion Worth "Greatest Hits" (Columbia, 1963) (LP)

Marion Worth & George Morgan "Slippin' Around" (Columbia, 1964) (LP)

Marion Worth "Sings Marty Robbins" (Columbia, 1965) (LP)

Marion Worth "A Woman Needs Love" (Decca, 1968) (LP)





<! Beverly Wright "Grass Doesn't Grow As High As The Tree" (Audio Fidelity, xxxxxx) >


Chely Wright - see artist discography



Ginny Wright & Tom Tall "Are You Mine" (Bear Family, 2005)


Kooky, clunky, delightfully innocent, for-real hillbilly music from the early 1950s. Two teenagers, Tom Tall and Ginny Wright, were paired up for a duet on the independent Fabor label, where they were both signed... The disc, "Are You Mine," shot to Number Two on the country charts in 1955, but just when they were poised to reap the benefits of their success, Wright decided to pack in in and quit show biz - she got married, had kids and settled down. Tall, who was just a few years younger than her, was left in the lurch -- fresh out of high school and eager for success, his career lurched along for several years afterwards, but he never came as close to hitting the jackpot as he did when he was a kid. This disc includes almost all the singles that Tall and Wright recorded in the 1950s (although, sadly, it omits her earlier duet with Jim Reeves, which was also a big hit...) His solo work and hers are included, side by side, and it's wonderously unpolished music, mainly sub-par novelty material and heartsongs, sung with boundless enthusiasm and an utter lack of finesse. This disc speaks to a day when country singers weren't all blowdried TV models who "fixed" every little bit of their vocals in the studio before their records came out... This disc is full of awkward, chaotic, sometimes embarassing performances... and it's an album I find fairly irresistible. It's the kind of record you just won't find anywhere else... God bless Bear Family!
Michelle Wright "Do Right By Me" (Savannah, 1988)


Michelle Wright "Michelle Wright" (Arista, 1990)


A so-so album from a Canadian artist who seems pulled in several directions -- soft country-pop (with a slight traditionalist/rockabilly undercurrent on a few tunes), along with bluesy-torchy vocals, ala k.d. lang... She seems like an artist who could've caught fire, given the right musical backing, but as is, this album feels a bit flat.
Michelle Wright "Now And Then" (Arista, 1992)

Michelle Wright "The Reasons Why" (Arista)

Michelle Wright "For Me It's You" (Arista, 1996)

Michelle Wright "Shut Up And Kiss Me" (2004)

Michelle Wright "A Wright Christmas" (Icon, 2007)


Michelle Wright "Everything And More" (2008)


Michelle Wright "Greatest Hits" (Arista, 2000)





<! Michelle Wright "Do Right By Me" (1988) B0001GV30O Michelle Wright "Michelle Wright" Michelle Wright "Now And Then" Michelle Wright "The Reasons Why" Michelle Wright "For Me It's You" Michelle Wright "Shut Up And Kiss Me" Michelle Wright "A Wright Christmas" Michelle Wright "Everything And More" Michelle Wright "Greatest Hits" >

The Wrights "Down This Road" (RCA/Sony-BMG, 2005)



(Produced by Keith Stegall & John Kelton)
A memorable debut album of sweet, well-crafted country duets by this husband-wife songwriting team, Adam and Shannon Wright. The Wrights were introduced to country fans earlier in the year when they sang on Alan Jackson's What I Do album, where they contributed musical backup as well as two new songs... Adam Wright does just happen to be Jackson's nephew, and Uncle Alan does just happen to make an appearance on this album as well, but one listen to this disc and you'll know that they got here based on their talent, not anything else. This is a really striking record for a modern commercial country release -- it's got a softness and sincerity that's really quite refreshing. The Wright's never sound like they're straining to find a hit, or trying out whatever styles or gimmicks they can think of to see what might stick. They have a nice, simple sound and they stay with it, giving them a distinctive presence amid all the pop-soul crossovers of recent years. Also, the production is smooth and assured, and pleasantly restrained, given how over-the-top the Nashville studio cats have gotten. This is a classy record, a well-measured piece of craftsmanship that never blunders into by-the-numbers commercial formulae... If you enjoy Barry and Holly Tashian's records or the mellower stuff by Buddy and Julie Miller, then you may find kindred spirits here... Check it out!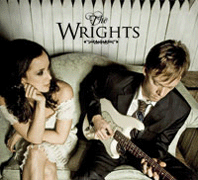 The Wrights "The Wrights" (Alan's Country Records, 2007)



(Produced by Keith Stegall & John Kelton)
Bee-yoo-ti-ful. The husband-wife team of Adam and Shannon Wright burst on the Nashville scene a couple of years ago with their major label debut, Down This Road, a wonderful set of melody-twang-and-harmony drenched commercial country that seemed just too good to be true. Maybe it was, since this new EP is and indie release (like a lot of the best country coming from Nashville these days...) Regardless of whatever's happening between them and the majors, the Wrights sure do sound good. This disc opens on a high note, with "Rewind," a soaring harmony tune written by Shawn Camp, produced in a lavish style that recalls Billy Sherrill's best years... Indeed, the Wrights are resurrecting a much-neglected tradition of country duet singing that had its heyday back when Sherrill was working with George Jones and Tammy Wynette -- it's a sound that's fallen by the wayside in recent years, and you'll wonder why when you hear these two croon one great tune after another, including originals like the twangy "Do You Still" and catchy hits-in-the-making like "Planting Flowers" and "You're The Kind Of Trouble." Guitarist Paul Kennerley plays throughout and also wrote or co-wrote several of the songs; veteran producer Keith Stegall exhibits his tried-and-true, irresistible blend of twang'n'pop, which fits these kids like a glove. If you like real, true, sweet country pop, the kind of stuff you can crank up loud and sing along to, then check this album out. It's a treat. (For more info, check out www.thewrightsmusic.com )
Tammy Wynette - see artist discography
Wynonna - see The Judds
Gail Wynters "A Girl For All Seasons" (Hickory, 1967) (LP)


(Produced by Wesley Rose) <! arrangements by Ray Stevens >
Wow - what a weird record. I mean, it's on the Hickory label, and it's got this groovy, Mod cover art... I saw several country songs listed on the credits, along with a few '60s pop vocal hits, and Ray Stevens of all people doing the arrangements, so I thought, okay I'll bite. But there ain't no twang on this thang: Ms. Wynters, born Nancy Gail Shivel, was a preacher's daughter from rural Kentucky who developed a love of jazz and blues vocals... Here, styles herself as a white-girl soul singer, ala Dusty Springfield, and the arrangements are lavish, baroque '60s pop with a heavy dose of bluesy Northern Soul... Hardly what you'd expect on old Roy Acuff's label! Wynters frequently slides into a low, growling Shirley Bassey/Eartha Kitt mode, and while there are some "country" songs on here, they are bent out of recognition into big, brassy pop numbers -- probably the weirdest song on here is the brassy, overwrought arrangement of the Louvin Brothers' sweet, demure ballad, "When I Stop Dreaming." But even as a devoted obscuro-twang fan, I just couldn't find a rationale for hanging on to this one... I guess, though, this wasn't just some weird vanity record -- Wynters recorded for several labels and made a modest reputation for herself as a jazz-standards stylist. This album appears to have been just a matter of circumstance, with Wesley Rose willing to test the waters for more pop-oriented material, and although this was her first album, it's the only one that has any tangential conenction to country or Nashville.
---
Hillbilly Fillies - Letters "X, Y, Z"
---