<! cd = 10/05/09 > <! MP3 10/05/09 > <! update 10/05/09 > <! outside 00/00/00 > <! pix 00/00/00 > <! 208-pix: 00/00/00 > <! icons 11/29/10 >
---
Cindy Walker (1918-2006) was one of the great Tin Pan Alley-style country songwriters, a hitmaker who crafted some of the most memorable cowboy and country tunes of the 1940s and '50s, along with countless compositions that were more obscure. Like many tunesmiths of the era, her approach was a sort of craftsmanlike shotgunning: bang 'em out and see what sticks... Fortunately for us, so many of her songs remain delightful decades later. Walker's big break came in 1940 when crooner Bing Crosby recorded one of her early songs; later that year she was cast in a Gene Autry film and was awarded a record deal with the Decca label. Walker became one of the most popular country songwriters, crafting hits for A-list stars such as Eddy Arnold, Webb Pierce and Jim Reeves. Her collaboration with western swing bandleader Bob Wills was particularly fruitful, yielding such classics as "Cherokee Maiden," "Bubbles in My Beer," and the anthemic "You're From Texas." She even conquered the world of rock'n'roll, when pop-rockabilly icon Roy Orbison recorded her song "Dream Baby," scoring a Top Five hit. Walker continued to compose hits throughout the 1960s and has been the focus of several tribute albums. Here's a quick look at her work...


---
Discography
---
Cindy Walker "The Swingin' Cowgirl From Texas" (Bronco Buster, 1998)
Walker has gone down in country history as one of the great songwriters of yesteryear, yet even with several hits in the 1940s, her efforts as a recording artist have long been forgotten. This disc should go a long ways to correct that imbalance -- 26 tracks worth fabulous mid-to-late '40s pop/country with modest backing and consistently fine, bluesy vocals. There is a strong rural edge to her voice, with rough edges left in that clearly show Walker's country roots, even when she was firmly ensconced in the Hollywood showbiz scene. This was back in the days when the trumpet was an acceptable lead instrument in country music and, like Merle Travis, she used it well -- there's also some great pickin' and steel playing, along with the occasional sleepy arrangement. What makes this especially great, though, is the material, mostly Walker originals, including several outstanding bitter, blame-filled breakup songs. This is a precious historic resource for country music lovers -- not to be missed!
Cindy Walker "Words And Music" (Collector's Choice, 1997)

Cindy Walker "Country Girl: The Complete Transcription Recordings, v.1" (Soundies, 2007)

Cindy Walker "Country Girl: The Complete Transcription Recordings, v.2" (Soundies, 2007)

Cindy Walker "Till The End Of Time" (BACM, 2005)

---
Best-Of & Related Records
---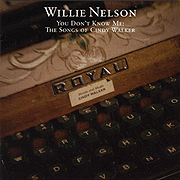 Willie Nelson "You Don't Know Me: The Songs Of Cindy Walker" (Lost Highway, 2006)



(Produced by Fred Foster)
Willie's heartfelt tribute to 1940s cowgal songwriter Cindy Walker is one of the purest, most satisfying records he's ever made -- a career highlight, if you ask me. Willie's own songwriting style, especially his early stuff, is very much in tune with Walker's deft, deceptively simple approach, and he connectrs with them emotionally in a way that's a delight to hear. As he works his way through chestnuts such as "Take Me In Your Arms" and "Bubbles In My Beer," it's easy to hear how much he loves these old tunes, songs that were standards when he was coming up through the ranks... Elegantly crooning over rollicking, western swing-tinged arrangements, Nelson brings a lot of soul to these songs, but he never overdoes it or lapses into schmaltz -- this is just some darn good, old-fashioned, real-deal country music, well-crafted but aimed right at your heart. There are great dance tunes popularized by Bob Wills -- "Cherokee Maiden," in all its un-PC glory, is still an audaciously catchy pop song -- as well as some of the finest heartsongs you'll ever hear. Willie nails the penetrating, pathetic surrender of "I Don't Care," an old Webb Pierce weeper, as well as the slinky, velvet-toned "You Don't Know Me," perhaps best known today from Ray Charles' definitive version. Ms. Walker, who passed away a short time after this album came out, remains one of the greatest tunesmiths country music has ever know, and this album is a fine and worthy tribute. Highly recommended!
Leon Rausch "Close To You: A 20 Song Salute To The Music Of Cindy Walker" (Southland, 1998)


(Produced by Leon Rausch & Tommy Allsup)

Tex Ritter "Bump Tiddil Dee Bum Bum: Tex Ritter Sings The Great Hits Of Cindy Walker" (Capitol) (LP)

---
Links
---
Wikipedia has a good biographical article... guaranteed to be at least 75% accurate!
---



Hick Music Index



---

<! cd=10/11/09 >