<! cd = 11/05/10 > <! MP3 11/05/10 > <! update 11/05/10 > <! outside 11/05/10 - WP > <! pix 11/05/10 > <! 208-pix: 00/00/00 > <! icons 11/05/10 >
---
Steve Wariner
---
Discography - Best-Ofs
---

Steve Wariner "The Ultimate Steve Wariner" (Universal/Hip-O, 2000)



This collection does poor justice to young country smoothie Steve Wariner... It sticks to his big hits, sure, but those were the more prefab and sappy material, and this selection sells him short as a true country singer. This disc tracks Wariner's career from his breakout 1981 hit, "All Roads Lead To You," to more recent stuff in the 1990s. It highlights Wariner as a croony pop balladeer working in the country-rock medium, and his work is much like that of Vince Gill, who followed in his footsteps. But if you only picked up this best-of, it would be easy to get the impression that Wariner couldn't bust out of that mode or do anything that was much different. The most vigorous song on here is a tame, prefab "rocker" like "Lynda," which is okay, but not much better than something by the likes of, say, Restless Heart, whereas a closer examination of Warnier's actual albums might yield a few weepy, pedal steel-drenched gems for the discerning hard country fan to groove on. I will say, though, that Wariner is often touted as a hotshot guitarist, but the mild-mannered leads he adds on a few of these tracks don't do much for me. This disc might give you the hits, but it doesn't provide a full picture of the artist himself.
---
Discography - Albums
---



Stone's River Band "Stone's River Band" (1977) (LP)
(Produced by Stone's River Band & Fred Cameron)
Before Steve Wariner established himself as a solo artist, he worked in Nashville as a session picker, notably in the studio run by producer Mike Shrimpf. This early band includes both Wariner and Shrimpf, playing a mix of covers and originals, with Warniner playing bass, guitar and even some steel on one of the songs. The album includes three songs credited to Wariner: "Blonde Haired Woman," "My Greatest Loss" and "The Whole World Is Smiling But Me."


<! - no ASIN 06/17/15 >

Steve Wariner "Down In Tennessee" (RCA, 1978) (LP)







Steve Wariner "Steve Wariner" (RCA, 1982)



<! Your Memory; Don't Plan On Sleepin' Tonight; We'll Never Know; She Never Meant A Thing To Me; Well, Hello Again; Don't It Break Your Heart; Kansas City Lights; All Roads Lead To You; By Now; Daybreak Ð 09-82 (Reissued on Buddha 74465-99677-2 with added track: I'm Already Taken) >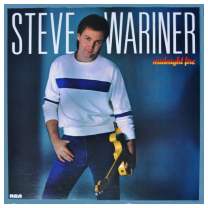 Steve Wariner "Midnight Fire" (RCA, 1983) (LP)


(Produced by Norro Wilson, Tony Brown & Tom Collins)
A fairly languid, glossy set, marked by the synthy early-'80s production style that Nashville borrowed from pop's post-New Wave sound. Mostly feels pretty sterile and uninspired, though Wariner does have some soulful moments. He also managed to squeeze a Top Five hit out of his revival of "Lonely Women Make Good Lovers," previously a '70s hit for his old boss, Bob Luman. Some tracks are just awful, though, like the blatant pop of "Why Goodbye," and the bland, synth-heavy reggae of "Honey Why." Of note among the studio musicians is future super-producer James Stroud still doing session work on the drums, and Wariner's mentor Chet Atkins adding a few licks in the bridge of "I Can Hear Kentucky Calling Me." Mostly, this is a pretty forgettable album.
Steve Wariner "One Good Night Deserves Another" (MCA, 1985)

Steve Wariner "Life's Highway" (MCA, 1985)

Steve Wariner "It's A Crazy World" (MCA, 1987)

Steve Wariner "I Should Be With You" (MCA, 1988)


Steve Wariner "I Got Dreams" (MCA, 1989)


(Produced by Jimmy Bowen & Steve Wariner)
An exceptionally gutless album, with tinny, synthy, 'Eightiesed-out production and one unmemorable song after another. This album is so horribly by-the-numbers it's hardly worth commenting on. Nonetheless, he racked up two #1 hits -- "I Got Dreams" and "Where Did I Go Wrong" -- and landed another single in the Top 5, altough all these songs were pretty weak material. Wariner wrote or co-wrote all but one of these tunes, which doesn't speak well to his artistic judgement, but oh well, I guess if it works, it works. Still, I couldn't recommend a single song on here.

Steve Wariner "Laredo" (MCA, 1990)


(Produced by Tony Brown, Garth Fundis & Randy Scruggs)
Another bland, mellow, low-key album. Nothing all that memorable, really, although fans of romantic ballads may find something here to keep them happy. This album yielded a couple of Top Ten hits, but that was about all... Considering Wariner's success in the previous decade, that practically qualifies this disc as a flop, and I'd have to say it does sound like he's just cruising in a holding pattern here...

Steve Wariner "Christmas Memories" (MCA, 1990)


Steve Wariner "I Am Ready" (Arista, 1991)


(Produced by Scott Hendricks & Tim DuBois)
This one starts out pretty nice, with a couple of steel-drenched traditional-sounding tunes, the upbeat "On My Heart Again" and a fine, heartfelt cover version of Bill Anderson's "Tip Of My Fingers." The rest of the record gets more pop-sounding and drifts towards Wariner's cheesy, romantic side... But it's still well-produced, with compelling songs and ranks up there as one of his best. Worth checking out.

Steve Wariner "Drive" (Arista, 1993)


(Produced by Steve Wariner)
I dunno what the deal is with the Universal best-of listed above, but on his individual albums, Wariner really can sing some good country music. Sure, it's prefab as all getout, but when he hits the mark, he's pretty good. This album is mostly filled with strong material, although at the very end there are some horrible pop toss-offs, notably "Missing You" and the other two tracks that round off this album. Other than that, though, this ain't bad. Guess you could class this as sort of a "guilty pleasure" album for me.
Steve Wariner "No More Mr. Nice Guy" (Arista, 1996)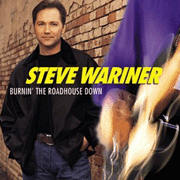 Steve Wariner "Burnin' The Roadhouse Down" (Capitol, 1998)



(Produced by Steve Wariner)
Wariner's so-called "comeback" album was a big shift away from the goopy pop-soul ballads he built his career on. Actually, it's a pretty nice record...! A fairly rootsy set with an easygoing, Vince Gill-like country-rock feel, and a surprisingly strong dose of honkytonk laying just underneath the surface. The title track, a duet with Garth Brooks, is a pretty fun song, as is the barroom ballad, "A Six Pack Ago." He gets just a teenie bit corny on the album's hit, "Holes In The Floor Of Heaven," a shameless weeper wherein a recently widowed daddy sings a tribute to his departed wife, who's up there with the angels, looking down and smiling as their little girl grows up. ('Scuse me... I've just got something in my eye... No, I'll be okay in a second... sniffle...) There's some glib material on here as well, like the breezy "Road Trippin', and there are a few real doozies, like the smouldering, remorseful "Smoke From An Old Flame," which is truly a damn fine heartsong, as well as the rollicking "I Don't Know How To Fix It," which was cowritten with Bill Anderson. The only crappy song on the album comes right at the end, a loud, torturous duet with Anita Cochran that flings itself whole-hog into the caterwauling, melissima-heavy faux-soul style that some people (lord knows why!) think is so groovy. But I think even Wariner knew it wasn't gonna work, and that's why he packed that dud away at the end, where it wouldn't get in the way of what is otherwise a fine album. This is defintely one of his best!

Steve Wariner "Two Teardrops" (Capitol, 1999)



(Produced by Steve Wariner)
At this point, you really know pretty much what you're going to get on a Steve Wariner album, and this disc is fine example. It leans heavily towards the sappy side of things, and that's where the hits came from -- "Two Teardrops" and the shamelessly saccharine "I'm Already Taken," which both fell just shy of topping the charts and which, all things considered, ain't really all that bad. By contrast, the uptempo material is pretty lackluster. The middle of the album grinds to a halt with several bland toss-offs like "Talk To Her Heart" and "So Much" which are so generic and uninteresting they sound like they were pulled out of a Crackerjack box instead of written by an actual human being. (Sorry, Steve!) Here's the twist, though: several songs, including "Two Teardrops," were cowritten by Nashville legend Bill Anderson, who was making a comeback of sorts... "Teardrops" aside, I'm not sure this is Anderson's finest work, but it's interesting to hear a modernday, high-tech balladeer like Wariner giving the old guy a bit of the spotlight. This isn't Wariner's best album, but it is smooth, competently produced Nashville pop, and I'm sure longtime fans were pleased. (Note to honkytonk fans: steer clear of this one!)
Steve Wariner "Faith In You" (Capitol, 2000)

Steve Wariner "Steal Another Day" (SelecTone, 2003)


Steve Wariner "This Real Life" (SelecTone, 2005)



Steve Wariner "c.g.p.: My Tribute To Chet Atkins" (SelecTone, 2009)



(Produced by Steve Wariner)
A nice instrumental homage to Nashville mega-superpicker Chet Atkins, Steve Wariner's old Nashville mentor who produced his earliest sessions on RCA, and hired him as the bass player in his band for a while, until Wariner's own Top 40 career took off in the early 1980s. The album's title, "c.g.p.," stands for "certified guitar player," an insider term that Atkins coined, and an award he gave to four pickers, including Steve Wariner (who is known as a fancy picker, as well as a velvety vocalist...) This set is mostly made up of new compositions done in the style of Chet Atkins, rather than a bunch of cover tunes, where the Atkins originals would doubtless hold sway. Atkins had a penchant for saccharine production, and Wariner is true to that part of the legacy, recording an album that is both hot and sweet -- it's a very muzak-y set, but doubtless pleasing to those who are looking for that classic Atkins style. (PS -- congratulations to Wariner on winning a Grammy for this one!)


<! release date is Nov. 10 >

Steve Wariner "Guitar Christmas" (SelectTone, 2010)


---
Links
---
---