<! cd = 03/06/13 > <! MP3 03/06/13 > <! outside 03/06/13 - WP > <! pix 03/06/13 > <! 208-pix: 00/00/00 > <! icons 03/06/13 > <! UPDATES: 03/06/13 - posted >
---
Baillie & The Boys featured East Coaster Kathie Baillie on lead vocals who, even though she was from New Jersey, was able to tap into the spirit of country music -- at least the spirit of 1980's Nashville country. The band had several decent-size hits towards the end of the 1980s, and then sort of faded out of sight, although they have reunited a couple of times and have a very devoted following. Here's a quick look at their work...
---
Discography - Best-Ofs
---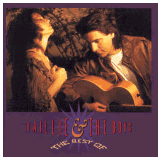 Baillie & The Boys "The Best Of Baillie & The Boys" (RCA, 1991)


This best-of set covers all their late-1980s/early-'90s albums -- the hits and album tracks that most fans will really remember. They revisited many of these songs later in re-recorded versions, but these are the originals, as heard on the radio, back in the day.
---
Discography - Albums
---
Baillie & The Boys "Baillie & The Boys" (RCA, 1987)

Baillie & The Boys "Turn The Tide" (RCA, 1989)

Baillie & The Boys "Lights Of Home" (RCA, 1990)

Baillie & The Boys "Lovin' Every Minute" (Intersound, 1996)


A comeback album of sorts; includes remakes of some of their early hits.

Baillie & The Boys "The Road That Led Me To You" (Synergy, 2000)



This later release has some re-recorded material, and a slew of new stuff... What it lacks, however is both spark and subtlety. I'll reserve full judgement until I can track down some of their old stuff.

Kathie Baillie "Love's Funny That Way" (Aspiron, 2006)



(Produced by Michael Bonagura)
A mix of mature country-pop and Carpenters-ish pop power balladry, this is probably a for-fans-only effort, but folks who have hung with Baillie & The Boys over the years will psyched to hear Kathie back on wax. Guest performers include Vince Gill and Highway 101's Paulette Carlson, who sings harmony on her own mother-daughter themed "Old Glass Case," a fiddle-based weeper that's certainly one of the album highlights. Baillie's longtime partner Michael Bonagura, a veteran of the original band, pitches in as producer and sideman...
Kathie Baillie "A Baillie Family Christmas -- Come Celebrate The Season" (Aspiron, 2006)



A 5-song EP from 1980's Back Forty singer Kathie Bailey... Mostly standards, all heartfelt.
Baillie & The Boys "Unplugged: Baillie & The Boys Live In Concert" (Synergy, 2011)


---
Links
---
---