<! cd = 10/13/11 > <! MP3 10/13/11 > <! outside 00/00/00 > <! pix 00/00/00 > <! 208-pix: 00/00/00 > <! icons 10/13/11 > <! UPDATES: 10/13/11 >
---
Singer Donna Ulisse made a stab at Top Forty fame in the early 1990s, but left the Nashville pop scene after recording only one album. Year later she reemerged as an indie-label bluegrass/country gospel singer to be reckoned with... Here's a quick look at her work...
---
Discography - Albums
---

Donna Ulisse "Trouble At The Door" (Atlantic, 1991)


(Produced by Ray Baker, Josh Leo & Larry Michael Lee)
The lone major-label outing of this aspiring (and very talented) Top Forty singer... I love the way she looks so sheepish and unconfident on the cover photo... The music inside also reveals an ambivalence and mixed feel -- somewhat cheesy, overproduced pop-country arrangements but with compelling, soulful vocals. Ulisse does seem like a diamond in the rough here -- the album's two singles, "Things Are Mostly Fine" and "When Was The Last Time" only barely grazed the Back Forty, although she managed to reemerge nearly two decades later with a series of fine releases that showed what she might have been capable of, had '90s Nashville given her more of a chance...


<! 144 x 144 >

Donna Ulisse "When I Look Back" (Hadley Music Group, 2007)



Donna Ulisse "Walk This Mountain Down" (Hadley Music Group, 2009)



(Produced by Keith Sewell)
A one-time would-be Top Forty star of the 1990s resurfaces as a soulful bluegrass balladeer, with sweet accompaniment from 'grassy stalwarts such as Rob Ickes, Andy Leftwich, Scott Vestal... and Claire Lynch singing harmony on one song as well! Ulisse's voice is rich and soulful, with poetical lyrics and several dips into heartfelt, Jesus-drenched gospel and inspirational songs of a more secular tilt. There's also plenty of hot, sweet bluegrass picking and robust twangy numbers that'll set your toes a-tapping. One highlight is the contemplative "Child Of The Great Depression," about the wisdom that older generations have to offer us. A very strong album from a true bluegrass independent. Definitely worth checking out!


<! 144 x 144 >

Donna Ulisse "Holy Waters" (Hadley Music Group, 2010)



(Produced by Keith Sewell)
A top-flight set of bluegrass gospel, all the more impressive because, other than a nice Stanley Brothers cover, these are all original songs written or co-written by Ms. Ulisse herself. There's a hint of slower, more Southern Gospel-style songwriting, but for the most part this is strong, upbeat bluegrass material, with tight backing from elite pickers such as Rob Ickes, Andy Leftwich, Scott Vestal and guitarist-producer Keith Sewell. Once apon a time, Ulisse was a Nashville country singer reaching for the Top 40 brass ring; after a decade or so out of the music business, she's come back to it from an indie angle, born again in more ways than one. If you like country gospel and bluegrass, you'll definitely want to check this out.


<! 144 x 144 >

Donna Ulisse "An Easy Climb" (Hadley Music Group, 2011)



(Produced by Keith Sewell)
Another fine set of bluegrass tunes with a confessional/songwriter tone by one-time Nashville chart artist, Donna Ulisse. In recent years she's reemerged as an indie artist with a strong bluegrass sound. Among the pickers backing her on this album are dobro player Rob Ickes, banjoist Scott Vestal, fiddler Andy Leftwich and bassist Viktor Krauss; her partner, Rick Stanley, also co-wrote about half the songs on here and sings harmony througout. Less of a gospel bent this time around, and more of a personal-confessional tone... if you enjoyed, say, Patty Loveless or Dolly Parton's forays into the indie-bluegrass sound, you might get a kick out of this as well.


<! 144 x 144 >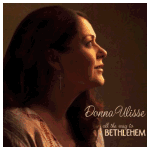 Donna Ulisse "All The Way To Bethlehem" (Hadley Music, 2012)



(Produced by Keith Sewell)
I've admired Donna Ulisse's return to the field, in particular her soulful forays into bluegrass spirituals and Southern Gospel. I have too confess, though, this ambitious, Christmas-themed concept album, with Ulisse singing songs written from the perspective of various participants in the nativity -- Joseph, Mary, the innkeeper, et. al. -- is a little too hardcore for me. But true believers may find this one gratifying and enlightening. As ever, Ulisse is a very soulful and committed performer. Certainly worth checking out if you're looking for something off the beaten track for your annual holiday playlist...


<! 150 x 150 >
Donna Ulisse "Showin' My Roots" (Hadley Music Group, 2013)



(Produced by Bryan Sutton & Donna Ulisse)
This is perhaps the best of her bluegrass albums to date, a soulful, rootsy homage to the classic country music of the 1950s and '60s, as well as the golden era of bluegrass, seen in particular through the lens of the sweet, sentimental style of the Stanley Brothers. Ulisse is married to Rick Stanley, one of Ralph Stanley's cousins, and their co-written title track pays tribute to various musical idols, including the late Carter Stanley, as well as Merle Haggard, Bonnie Owens, Loretta Lynn and Dolly Parton. And the set list that follows makes clear just how deep her affection for these artists runs, with covers of Loretta's "Fist City" and "Somebody Somewhere," as well as Dolly's "In The Good Old Days (When Times Were Bad)" along with Tammy Wynette's hit, "Your Good Girl Is Gonna Go Bad," and several songs from the Stanley Brothers canon, such as "I Hope You Have Learned," "and a rollicking version of "How The Mountain Girls Can Love." The last cover tune is a heartfelt rendition of the Hank Locklin oldie, "Send Me The Pillow You Dream On," and while her earlier albums drifted into softer, Southern Gospel-tinged arrangements, she keeps things pretty traditional here, with punchy banjo, mandolin and fiddle throughout. Recommended!
Donna Ulisse "Hard Cry Moon" (Hadley Music Group, 2015)


(Produced by Bryan Sutton)
Another sweet, rock solid album filled with original material. All but one of the songs was written or co-written by Ulisse, including several composed with her husband, Rick Stanley. She's also working with the same core group of musicians, and they've really hit a groove together, getting sweeter and tighter as time goes by. The same is true of Donna Ulisse's voice, which is still strongly evocative of Alison Krauss, but with a velvety edge that recalls the rich, husky tones of Rosanne Cash as well. What can I say? She's just getting better and better with each new album.
---
Links
---
---