<! cd = 04/27/13 > <! MP3 04/27/13 - none > <! outside 04/27/13 - PF > <! pix 00/00/00 > <! 208-pix: 00/00/00 > <! styles: Top 40, fillies > <! UPDATES: 04/27/13 - posted 09/08/15 - updated >
---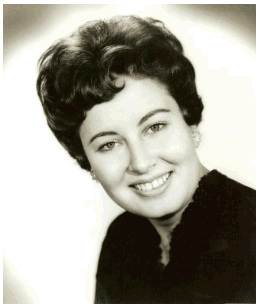 Lorene Mann <! (1937-2013) > was a Nashville second-stringer who was introduced to country music fans as the duets partner of singer Justin Tubb, and was next paired up with comedian Archie Campbell in his pre-Hee Haw years. It was as a solo artist that Mann made her mark, recording some fascinating songs written from a woman's perspective. Her most notorious song was a 1972 single which never made it onto an album: recorded in 1971, two years before the Roe v. Wade Supreme Court decision, "Hide My Sin" was a topical song about woman who gets an abortion -- more controversial at the time than even Loretta Lynn's birth control ballad, "The Pill." Mann's career was short, but she's a notable, if minor, female country star of the Nashville Sound era... Here's a quick look at her work.
---
Discography - Albums
---
Lorene Mann & Justin Tubb "Alone And Together" (RCA, 1966) (LP)


(Produced by Bob Ferguson)
Mann teamed up with Ernest Tubb's son, Justin Tubb for this album, which includes both solo tracks and duets... The most successful single was "Hurry, Mr. Peters," an answer song to the earlier hit "Yes, Mr. Peters" that peaked at #23 on the charts, which turned out to be the highest-charting single of her career.
Lorene Mann & Archie Campbell "Archie And Lorene Tell It Like It Is" (RCA, 1968) (LP)


(Produced by Bob Ferguson)
Archie Campbell wasn't the greatest vocalist ever, but compared to his duet partner Lorene Mann, he sounds pretty good... Sadly, despite her rural intonation, Ms. Mann was a pretty bad singer -- she's florid, flat, frequently off-key, and unable to resonate emotionally. Archie goes off-key sometimes too, but he manages to stay in tune when he wants to, and can emote more convincingly, although not enough to make up for her shortcomings... The main draws for this ill-concieved album are the outlandish arrangements and interesting choices in repertoire, with some intriguing covers of rock and soul songs, such as Dan Penn's "Dark End Of The Street." There are "hip" '60s touches -- electric guitars, etc. -- but also a fair amount of lackluster studio work that has its own kitschy charm. You can't blame the studio crew for not taking it too seriously: these are not great performances. Sadly. (By the way, if you want a better country cover of "Dark End," check out the Porter Wagoner/Dolly Parton version instead... Just saying.)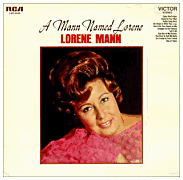 Lorene Mann "A Mann Named Lorene" (RCA, 1969) (LP)


(Produced by Bob Ferguson)



<! "Don't Put Your Hands On Me" GIF uploaded 04/13 >
Lorene Mann "Hide My Sin/There Is Always One Man" (RCA, 1969) (7" single)

---
Links
---
---