<! MP3 09/15/08 > <! update 09/15/08 > <! pix 09/15/08 >
---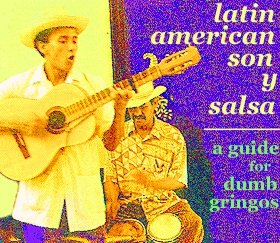 Welcome to my "guide" to some of my favorite Spanish-language music, stuff from Cuba, Puerto Rico, Latin America and beyond...
---
This page covers the letter "Y"
---
A | B | C | D | E | F | G | H | I | J | K | L | M | N | O | P | Q | R | S | T | U | V | W | X | Y | Z | Comps
---
Cuban Music Links | Musical Styles | Record Label Guide
---
Atahualpa Yupanqui "Atahualpa Yupanqui" (EMI-Odeon)
If you've never this Argentinian guitarist before, quit what you're doing right now and track down some of his albums! The folkloric music of Yupanqui (1908-1993) is one of Argentina's great national treasures... His career spans back to the 1930s, but he was an active and vigorous performer throughout his life. He is widely known as one of South America's great pioneers of indigenous culture, recovering and expanding the regional repertoire of Argentinan (as opposed to Europhilic) music... What is most striking about Yupanqui, though, is his performance style, which is absolutely captivating and unique. Solomn, dolorous and somewhat mystical, Yupanqui's songs combine mournful vocals with a gorgeous guitar style, where notes alternately drip or hover aloft, and the melodic drive is irresistible and hypnotic. It's difficult to convey the purity and richness of this music; you'll just have to check it out for yourself. One thing, though: Yupanqui has a lot of records, available in a lot of different formats... It's possible some of them aren't that great, although I've never heard one I didn't like. I only have his music on some old LPs, and I'm not sure when they were recorded, so I'm afraid I can't guide you to when, exactly, this guy was at his peak... I just know I love the stuff I've heard.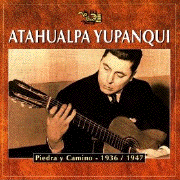 Atahualpa Yupanqui "Piedra Y Camino: 1936/1947" (Discmedi, 2002)



Entrancing early works from this soulful Argentine guitarist and troubadour... Although on the opening notes you can tell that these recordings are much earlier than the better-known recordings issued on Odeon and Barclay in the 1950s and '60s (Yupanqui's voice is more youthful), the distinctive, alluring guitar style that he is known for is already well developed. Yupanqui is, quite simply, one of the most arresting and immediately compelling musicians I know of: one listen and you'll be hooked.

Atahualpa Yupanqui "Buenas Noches, Compatriotas..." (Acoua/Fremeaux Associes, 2000)


A live performance from 1983, at Argentina's Mar De Plata, replete with spoken recitations and asides... And plenty of gorgeous guitar glissandos and soulful strumming. Even in his golden twilight years, Yupanqui was a superior, transcendant performer. Recommended, even though you may find the audience applause a distraction from Yupanqui's gorgeous performances.
Yusa "Yusa" (Tumi, 2002)



A slick, sweeping Cuban jazz-ballads crossover, which reminds me a bit of Brazilian artists such as Joyce or Djavan, or North Americans like Jane Bunnett and Diana Krall. Not my cup of tea, really, but fans of the style might enjoy this quite a bit.
---
More Albums - "Z"
---
---



---