<! MP3 09/20/08, 02/12/11 > <! update 00/00/00 > <! pix 02/12/11 > <! icons 02/12/11 >
---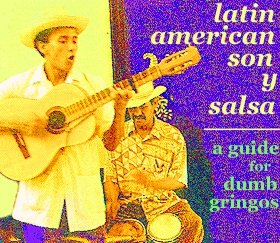 Welcome to my "guide" to some of my favorite Spanish-language music, stuff from Cuba, Puerto Rico, Latin America and beyond...
---
This page covers the letter "J"
---
A | B | C | D | E | F | G | H | I | J | K | L | M | N | O | P | Q | R | S | T | U | V | W | X | Y | Z | Comps
---
Cuban Music Links | Musical Styles | Record Label Guide
---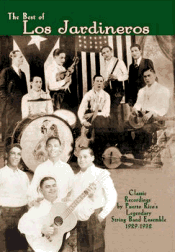 Los Jardineros "The Best Of Los Jardineros" (Shanachie/Yazoo, 2006)



An awesome collection of classic recordings from the New York-based Puerto Rican ensemble, Los Jardineros, who recorded prolifically for the OKeh record label in the 1920s and '30s. The dazzling acoustic guitar work and plaintive vocals that have become the hallmark of Puerto Rican jibaro music are richly abundant here, with many of the finest borriqueno musical pioneers captured at their best. Among the musicians is a young Fausto Delgado, who joined the group in 1930, and who went on to record numerous records on his own in the decades that followed. Great stuff, with some really hot musicianship, as well as a number of topically-oriented songs that will still be of interest to modern listeners. So... any chance we'll get a Volume Two anytime soon?

Generoso Jimenez "El Trombon Majadero" (Bembe, 1998)



A wonderful album of super-swank dance music from a former member of Beny More's band. These mid-'60s sessions were made recorded not long after More's death in 1963, and they show Jimenez in peak form. Sharp horn charts that anticipate the punchiness of New York salsa, but also show a strong jazz influence. This is a really fun record... well worth tracking down!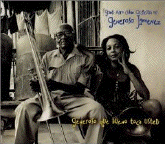 Generoso Jimenez "Generoso Que Bueno Toca Usted" (Pimienta/Universal Latino, 2002)



Jimenez is still holding his own and banging out some tasty Cuban dance music, even at this late date. Ths is a very good record, although if I had to complain about anything on here, it would be the repetitive "Cherry Pink" -styled brass sting, which crops up all over this album, and seems a bit overused. Otherwise, this is sharp, solid musicianship!

Generoso Jimenez "Tojo/Trombon Majadero" (Disconcorme/Malanga Music, 2007)



A delicious reissue of two early-1960s albums by Cuban trombonist Generoso Jimenez, a veteran of Bebo Valdes and Beny More's bands, and a longtime fixture in the Cuban jazz movement. Jimenez cut his teeth playing nightly gigs in Havana's booming Batista-era nightclub scene, playing with and backing many of the top talents in Cuba, as well as visiting stars from the United States. It was as a key member of Beny More's band that he really made his mark, jamming with other descarga jazz legends, such as Chocolate Armenteros, Cachao Lopez, Papito Hernandez and others. These two solo albums, Ritmo (1960) and Trombon Majadero (1965), were recorded both before and after More's untimely death, and show Jimenez and his cohorts playing at peak strength. Some of the harder horn arrangements are a bit merciless and play against the fluidity of the percussion... But there's no questioning the soulfulness and power of these ensembles... Latin jazz fans will definitely want to snap this up.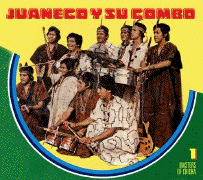 Juaneco Y Su Combo "Masters Of Chicha, v.1" (Barbes, 2008)



Chicha music, an electrified version of the party tunes that came out of the Peruvian slums, became popular in the 1960s and '70s, when the solid-body electric guitars, keyboards and synthesizers of the North American rock scene became available to regional bands in South America. It's a giddy, propulsive genre that is hard to resist. In strict musical terms, it may seem a bit monotonous, but the addition of these modern instruments, along with their newfound amplification and distortion, added both a new sonic texture and a joyful physicality to the performances, just as they did a decade earlier when American country and blues evolved into electric rock and roll. The guitar tones are both rough and fluid, recalling the surf bands of the early '60s, and the vibrant energy still translates across several decades and a large cultural divide. This disc highlights one of the better-known bands of the admittedly obscure chicha scene, Juaneco Y Su Combo, led by Juan Wong Popolizio, a Peruvian-Chinese accordionist who took the band over from his father. Along with guitarist Noe Fachin -- whose emphatic, decisive guitar work is the core of the band's sound -- Wong forged the combo into one of the most dynamic and compelling of the chicha bands. This is a fun record, hard to resist (great for cruising to, by the way...) and packed with perky, hopped-up versions of traditional Peruvian huaynos, joropos and other regional styles. Check it out, and you'll be hooked. (NOTE: This is a companion to the earlier collection, Roots Of Chicha, also on the Barbes label, and also worth tracking down. For more info, go to the Barbes Records website.)

Los Jubilados "Cero Farandulero" (Rounder/Corason, 1998)



This one's a real doozie! Super-fab old-style dance music - son montunos and guarachas -- from a group of veteran musicians, ex-members of some of the island's best Depression-era dance bands. (The group's name means "pensioners" in Spanish... a cute joke about their considerable age...) Mainly acoustic, with some tasteful horn riffs, and tasty, soulful vocals. This record is a lot of fun, and a real standout amid the flood of post-Buena Vista releases available these days. Check it out!
Los Jubilados "Oyeme Cachita" (Corason, 2000)

Los Jubilados "No Tiene Telerana" (Corason, 2001)

Los Jubilados "Pura Tradicion" (2009)





<! Los Jubilados & Azuquita "Cuba Son" (Universal, 2001) B00005Q5VE B00130RFMM same band? >

---
More Albums - "K"
---



---