<! MP3 09/15/08, 02/12/11 > <! update 09/15/08, 02/12/11 > <! pix 09/15/08 > <! icons 02/12/11 >
---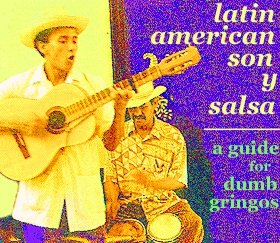 Welcome to my "guide" to some of my favorite Spanish-language music, stuff from Cuba, Puerto Rico, Latin America and beyond...
---
This page covers the letter "V"
---
A | B | C | D | E | F | G | H | I | J | K | L | M | N | O | P | Q | R | S | T | U | V | W | X | Y | Z | Comps
---
Cuban Music Links | Musical Styles | Record Label Guide
---
Bebo Valdes "Descarga Caliente" (Caney, 1995)

Bebo Valdes "Mayajigua" (Caney, 1995)


Bebo Valdes "El Arte De Sabor" (Blue Note, 2001)


Pianist Bebo Valdes was one of the key figures in Cuba's "descarga" scene of the 1950s, a contemporary of fellow jazz-oriented luminaries such as Cachao and Machito. His own work tended towards the softer end of the spectrum, with loping numbers that mirrored the West Coast jazz of Dave Brubeck and Stan Getz. On his first album of the 21st Century, Valdes reels out a sugary set of stunning romantic beauty and musical lyricism. These instrumental tunes have a lilt and lightness to them that is thoroughly enchanting, as is his tendency to toy around with and improvise off the melodies of old pop-jazz standards. This is one of my favorite Cuban jazz albums of recent vintage... It's an album you can easily fall in love with; I know, because that's what happened with me... Highly recommended!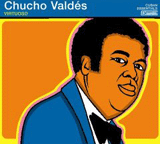 Chucho Valdes "Virtuoso" (Escondida Cuban Essentials, 2005)



I'm not a fan of pianist Chucho Valdes or his band Irakere -- I'm just not a big enough jazz enthusiast -- but listeners who do like his work may want to check this disc out. It starts off with some slower, somewhat meditative piano solos and eases into sparsely arranged jazz vocals numbers. I can't stand any of it, but I don't think I'm the target audience, so take what I say with a grain of salt. At any rate, it's much different than a lot of the full-band arrangements I've heard him play with elsewhere. Interesting set of rarieties.
Miguelito Valdes -- The original "Mr. Babalu"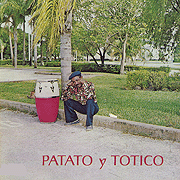 Patato Valdes & Totico "Patato & Totico" (Verve, 1967)



I was spacing out in the "Latin" bins of my local Record Hut and a friendly older fellow with a ponytail struck up a conversation, and recommended this album, saying it was totally the bomb. Of course, he was a percussionist in an Afro-Cuban ensemble, so his love was for the percussive, drumming aspect of things. Indeed, this is a pretty hot album for that style... I'm not a big fan of percussion for percussion's sake, and wound up letting this album go... But it's certainly funkier and less static than, say, Los Munequitos or more folkloric groups such as that... Plus, check out the lineup! This features percussion legend Patato Valdes, along with the singer known as Totico, who adds a sinuous, pliant vocal style that's in marked contrast to the normally clipped chanting of traditional Afro-Cuban drumming... Just to spice things up the band also includes legendary bandleader and tres player Arsenio Rodriguez, as well as descarga bassist Israel "Cachao" Lopez, one of the towering figures in Cuban jazz. It's not surprising, then, that this record has a super-funky undercurrent that makes it stand out... A classic of the genre!

Patato Valdes "The Legend Of Cuban Percussion" (Six Degrees, 2000)



(Produced by Greg Landau)
Awesome jatin-jazz/salsa percussion album!! Valdes was a stylistic pioneer who became one of the grand old men of latin percussion -- these 1996 sessions capture Valdes in top form, playing some solid, firmly funky grooves, and occasionally dipping into more jazz-oriented material, with some fat-toned piano riffs from a variety of players, including Ivan "Melon" Gonzales and Rebeca Mauleon-Santana, as well as album producer Greg Landau. Valdes persistently explores the connections between African and Cuban music, including in some unexpected directions, such as the album's closing track, "Kora-Son," which features kora harp by Abdou M'Doup and vocals from Samba Mapalanga, with shout-outs to various African countries. All in all, this is first rate material... HIGHLY recommended! (PS - revisited this album many years later and it still stands up. Nice stuff!)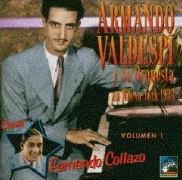 Armando Valdespi "En Nueva York: 1935, v.1" (Tumbao)



Delicate, hokey, romantic music from this '30s dance band. Almost all the songs on here are Valdespi originals; vocals are by Fernando Collazo, who had previously worked with Antonio Romeu's band -- sadly, Collazo committed suicide in 1939. This material is delightfully corny, a treat for those who like American and European "sweet" bands from the same era.

Armando Valdespi "En Nueva York 1935, v.2" (Tumbao)



More of Valdespi's wonderfully florid, romantic dance music; tango-tinged boleros galore with vocalists Antonio Machin and Johnny Rodriguez starring on these Depression-era recordings. You gotta love this stuff!
Wilfrido Vargas "El Funcionario" (Karen, 1994)


(Produced by Wilfrido Vargas)
Manic, catchy party music from the Dominican Republic's booming bachata scene. At this point, to my untrained ears, bachata seems to have fully merged with mainstream salsa, but it has a wild, rugged feel that harkens back to the 1970s, as opposed to the dominant pop sound of modern "Latin" music. Vargas is a real kook here, singing in goofy voices, shouting out asides to the band, generally doing anything he can to pump up the already-high energy level. Propelled by an undercurrent of hyperactive cumbia rhythm, this is pure party music, and probably works best when mixed in with other songs... Otherwise, the nonstop tempo might become a bit exhausting... But it sure is fun, taken in small doses!
Papo Vazquez Pirates Troubadours "Carnival In San Juan" (Cubop, 2003)



Fine modern Latin jazz that leans pretty heavily towards the jazzier end of the equation, with extended trombone and horn work, solos galore, and less emphasis on ensemble playing in the classic "latin" tradition. Not my cup of tea, but certainly a strong, capable ensemble with serious chops and plenty of bounce in their walk. If you like the style, this is a fine disc.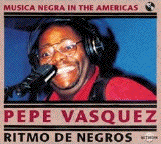 Pepe Vasquez "Ritmo De Negros" (Network, 2000)


Billed as "the undisputed star of Afro-Peruvian music," bandleader Pepe Vasquez leads a sharp, energetic ensemble, rippling their way through some muscular modern salsa, and proving that Havana and New York don't have a lock on the style. I don't really have the ear to pick out the specifically Peruvian elements in this mix, but I'm sure they're in there. Regardless, fans of hot Latin dance music could get a real jolt out of this disc.

Maria Teresa Vera & Rafael Zequeira "El Legendario Duo De La Trova Cubana" (Tumbao)



Ancient recordings by one of the earliest recording stars in Cuba, and a trailblazing female singer. Teresa Vera later worked with guitarist Lorenzo Hierrezuelo (Compay Segundo's cousin and musical partner), but these early works from 1916-1924 are the recordings that set the pace for her later work and for Cuban popular song in general. The vocal accompaniment by Rafael Zequeira is not always top-notch (or in tune) but Teresa Vera's vocals and guitar are... Not as dynamic as later Cuban music, but compelling nontheless, and packed full of some of Cuba's most cherished anthems. Songs such as "Extracto De Alfonsa" may be familiar to acoustic music fans.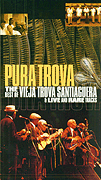 Vieja Trova Santiaguera "Pura Trova - The Best Of Vieja Trova Santiaguera" (Nube Negra, 2000)



Another great old-time Cuban son ensemble whose members have been around forever and a day (hence the "vieja" in the group's name). Like the Buena Vista crew, the musicians in Vieja Trova Santiaguera have worked professionally in a variety of legendary and long-lived bands, dating back several decades. Like Eliades Ochoa's Cuarteto Patria, Vieja Trova stick to the acoustic end of the spectrum, and like Eliades, they are quite good, and quite playful. This lavish 2-CD set recaps their '90s studio recordings, along with a passel of live recordings and outtakes. Some of the best material on here is actually when they mess up - the group's good humor shines through on a couple of live tracks, after they realize they've missed a beat, then laugh, and keep on churning out their captivating rhythm. Includes a handsome, informative bilingual booklet with a history of the band and profiles of the various musicians. Recommended!


<! "Domino" (EMI, 2000) B000T02Q5S MP3 > <! "El Balcon Del Adios" (Virgin, 2002) B000TQ0L6I MP3 > <! "La Manigua" (Virgin, 1998) B000T08B0C MP3 >

Orquesta Riverside De Pedro Vila "Baracoa: 1953-1954" (Tumbao)


Swinging mambos and son montunos from the height of the mambo craze. About half the tracks are instrumentals, the rest feature great vocals by Tito Gomez. Pianist Pedro Justiz -- better known as "Peruchin"-- was the band's arranger, and he gave them a smooth, cool, kitschy & fun sound. Recommended!

Vocal Baobab "Yoruba Dream: Afro-Cuban Chant" (Arc Music, 2005)



Proteges of Cubo-Yoruban folk-vocal icon Lazaro Ros, the Havana-based Vocal Baobab ensemble hews closely to the traditional/folkloric sound; fans of groups such as Los Munequitos de Matanzas should like this, although the emphasis here is on vocal harmonies, rather than drumming, and the tone is much smoother and more sleek. This may be a bit tame for some listeners, but it certainly has the ring of authenticity and richness of tradition. Worth checking out!
---
More Albums - "W"
---



---