<! MP3 09/20/08, 02/12/11 > <! update 00/00/00 > <! pix 02/12/11 > <! icons 02/12/11 >
---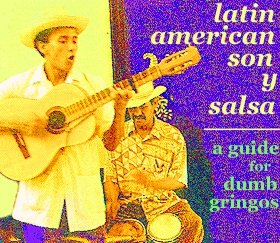 Welcome to my "guide" to some of my favorite Spanish-language music, stuff from Cuba, Puerto Rico, Latin America and beyond...
---
This page covers the letter "N"
---
A | B | C | D | E | F | G | H | I | J | K | L | M | N | O | P | Q | R | S | T | U | V | W | X | Y | Z | Comps
---
Cuban Music Links | Musical Styles | Record Label Guide
---

Arturo Nunez "El Caballero Antilliano" (Tumbao, 2002)


Yet another great Cuban artist who found fame playing in Mexico City, pianist Arturo Nunez led a dazzling dance band that included, over the years, luminaries such as vocalist Beny More and mambo arranger Perez Prado. The less well-known members of the band were pretty awesome as well, as heard on this fine of sleek, swaying dance tunes, recorded between 1949 and 1953. Some of the lavishness and dense, high-concept harmonies of North American big band can also be heard in here, along with the sometimes-shrill brassiness that marked the mambo style of the 'Fifties; Beny More sings a few duets as part of the "Duo Antilliano," but for the most part, the magic is with the band itself, which was pretty swinging. A fun album... definitely recommended!

Gary Nunez & Plena Libre "Plena Al Salsero: Live In Monterrey, Mexico" (GN Musica, 2008)



(Produced by Gary Nunez & David Gaar)
Hot, high-energy Puerto Rican salsa (aka "plena") recorded live in front of an appreciative Mexican audience. This is a dynamic, enthusiastic band that performs with no mercy given and no mercy asked. The percussion, in particular, is pretty impressive, with some dazzling work done at a breakneck speed. One thing that's a little odd is how little the crowd noise is mixed in -- I really only heard them at the very end of the album. But if you like this style hot and fast, you might wanna check this disc out. Better yet, make a trip down to San Juan and catch 'em live.

Joseito Nunez "...Con La Orquesta De Belisario Lopez: 1937-1940" (Tumbao, 1995)


---
More Albums - "O"
---



---