<! MP3 09/20/08 > <! update 00/00/00 > <! pix >
---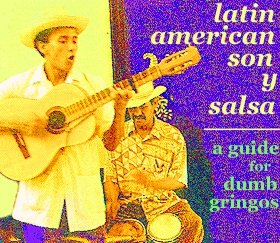 Welcome to my "guide" to some of my favorite Spanish-language music, stuff from Cuba, Puerto Rico, Latin America and beyond...
---
This page covers the letter "P"
---
A | B | C | D | E | F | G | H | I | J | K | L | M | N | O | P | Q | R | S | T | U | V | W | X | Y | Z | Comps
---
Cuban Music Links | Musical Styles | Record Label Guide
---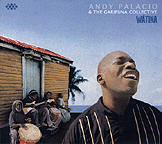 Andy Palacio "Watina" (Cumbancha, 2007)



The late Andy Palacio was one of the key modern torchbearers of garifuna culture, the unique linguistic heritage of a Caribbean tribe descended from African slaves and European sailors who were shipwrecked centuries ago, and later repatriated to the mainland of Central America. Their African roots remained intact over the decades, and garifuna music, like their language, has far less Spanish influence than other American groups. By the late 20th Century, though, that culture was dying out, and Palacio was one of the first of a younger generation of artists who vowed to keep it alive. In the 1980s he played "punta rock," a modern pop style sung in the garifuna dialect, but later he mellowed and chose to play in an acoustic style that better highlighted the group's African roots. This fine album has Palacio and his cohorts playing in a slightly lusher style than previous records that have made it this far North, but still quite lovely. The trademark exuberance and soulful rhythm of the style leaps out, as well as the languid, seductive sense of harmony... If you like this, you might also want to check out earlier albums, including the recent colelction, From Bakabush, which came out a few month back.
Orquesta Hermanos Palau "La Ola Marina 1939-1941" (Tumbao)



Cool early recordings, with the fiery, flambouyant Cascarita on vocals. Sometimes the arrangements are a bit staid, but the vocals are great -- Cascarita delivers these humorous, upbeat tunes with a decidedly Cab Calloway-ish brightness. Muy chistoso and worth checking out.

Palenque "Soy Montuno" (Palenque Records, 2004)



A fine set of lilting, rhythmic Afro-Cuban sones from an expatriate singer-guitarist now living in the San Francisco (CA) Bay Area... German Donatien is originally from the Sierra Maestra, and brings that region's rich musical heritage to bear in the fine set of eight original dance tunes, each laced with delicate tres guitar lines, a sprightly flute and playful call-and-response vocals. Nice to see that the style travels so well, so far away from the island! (Available through the label at www.palenqueson.com )
Eddie Palmieri "La Perfecta" (Allegre, 1961)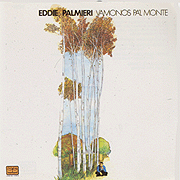 Eddie Palmieri "Vamonos Pa'l Monte" (Tico, 1971)



A strong album that gets into some deep, spacy grooves, clearly influenced by earlier waves of acid rock and psychedelic music. Sleek, classic 1970s salsa/latin jazz, with Palmieri and his band stretching out on some nice, soothing, unhurried jams. Ismael Quintana sings lead vocals, with Alfredo Armenteros on trumpet, and Charlie Palmieri listed as a "special invited guest" (in case anyone thought, maybe, he'd crashed the party?), filling out some of the organ riffs. This one's a goodie, tilting towards the jazzy end of the spectrum.
Eddie Palmieri "La Perfecta II" (Concord, 2002)



This disc starts off with several good, old-fashioned salsa sizzlers, and gradually works its way into jazzier terrain. Even on the Latin Jazz tracks, Palmieri keeps a certain muscular aggressiveness to his work, super-swinging and melodically rich -- all in all, pretty nice stuff!

Eddie Palmieri "Ritmo Caliente" (Concord, 2003)



Another surprisingly strong album from this Latin jazz old-timer... This disc starts off with a bang, with swift salsa tunes like "La Voz Del Caribe" and "Grandpa Semi-Tone Blues" showing that Palmieri's still got the fire in the belly, and a band that can match his passion. He moves steadily into a jazzier, smoother mode, but it's all top-flight material. Even after all these decades into his career, Palmieri still seems like a force of nature: nothing can slow him down or make a dent in his soulfulness and love of the music. If you're a fan of modern Latin Jazz or salsa, then this is an album you'll appreciate.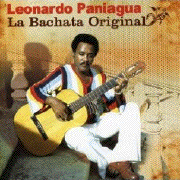 Leonardo Paniagua "La Bachata Original" (Universal, 2007)



A deliriously beautiful set of heartfelt romantic ballads from one of the Dominican Republic's finest balladeers. Paniagua was one of the early stars of bachata music, a style that has since evolved past its humble acoustic roots into a more aggressive brand of global Latin pop. Back in the old days, as heard on this first-rate best-of set, the music was simply heavenly, filled with sweet, seductive acoustic guitar work, dripping with densely-layered melodies and inventive improvisations. Equally alluring are Paniagua's vocals, which recall the ripe emotional melodrama of traditional Latin American boleros, but which never descend into stale bathos or mere formula -- he sings 'em like he means 'em. It's really gorgeous music: I can listen to this album for days on end.


<! http://www.facebook.com/pages/Leonardo-Paniagua/18202938294 >
Leonardo Paniagua "Por Ti Mi Amor" (Disco Hit)


Later recordings by the great Leonardo Paniagua... How much later, I can't quite tell, since this disc has no session info or release date on it, but I'm guessing late-1970s, early '80s: his voice doesn't have the same keening intensity of his early work, but the music hasn't yet transformed into the hyperactive mania of modern bachata. I didn't go ga-ga over this album the first couple of times I heard it, but now it's grown on me... a bit more sedate than I'd prefer, but still pretty classy and sweet.

Cesar Pedroso "Pupy, Y Los Que Son, Son" (Pimienta/Universal Latino, 2002)



Rock-solid Cuban-style "timba" son, recorded with strong, tight arrangements throughout. I was never a big fan of Los Van Van, whose music I found kind of goopy and more inclined towards the softer end of the jazz-latin fusion. But out on his own, pianist Pupy Pedroso keeps things tough, bringing in elements of rap and other, harder modern styles, rather than the soft-jazz colorations favored by the Los Van Van crew. This is a pretty nice record, especially considering how long Pedroso has been around -- he first made his mark as the composer of Celia Cruz's hit song "Azucar," which was originally recorded in the 1960s(!). Worth checking out.
Peruchin, Jr & The Cuban All-Stars "Guajira Con Tumbao" (EGREM, 1998)


Despite the promising title, and this guitarist's descent from Cuban music royalty, this album is in fact a set of pretty slick, pretty brash -- and ultimately rather bland -- big band-ish Latin jazz. I guess it's okay, but it was a little too swanky for me.
Peru Negro "Sangre De Un Son" (Times Square, 2001)



Peru Negro "Jolgorio" (Times Square, 2003)


Blending Afro-Caribbean percussion with the Andean melodies of Peru's black regional enclaves, Peru Negro is one of South America's preeminent folkloric theatre groups. Founded in 1969, the troupe helped gather and formalize the music and dance of Afro-Peruvian creole culture, particularly the songs of the rural Chincha province. Peru Negro introduced Afro-Cuban percussion into the local styles such as the festejo, creating a sound that mixed prominent percussion with circular, multitextured rhythms and chanted vocal refrains. The group flourished in the 1970s, and waned in the 1980s and '90s, as political turmoil undermined Peruvian civic life. Here, they are resurgent in the new century, with a lineup that features percussionist Rory Campos, son of the group's late musical director Ronaldo Campos, and lead vocalist Monica Duenas -- the style is a bit formal, similar in spirit to Andean folk ensembles such as Inti-Illimani or Grupo Raiz, but fans of regional music may find much to captivate them here.

Peru Negro "Zamba Malato" (Times Square, 2007)



(Produced by Juan Morillo & German Villacorta)
One of Peru's premiere folkloric groups, Peru Negro explores the musical influence of the African diaspora in Peru's own melting-pot culture... Although the group's founder, Ronaldo Campos, passed away in 2001, his son Rony has taken over and keeps the group vital and expressive, as heard on this buoyant new album. There's an almost giddy, pop-inflected feel to many of the tracks, particularly those replete with stringed instruments such as guitar, quinto and violin. There's a heavy emphasis on rhythm, however, particularly in the album's second half, which is dominated by several lively percussion-only tracks... The African flavor comes through loud and clear, especially to music fans who are familiar with traditional drumming from Cuba and Brazil: the similarities in style and cadence will be quite striking, as will the differences. Nice album, definitely worth checking out.

Ignacio Pineiro/Various Artists "Festival In Havana" (Riverside, 1955)



Bassist/bandleader Ignacio Pineiro, of the renowned Sexteto Nacional, organized this stark set of rumba recordings back in 1955, matching the lead trumpet of Oscar Velasco with a rippling percussion line and a keening Guaganco vocal chorus... Fans of the folkloric Munequitos De Matanzas will find this disc similarly compelling, though others may find it a bit harsh-sounding. Interestingly, it's the rhythmic "middle" that's missing here: no bass or any other stringed instruments, which places full emphasis on Velasco's horn work as the sole lead instrument. Still, it's cool stuff from the pre-Castro era, and unlike most of the dance-oriented recordings of the time.

Guillermo Portabales "Al Vaiven De Mi Carreta: 1937-1943" (Tumbao, 1996)



Sleek, graceful acoustic guajiras from the WWII era. Portables is pretty much considered the creator of the genre, along with other seminal balladeers such as Nico Saquito and Compay Segundo. This collection of early recordings is a delight, especially the small ensemble recordings towards the end of the disc. Highly recommended. If you like this, you might also want to check out more recent recordings by old-timers such as Nico Saquito and Eliades Ochoa.

Guillermo Portabales "Promesas De Un Campesino" (Tumbao, 1999)


More gorgeous guajiras from one of the great stars of the genre. This CD collects two different sessions, one recorded with Noro Morales in 1956, and the other in 1961, following Portables' return from Puerto Rico to Cuba following the Revolution. The stuff with Morales is peppier and more dance-oriented; the '61 radio appearances are with a smaller group and highlight more of the trademark guitar runs that make this music so fabulously wonderful. Highly recommended!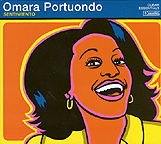 Omara Portuondo "Sentimiento" (Escondida, 2005)



Folks who were turned on to Ms. Portuondo's romantic style when they saw her sing that sizzling duet in the Buena Vista Social Club movie will find this disc useful in helping fill in her backstory a bit... This features vintage recordings from the early 1970s, and the '80s and '90s as well, providing a sweeping cross-section of her pre-BVSC career. I have to admit, I found much of it a bit too florid for my tastes, and while I do like romantic Cuban material, the straight-up boleros kinda turn me off... But this is a good introduction to Omara's ouvre, and is certainly recommended for anyone who wants to delve into her older stuff. Good, concise liner notes as well... Worth checking out!

Omara Portuondo "Buena Vista Social Club Presents..." (Nonesuch/World Circuit, 2000)



If you saw the BVSC movie, then you were doubtless struck by Portuodo's dazzling romantic duets with Ibrahim Ferrer. She has made many albums before this on various Cuban and Latin American labels, but this domestic U.S. release is pretty spiffy. too. There's the typically luch Buena Vista sound, and plenty of heartfelt singing by this beloved Cuban diva. Ruben Gonzales plays piano throughout; Pio Leyva and Ferrer pitch in on a couple of songs (including a nice version of the standard, "No Me Llores Mas." Nice stuff.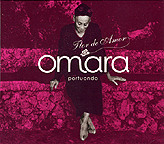 Omara Portuondo "Flor De Amor" (Nonesuch, 2004)



The smoky, sensuous and septugenarian chanteuse of Buena Vista Social Club fame, Cuba's Omara Portuondo returns with another fine set of silken romantic ballads, much in keeping with her long back catalogue. Certain songs stood out for me, such as "Junto A Un Canaveral," but the whole album sounds pretty nice. Several artists who have been in the recent Nonesuch/BVSC orbit accompany Portuondo here, including guitarist Manuel Galban, bassist Cachaito Lopez, Barbarito Torres, and tres whiz Papi Oviedo. It's a class act.

Omara Portuondo "Gracias" (World Village, 2008)



(Produced by Ale Siquiera & Swami Jr.)
One of the grand dames of Cuban romantic music, Omara Portuondo lit up the screen in the Buena Vista Social Club film, and has been since rediscovered by listeners around the world, after a simmering career that spanned back to the early 1950s. Now well into her 70s, Portuondo remains a vital performer, although clearly she doesn't have the fire or forcefulness that she had as a younger woman... But she sure is classy! This set of ballads and traditional tunes features support by a host of younger artists, notably producer/guitarist Swami Jr., pianist Roberto Fonseca and percussionist Trilok Gurtu, all of whom have a broader global sensibility, but a respect for the classic romantic tradition that Portuondo represents. As on earlier recordings, Portuondo excels when singing duets, and this record has several lovely examples, including collaborations with Brazil's Chico Buarque and Jorge Drexler, of Uruguay. You may have to cut her some slack in terms of her energy levels, but this is still a richly realized album, brimming with emotional life and expressiveness. Definitely worth checking out.
Download picks:

O Que Sera
(with Chico Buarque)

Gracias
(with Jorge Drexler)




Chano Pozo "The Life And Music Of The Legendary Cuban Conga Drummer" (Tumbao, 2001)
This lavish 3-CD set covers the career of Chano Pozo, the live fast-die young percussionist who is frequently cited by jazz historians as the focal point in the birth of latin jazz. Pozo joined Dizzy Gillespie's seminal bebop orchestra late in 1947, quickly becoming a featured soloist and helping Gillespie break "latin jazz" into the North American mainstream. Pozo was only with the band for about a year: in December, 1948 he was shot to death in a brawl in New York City. This box set collects the bulk of Pozo's recordings and has a big book that includes interviews with Mario Bauza, Dizzy Gillespie, Machito and others who were around to see Pozo in his fiery prime.


<! Chano Pozo, Volume 1: Blen, Blen, Blen B00126LXCA > <! Chano Pozo, Volume 2: Timbero, La Timba Es Mia B00126N2NI > <! Chano Pozo, Volume 3: The Cu-Bop Days B00126N346 >

Chano Pozo "Manteca -- The Real Birth Of Cubop" (Tumbao, 2001)


For a more modest look at Pozo's career, there's this excellent set of live recordings made with the Dizzy Gillespie orquestra in 1948, just before Pozo's untimely death in NYC. There's plenty of charming spontenaiety, including homages to the goofy showboating of Cab Calloway, some lighthearted improvisations and some really impressive aural effects, underscoring the tremendous power of Gillespie's band. A cool look at the lighter, less pretentious side of bebop jazz.
Chano Pozo & Arsenio Rodriguez "Legendary Sessions" (Tumbao)



With Machito, too! Percussionist Chano Pozo helped create latin jazz in the 1940s when he joined Dizzy Gillespie's postwar bebop outfit, adding authentic Cuban rhythms to the mix. The recordings come from the same period, when Pozo and Machito were based in New York City.


<! ASIN? >


Perez Prado -- The Mambo King





Tito Puente -- El Rey de las Timbales




Puerto Plata "Mujer De Cabaret" (Iaso, 2007)



Lively acoustic music from Jose Manuel Cobles (aka Puerto Plata), an 83-year old guitarist and singer from the Dominican Republic whose style predates the bachata and merengue music of the 1950s and '60s. This album glows with Plata's charisma and self-assurance -- he's an old-timer of the Buena Vista brand, steeped in the past, but vibrantly alive in the present. Fans of Latin American boleros, and of rural acoustic genres such as the Cuban guajira and Puerto Rican jibaro music will want to check this out.

Puerto Plata "Casita De Campo" (IASO, 2009)



(Produced by Benjamin de Menil)
A swell set of emotive acoustic ballads from Puerto Plata, one of the Dominican Republic's living links to the early style of bachata music. Born in 1923, Plata has been playing gorgeous music for decades, and while this is definitely an "old man" record, with Plata's voice and guitar work perhaps a little rougher around the edges than before, it also has the confident assurance and joy for the music that, somehow, only old folks and elderly master musicians can sometimes muster. Some of the picking gets a too energetic (I suspect this is the work of some of the younger musicians backing him up) but nothing overshadows the simplicity and beauty of Plata's performances. Apparently the repertoire for this album is drawn from a number of songs that were banned during the decades-long dictatorship that ruled the Dominican Republic (and forbade many popular musicians from recording or performing in public...) Well, here's a case where art and the human spirit have won out: the music's back, and it sure sounds sweet!
Cheo Belen Puig "Me Han Dicho Que Tu Me Quieres: 1937-1940" (Tumbao)


With Alfredito Valdes, vocals.
---
More Albums - "Q"
---



---