<! MP3 09/20/08, 02/10/11 > <! update 00/00/00 > <! pix 02/10/11 > <! icons 02/10/11 > <! Chivirico Davila - salsa singer >
---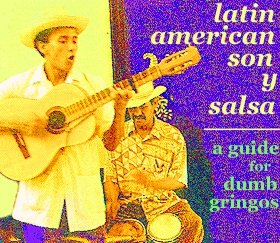 Welcome to my "guide" to some of my favorite Spanish-language music, stuff from Cuba, Puerto Rico, Latin America and beyond...
---
This page covers the letter "D"
---
A | B | C | D | E | F | G | H | I | J | K | L | M | N | O | P | Q | R | S | T | U | V | W | X | Y | Z | Comps
---
Cuban Music Links | Musical Styles | Record Label Guide
---

Davilita "1932-1939" (Harlequin, 1998)


A wonderful collection of vocal performances by Pedro Ortiz Davila (aka "Davilita"), one of the early stars of New York City's Puerto Rican music scene. This disc presents a beautiful sampling of Davilita's work with other popular Puerto Rican musicicians, such as Grupo Victoria and Pedro Flores. It's also a great look at the changing styles of popular boriqueno music, from suave dance numbers to rougher-hewn acoustic bands. Apparently Davilita recorded over 3000 (!) songs -- the 26 tracks on this CD are certainly enough to whet your appetite for more!
Davilita "Gloria De Puerto Rico" (West Side Latino, 2007)



Manze Dayila & The Nago Nation "Sole" (As Is Entertainment, 2008)



(Produced by Jamie Propp & Adam Chalk)
Haitian creole pop with sweet female vocals and a hypnotic melodic style that is strongly reminiscent of West African and South African pop, particularly the chimurenga style from Zimbabwe, complete with balafon and kora arrangements. Dayila sings mainly in Haitian Kreyol, but also includes a few songs in English -- these, unfortunately, are rap or soul-tinged tunes, which aren't as interesting as the Kreyol material. There's also some dub reggae which, when mixed with Haitian "Voudou" elements, is pretty cool. Based in New York, Ms. Dayila emerges as a potent creative force in modern Caribbean culture... Check this out if you're searching for new voices on the world music scene.
Download picks:

Ibonodub
Eusebio Delfin "En El Tronco De Un Arbol: 1924-1928" (Tumbao)


Fausto Delgado "1929-1942" (Harlequin, 1999)


A groovy collection of vocal oldies by this distinctive Puerto Rican singer. It's all there: the melody, the nasality, the romanticism, the swing. This disc draws on several different recording sessions, where Delgado sings in groups which variously include Davilita, Pedro Flores, and other early borriqueno music legends. The musicianship throughout is top-notch, easily matching that of contemporary Cuban acts such as the Trio Matamoros or Antonio Machin. Much of this tends towards florid, lovelorn ballads -- and I'm certainly not complaining! Along with Delgado's clear, crisp diction, the guitar work is a delight. If you like the delicate acoustic stuff, this one is well worth checking out. (The songs on this collection are also collected on the Los Amigos box set below, although I think I may prefer the sound mix on here... Six of one, half dozen of the other...)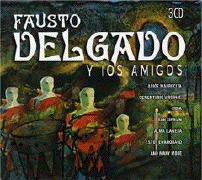 Fausto Delgado "Fausto Delgado Y Los Amigos" (Flex Media, 2005)


This is a spectacular 3-CD set covering the work of Puerto Rican vocalist, Fausto Delgado, working with numerous bands on dozens of classic recordings from 1931-1949. It's wonderful, richly romantic, richly rhythmic material, Latin American balladry at its finest and most rewarding. Delgado leads his own band on many recordings; on others he is the featured singer in the orchestras of Billo's Caracas Boys, Bobby Cabo, Xavier Cugat, Carlos Molina, Rafael Munoz, Chuy Reyes, Alselmo Sacasas, Pepito Torres, and others. Delgado was a marvelous singer -- sometimes a bit florid, but basically pretty robust and heartfelt. The sound quality on these remasters is a bit too clean and warm for me -- I'm used to my Latin oldies sounding a bit sharper and tinny -- but really, there's nothing to complain about. This collection is a gold mine, and probably supersedes the other Fausto Delgado offerings on the market so far. (Not much in the way of liner notes, though -- fortunately composer credits, the bands and recording dates are included, but that's about it. No info about Delgado himself.)
Fausto Delgado "Mojica En Puerto Rico: Latin Favorites" (Lata, 2008)


As with the Harlequin Records collection, the songs on this single-disc collection are also included on the more expansive ...Y Los Amigos collection listed above. But that means, of course, that it's all great stuff! If you're shopping for a cheaper, more compact overview of Delgado's work, this is a mighty fine option as well.

Trio Hugo Diaz "Classical Tango Argentina" (Arc Music, 2006)



A fine reissue of some classy material from Argentinian tango composer and bandoneon master Hugo Diaz, who passed away in 1998. Simultaneously playful and dense, the Diaz Trio took its cues from Astor Piazzolla, the great modernizer of tango -- as with Piazzolla, these performances are richly realized blends of traditional tango and majestic, classical/baroque themes... For a three-piece outfit, these guys have an impressive sound! This particular set of music has been issued by the Arc Music label in a few different editions, but if you haven't heard it before, this new repackaging will be welcome... it's pretty cool!

Trio Servando Diaz "Postales De Mi Tierra" (Tumbao)


Small-ensemble acoustic guarachas and trio vocals, along the same lines as Trio Matamoros, but a little perkier. Great sound quality on this CD.


<! OTHER Servando Diaz en MP3 and CD >

Simon Diaz "Mis Canciones/My Songs" (World Village, 2005)


Light, melodic folk music from Venezuela, with deft, pretty-sounding acoustic guitar and a strong Andean rhythmic influence. This isn't entirely my kind of Latin-American music -- I think I burnt out on Andean music in the early 1980s -- but listeners looking for something that combines beauty and softness with urgency and earnestness may find this Spanish-language album a delight. Diaz is apparently on of his country's foremost traditional musicians, and this album spotlights him at his best.
Lila Downs "Arbol De La Vida: Tree Of Life" (Narada World, 2000)



Lila Downs "La Linea/The Border" (Narada World, 2001)


A fascinating set of contemporary political songs about the Mexican diaspora to the USA, and about the impact the border has on the lives of Mexican migrants. The music is a bit overwrought in places, but the conception and execution of the album is brilliant, and Downs' vocals are solid throughout. Most songs are in Spanish, the few that are in English are actually a bit stiff, and suffer in the translation. Worth checking out.
Lila Downs "La Sandunga" (Narada World, 2003)


Lila Downs "Una Sangre: One Blood" (Narada World, 2004)



Lila Downs "La Cantina: Entre Copa Y Copa..." (Narada, 2006)



A few fans may find Latin roots-pop pioneer Lila Downs' return to old-fashioned, romantic ranchera music to be a retrograde move, but her commanding presence and the astonishing skill and economy with which she embellishes these old-school Mexican ballads with modern rock, electronica and even a tasteful dash of hip-hop will blow your mind, if you give it a close listen. Similarly, she weaves in the rich rhythms of Cuban son and Central American cumbia, reconciling and uniting several strands of Latin American popular music. The repertoire blends striking originals with classics from Jose Alfredo Jimenez, while Downs' dark, husky vocals give more than a mild nod towards the great Mexican diva, Lola Beltran, while Tex-Mex accordionist Flaco Jimenez anchors the album in a solid border vibe. You have to be willing to get into the style (and not everyone is, including plenty of folks who listen to other kinds of Latin American music...) But if you give it a chance, this is a pretty cool album, particularly how it points the way to a canny revitalization and modernization of one of the hemisphere's liveliest and most musically conservative genres. Oh, and Downs' old fans will not be disappointed: she's as authoritative, innovative and charismatic here as on anything she's done. Check it out!
Lila Downs "iTunes Live Session EP" (iTunes, 2006)

Lila Downs "Shake Away" (Blue Note, 2008)






<! Duo - MP3s available >

Duo Los Compadres "Cantando En El Llano: 1949-1951" (Tumbao)


The future Buena Vista Social Club stalwart Compay Segundo, in one of his earliest bands... Beautiful acoustic "country" (guajira) music with exquisite, sometimes fiery guitar work. Stylistically, these songs skip around the map of early Cuban acoustic music -- a hint of guaracha here, a slower bit of bolero there, and all with a lively, humourous delivery which makes the songs irresistible. Many of the songs are topical, either about hard times in farming, or just about the country life in general. Great stuff from the early years, and highly recommended.

Duo Los Compadres "Sentimiento Guajiro" (Tumbao)


A companion to Tumbao's first fab set of Duo Los Compadres recordings (Cantando En El Llano). If anything, this set of recordings, which stretches into the mid-'50s when the Duo split up, is even livelier and more accomplished. The sound quality is gorgeous, as are the songs themselves. Includes a great version of the humourous classic, "Saradonga," and guitar playing that shows Francisco Repilado (Compay Segundo) at his absolute peak. Great stuff!

Hilario Duran Trio "Motion" (Alma, 2010)



(Produced by Peter Cardinali)
Contemporary latin-jazz, with the emphasis on the "jazz" part of the equation... and on the "contemporary." Although there is some punchy rhythmic work, it's generally subsumed to the softer, more romantic and ornate arrangements, and the complex harmonics. It's a little too lush for me, but fans of modern "smooth jazz" who are looking for something kind of adventurous might wanna latch onto this one.
---
More Albums - "E"
---



---