<! MP3 09/12/08 > <! update 00/00/00 > <! pix >
---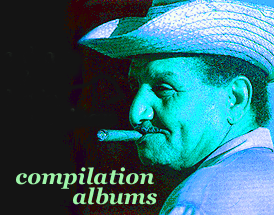 Compilation albums are a great way to check out a new musical style... Here are reviews of a few Latin American collections that are particularly groovy... This page will expand as time permits, but for now here's a quick look at some records I've enjoyed recently.
---
A | B | C | D | E | F | G | H | I | J | K | L | M | N | O | P | Q | R | S | T | U | V | W | X | Y | Z | Comps
---
Record Label Guide | Cuban Music Links | Musical Styles | Main Latin Music Index
---
Various Artists "25 CLASSIC VERSIONS OF 'EL MANISERO' " (Tumbao, 1998)
"El Manisero" ("The Peanut Vendor") was one of the first Cuban songs to become an international hit, having been popularized by Antonio Machin during one of his early swings through Europe. I haven't heard this disc, but I imagine it's good fun... when in small doses. The song is sort of like a Cuban "Strangers In The Night": everyone took a crack at it at one time or another, so there are plenty of high-powered artists on this album. But I'm sure after four or five versions at once, you might be ready to take a break for a while.
Various Artists "THE AFRO SOUND OF COLUMBIA, v.1" (Vampi Soul, 2010)


Various Artists "ANTOLOGIA DEL SON DE MEXICO: TIERRA CALIENTE" (Corazon, 1993)


An amazing 4-CD set that explores various regional styles of Mexican popular and folkloric music. This box set reissues material released on a multi-LP anthology by the Mexican government in the 1980s. Like the original LPs, these discs are divided into broad geographic categories -- my favorite recordings are the handful of songs from Veracruz, an intensely layered, hypnotic style which is entirely captivating and has a poetic structure unlike anything else I've ever heard. It's absolutely beautiful stuff! I think this box set is out of print in the US, but can still be tracked down with reasonable effort... It's certainly worth looking for, and includes material unlike any Mexican music you've ever heard before!
Various Artists "ARGENTINE SWING: 1936-1948" (Harlequin, 1989/2000)


Dude, I had to check it out... Particularly since I am a fan of the Harlequin label, and am always curious about their dips into the obscuro artists of the past. Anyway, this is a pretty solid set of rare, vintage swing and trad-jazz and gypsy guitar recordings from Argentina, all from roughly around the World War Two era... The musicians are a mix of homegrown and expatriate performers. Of particular interest are several tracks by saxophonist Booker Pittman, who had recently moved from Paris to South America, and one featuring French guitarist Henri Salvador, who came to Buenos Aires in 1943, along with Ray Ventura, and hung out for a while to jam with the locals. There was also a group called the Santa Paula Serenaders that featured a female vocal group (Baby Lamar & The Blackbirds) who did a pretty spiffy Andrews Sisters imitation. All of these tracks are top-flight, but it is disappointing that they are so completely North American-sounding... nary a hint of the tango or any other Argentine styles, and when there are lyrics, they are invariably in English. But if you like old-school, pre-bop jazz, this is a great collection, and a fascinating historical excursion.


<! HQ-CD 152 >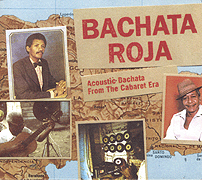 Various Artists "BACHATA ROJA: ACOUSTIC BACHATA FROM THE CABARET ERA" (Iaso, 2007)



A gorgeous, stunning album. This is an utterly enthralling collection of early acoustic bachata music, a guitar-based style that grew up alongside the merengue, in the Dominican Republic. In its electrified modern form, Bachata has become a very popular style in the last couple of decades, but this collection focusses on the style's early roots, dating back to the early 1960s when it was looked down on by the Dominican mainstream, and features outstanding work by many artists whose work is quite hard to find. Like Cuban guajira and Puerto Rican jibaro music, this mixes the lush romanticism of the bolero with lively, dazzling acoustic guitar work, hypnotically dense rhythms and irresistible melodies: if anything, these recordings are even catchier than the jibaro and guajira music I've loved for decades. This is the kind of record that if you played it at a party, or heard it on the radio, people would stop in their tracks and ask what was on; if you listened to these songs on the way to work, the melodies would stay in your head all day long. This is particularly true of several standout tracks, such as Julio Angel's "El Salon," "Estoy Aqui Pero No Soy Yo" by Juan Bautista and Rafael Encarnacion's sublime "Muero Contigo," which starts the album off. This is music that echoes deeply with its own purity and warmth, made in an era before global fame came to regional musicians, and from a provincial subculture inside an already remote locale: this is art that was made directly for the people who loved it most, and it is electrically charged with that intimate joyfulness and passion. Each song leaps out at the listener, and I can't wait to hear more. Highly recommended!

Various Artists "BEFORE NIGHT FALLS" (Soundtrack) (Verve/Blue Thumb, 2000)



A first-rate soundtrack to a rather stunning (and highly recommended) film about Cuban novelist Reinaldo Arenas, a pro-Fidel true believer who ran afoul of the revolution, partly because he was gay, and partly because he was a free-thinker. At any rate, no matter what your politics are, you should love this soundtrack, as it contains a nonstop barrage of some of the greatest music the island has to offer: classic recordings by Bebo Valdes, Miguel Matamoros, Beny More, Orquesta Aragon and other greats. One interesting anomaly is the inclusion of Lebanese singer, Fairuz, although this Arabic gem seems to fit in just fine. An excellent sampler, thoughtfully compiled by director Julian Schnabel. (Note: the movie also has a beautifully designed, and very informative, bilingual website, at Before-Night-Falls.com.)
Various Artists "BIGUINE A LA CANNE A SUCRE: 1946-1949" (Fremeaux & Associes, 1996)


The perky, irrepressibly cheerful rhythms of the beguine are explored in rich detail in this set of post-WWII recordings, made by several bands that clustered around the La Canne A Sucre nightclub, on the Antillean island of Martinique. The groups included Sam Castendet's and Denis Ancedy's "orchestras" (neither actually had more than eight members on any of these recordings), as well as the Orchestre Typique Antillais L'Exotique Jazz, all of which shared overlapping memberships. A female vocalist, Moune de Rivel, lights up several songs with Ancedy's band; she had been a teenage star in 1930s prewar Paris, back when the beguine was still in vogue in Europe. The liner notes include tantalizing pictures of other female singers such as Jenny Alpha and Marthe Alessandrini (who are not included on this compilation) -- another entire Fremeaux disc is devoted Sam Castendet, as well as one to bandleader Pierre Louiss, who also performed at the club in the 1940s. The music on this collection is alternately exhilarating and slightly monotonous and rough... It's fast-paced, virtuosic and unrelenting. All in all, though, it's a cool set, worth checking out if you want to explore the roots of Antillean popular music.


<! Louise de Ruysscher - owner of the club > <! Pierre Louiss also performed at the club > <! Raymonde Jouvet's Music-Monde label > <! Au Bal Antillais: Franco Creole Biguines From Martinique, Early Recordings Of Caribbean Dance Music B0000023TK > <! Biguine, Vol. 1: Biguine, Valse et Mazurka CrŽoles (1929-1940) B000027YAC > <! Biguine, Vol. 2: Biguine, Valse et Mazurka CrŽoles (1930-1943) B00000AY9P > <! Biguine, Vol. 3: Biguine, Valse et Mazurka CrŽoles (1930-1944) B000A0HFNA >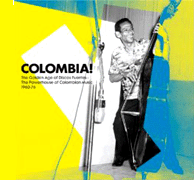 Various Artists "COLOMBIA: THE GOLDEN AGE OF DISCOS FUENTES" (Soundway, 2007)


A dazzling collection of latin-dance, salsa and jazzy gems from the vaults of Discos Fuentes, Colombia's preeminent popular music label. Founded in 1934, Discos Fuentes has been at the forefront of popularizing national styles such as the cumbia and vallenato, as well as numerous pan-American crossovers. Some of these tracks sound just like the top-flight salsa and boogaloo emanating from New York, Miami and Puerto Rico during the 1960s and '70s; other tracks feature the distinctive regional rhythms of Colombia and its Central American neighbors. As the chatty liner notes cheerfully inform us, many of the twenty tracks featured here come from impossibly rare records -- from leading artists such as Fruko, Wganda Kenya, the Latin Brothers and others -- albums that were popular in their day, but lapsed out of print decades ago. The set is powerful from start to finish, although fans who are looking for a "killer party record" may want to digitize the disc and pick their favorite tracks -- there's a wide stylistic variety and some tracks dip more heavily into jazz-oriented descarga jams, or jarring horn arrangements. It's all good, but not necessarily what you'll want to shake your booty to... This collection focuses on what many consider the peak years of Discos Fuentes, 1960-1976, and, indeed, it's pretty stellar. With about a bazillion other great songs in the vaults, there could easily be several more albums of equal calibre in this series (personally, I wouldn't mind hearing some of the older stuff from the 1930s and '40s, before the funky glory days that this disc covers...) Anyway, fans of Latin American dance music will definitely want to pick this disc up -- it's all killer, no filler.
Various Artists "CUBA - BAL A LA HAVANE: 1926-1937" (Fremeaux, 2006)

Various Artists "CUBA CON VOZ DE MUJER" (Ediciones Pentagrama, 2000)



A collection of classic-era female singers, including Xiomara Alfaro, Esther Borja, Maria Cervantes, Maria Fantoli and Rita Montaner...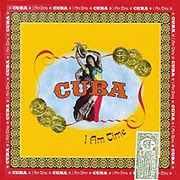 Various Artists "CUBA: I AM TIME" (Blue Jackel, 1995)


A groovy 4-CD set with a wide variety of styles and many of Cuba's best musicians... If you want a quick crash course in the spendors of Cuban music, this might be a great place to start.
Various Artists "CUBALIVE! RECORDED LIVE IN CUBA" (Rounder, 2003)


Cuba's best modern bands, recorded in various live settings. The liner notes aren't too clear about just when these tracks were recorded, but at least a few performances date back to the 1980s (perhaps all of them). The sound quality is generally a little muffled, but for a wide sample of Cuban dance styles and a glimpse at what bands like Irakere, Estrellas Cubanas, Orchesta Orestes Lopez and Los Munequitos de Matanzas sound like when they cut loose in front of a crowd, this is a pretty cool record. [Note to completists: the songs on this collection all come from three previously released albums in Rounder's "Roots of Rhythm" series. If you have those discs, you already own this album...]

Various Artists "CUBAN BIG BANDS: 1940-1942" (Harlequin, 1995)


This is pretty swell. When they say "big bands," they're not just talking about the size of the payroll. All of these well-known acts (including Orqs. Casino de la Playa, Havana Riverside, and Hermanos Palau...) had their more "native" sides, but here the emphasis is subtly shifted into Cuban efforts to parallel the big band swing sounds from up in the States. Along with some lovely crooning vocals, there are also a few tracks which take on the sometimes-goofy, playfully ornate, semi-classical compositions of bandleaders such as Stan Kenton, Artie Shaw or even Robert Scott (the composer for many of Warner's best Looney Tunes cartoons). This disc is really easy on the ears, and well worth tracking down.
Various Artists "CUBAN DANZONERAS: 1932-1946" (Harlequin, 1998)





<! with Paulina Alvarez, Che Belen, Enrique Byron, Belisario Lopez, Maravillas De Arcano, Antonio Romeu, Vicente Sigler and others. >

Various Artists "CUBAN GOLD v. 1: QUE SE SEPA, YO SOY DE LA HAVANA!" (Qbadisc, 1993)


Various Artists "CUBAN GOLD v. 2: BAJO CON TUMBAO" (Qbadisc, 1995)


Various Artists "CUBAN GOLD v. 3" (Qbadisc, 1996)


Various Artists "CUBAN GOLD v. 4: FUEGO CANDELA - THE SMOKIN' '70s" (Qbadisc, 1997)


Various Artists "CUBAN GOLD v. 5: PA BAILAR - THE '80s" (Qbadisc, 1998)


This series of decade-based collections is nothing short of stunning. Qbadisc veers away from the standard Cuban canon - which often consists of either pre-Castro Cuban dance orchestras or later stuff recorded in the States, or the glossiest of the modern Cuban bands... Not that I necessarily have a problem with any of that material, but it is nice to hear something else, and boy, do these compilations deliver the goods! The hot, swinging, sometimes electrified, records from early-to-mid- '60s Cuba may be of particular interest, but even when they dip into new bands such as Irakere, etc., Qbadisc can do no wrong. Without reservation, I recommend you check out the entire series.
Various Artists "CUBANS IN EUROPE, v.1: 1929-1932" (Harlequin, 1994)

Various Artists "CUBANS IN EUROPE, v.2: 1929-1934" (Harlequin, 1996)

Various Artists "CUBANS IN EUROPE, v.3: 1934-1954" (Harlequin, 1998)


Various Artists "DIGGIN' THE CRATES FOR AFRO-CUBAN FUNK" (BMG/Empire, 2001)



Erratically programmed and dubiously described, this disc is, in my humble opinion, somewhat of a sham. Taken from the vaults of obscure latin labels such as Sound Triangle, General and Studio 3, this is more or less a set of substandard latin dance material from the '60s and '70s, with a few soul- and rock-oriented tunes placed (almost at random) among the sones and boleros. There are some good percussive performances on several tracks, but also plenty of weak vocal performances and mediocre arrangements... hardly the slam-bang funkfest implied by the album's packaging and rather sparse liner notes. (If this stuff is really as "big in Europe" as the compilers claim, I feel sorry for those poor, benighted Europeans...) Devoted fans scouring the shelves for obscurities might wanna check this collection out, but I think it's fairly forgettable. You're much better off picking up the incredible compilations Harmless Records has been putting out recently.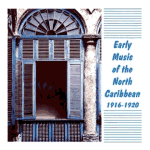 Various Artists "EARLY MUSIC FROM THE NORTHERN CARIBBEAN: 1916-1920" (Harlequin, 1996)


Another fascinating and impressive archival set from the Harlequin label... Musically, this may be pretty challenging to the average listener, even to devoted fans of classic, antique Latin American and Caribbean music... Many of these ancient recordings are in styles that are unfamiliar to modern ears, and some may challenge your notions of proper pitch and tuning. But you can hear the development of more recognizable musical styles, of the Puerto Rican plena, for example in a pair of primeval recordings by the Habanero Godinez Sexteto, and several tracks that follow. Hardcore devotees of old-school Cuban and Puerto Rican music will marvel at these historical recordings; particularly interesting is the prominence of the Italian-style mandolin (as opposed to the tres) in some of the earlier recordings, and how similar the improvisations on the mandolin sound to Brazilian choro music of the same era. I'll admit, a lot of the music on here is to irritating for me to listen to more than once, but if you give this a good listen, it will deepen your understanding of the roots of the Latin American popular music that was recorded in the 1930s and beyond. Worth checking out, for sure.
Various Artists "GOZALO, v.1" (Vampisoul, 2007)


Various Artists "GOZALO, v.2" (Vampisoul, 2007)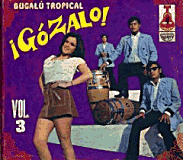 Various Artists "GOZALO, v.3" (Vampisoul, 2009)



(Various producers)
Another swinging set of rare, 1960s-era Latin dance and soul from various little-known or underappreciated artists. The boogaloo scene incorporated classic salsa with teenybopper rock and soul; not all the tracks on here have such an overt influence, but whether it's straight latin dance material or rock-tinged crossovers, all the tracks on here are a treat. Some of the best artists, such as Coco Lagos, Alfredo Linares and Silvestre Montez, deserve wider recognition (and maybe collections of their own, if there's enough material of similar calibre out there to be found... This s**t's hot! Another great entry in this fine collection -- if you liked the first two albums, you'll dig this one, too.
Various Artists "GOZALO, v.4" (Vampisoul, 2011)



Various Artists "GUIRO, BONGO Y MARACAS -- CUBAN DANCE BANDS IN NEW YORK: 1932-1946" (Harlequin, 1999)


A nice collection of classic Cuban and Cuban-American bands recorded in New York during the 1930s and early '40s, featuring the bands of Don Azpiazu, Alfredo Brito, Enrique Byron, Augusto Coen, Oscar De La Rosa, Vincente Sigler, and Pedro Via. It's mostly very antique-y and genteel... Not the strongest collection in the Harlequin series, but if you've enjoyed the others, you'll want to check this one out as well.
Various Artists "HAVANA, CUBA - 1957: AFRO-CUBAN SACRED MUSIC FROM THE COUNTRYSIDE" (Smithsonian, 2001)



Various Artists "MATANZAS, CUBA - 1957: RHYTHMS AND SONGS FROM THE ORISHAS" (Smithsonian, 2001)



Old-fashioned Afro-Cuban religious music, recorded by Lydia Cabrera, a Havana-born Beaux Arts graduate who became fascinated by Cuba's Yoruba-based orisha and santeria worship and the religions of the countrysides. This music is probably a bit stark for most modern listeners, but fascinating and captivating nonetheless. Many of the rhythms and chants may be familiar to folks familiar with the work of modern bands such as Conjunto Cespedes, who work these bembe rhythms into their repertoire. The Matanzas CD concentrates more on drumming and percussion, while the Havana volume is more devoted to vocals and chanting.

Various Artists "HOT MUSIC FROM CUBA: 1907-1937" (Harlequin, 1993)


Another stunning release on the far-ranging Harlequin label. Remarkable for its historical scope, this disc presents some of the more primeval examples of Cuban "son" and tipica -- certainly there aren't too many 78s of Cuban music from the turn of the century floating around! These early tracks are compelling for both their eerie, aural old-timeyness, as well as for the immediacy and vigor which comes through from many of these long-gone, hazily-remembered musicians. Highly recommended!
Various Artists "INOLVIDABLES DUOS LATINOS" (Caney, 1995)


A fabulous set of lavishly corny, over-the-top romantic bolero duets. Features all of the biggest names from the olden days, such as Beny More, Libertad Lamarque and Jorge Negrete. The first time I listened to this, I though I could pass on it, but then I fell in love... A nice, highly recommended collection of pure Latin schmaltz, and a permanent part of my record collection!

Various Artists "LAMENTO BORINCANO -- EARLY PUERTO RICAN MUSIC: 1916-1936" (Arhoolie, 2001)



If you want to delve even deep down into the primorial history of Puerto Rican acoustic music, this collection is pretty hard to beat. These recordings include some of the oldest examples of the various danzas, plenas and guarachas that immigrant performers brought with them in the interwar exodus to New York City... On the whole, this 2-CD set may be a bit too stark for all but the most dedicated fans, but it's certainly an amazing collection, drawing on dozens of rare 78s by bands such as Canario Y Su Grupo, Los Reyes De La Plena and the Sexteto Flores... Also of note are the rigorously political liner notes, which see the development of Puerto Rican pop in terms of cultural colonization and the like... Ah, Berkeley!
Various Artists "LATIN CROONERS -- SENTIMENTAL SONGS: 1930-1949" (Fremeaux, 2004)


Various Artists "THE LOST CUBAN TRIOS OF CASA MARINA" (Ahi Nama, 2010)



A rich, beautiful set of Batista-era recordings, made in 1958 by two Polish Jews, brothers Harry and Morris Schrage, who fled to Cuba as young boys, refugees who emigrated during World War Two and fell in love with the island's vibrant musical culture. The groups they captured were Trio Melodicos and Trio Zamora, who sang in the sweet, antique style of the tipica tradition -- romantic, sentimental, serene, corny yet emotionally resonant and quite sweet melodically. The all-acoustic repertoire mixes Cuban and non-Latin American standards (such as "Mona Lisa") and even old chestnuts like "Besame Mucho." I found this album totally satisfying, the kind of record I can have on in the background for days on end, drinking in the rich textures of tradition and time. Highly recommended!
Various Artists MAMBO A PARIS: 1949-1953 (Fremeaux & Associes, 2007)


This is a FUN, frantic 2-CD collection of homegrown Latin dance music performed by French orchestras in the post-WWII era. Parisian nightclubs and Riviera casinos had hosted a large Latin-American contingent for several decades before these recordings were made, with numerous top-tier artists moving to France from Cuba, Puerto Rico and elsewhere. The cabaret scene changed in the war years as American-style swing became the big rage; after the war, the newer, harder-edged mambo craze brought Latin music back into style, and several bands excelled at reproducing the crazy, cha-chadelic rhythms. You'd think there would be nothing but "ringers" in these bands -- Latin-American musicians propping up Gallic frontmen, but actually there were a lot of homegrown French performers who mastered the new music. A few, like Venezuelan-born Benny Bennet, had a natural Latin dance pedigree; others just picked up on it because it was cool. This collection concentrates on a handful of artists, including the prolific and dynamic German-born Eddie Warner (he emigrated to France in 1934, and fought with the French Resistance during the War), as well as playful practitioners like Sebastien Solari and Henri Rossotti, who was one of the earliest mambo maniacs. Most of these artists hewed pretty closely to the tight, muscular arrangements favored by Perez Prado, although they were often unable to get past the severity of Perez's style and find the more fluid groove favored by other bandleaders (contrast Henri Rossotti's "Almrendra" to Tito Puente's version, for example...) Although these Gallic cha-cha orchestras were comparatively rigid and sluggish, this is still a fun set and sounds surprisingly authentic. Indeed, the biggest disappointment was that so many of them sang strictly en espanol -- only one song on here is sung in French; I would love to hear more of this material with French lyrics. Overall, this is worth checking out, and not just as a historical curio. Although for pure mambo action you might want to go straight to the original source, this is still pretty groovy.

Various Artists "MAMBO MANIA: THE KINGS AND QUEENS OF MAMBO" (Rhino, 2000)


The folks at Rhino do a slam-bang job on this one, collecting some of the funnest, richest latin dance tracks of the classic '50s/'60s era. It's all brand-name artists on here -- Machito, Perez Prado, Celia Cruz, Tito Rodriguez & Co. -- but this is hardly a by-the-numbers collection. The pacing of the disc is flawless, the material is entrancing. If you're looking for a single-volume introduction to this style of music, you'd be hard pressed to find one that's better than this. Recommended!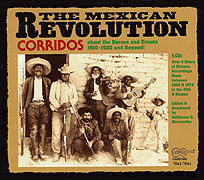 Various Artists "THE MEXICAN REVOLUTION: CORRIDOS ABOUT THE HEROES AND EVENTS 1910-1920 AND BEYOND" (Arhoolie, 1996)



This is the kind of collection that, really, only the folks at Arhoolie could put out. Drawing on label head Chris Strachwitz's vast library of Mexican music, this includes recordings that date back as far as 1904, and also collects post-revolution recordings over the decades. The style is the corrido, a form of folkloric/political ballad that can be propagandistic as well as historical. An entire CD's worth of songs are dedicated to the legend of the revolutionary leader, Francisco (Pancho) Villa, and others cover less prominent leaders and mythic figures. You might expect some of this stuff to be pretty dry, musically speaking, but actually it's quite nice -- Mexican and Mexican-American folk music at it's best. A 4-CD set may be more than the average listener can sit through, but then again... Arhoolie isn't necessarily for the average listener! Cool stuff, with a thick,

Various Artists "MEXIQUE: LA HUASTECA - DANSES ET HUAPANGOS" (Ocora, 2003)



I have a special fondness for the densely patterned, hypnotic ballad style of the son jarocho which comes from the Huasteca region of Mexico's Eastern central coast... This collection covers the wider regional music known as the huapango which intersects with the jarocho tradition, but also includes a wide variety of Mexican folk musics. There is some of the driving, percussive, ornate melodic sound of the sones jarochos, but branches out into starker, more informal styles as well, streetcorner chants and the like. This is a fine selection of deeply traditional, authentic Mexican music, perhaps in parts not as melodically striking as other recordings that highlight harps and guitars, but still quite rich in feeling and tradition. Includes tracks by artists such as the Trio Los Campos De Valles, Danza De Moctezuma, Trio Despertar Huasteco, and others. Definitely worth checking out!

Various Artists "MUSIC OF PUERTO RICO: 1929-1947" (Harlequin, 1992)


One of my favorite discs on the Harlequin label. This should be a favorite of anyone who has already heard the entrancing jibaro style of Puerto Rican musicians such as Ramito or Pedrito Romero. These historical recordings lack none of the fluidity and lyrical warmth of those more famous, well-known artists. This is a jaw-droppingly good record, and a model historical compilation. Includes complete, bilingual lyric sheets and recording dates, etc -- but more than that, the music is really, really great, as is the sound quality. Originally came out as an LP, with about half as many tracks. Highly recommended.
Various Artists "ORQUESTAS DE CUERDAS (STRING BANDS 1926-1938)" (Arhoolie, 1996)



Delightfully antique recordings from Mexico's fading "string band" tradition. If you normally find Mexican music too shrill to deal with, give this disc a shot... It's more closely tied to the European orchestral traditions that led to early Cuban and Puerto Rican dance style such as the danzon and tipica. Mexican polkas later became more manic and aggressive, but here the style is more relaxed and laid back -- really, it's quite lovely. The second half of this collection has even bigger suprprises: Mexican versions of the Hawaiian steel guitar style, and even a few gringo-style country tunes. Great stuff from the Depression era. Recommended.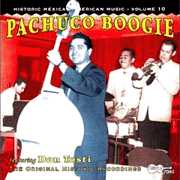 Various Artists "PACHUCO BOOGIE: THE ORIGINAL HISTORICAL RECORDINGS" (Arhoolie, 2002)



A great set of swinging, jazz-tinged California Chicano R&B from the height of the postwar "pachuco" scene. Most folks know this as a the music of the "zoot suiters" -- the latino hipsters who pioneered Mexican-American popular culture during the late '40s, and whose outlandish inhibitions met with a white backlash that became known as the "zoot suit riots." It's all fun and games as far as the music was concerned, though -- and this disc is a delight from start to finish. It all began in 1948 with the title track, "Pachuco Boogie," which was recorded as a goof by Don Tosti, a veteran big band bassist whose roots were in the barrio. The song features a super-catchy riff and a slang-filled rap in the barrio lingo known as calo, a forerunner of contemporary Spanglish. The song was runaway hit in the Southwest, touching off a fad that lasted a couple of years. This collection has some of the best, and rarest, of the pachuco jazz singles. Although the most famous track, Lalo Guererro's crosscultural stoner classic, "Marijuana Boogie," a couple of other Guererro tracks do make the grade, along with a ton of Don Tosti's follow-up singles. This disc is a real find -- chaotic and fun, great music saved from oscurity and lovingly curated by our pals at Arhoolie.
---
More Compilation Albums
---



---