<! MP3 09/20/08, 02/10/11, 03/05/12 > <! update 00/00/00 > <! pix 02/10/11 > <! icons 02/10/11 > <! Jimmy Sabater >
---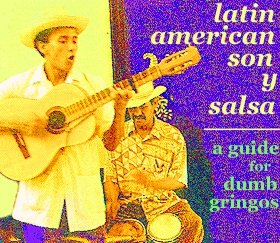 Welcome to my guide to some of my favorite Spanish-language music, stuff from Cuba, Puerto Rico, Latin America and beyond... This guide isn't meant "definitive" -- it just includes some stuff I like and that you may be interested in as well. My tastes tend towards older, more traditional music, but as this section grows, I hope to include all sorts of styles -- it's anybody's guess what will be up here in a year or two! (Please note: Brazilian music is reviewed in a separate section.)
---
As always, your suggestions are welcome, as well as comments or corrections on any of the reviews that follow.
This is the first page of this section, covering artists in the letter "A"
---
A | B | C | D | E | F | G | H | I | J | K | L | M | N | O | P | Q | R | S | T | U | V | W | X | Y | Z | Comps
---
Cuban Music Links | Musical Styles | Record Label Guide | Main World Music Index
---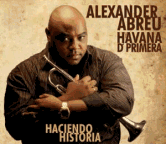 Alexander Abreu y Havana D'Primavera "Haciendo Historia" (Ahi Nama, 2011)



(Produced by Juan Manuel Ceruto)
A Cuban trumpet player with a tight, relentlessly uptempo dance band... Similar to Ruben Blades and Irakere... slick stuff, but full of fire. A little more aggressive and speed-oriented than I like my Cuban stuff, but a strong band nonetheless - certainly worth a spin!

Afro Cuban All-Stars "A Toda Cuba Le Gusta" (Nonesuch/World Circuit, 1997)



Released in the same breath as the first Buena Vista Social Club album, and featuring many of the same musicians, this disc is a bit of a disappointment. It's closer in style, and more importantly, in tone, to the formulaic dance music which predominates contemporary Cuban pop. Although touches such as cheesy electric keyboards and the like are thankfully absent, this still has a distracting flatness of production, especially on the horn charts, which diminishes the impact of the material. A traditionally-oriented record which I very much wanted to like, but found oddly unengaging.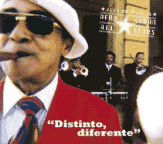 (Juan De Marcos') Afro Cuban All-Stars "Distinto, Diferente" (Nonesuch, 1999)



Here, though, all my doubts about this band are officially dispelled. On the heels of their somewhat flat debut album, comes this dazzling set of muscular, sensuous dance tracks which recalls the best recordings of the '70s NYC salsa scene. The rhythmic punch is there, as is the hypnotic interplay of melodies and lyrics, and the production sounds and feels great. In short, this album is HOT. Bandleader Juan de Marcos, whose dreadlocked, beatific face was all over the Buena Vista Social Club movie, takes center stage here. Along with him are fellow Social Clubbers Ibrahim Ferrer, Cachaito and Barbarito Torres, as well as a crew of sharp young brass players. Excellent!

Niyireth Alarcon "Musica Colombiana Andina: Music From Colombia" (Arc Music, 2009)



This set of acoustic Colombian folk music has a rather formal, almost academic tone... Ms. Alarcon has a bright, prim voice, and a strong command of the material, but there's a stiffness to the performances than can be a little offputting... A great folkloric resource for listeners trying to get a background in this region's traditional music

Rene Alvarez y Su Conjunto Los Astros "Yumbale: 1948-1950" (Tumbao, 1995)



Fairly standard Afro-Cuban dance music, featuring (among others) Ruben Gonzales on piano. Nice old stuff from the heyday of the dance scene, though I found it a little underwhelming.
Rene Alvarez "Guaguanco En El Solar" (Tumbao, 1999)





<! old - B0006ZOV0Y >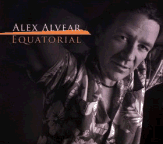 Alex Alvear "Equatorial" (Colorado Music, 2007)



(Produced by Alain Mallet)
Ecuadorian guitarist Alex Alvear delves into traditional roots on this deliciously diverse album, a multi-layered, mellow, fluid mix of various Latin American styles. Alvear blends Andean, Argentine, Caribbean, Central American and Brazilian motifs, anchored, most of all, by the music of his native Ecuador, with insistent, subtle guitar and gentle pan pipes on many tracks. This album is striking for how often it changes tone, yet how consistently pleasant and engaging it is: Alvear has a searching, adventurous approach that puts him within shooting distance of the jazz world, but cultural roots that also make this a "world music" gem. He also has plenty of likeminded comrades: vocalist Marta Gomez joins him on two tracks, as does jazz legend Paquito D'Rivera, who plays clarinet on two tunes. The results are multi-textured and richly rewarding -- one of the most striking jazz/world/latin hybrids of recent years. Definitely worth checking out!

Los Amigos Panamericanos "Los Amigos Panamericanos" (Harlequin, 1998)


Cuban-born flautist Alberto Socarras, a veteran of the early American jazz, swing and Latin dance scenes and Puerto Rican pianist Noro Morales first teamed together in the 1930s, and later collaborated on these radio transcription recordings, made for the Lang-Worth company in the 1940s. It's delightful light dance fare, brisk, corny, economical, and clearly influenced by the shmaltzy, highly successful recordings of Xavier Cugat, the then-king of Latin dance material. Not very vigorous, but easy on the ears, and easy to dance to as well.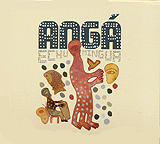 Anga "Echu Mingua" (Nonesuch/World Circuit, 2006)



An intriguing, eclectic album from one of Cuba's most prominent percussionists and a member of the Buena Vista Social Club inner circle. Conga drummer Miguel "Anga" Diaz is a co-founder of the popular Cuban band, Irakere, and has recorded extensively with son and descarga heavy-hitters such as Ruben Gonzales, Cachaito Lopez, and the Afro-Cuban All-Stars; he has also delved deep into North American jazz, recording with modernists such as Steve Coleman, among others. The influence of the so-called "third stream" jazz scene is evident in his work, as well as post-bop, cool and free jazz from the likes of Miles Davis and the Coletranes. This album spans a dizzying array of styles, melding super-traditional Afro-Cuban rumba percussion with modern avant-jazz, African pop, a hint of DJ culture, scratching and electronica, and more straightforward salsa-style Latin-dance son. This is a challenging, ambitious album, although the sound mix is surprisingly murky and sonically flat -- you can hear the different elements and guest artists, but many instruments sound distant or muted, like a large ensemble performance recorded with a single microphone... It's an odd quality for such a prestigious all-star outing, but Cuban music fans will still find the scope of Anga's pan-American, trans-global approach to be thrilling and complex. Worth checking out if you're into world-fusion music that has some bite and still retains a lot of its local character.

Antobal's Cubans "1932-1937" (Harlequin, 1998)


Don Antobal, the brother of famed bandleader Don Azpiazu (whose contemporary work is reviewed below) followed his brother into the music business, fronting his own highly successful dance orchestra during the Depression years. Working with him over the years was wife Marion Sunshine, a vaudeville performer who moved into Latin dance material and helped translate Azpiazu's smash hit, "El Manisero" ("The Peanut Vendor") in 1931, and who went on to compose or translate numerous other hits in years to come. Her work here ranges from cute novelty tunes such as "La Mulata Rumbera," here sung by the great Antonio Machin, and "The Moon Over Cuba Was High (And So Was I)" to more questionable ethnic humor such as "Hot Tamales" and "They All Look Alike To Pancho." There's other racist material on here as well, most of which is charming and some of which, like "Spic And Spanish," is a reprehensible relic of an era long gone. One odd, interesting side note to all this is that about half the tracks on here feature vocals by popular singer Chick Bullock, performing under the paper-thin pseudonym, Chiquito Bullo, in sort of the Latin American equivalent of blackface minstrel shows. Antobal certainly wasn't alone in trafficking in "manana" stereotypes, but this disc does seem to have a higher proportion of this kind of tune that most... One can find all the stereotypes and bad puns either as simply offensive, or as noteworthy traces of an older, earlier showbusiness era. The music itself, though, is top-notch, and is what redeems these old, historical recordings.

Desi Arnaz "The Best Of Desi Arnaz: The Mambo King" (RCA, 1992)



Desi Arnaz "Babalu" (RCA, 1996)



There's always been an ongoing effort to legitimize singer Desi Arnaz as a "real" Cuban singer. He did actually start out as a band singer in the '30s and worked with several key bandleaders, but his work on the I Love Lucy TV show had the dual effect of making him more famous than practically any other Cuban/Latin American musician in the world, and of cheapening his already modest talents. Although both these collections from his RCA years are relatively strong, they probably won't cut it with devoted latin music fans -- Arnaz is just too crossover kitschy and croony to inject much ooompf into these performances. It's worth noting that his theme song, "Babalu," was also the theme song of singer Miguelito Valdes, who was an infinitely richer vocalist, but who had to watch as Arnaz eclipsed him in the US marketplace. ("Babalu" is almost by definition a super-kitschy song, so it's hardly worth arguing whose version is better... But Valdes clearly kept his stylistic roots intact, while Arnaz embraced the crossover success of the postwar pop vocals era.) These are both fine collections, it's just that the marblemouthed Arnaz wasn't really that great of a performer.

Desi Arnaz "Cocktail Hour" (Allegro, 2000)


Despite the lack of liner notes, etc., this 2-CD set has the advantage of budget-line pricing, giving you thirty tracks for the price of a regular album. It's more than enough of a chance to assess Arnaz's deficiencies and strengths, revealing with a wide range of his work. Includes several duets, including one with Lucille Ball, on "Cuban Pete." Pity they don't also tell us when these tracks were recorded, but this is still a great introduction to the Arnaz ouvre.

Desi Arnaz "1937-1947" (Harlequin, 1998)


If you really want to give Arnaz a fair shake, though, this disc concentrates on his early years, when he was still at his most authentic, and was working with other bandleaders, rather than fronting his own organization. And, typical of the fab Harlequin label, this disc has the best, most informative liner notes of any of the Arnaz-related releases available. Recommended for anyone who wants to give Desi the benefit of the doubt.

Arte Mixto "Sin Chisme" (Ahi-Nama, 2001)



Perky, folk-flavored Latin American vocals, with bouncy arrangements that include tipica violins as well as classic salsa piano and rhythms. Admittedly, this style may not be for everyone, but fans of older ensembles such as Grupo Raiz or Pablo Milanes (in his more upbeat moments) may enjoy the bouncy, jazz-tinged acoustic arrangements and cheerful harmonizations. This album is a little less poppy and cloying than the last, and Arte Mixto seem to have tightened their performances up considerably, edging towards an ever-more professional sound. It's not entirely my cup of tea, but latinophiles of an acoustic bent may enjoy this quite a bit.

Eva Ayllon "Eva! Leyenda Peruana" (Time Square, 2004)


One of Peru's best-beloved artists since the late 1970s, Eva Ayllon gets her North American debut on this energetic, robust album... Her vocals are forceful and brusque, though laced with a smoky richness... The music reflects regional styles from around Lima -- mainly the elegant, slinky lando, the classic, tango-influenced vals, and the more clattersome festejo. The latter style I can live without -- those tracks felt cluttered and consistently got on my nerves -- but the others offer a richer, more textured, romantic feel, and allow Ayllon to strech out as an interpretive singer. Generally, this album's arrangements are jazz-tinged and modern, in some ways this is prototypical "world music," a little too lush and overripe for me, but certainly worth checking out. If you like Susana Baca, you will definitely want to check out Ayllon as well.

Eva Ayllon "Kimba Fa" (Times Square, 2009)



(Produced by Juan Morillo, Javier Neciosup & Allan Phillips)
A nice new set from one of Peru's reigning divas of popular and folkloric song... This album opens up with a pair of sinuous, robust, salsa-flavored dance tunes, replete with Afro-Peruvian percussion. Then comes my personal favorite off the album, "El Surco," a multi-layered acoustic song; the rest of the record drifts into jazzier, poppier territory, akin to the sleek sounds of Cuba's Irakere. Ayllon's impassioned, aging-yet-energetic vocals are buoyed by strong, sympathetic arrangements; longtime fans will be delighted while newcomers may find this an entryway into modern Peruvian music.

Don Azpiazu "Don Azpiazu" (Harlequin, 1991)


Delightfully corny Cuban music from the early thirties... Azpiazu's "El Manisero" ("The Peanut Vendor") was a colossal hit in 1931, and one of the earliest breakthroughs for Cuban music abroad. These songs were recorded in New York at the height of the Russ Columbo-and-Glen Gray-dominated crooner era, and bear all the goofy, loveably rinkydink musical hallmarks of the time (as well as a healthy dose of authentic Cuban rhythm). "El Manisero" features vocals by the muy fabuloso Antonio Machin, although other tracks on this CD have North Americanos who charmingly denude the music of its original bounce. Don't get me wrong: I love corny old music and this collection is well worth searching out.
---
More Albums - "B"
---



---