<! MP3 09/20/08, 02/12/11 > <! update 00/00/00 > <! pix 02/12/11 > <! icons 02/12/11 >
---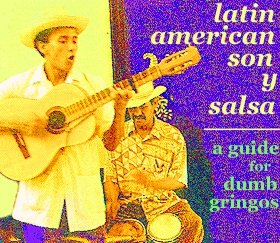 Welcome to my "guide" to some of my favorite Spanish-language music, stuff from Cuba, Puerto Rico, Latin America and beyond...
---
This page covers the letter "O"
---
A | B | C | D | E | F | G | H | I | J | K | L | M | N | O | P | Q | R | S | T | U | V | W | X | Y | Z | Comps
---
Cuban Music Links | Musical Styles | Record Label Guide
---

Eliades Ochoa & Cuarteto Patria "The Lion Is Loose" (Rounder/Corazon, 1995)


Fine early recordings from one of Cuba's best acoustic musicians, singer/guitarist Eliades Ochoa, who took over the Cuarteto Patria from Francisco Cobos, who founded the group in 1939. These tracks are less aggressive, and in many ways more lovely than some of Ochoa's later, more densely crafted albums. There is a pronounced emphasis on Ochoa's delicate tres playing, and altogether, this is a very captivating, cheerful album. Highly recommended.

Eliades Ochoa "A La Casa De La Trova" (Escondida, 2005)



A fine sampling of Ochoa's work on the EGREM label, recorded between 1981-1996, work that led up to his inclusion in Ry Cooder's Buena Vista Social Club project... Some of the production is rough-sounding, all of the music is lively and bright. Nice introduction to his work!

Eliades Ochoa "Sublime Ilusion" (Virgin/Higher Octave, 1999)



Fans of Ochoa's earlier releases on Rounder's Corazon label will not be disappointed with this lovely new record. Smooth production takes some of the rough edges off his rootsy acoustic guajiras, but this only helps the sweetness of the melodies come to the fore. Ochoa's masterful tres guitarwork is highlighted, with playful runs up the scales which will make true fans happy, and the happy into true fans. Ry Cooder drops in for a bit, as well as David Hildago of Los Lobos, whose guitar work fits right in with this folksy, gorgeous style. Highly recommended.

Chico O'Farrill "Cuban Blues: The Chico O'Farrill Sessions" (PolyGram, 1996)



A key figure in the growth of "Latin Jazz" as we know it, composer/arranger Chico O'Farrill more or less formalized the stylistic innovations of fiery performers such as Machito and Cachao... This 2-CD set collects several of O'Farrill's hard-to-find early albums, sessions from 1951 that helped solidify the new style, merging the swaying rhythms of Cuba with the flashy, hard-edged, chops-oriented aggressive virtuosity of the bebop crowd. In some respects, these arrangements are a little too clear-cut and formal, lacking some of the playful exhiliaration of the original Cuban sones... Still, it's pretty cool stuff, and infinitely more interesting than the more saccharine, by-the-numbers style adopted later on when Latin Jazz became an institutionalized (and more marketable) subgenre... O'Farrill's bands were rigorously integrated, evenly split between North American jazzmen and their Latin American counterparts, and incorporated the best elements of both styles. Afro-Cuban legend Mario Bauza helps anchor the band on almost all these tracks; Machito and pianist Rene Hernandez are among the other heavyweights on the latino side of the equation, as well as singer Bobby Escoto, whose gutsy vocals light up several songs on Disc One. Like many Latin Jazz outings, this is all a little too same-y to hold my attention, too blaring and solo-oriented, but still pretty powerful stuff. One of the definitive historical collections of this style of music, and highly recommended for anyone trying to get into the style.

Armando Orifiche "...And His Havana Cuban Boys" (Harlequin, 1995)


Pianist Armando Orifiche made his reputation playing in the Lecuona Cuban Boys, one of the most popular Latin dance bands of the 1930s. In the late '40s he broke off and founded this orchestra, which took on a punchier, more big band sound, redolent with big-toned, swing-influenced arrangements and goofy crooner-style vocals. This collection sports a very businesslike mix of chops and pop kitsch, and is packed with various pan-American themes ("Rumba Argentina," "Colombiana, Colombiana," "Carnaval De Uruguay," et al.), reflecting years of touring all through Latin America. Sure, much of this disc probably too slushy and cornball for fans of either old-fashioned acoustic son or the more rugged mambo and salsa that followed.... Still, it's cool in it's own slick, prissy way. Worth checking out!
Armando Orifiche "Nostalgia Cubana" (Tumbao)


Orquesta Almendra De Aberlardito Valdes "Mi Escorpion: 1946-1954" (Tumbao, 1995)



A flute-led Cuban dance orchestra initially specializing in tango-like "danzones," then gradually moving into guarachas and son-montunos. Many of the vocals on this disc are by women such as Dominica Verges and Candita Batista; along with the breezy instrumentation, this disc might appeal to fans of the contemporary son-montuno band, Conjunto Cespedes.

Orquesta America "Silver Star" (Tumbao, 2000)


Easy listening fans seeking to broaden their pallates might do well to check this disc out... Ninon Mondejar's early-'50s traditional danzon band featured a breezy violin-and-flute combo with a decidely light touch. Corny and romantic, yes, but not entirely fluffy. This is a pretty cool collection of cha-cha-cha recordings from 1953-54 that is far less punchy and dynamic than its contemporary latin dance bands, but by no means as wussy as the countless watered-down imitation cha-cha-cha acts up North. Definitely worth checking out.
Orquesta America & Ruben Gonzalez "America Del 55" (EGREM, 2002)



Orquesta Aragon "Mambo Inspiracion -- Primeres Grabaciones: 1953-1955" (Tumbao, 2002)



Orquesta Aragon, formed in 1939 by bassist Orestes Aragon, is one of Cuba's most venerated and longest-lived dance bands. Although other groups, notably Orquesta America, actually invented the light-sounding dance style known as the cha-cha-cha, the Aragon ensemble was the one that had the widest early popular success bringing it to Havana's chic dance scene, and won a legendary status as the champions of the style, and as the ultimate tipica ensemble. Combining muscular Afro-Cuban rhythms with delicate European-tinged melodies, the group's distinctive violin and flute-led arrangements influenced the sound and growth of salsa music in the United States, helping shape the musical vocabulary of '70s bandleaders Ruben Blades and Hector LaVoe. These are Orquesta Aragon's first recordings, laid down for RCA-Victor more than a decade after the band had actually formed, and which made them an international success. These songs reveal a seasoned and professional group, with sleek, stylish arrangements and musical chops to spare. Orquesta Aragon has continued performing throughout the decades, albeit with steady personnel changes, but anyone who has heard the band in recent years will also want to check out these fine early recordings. It is, truly, the birth of a legend.
Orquesta Aragon "Cha Cha Charanga" (Tinder/Candela, 1997)


Still going strong many decades later, Aragon has skillfully surfed the wave of "world music" enthusiasm in Europe and North America, and this album, released domestically in the States, is probably one of the easiest to find of their recent works. It's also one of their best, full of slick, unstoppable, alluring arrangements and plenty of nice vocals. Recommended!

Orquesta Aragon "En Route" (World Village, 2001)



One of Cuba's most venerated and longest-lived dance bands, Orquesta Aragon enters its seventh decade as a potent force in Latin jazz, and as keepers of the island's rich musical heritage. As in their 1950s heyday, the group still mixes muscular Afro-Cuban rhythms with delicate, European-tinged melodies. This new album shows Aragon still going strong with an influx of younger new members and a modern musical vocabulary, , mixing danzon, cha-cha-cha, rumba and guaracha in a not-too-slick, not-too-folklorish blend that may get you up and waltzing around before you know what hit you. Worth a spin!

Orquesta Broadway "40th Anniversary" (Flauta Records, 2003)



A delicious set of tipica and salsa by one of the original and most influential bands in the New York latin dance and salsa scenes of the 1960s and '70s. Since its inception decades ago, Orq. Broadway has remained a potent force, and this new album is a flawless set of hypnotic dance tunes, led by the darting flute of Eddy Zervigon, along with rhythmic violins and pulsing piano work. This is not a group that's been diminished or watered down with the passage of time: fans of the old band or folks entirely unfamiliar with their work can all be assured that this is a top-flight record, fun from start to finish. I was really surprised, and I definitely recommend this disc if you're looking for some sweet, fine salsa to swing and sway to.
Orquesta Casino De La Playa "Memories Of Cuba: 1937-1944" (Tumbao)


With Miguelito Valdes, Perez Prado and Cascarita.

Orquesta Casino De La Playa/Miguelito Valdes "Adios Africa: 1937-1940" (Tumbao)



Awesome early recordings. According to the liner notes, singer Miguelito Valdes was considered the Sinatra of Cuba -- and the comparison makes sense: he could swing, but he could also ham it up. Here Valdes performs with the original lineup of the Orquesta Casino de la Playa, featuring the awesome pianist, Anselmo Sacasas. This is one of the strongest collections of their work -- highly recommended!

Orquesta Casino De La Playa "Fufunando: 1937-1940" (Tumbao)


Entrancing, dreamy dance music, highlighting the vocals of Miguelito Valdes, a sometimes corny, but powerful, singer. This is the third Tumbao disc of material featuring the original 1937-40 lineup of the Casino de la Playa band, which also featured pianist Anselmo Sacasas. Plenty of slow drippy boleros, though heavier on the syncopated guarachas and conga dances. The vocal choruses add a lot, and the band is all class. Recommended!
Orquesta Chepin-Choven "El Merenguito: 1942-1945" (Tumbao)


Kickass dance music from the WWII era. This Santiago-based outfit spent much of the 1930s playing big band music, later switching to a more consciously "Cuban" sound. Yet the big band influence is still very much in evidence on this disc -- the peppy horns get your blood pumping, while the melodic bounce smooths their aggressive edge. At the time, this sound was somewhat unusual, though you can clearly hear it echoed not long after in the arrangements of bands such as Sonora Mantancera, especially their '50s recordings with Celia Cruz. Pianist "Peruchin" later went on to record with the Orquesta Riverside (see below). Recommended!
Orquesta Cosmopolita "Ritmundo Cha-Cha-Cha" (Tumbao)


Orquesta Havana-Riverside "Rompan El Cuero: 1939-1940" (Tumbao, 1995)



Deliciously sweet, corny, romantic material from 1939-40. This large band originally featured pianist Jose Cubelo (who appears on three of these recordings, and most of the vocals are by the ever-stately Miguelito Valdes. The disc opens with a wonderful version of "Perfidia," and it just gets better from there. If you like the corny, showy romantic style, this album is a treasure trove.

Orquesta Hermanos Aviles "Orquesta Hermanos Aviles" (Virgin-Spain, 1999)


The Orquesta Hermanos Aviles, founded in 1882(!) is possibly the oldest, longest-lived dance band in Cuba... Unfortunately, these are recordings of a more recent vintage, from 1980 and 1989, and the band simply lacks subtlety or panache on most of the tracks... It's hurried, muscular, jittery dance music, stuff that might have been great on the dance floor, but which doesn't do much for me on CD. Oh, well.
Orquesta Hermanos Palau "La Ola Marina 1939-1941" (Tumbao)



Cool early recordings, with the fiery, flambouyant Cascarita on vocals. Sometimes the arrangements are a bit staid, but the vocals are great -- Cascarita delivers these humorous, upbeat tunes with a decidedly Cab Calloway-ish brightness. Muy chistoso and worth checking out.
Orquesta Melodias Del 40 "Montano Favorito" (Tumbao)

Orquesta Riverside De Pedro Vila "Baracoa: 1953-1954" (Tumbao)


Swinging mambos and son montunos from the height of the mambo craze. About half the tracks are instrumentals, the rest feature great vocals by Tito Gomez. Pianist Pedro Justiz -- better known as "Peruchin"-- was the band's arranger, and he gave them a smooth, cool, kitschy & fun sound. Recommended!

Orchesta Riverside De Pedro Vila "De Bayamo A Pinar Del Rio: 1953-1959" (Tumbao, 2002)



Sweet, swingin' mambos, perky dance music with a heavy stylistic debt to the master of the form, Perez Prado. Vocalists Tito Gomez and Merceditas Valdes add some fizz to the proceedings, while bandleader Pedro Vila has the orchestra going full-tilt the whole time... Fun stuff! Recommended.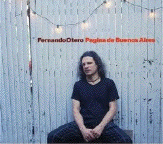 Fernando Otero "Pagina De Buenos Aires" (Nonesuch, 2008)



(Produced by Fernando Otero)
The austerity and inventiveness of modern Argentine tango -- as the genre was reconceived by the late, legendary Astor Piazzolla -- is alive and well in the hands of younger artists like pianist-composer Fernando Otero. This album blends the style's swooping romanticism with a deeper, darker severity, in a still-turbulent marriage between the old-world Latin American ballrooms and European classical traditions. Otero originally had a classical and jazz background, but has also richly mined Argentinian musical traditions for inspiration... I'm not personally a ginormous fan of tango (or nuevo tango), but I'm pretty sure that anyone who is into the genre will want to check this out, particularly fans of Piazzolla's later works.
---
More Albums - "P"
---



---